We've reached the finale for the second season of Captain Pike's (Anson Mount) adventures. The Gorn are back! In this sneak peek for Star Trek: Strange New Worlds Season 2 Episode 10, we see how the scary aliens are again wreaking havoc on the USS Enterprise crew. However, do we see trouble for Captain Marie Batel (Melanie Scrofano)? This week we have preview pictures, teaser trailers and more.
Titled "Hegemony", this episode is the one we have been waiting for. Henry Alonso Myers writes the episode. He is the executive producer and showrunner of Star Trek: Strange New Worlds. Read the official synopsis below. Maja Vrvilo directs the episode. She previously directed the second episode of Strange New Worlds, "Children of the Comet".
When the U.S.S. Enterprise investigates an attack on a colony at the edge of Federation space, Captain Pike and his crew face the return of a formidable enemy.

Strange New Worlds Season 2 Episode 10
SPOILER WARNING – We heavily dive into theories and speculation and show you the latest trailers and preview materials. Turn away now If you do not want to be potentially spoiled. As always, Trek Central DOES NOT receive screeners or advanced episodes.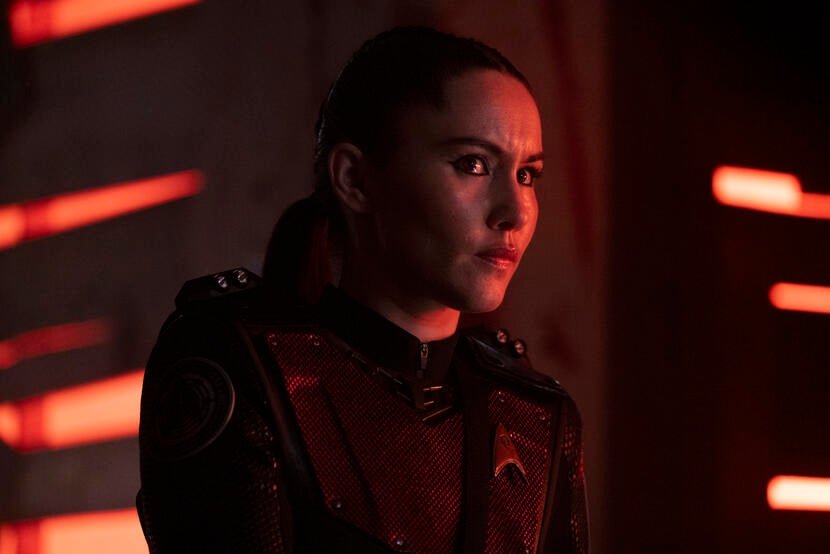 Preview Pictures – Season 2 Episode 10
As always, we have preview pictures for the latest episode. The preview pictures for Strange New Worlds Season 2 Episode 10 give us a glimpse of what is coming up. We've got a preview of tense bridge scenes on the USS Enterprise. While The Ready Room preview, which we discuss briefly, gives us a glimpse of the bridge before the away mission, the pictures show the aftermath. Pike and the bridge crew look very worried.
Meanwhile, we have two pictures of La'an and Sam Kirk (Dan Jeannotte) on the surface of a planet. Both are wearing tactical gear in typical Starfleet design. However, we've also got shots of Number One (Rebecca Romjin) and Mr Spock's stay at Pike's conference table. Likely the mission being planned.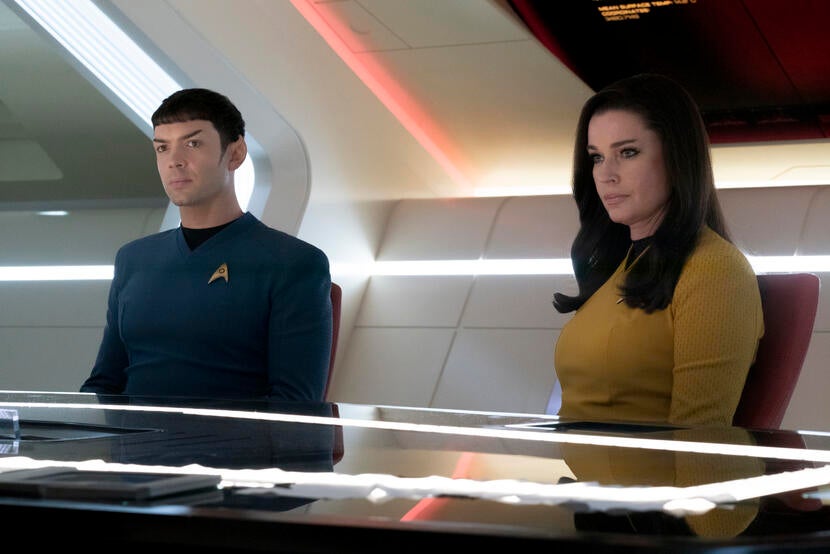 The Ready Room Clip
Last week's Ready Room clip for Strange New Worlds Season 2 Episode 10 benefits my theory about Captain Batel. For example, it gives us a glimpse of the episode, and we see a destroyed starship. This ship, likely to be a constitution-class at this point, is the USS Cayuga. Pike even says, "No assumptions here". It's made clear that Captain Batel was on this planet and that both ships are orbiting. Pike mentions how the Captain and her crew were on the planet's surface. This lines up with the main trailer for the second season.
A detail that might be central to the plot of this episode is the Gorn disruption device. La'an (Christina Chong) mentions how this device renders enemies of The Gorn blind to attacks. Therefore, they are unable to communicate or use transporter technology. So, for example, it is stopping The Enterprise from beaming people off the USS Cayuga. Then again, looking at that ship, I do not think any survivors are left onboard.
Now, what is interesting is Starfleet's involvement in this clip. We learn they have communicated with The Gorn, and some border has been established. It looks like The Gorn have marked their territory, and perhaps The Federation is trying to avoid another costly war. We've already seen this glimpse in Season 2's "The Broken Circle". The episode's ending revealed Admiral Robert April (Adrian Holmes) looking at a map of systems with a Gorn Attack Ship shown on it.
Gorn Mission Gone Bad
I've been digging through the trailers for Strange New Worlds Season 2. This Star Trek season trailer has given us a good glimpse of this episode, especially when we combine scenes from the publically released trailers. For example, very early on, we now know that a starship was destroyed in the orbit of a planet. We're aware this is the USS Cayuga. It allows us to piece together more of the plot. However, another trailer shot shows the saucer section crashing into the surface. It's crashing into some pylon. Likely The Gorn interference device.
It's possible we will see an adult Gorn in this episode. The last time we saw the alien species was the penultimate episode of Season One. "All Those Who Wander" featured the USS Peregrine infested with Gorn eggs; therefore, Gorn hatchlings were shown. In the Season 2 of Strange New Worlds trailers, we see two types of The Gorn. In one shot, La'an faces off with a hatchling. However, Mr Spock (Ethan Peck) is seen with a creepy individual behind him. It looks like an Adult Gorn on the hull of the USS Cayuga.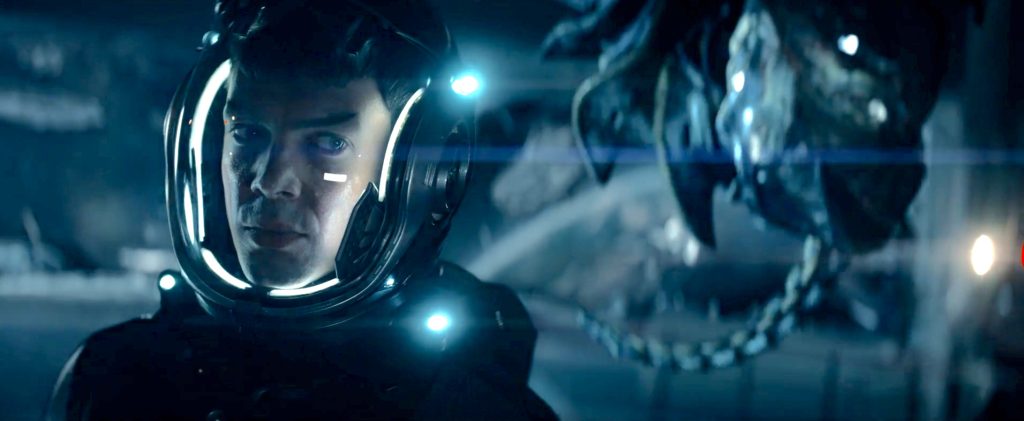 An Interesting Away Team
We've also got the away team descending to the planet. Likely this is a rescue mission for Captain Batel and her crew. Pike's away team is full of our cast. However, Samuel Kirk (Dan Jeannotte) is also present. He is a Xenoanthropologist, so it makes sense. I think Batel was sent to this planet to evacuate the civilian population. However, she was likely caught off guard. We see this in the main trailer. Batel looks at the sky and sees a Gorn destroyer entering the atmosphere. Batel exclaims, "My god," as the ship approaches.
Conclusion
All in all, Strange New Worlds Season 2 Episode 10 looks to be an exciting season finale. But will it take some bold swings regarding the crew? For example, we know Captain Batel might not make it out alive. However, what about other members of the crew? We're worried about Erica Ortegas (Melissa Navia) based on the trailers. She's not seen at the helm of the Enterprise when the crew return from their scary away mission. Is Strange New Worlds going to make the bold choice to kill a main character off? Hopefully not.
It's somewhat apparent that Strange New Worlds is setting up Star Trek: The Original Series. James T. Kirk has been introduced. However, I think it is too soon to introduce another character to replace Ortegas. I don't think this should happen anyway. This is the Pike series, not a TOS one. But it will be interesting to see what route this episode takes and how it changes Strange New Worlds. If we get the third season, things might be slightly changed.
Star Trek: Strange New Worlds streams Thursdays via Paramount+ in the United States, United Kingdom, Australia, Latin America, Brazil, South Korea (via Tving), France, Italy, Germany, Switzerland & Austria. As well as CTV Scifi / Crave in Canada, & TVNZ in New Zealand. And on SkyShowtime in the Nordics, the Netherlands, Spain, Portugal, and Central and Eastern Europe.
---
More From Trek Central
📰 – Star Trek: Discovery Season 5 Clip & Updates
🔥 – Star Trek: Lower Decks Season 4 Trailer & Release Date
🔍️ – Star Trek's SDCC 2023 Animation & Comic Announcements & More!
---
Join the Star Trek conversation via our social media platforms: