It seems odd. I'm not writing a preview article for Episode 7 of Strange New Worlds. SDCC meant we got an early screening of the Star Trek: Lower Decks crossover episode. This being "Those Old Scientists". However, with the streaming schedule moving forward, we've got a new episode this Thursday. Star Trek: Strange New Worlds Season 2 Episode 8, titled "Under The Cloak of War", looks to involve Klingons again!
Each week Trek Central has brand new preview material for Strange New Worlds. "Under the Cloak of War" is written by Davy Perez. The penultimate episode of season one, "All Those Who Wander", was actually written by Perez. Perhaps that hints at what will be in store for this episode. Jeff Byrd takes on the role of the Director for this episode.
Captain Pike and his crew welcome a Klingon defector aboard the U.S.S. Enterprise, but his presence triggers the revelation of some shocking secrets.

Star Trek: Strange New Worlds Season 2 Episode 8 "Under The Cloak of War"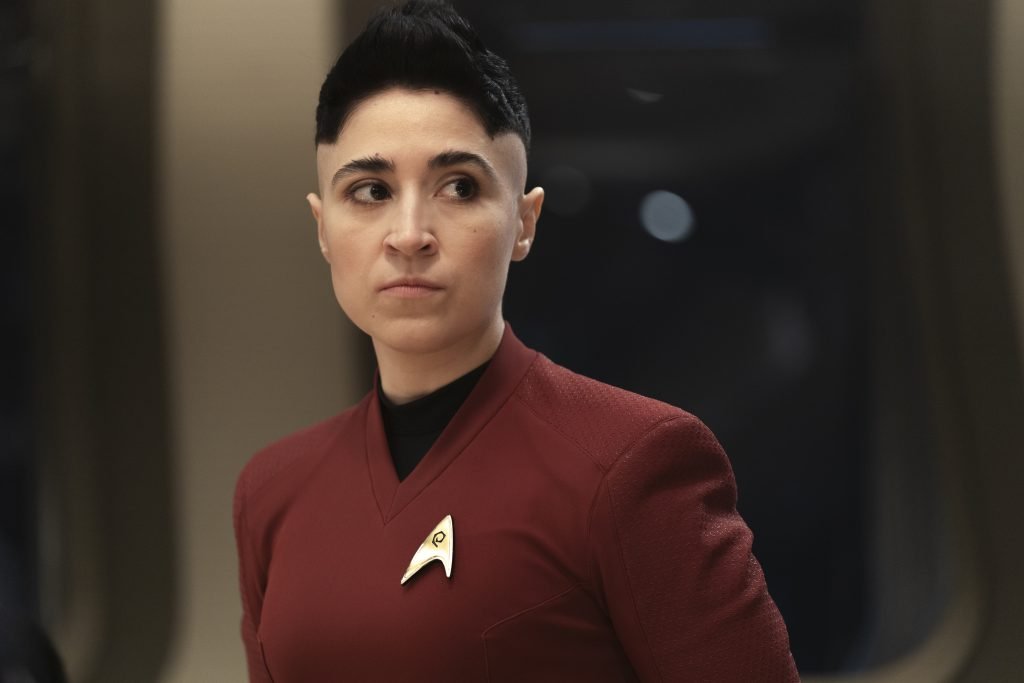 Preview Pictures
As always, preview pictures give us a glimpse of Strange New Worlds Season 2 Episode 8. We've got a great look at quest star Robert Wisdom as Klingon Ambassador "Dak'Rah", who comes aboard the Enterprise. We also got shots of the Strange New Worlds crew at dinner. This looks to be a fancy dinner, likely for the Klingon Ambassador. Captain Pike (Anson Mount) is wearing his green Starfleet uniform, which he has already worn this season.
Two pictures that stick out are Nurse Chapel (Jess Bush) and Doctor M'Benga (Babs Olusanmokun) on an away mission. The pair are joined by some Starfleet officers who appear around them. Both are wearing Starfleet tactical gear. Honestly, this looks like a crash site or something. Perhaps another shuttle crash went wrong for the crew.
The Ready Room – Strange New Worlds Season 2 Episode 8!
This Ready Room clip for Strange New Worlds Season 2 Episode 8 focuses on Erica Ortegas (Melissa Navia). Her experiences with The Klingon War, shown in Star Trek: Discovery, have come up a few times. Most recently, in the previous episode. For example, Ensign Brad Boimler mentions how Ortegas is a "war hero". It's also fantastic to see Erica in the captain's chair of the USS Enterprise. I would like to see another character on Strange New Worlds take command of the Enterprise for a bit. Someone other than the main three.
Erica is clearly affected by her experiences in The Klingon War. With a Klingon ambassador coming onboard the Enterprise, it seems to have tensions raised. For example, Erica brings up the many wartime atrocities committed by the ambassador. I imagine this will be an episode where we explore what people have done under the banner of war. Therefore, relating to the title of this episode. Unfortunately, Erica does get embarrassed with the ambassador arrives on the bridge.
It's important to remember that Erica did not miss the Klingon x Federation War. Some USS Enterprise crew were not present for the conflict because Starfleet kept them out on purpose. Therefore, the likes of Captain Pike (Ansom Mount), Mr Spock (Ethan Peck) and Number One (Rebecca Romjin) did not see the horrors of the war. This element has been explored in Star Trek: Discovery Season 2. I wonder if the conversation will reoccur in Strange New Worlds Season 2 Episode 8.
Conclusion
The episode title for Strange New Worlds Season 2 Episode 8 could allude to the plot. For example, it is titled "Under the Cloak of War". This is actually a quote by Albert Einstein. We know a war brewing in Star Trek: Strange New Worlds. The Gorn conflict is growing, but will this be the episode where it is shown off? It would not surprise me if The Klingons think something is happening with Starfleet & The Federation. An example of a similar situation is in Star Trek: The Next Generation. The Romulans return after their outposts are destroyed.
As we charge into the remaining episodes of Strange New Worlds Season 2, there is much to look forward to. We've now got the episodes airing earlier than expected. So this week, Strange New Worlds Season 2 Episode 8 airs on July 27th. Therefore, all remaining episodes have been brought forward a week. The penultimate episode, the musical, now airs on August 3rd. Additionally, the second season finale will air on August 10th and likely give us The Gorn conflict we have been waiting for.
Star Trek: Strange New Worlds streams via Paramount+ in the United States, United Kingdom, Australia, Latin America, France, Germany, Brazil, South Korea (via Tving), France, Italy, Germany, Switzerland & Austria. As well as CTV Scifi / Crave in Canada, & TVNZ in New Zealand. And on SkyShowtime in the Nordics, the Netherlands, Spain, Portugal, and Central and Eastern Europe.
---
More From Trek Central
📰 – Star Trek: Strange New Worlds Season 2 Episode Titles & Details
🔥 – Seven of Nine – From Borg to Badass
🔍️ – Star Trek: Resurgence – Writers Interview
---
Join the Star Trek conversation via our social media platforms: