In a Comic-Con twist, the latest episode of Star Trek: Strange New Worlds has dropped a few days early. It's streaming now on Paramount+! The rest of the season has been moved forward as well. This week's Strange New Worlds – "Those Old Scientists" was the long-awaited crossover episode with animated comedy Lower Decks. Going in, this was easily the episode that I was most excited about. Especially since it had a director like Jonathan Frakes at the helm. So does this episode, written by Kathryn Lyn and Bill Wolkoff live up to the hype?
It's the first proper crossover the franchise has had in years, possibly ever (it really depends if you count Generations). Anticipation is very high, and with both of these series being so beloved, there's not a lot of room for error. So does this live up to that high bar? Was it worth all the big hype and announcements? Here are all my thoughts on this latest edition of Strange New Worlds!
SPOILER WARNING – This is a full review for Star Trek: Strange New Worlds Season 2 Episode 7 "Those Old Scientists". As such, it contains spoilers. Trust me when I say that these are spoilers you don't want spoiled. You have been warned.
Animation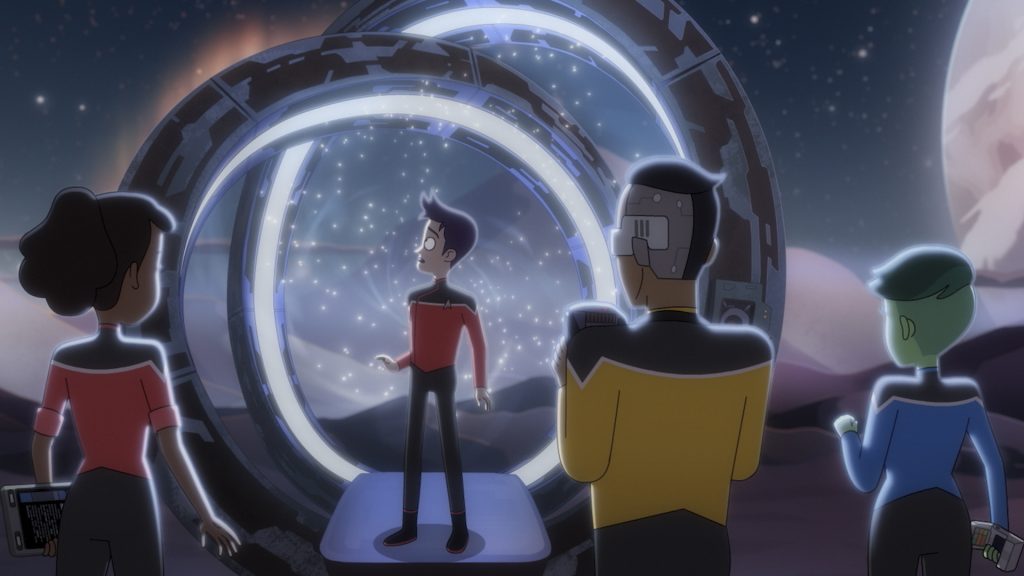 One of the aspects teased from this Strange New Worlds – "Those Old Scientists" announcement is the blending of animation and live-action. I really appreciated the episode's use of animated opening and closing scenes. It essentially makes Boimler (Jack Quaid) and Mariner (Tawny Newsome) the main characters. While the transitions between live-action and animated could be a little jarring, it was all good fun. Even the special opening credits featured an animated USS Enterprise, which was exactly the sort of surprise this episode needed.
Speaking of the intro, seeing Tendi (Noël Wells) and Rutherford (Eugene Cordero) got Special Guest Star credits as well. While they do appear, it is only very briefly. I thought they would maybe be more involved, but at the end of the day this is primarily an episode of Strange New Worlds. It was also nice to see that Lower Decks creator Mike McMahan got a consulting producer credit. I assume he was involved in making the Lower Decks characters sound like themselves. If so, his involvement paid off tremendously.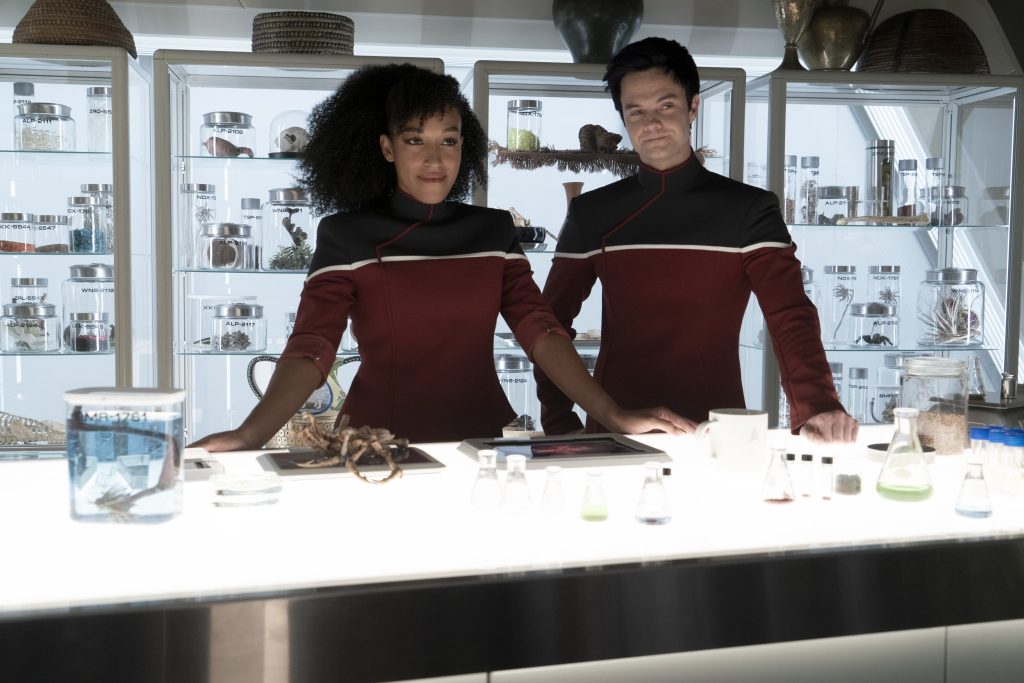 Both Boimler and Mariner act and sound like they came out of an episode of the show. Right down to the very specific lore references they make. I love the way they talk about Star Trek history, and their doing it in a TOS setting was a delight. I was laughing and smiling for an hour, which was exactly what this episode needed. What I found myself more mixed on was the final scene, with the animated Strange New Worlds crew. I laughed, especially at Spock's arm, but the self-aware 2-dimensional jokes bothered me somewhat.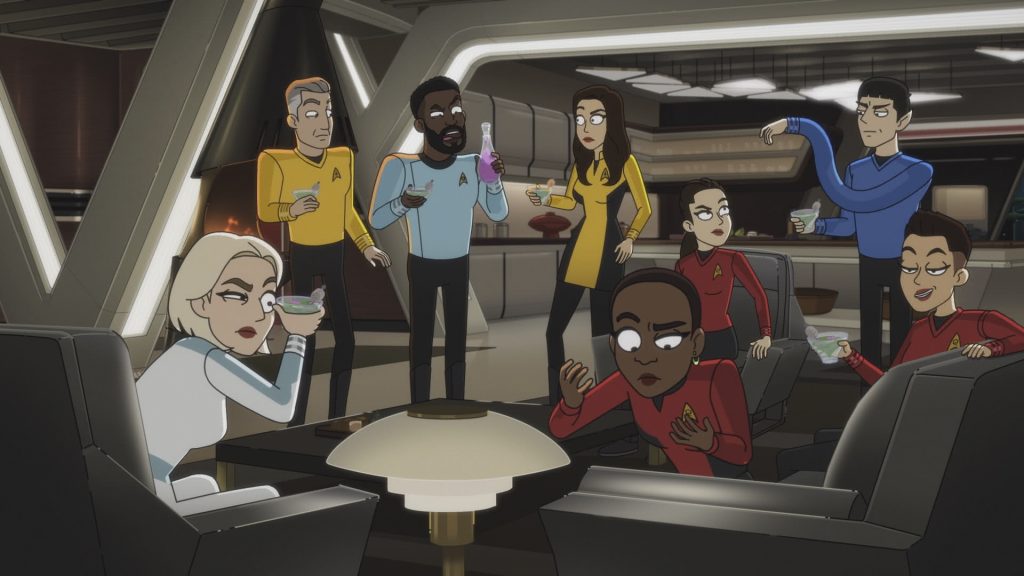 Geeking Out
This was mostly on the part of Boimler, we spend the entire episode geeking out. Given he's a character aware of all these characters' ultimate fates, it was the perfect time to do it. Although we didn't learn anything new, it was the most conscious this series has ever become of where these characters need to end up. Also with La'An (Christina Chong) calling back to her experiences in "Tomorrow and Tomorrow and Tomorrow", as well as the use of the phrase "Ad Astra per Aspera", it was like the whole season coming together.
That being said, I got a kick out of the jokes a lot. The scenes where the Boimler and Mariner were able to talk to each other, calling back to such episodes as "Past Tense" with the Bell Riots, were the most fun in this regard. There are so many ways it could've gone wrong, but it never feels more overwhelming than your regular episode of Lower Decks. I'm glad that they didn't mess up the timeline or cause too much lasting damage to the series, outside of something I'll get to later.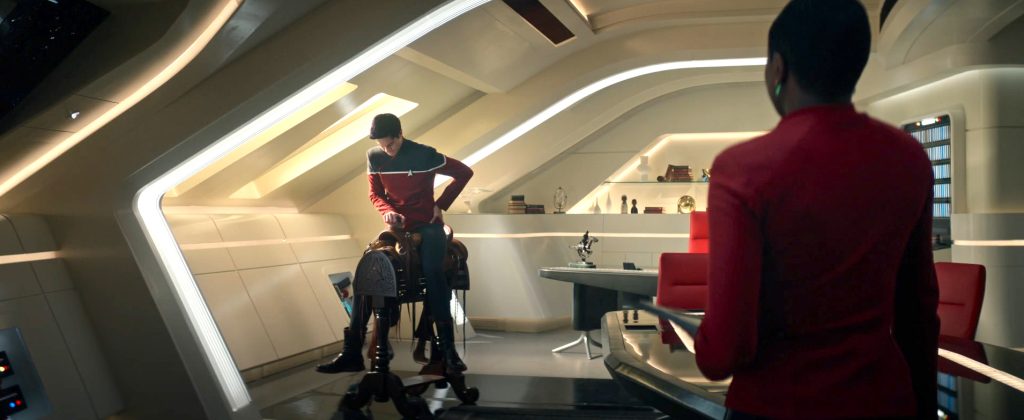 The other real highlight was getting to see Boimler, who's made his whole life geeking out about Star Trek his thing, get to meet the characters he looks up to. His reaction to seeing Pike (Anson Mount), Spock (Ethan Peck), and the rest of the crew felt so real. For Trekkies, there's no better audience surrogate than someone who's just as much a fan as we are. It's exactly the sort of fun episode that this show needed after such a varied and at times experimental season of Trek. I really didn't stop smiling for hours.
Honoring the Past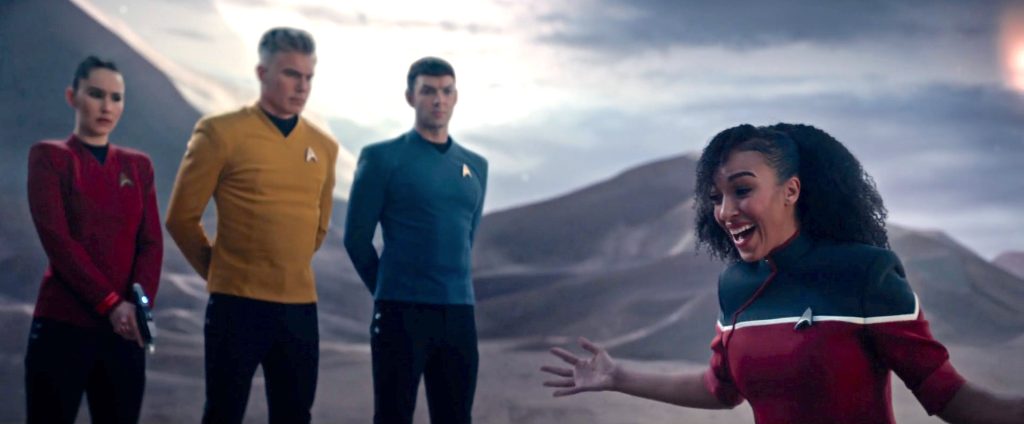 That doesn't mean Strange New Worlds – "Those Old Scientists" was all fun and games though. There were emotional scenes too, with the meeting between Uhura (Celia Rose Gooding) and Mariner coming to mind in particular. It's the perfect mark of just how far the franchise has come since the 60s. All these years later, we can have such a perfect scene where two powerful women of color are able to share that moment. I know the first episode already paid tribute to Nichelle Nichols, but this is a perfect representation of how she changed the game.
For a series that pays more homage to The Original Series than any of the others, this was a lovely scene to have. I did end up getting pretty emotional, with Mariner's idolization of Uhura being incredibly touching. It's a very small part of this episode's run time, but it was easily the best moment. Letting Uhura know the sort of legend she becomes, especially given her story this season was awesome. It wasn't just Mariner looking up to Uhura, it was the entire next generation of the franchise looking up in awe of Nichelle's legacy.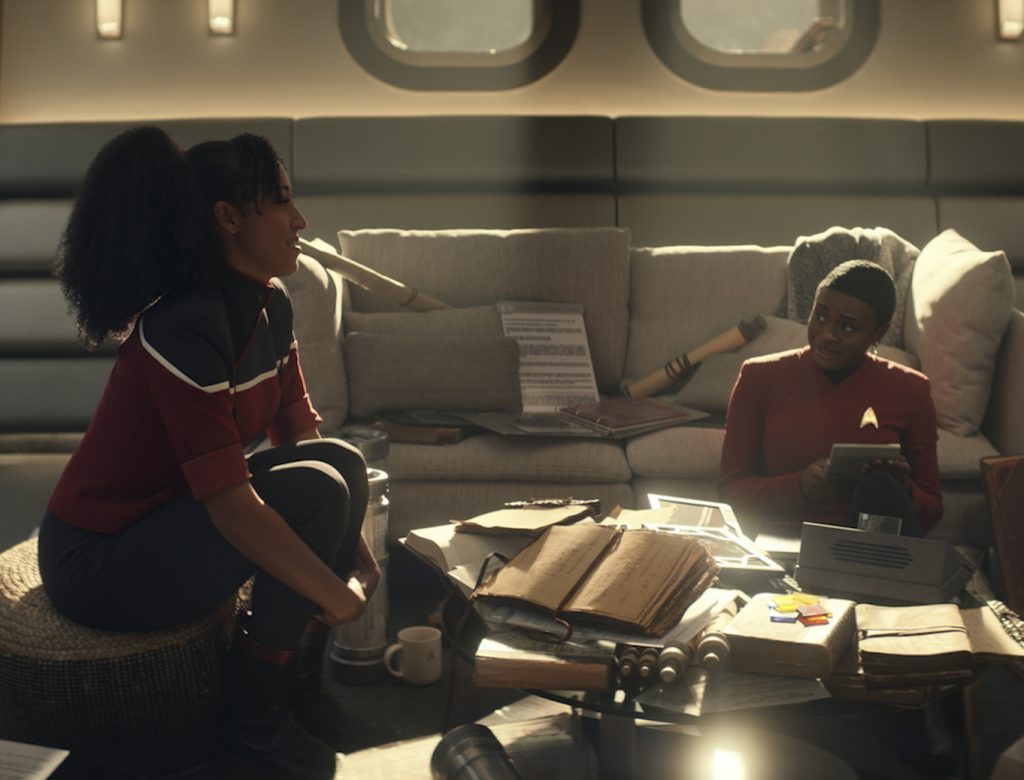 It wasn't Strange New Worlds – "Those Old Scientists" only emphasis on the past though. In a twist, this episode had more callbacks to Star Trek: Enterprise than I ever could have predicted. Of all the past Star Trek series, it's easily the one that gets the least focus. Getting the ship, and even some of the characters namedropped was really touching. It's nice to know that not only does the 24th Century venerate the TOS and SNW characters, but the TOS era venerates the NX-01 and the entire crew. It affected me quite a lot and made for a sweet scene.
The Science of Orion
Of course, stereotypes and prejudice are bad. But it leans into what one of the episode's core messages is trying to say. This was the perfect time for the series to comment on the era's attitudes toward the Klingons, and I think they took the opportunity beautifully. The use of the Orions allows Tendi to have a role in the episode, even when she's not present for most of it. It also calls back to episodes like "The Serene Squall", where Pike built up these attitudes around Orions being pirates.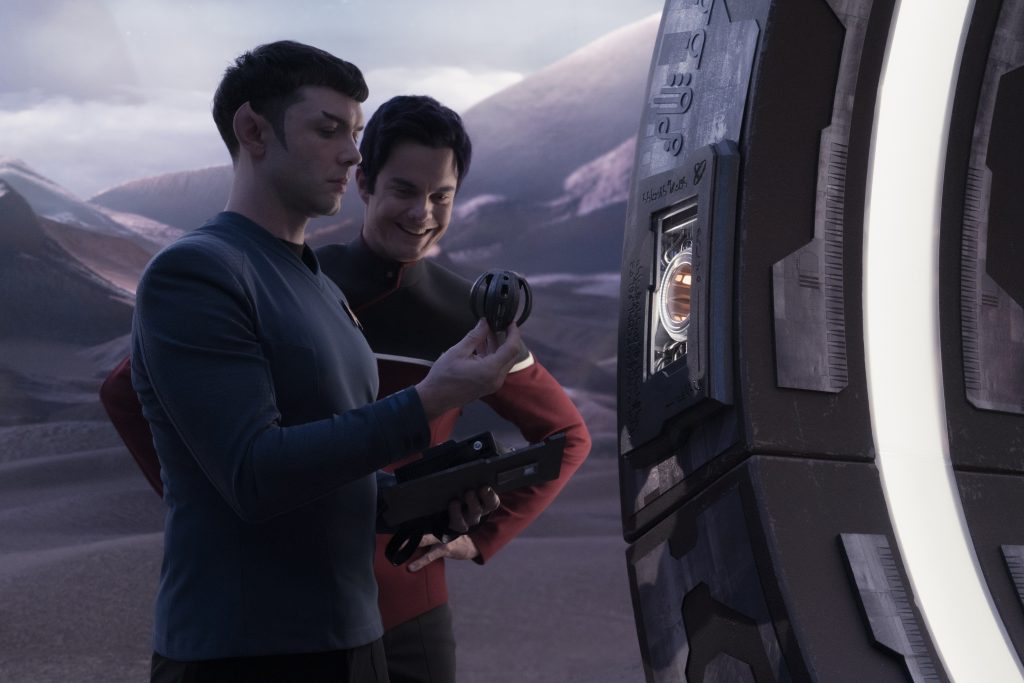 It's a nice moment where Boimler essentially teaches them how blind prejudice and the presumptions made about people can actually be destructive. The peace between the Enterprise and the Orion Science ship was made so much sweeter by this. There's a chance that Boimler really did change the timeline, in getting Tendi's great-grandmother the credit for the portal's discovery. At the same time though, he was always supposed to. Got to love a time travel episode coming full circle like this.
The full impact of his visit remains to be seen, especially in regard to the relationship between Spock and Chapel (Jess Bush). It's unfortunate that the episode seemed incredibly preoccupied with Boimler not changing the timeline when evidently he was supposed to go back. I wonder if there'll be any other small changes in character dynamics going forward, there's a good chance he's absolutely crushed Chapel and potentially influenced Spock's shift toward logic. We'll have to wait and see.
An Episode of Both Series
This is what a crossover episode should do best. It succeeds beautifully. It contributes meaningfully to both the stories of Strange New Worlds and also Lower Decks. Chapel is saddened by Boimler's questioning of Spock's happiness. It's a sad, quiet scene in a turbolift no less, a very restrained set where the characters are forced to sit in that moment. This will almost certainly have ramifications for their relationship, although we'll have to wait a few more weeks for it to properly set it.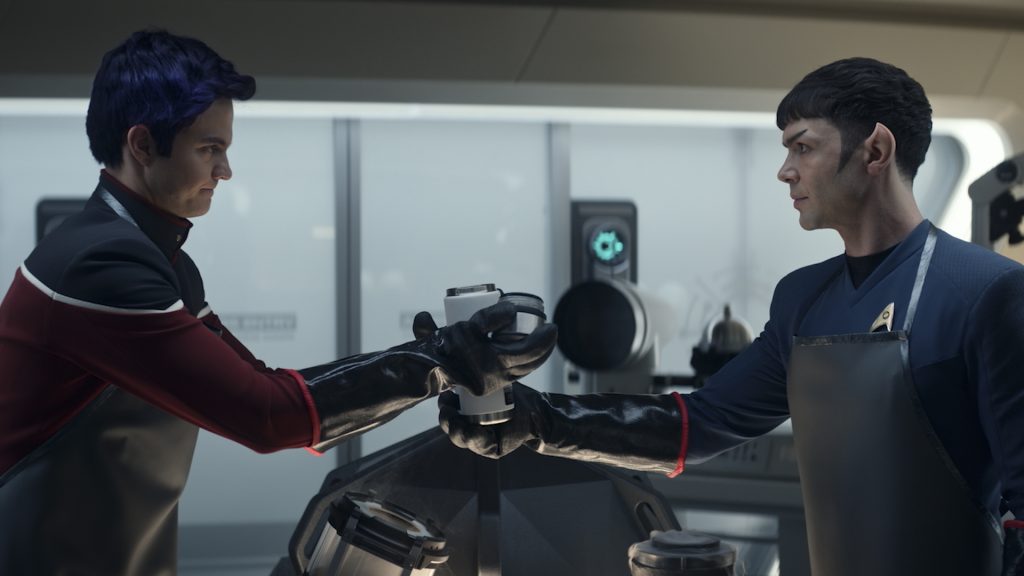 Boimler also gets to meet his idols, and Mariner gets to meet her icon as well. Them seeing their idols as human, constantly growing, imperfect, and in these cases even before their prime in TOS. It's beautiful. I can see this continuing into Lower Decks Season 4 which is coming out in September. In the trailer, they even allude to this episode, even though they're not supposed to talk about it. We'll have to wait a little longer to see what this episode does for the characters, but it should shake up the dynamic enough.
Also, in a season that's already had a time travel episode, I wouldn't be surprised if this incident also catches the attention of the Department of Temporal Investigations. There are implications from the Lower Decks segments that Boimler's journey was pre-determined, so we'll see how this changes the timeline later on. Even if not though, it was nice to see the Lower Decks side of the episode. I think it enriched Strange New Worlds – "Those Old Scientists", making certain reveals like the poster of Number One (Rebecca Romijn) all the more impactful.
Legendary Director Jonathan Frakes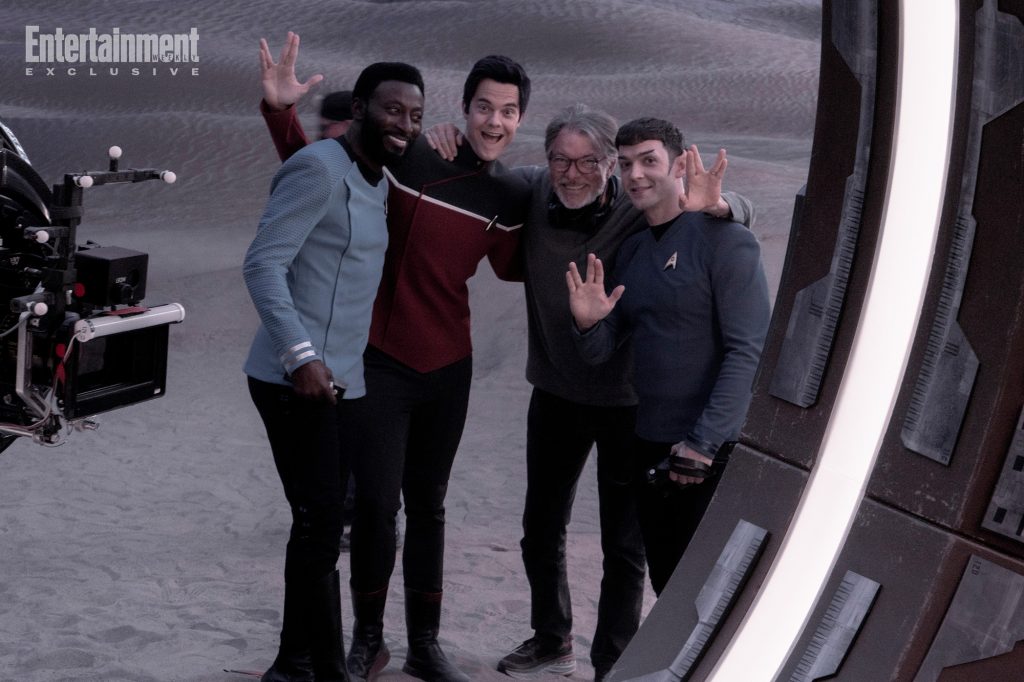 The director for Strange New Worlds – "Those Old Scientists" was none other than Jonathan Frakes. He's one of the most prolific directors in Trek, with tons of directorial credits dating all the way back to his days on The Next Generation. I can think of nobody more worthy to direct the first crossover. As someone who's been involved with the franchise for decades, he understands these characters and this world in ways that most directors just don't. All the scenes I've discussed were beautifully done, with legendary big-deal moments done perfectly.
Both the writers and directors understood this assignment, crafting intimate moments out of the minutiae. This series really excels when it's about character-driven moments, and this is one entirely without action spectacle. Even the drawcard of the crossover just means more characters and worlds to play with. It's all the better for letting us sit in these quiet moments. For instance, Captain Pike's birthday on paper isn't a big deal, until they turned it into one.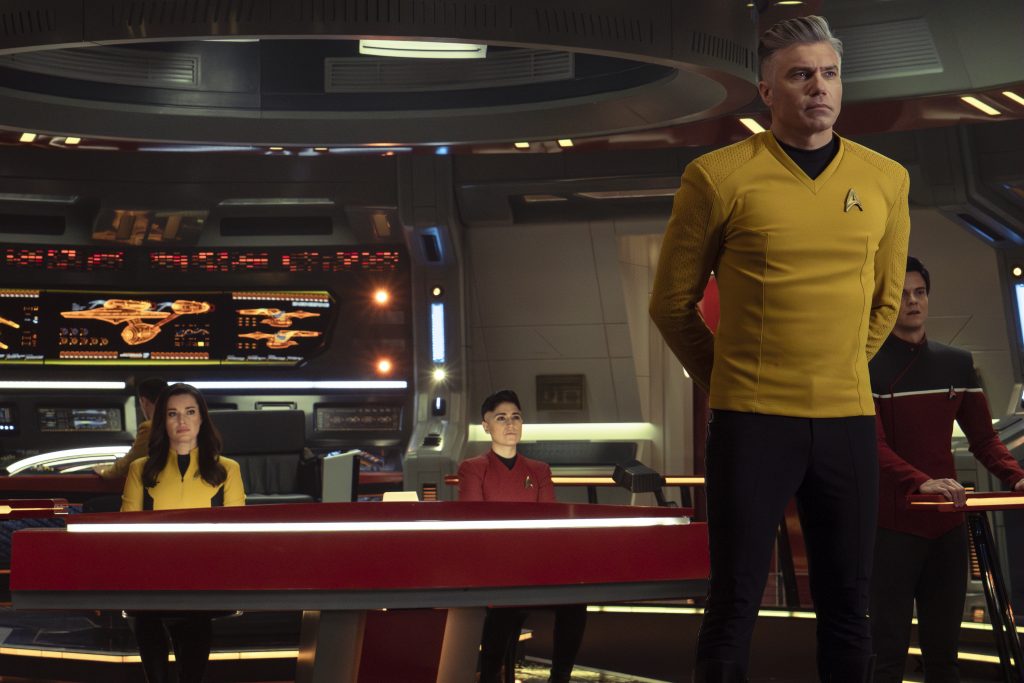 He also has a thing for tracking shots, and even a POV shot in this episode which I absolutely adore. It turns a quiet conversation around a table into something really interesting. It also turned Boimler's appearance on the bridge, where he's obviously freaking out like any of us fans would, into something truly majestic. It's a real feast for the eyes, with more than a few fun moments with the camera. I think it's probably the best-directed episode of Season 2 so far. Frakes' direction is always a treat.
Episode Images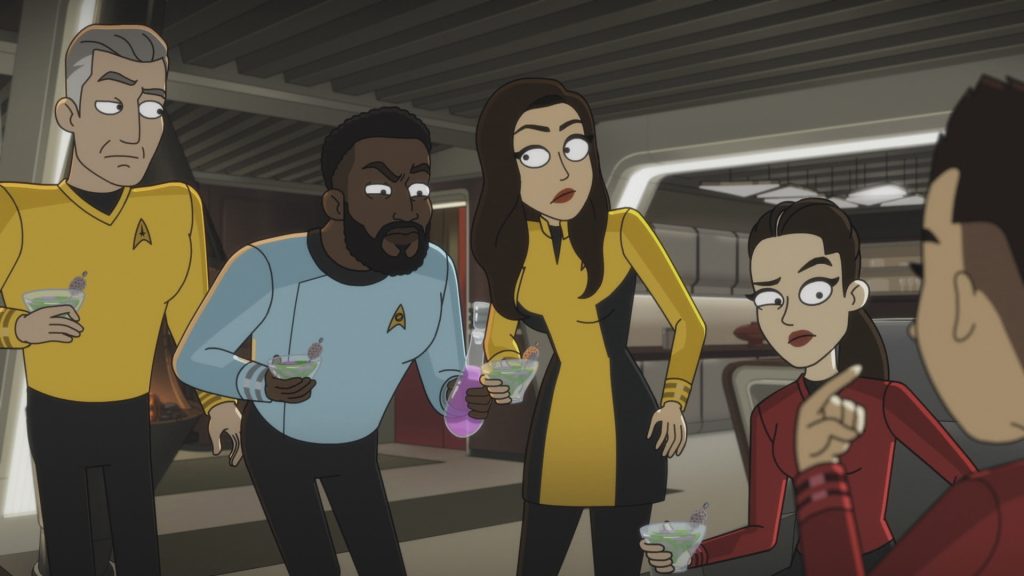 Conclusion
There's nothing to complain about. So much could've gone horribly wrong, especially how they handled the Lower Decks characters. But it didn't. They allowed for some character development for Boimler and Mariner in meeting their idols, and for the SNW characters, it's potentially helped them grow much the same. Even calling Ortegas (Melissa Navia) a war hero would probably work wonders for her confidence. Literally, every character came out of this episode better than when they came in, which I can't say about many.
This was, in no uncertain terms, a delight. It builds on most of the previous episodes of the season. It also incorporates the Lower Decks elements in ways I genuinely didn't think they'd approach them with. This is definitely an all-time classic episode of Star Trek. I only hope it doesn't lose sight of what makes it so good, though. Which is how it's so special, being really the only crossover in the 900 or so episodes of the franchise.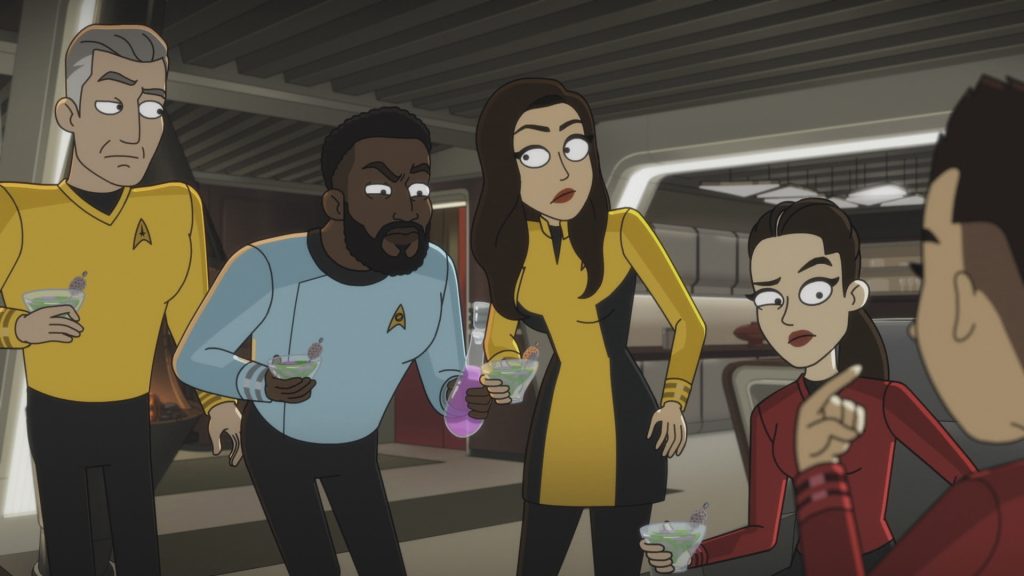 Sure, the first crossover was a resounding success, and it paid off tremendously. But I hope this is the only full crossover episode for a while, letting this remain unique and special. If there is another crossover in the near future, I would hope it's done with different shows and done differently. Although the door was certainly left open for the possibility of them returning to Pike's Enterprise, there's really no need.
Looking Forward to "Under the Cloak of War"
Next week's episode sounds pretty interesting. It's called "Under the Cloak of War", and is written by Davy Perez. It's coming out on the 27th, days ahead of when it was supposed to. Perez contributed to Season 1 episodes involving the Gorn. I've been a little mixed on the series' handling of the Gorn. That being said, both "Memento Mori" and "All Those Who Wander" were solid episodes. The latter of which was similar to the film Aliens in a lot of respects, so anything in that ballpark would be a significant shift from this week's episode.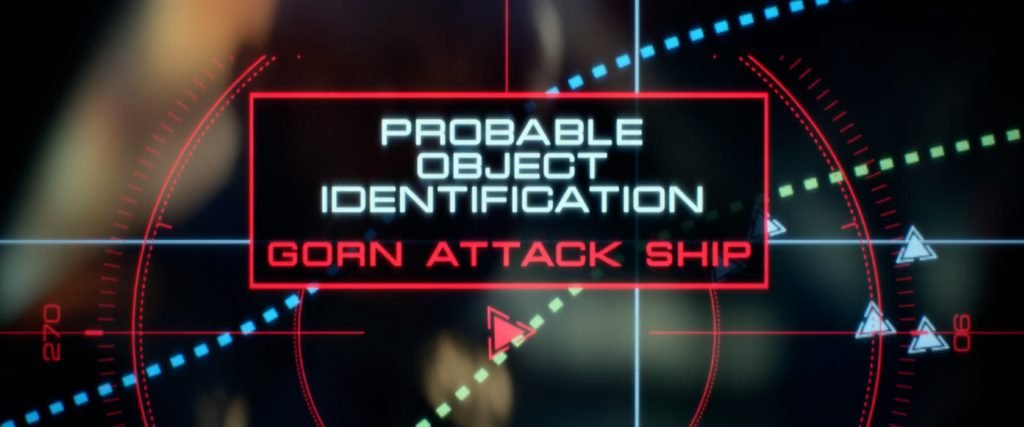 It'd also be nice to properly pick up on the Gorn War subplot. It was hinted at toward the end of "The Broken Circle" a few weeks back. I look forward to seeing if it addresses any of that, maybe even the refinery from "Lost in Translation". The possibilities are pretty vast, and I remain pretty invested in seeing how this plotline continues. That being said, this is all overshadowed by the musical episode announcement, but that's not until episode 9.
Where to Watch
Star Trek: Strange New Worlds streams Thursdays via Paramount+ in the United States, United Kingdom, Australia, Latin America, France, Germany, Brazil, South Korea (via Tving), France, Italy, Germany, Switzerland & Austria. As well as CTV Scifi / Crave in Canada, & TVNZ in New Zealand. And on SkyShowtime in the Nordics, the Netherlands, Spain, Portugal, and Central and Eastern Europe.
---
More From Trek Central
📰 – Star Trek: Discovery Season 5 Clip & Updates
🔥 – Star Trek: Lower Decks Season 4 Trailer & Release Date
🔍️ – Star Trek's SDCC 2023 Animation & Comic Announcements & More!
---
Join the Star Trek conversation via our social media platforms: