With less than a week until Star Trek: Strange New Worlds Season 2, Anson Mount, Rebecca Romijn, and Ethan Peck join Wil Wheaton to sit down, talk about what this season holds, and offer a new sneak peek of what we can expect!
We also have the first three episode titles and synopsis for the second season of Strange New Worlds! As previously stated, season 2 of Star Trek: Strange New Worlds will consist of 10 episodes. What should we expect to see from the first 3 episodes of this returning fan-favorite series?
Beware of Spoilers ahead! You have been warned!
Behind the Scenes Look!
We didn't get too much new from what we can expect from season two, but we did get some behind-the-scenes images of an episode behind the scenes! We got a good look at some new alien species on a planet with La'an Noonien-Singh undercover. There is also a Bolian and a Vulcan on this planet which is very interesting. La'an left the Enterprise near the end of season one, so this is probably an early episode where we meet back up with La'an.
From both synopses and interviews, we know that Episode Two is the courtroom scene of Una's trial. La'an is back on the Enterprise at this point, so having episode one going to reunite with La'an would make sense.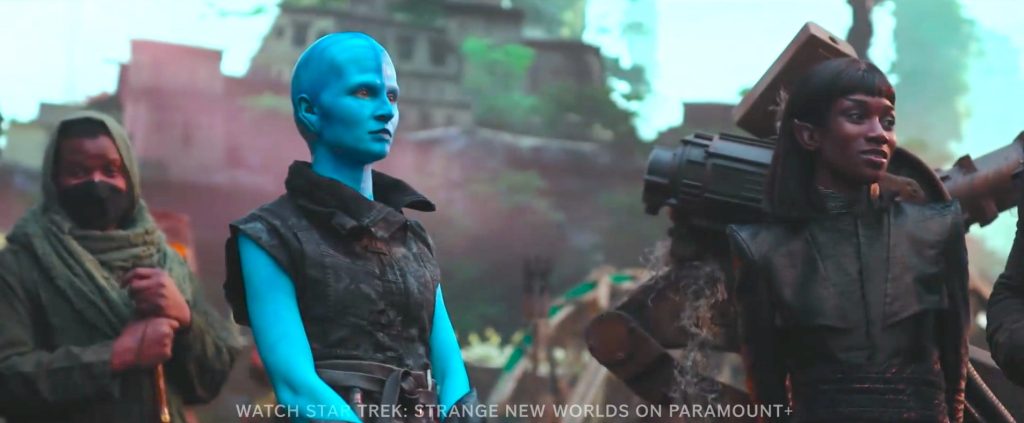 Klingon Space?
The outfit that La'an wears looks to be the same outfit that Phillipa Georgiou wore when she was undercover on Qo'Nos in Season 2 of Star Trek: Discovery! Could this be just a simple reuse of an outfit they have, or could it say about the episode? As Georgiou was undercover as a Klingon, could La'an be doing the same? Blending in undercover on this planet.
The synopsis for episode one refers to this as "disputed space" so could this be a planet on the Klingon-Federation Border? A disputed area of space after the Klingon-Federation war in Star Trek: Discovery Season One? We have also heard we will be looking at Ortegas' backstory as a soldier, so we could be seeing more consequences from that war in Strange New World's Second Season!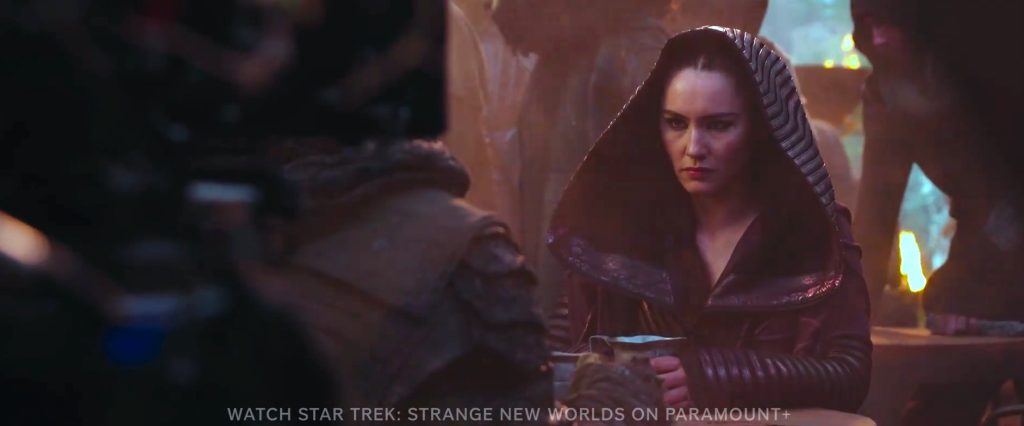 Three Episode Synopses
Episode synopses and titles are now available for the first three episodes of Star Trek: Strange New Worlds Season Two.
The Broken Circle
With the description saying that Spock is in command of the U.S.S. Enterprise, we can presume this might be the episode from the teaser trailer where he says "I want the ship to go. Now!". What are the orders he is disobeying? With La'an sending this distress call, this looks to be the episode with the scenes shown in the preview.
It is also interesting what disputed space this could be that Spock takes the Enterprise into. From the preview images, it looks like a whole host of species live in this disputed space. From new aliens to old ones like Bolians and Vulcans.
Ad Astra Per Aspera
This is definitely the courtroom episode where Una Chin-Riley will be on trial for being an Illyrian, a species that uses genetic augmentation. We saw a clip of this scene recently, and we broke it down in this article here.
Tomorrow and Tomorrow and Tomorrow
This episode definitely sounds like the La'an and Kirk time travel to modern-day episode. I personally theorized that this might have something to do with the eugenic war, which might be a nice tie-in for La'an and Kirk and help solidify the 21st century in Trek. However, it looks more First Contact inspired, perhaps going back to stop some time travels from the future altering humanity's history. A Star Trek staple.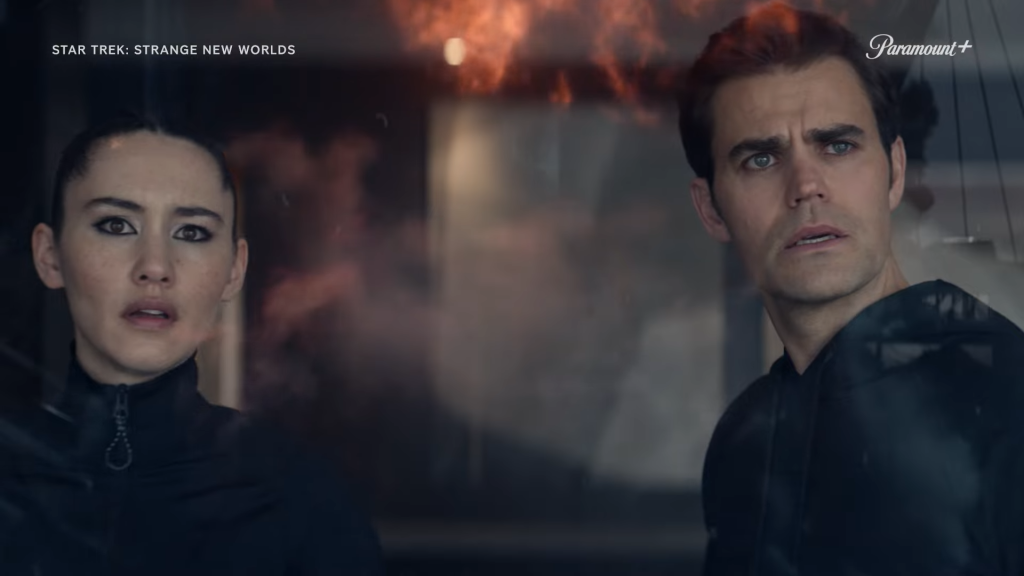 Possible episode 4?
It's been a while since the last Star Trek Day and the first glimpses of new footage with a short clip. Our first short clip showed us an episode centered around Enterprise Pilot Erica Ortegas, and Melissa Navia has talked in some recent interviews about some more Ortegas action in season two! This looks to be episode 4 of Season 2, with a recently released promotional image of Pike being labeled as this episode. His costume matches the one seen in last year's early sneak peek scene.
This is the episode in which Enterprise returns to Rigel VII, the place where Pike lost crew members and nearly retired from Starfleet. In more recent trailers we have seen more of Rigel VII, with even Dr M'Benga throwing some punches! This episode could be looking at cultural contamination on Rigel VII. We can see a Starfleet Delta symbol over one of the native forts in a recent trailer.
What else do we know?
Apart from the first three episodes of Star Trek: Strange New Worlds second outing, we know a lot about one specific episode. Episode 7 of Season 2 will be the crossover episode with Star Trek: Lower Decks!
This episode is directed by Jonathan Frakes, and will have Tawny Newsome and Jack Quaid reprising their roles of Beckett Mariner and Bradward Boimler respectively! In both live-action and animation. The episode will have an animated section, with what looks to be Captain Pike and La'an returning to the U.S.S. Cerritos. The episode promises to be eventful, and we cannot wait!
Conclusion
Strange New Worlds season 2 is rapidly approaching, and marketing has seen very minimal. We've had a small event at MCM London Comic Con. Only two trailers, the first only 2 months ago. So a look into Strange New Worlds Season 2 with Will Wheaton was a nice surprise.
If you want to keep up to date on all this Star Trek, make sure to follow Trek Central on all our social platforms! The second season of Star Trek: Strange New Worlds will premiere on Thursday, June 15 exclusively on Paramount+, with new episodes dropping weekly on Thursdays.
Star Trek: Strange New Worlds Season 2 is available from June 15 on Paramount+ in the US, UK, Latin America, Australia, Brazil, South Korea (via TVING), France, Italy, Germany, Switzerland & Austria. Plus TVNZ in New Zealand & CTV Scifi/Crave in Canada. And from June 16 on SkyShowtime in the Nordics, Netherlands, Spain, Portugal & Central & Eastern Europe.
---
More From Trek Central
📰 – Is Star Trek Legacy already in Development?
🔥 – NEW Star Trek: Strange New Worlds Season 2 Trailer Confirms Enemy Return!
⭐ – BREAKING: Strange New Worlds Season 2 Premiere Date & More!
---
Join the Star Trek conversation via our social media platforms: