As Star Trek: Picard's finale settles in, the fan outcry for a new spin-off gets louder. And who can blame us? It's been a great season, entertainingly melding 90s Star Trek nostalgia and modern production values, all beautifully crafted. Seeing such beloved characters on one last great adventure was a triumph for many fans and critics alike. With so much enthusiasm being ardently encouraged by its cast and creators, is a Star Trek Legacy series already in development? There really has been no shortage of hints!
What comes next?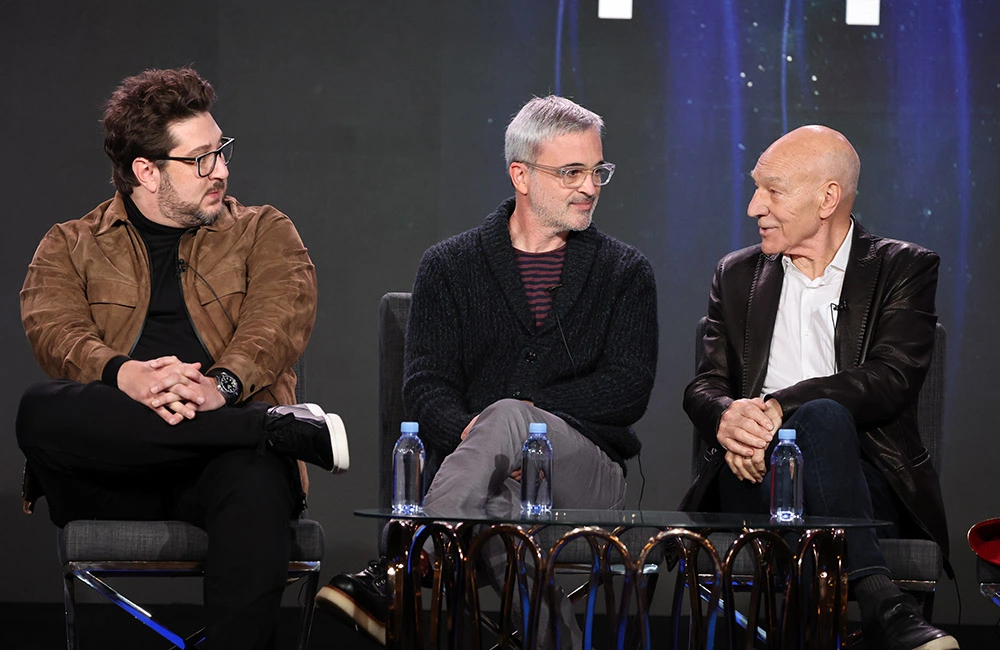 Over the last few months, there has been a relentless string of interviews with Star Trek: Picard Season 3 showrunner Terry Matalas. None more so than in the last week. And he is extremely eager to hammer home his vision for a Star Trek Legacy series. Indeed, half of Picard's finale was dedicated to setting up that premise. But is it a real possibility? After all, there is a hole to fill in the Star Trek Universe slate, and no current 25th Century live-action show in production.
We don't rush into it. We want to make sure we do it right. That's where we're at with it, I say coyly. At the moment, there's nothing developed on it. But we talk all the time.

Terry Matalas – Variety.
He played down the possibility to Variety, but Matalas' enthusiasm to sell his idea for a spin-off was clear, however coy.
Well, not specifically seeding for a spinoff, as lovely as that is to think about. I definitely wanted the feeling that it could go on, that it was a passing of the torch of the last generation to the next…[…]…Having said that, of course, I want to see Jack and Seven and Sidney and Raffi and everybody go on forever. But yeah, that was the creative impulse behind it.

Terry Matalas – Variety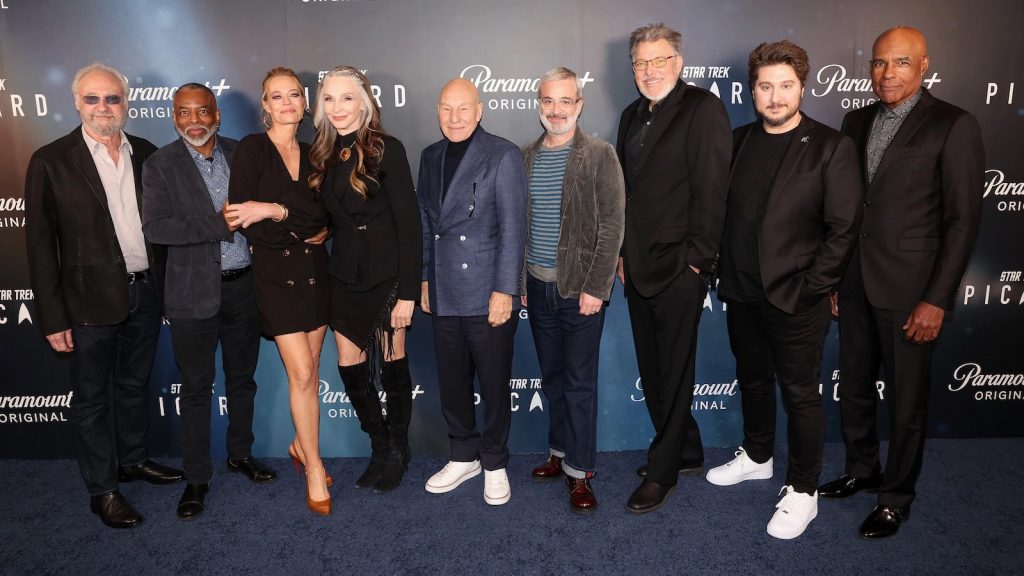 Matalas wasn't only asked about a Star Trek Legacy show. The question was posed to franchise boss Alex Kurtzman during last week's Star Trek: Picard finale IMAX screening in Los Angeles. The Executive Producer had definitely not missed all the fan furor but played more coy with the possibilities.
Anything is possible. We've heard the fans loud and clear. There's obviously more story to tell. So, we'll see.

Alex Kurtzman – Fox LA
Hopes, teasing, and more hints?
Star Trek Universe boss Alex Kurtzman has been hinting another as-yet-to-be-revealed live-action series is in development. And we're pretty confident he was not talking about the then-stalled Section 31 (now a streaming movie). Nor the recently announced Starfleet Academy series.
He dropped those hints during the Star Trek: Strange New Worlds Comic-Con panel in San Diego last year, responding to a fan suggestion (of adding a deaf character).
It's a terrific idea and it's definitely something that we'll take into the next…two Star Trek shows that we are currently developing.

Alex Kurtzman – San Diego Comic Con – July, 2022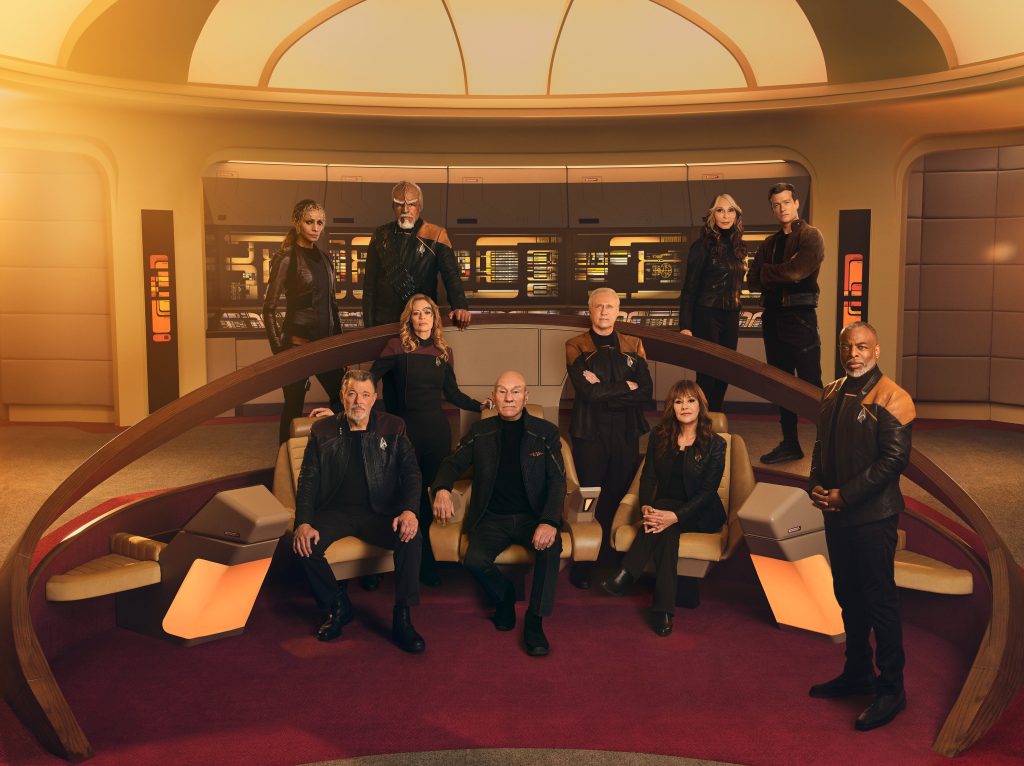 A Legacy Anthology Series?
Of course, that subtle detail of 'two Star Trek shows' in development did not go unnoticed. Could one be a legacy-style series? After all, Picard had already wrapped production by July (2022). And each new Trek series iteration has been promised to be different from others currently in production.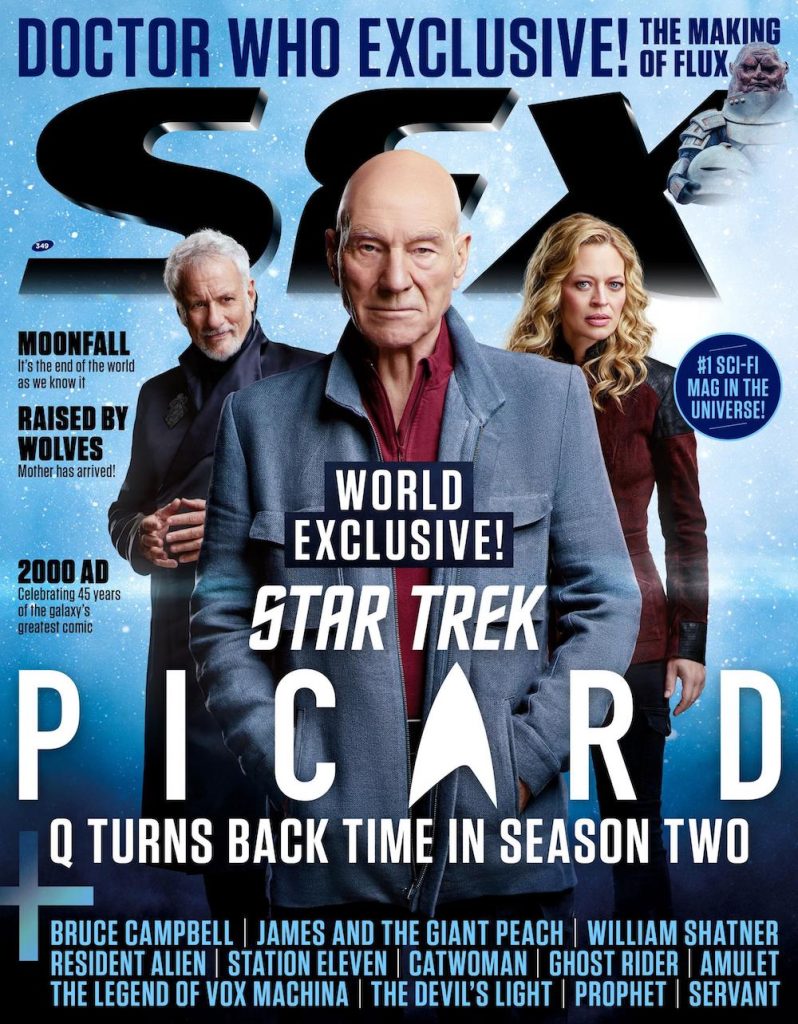 Developing a Star Trek Legacy-style series isn't new, either. Executive Producer Akiva Goldsman also floated such an idea last year. Speaking to SFX Magazine just before Season 2 premiered, Goldsman pitched an anthology concept.
There's something that I like… which is a kind of… I'll call it Tales Of The Federation, where you would just do one-offs, right? So you could bring George Takei back for an hour, and do a show about Sulu as an older man, or find Jonathan Archer having now retired from his Enterprise and being on Earth, just do these certain really interesting ones."

He continues, "You could grab anybody, from all the shows, because it's really hard to find enough for a series, but there are an endless amount of episodes, as anthology series are finding their way back. They were sort of a staple when I was a boy. A Star Trek-based one of those I think would be super fun.

Akiva Goldsman – SFX Issue 349, February 2022
And that idea really is appealing and has a vast scope. We all want our favorites to have their chance too. Of course, Captain Seven and the crew of the U.S.S Enterprise-G definitely deserve their shot. But an anthology series opens the doors for Janeway (Kate Mulgrew), Archer (Scott Bakula), Sisko (Avery Brooks), or even whatever Captain Worf (Michael Dorn) did to the Enterprise-E.
And better yet, there would be no need to stretch a storyline over ten episodes. Stories could cover single or multiple episodes or even a full season. Regarding narrative pacing, it truly is modern Star Trek's Achilles hell. Discovery and Picard's season arcs (yes, even for season 3) have still not nailed it.
It also cuts the wait for one series to end, so another can begin. That is also a sticking point that frustrates many, even though we know there is only so much room in Paramount's budget. And with so much new Star Trek already on the way, fickle tastes can rapidly change. Also, forgive me for being blunt. Some Trek alumni are not getting any younger. So the time is now. Give them their shot!
More hints at NYCC 2022?
Last year's NYCC panels featured the Star Trek: Prodigy cast in attendance. And if there's one character no one can stop mentioning, it's Kate Mulgrew's Janeway. And I don't think the Admiral is really cameo material. Janeway is a character who deserves nothing less than her own adventure and undivided attention.
Alex Kurtzman also had a few words to say about a Janeway series, and he wasn't even playing coy with the idea this time.
Here's what I'm going to say. Things have been talked about. That's all I'm going to say. But nothing would make me happier than to bring Janeway back. I think it would be an incredible thing to do. There might be an idea in play. Who knows? But I would love it to happen.

Alex Kurtzman – NYCC 2022 Star Trek Prodigy panel.
Mulgrew has continued to add fuel to that fire. Putting the ball in the fans' court, noting if we want to see it, we need to ask and keep asking. She has not been shy about her requirements for returning to the role either, noting the writing will have to be "absolutely exquisite and as tight—I mean so tight." And those requirements would absolutely lend themselves to a limited series or a limited arc within an anthology series.
It's a long road…
It seems clear from the evidence that the idea is at least on the development table for more Star Trek Legacy-style adventures. Don't get your hopes up too soon, though. We know from experience these things take time, and they need to be done right. Strange New Worlds, at least as a concept, was on the cards from 2018, according to Akiva Goldsman. Anson Mount's Captain Pike first appeared in season 2 of Star Trek: Discovery in 2019. And fan support, while it did not directly create the possibility of the series, certainly tipped the scales in its favor.
We also got teased relentlessly about it before the series became official. The green light did not materialize until May 2021, with the series debuting in 2022. Section 31's development has taken even longer. First announced in 2018 as a series, five years later, it is set for production, now as a streaming movie. So a lot can change in TV regarding spin-offs, but that doesn't mean a Star Trek: Legacy series isn't already in development.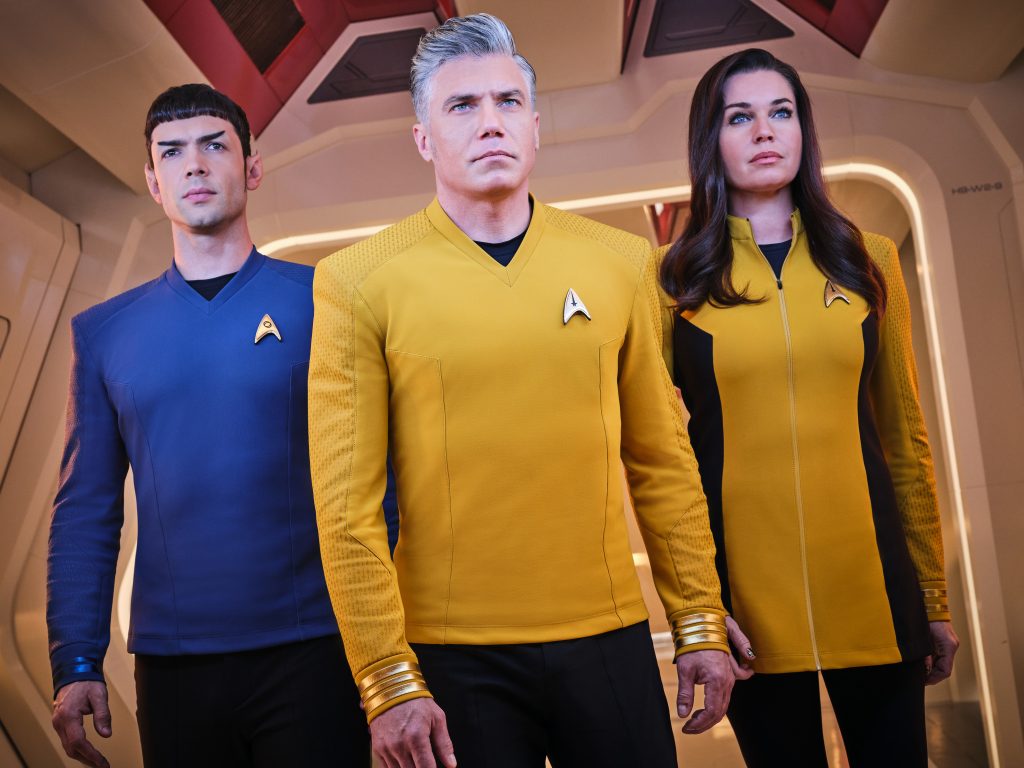 Make it So!
It has to be said, just like with Pike & Crew, it would be a massively missed opportunity if Picard's new and old characters depart just as they get going. And more importantly, after proving how relevant the old guard is to today's Star Trek Universe.
Not just The Next Generation cast, but also Voyager and Deep Space Nine. And how evident the absolute thirst is for a Trek series set in the comforting familiarity of the 25th Century. There are all those incredible Picard sets (hopefully in storage) and the amazing artists who built them too.
And why should they have all the fun? What about TOS characters and cast members? And let's not forget Star Trek: Enterprise and the urgently needed resurrection of one Trip Tucker III (Connor Trinneer). So maybe it's not a Star Trek Legacy show, but rather a 'Legacies' series we all need to be jumping on the bandwagon for.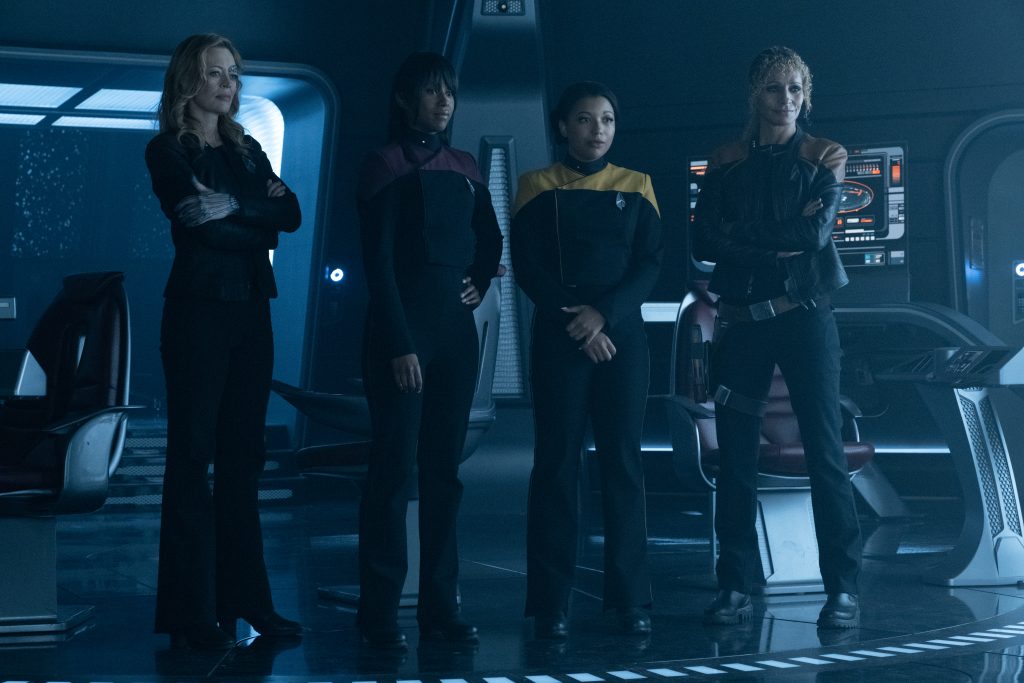 ---
More From Trek Central
📰 – REVIEW: Star Trek: Picard: "The Last Generation"
🔥 – Star Trek: Section 31 Movie Goes Ahead With Michelle Yeoh!
⭐ – BREAKING: Star Trek: Starfleet Academy Show Announced!
---
Join the Star Trek conversation via our social media platforms: