Finally, the Star Trek: Resurgence Release Date has been confirmed. The new game from Dramatic Labs will release on May 23rd 2023. Unfortunately, the game's release was originally delayed, and there hasn't been much news until today. In the leadup, we've got a prequel comic series from IDW Publishing and preview material from gaming news outlets. Last month also saw the Star Trek game feature on the cover of PC Gamer. The game will release on PC via Epic Games, PlayStation 4/5, Xbox One, Xbox Series X and Series S.
Recently we had a Star Trek: Prodigy game release, but with the promise of a Telltale-style Star Trek Game, we can't wait for this one! The interactive narrative video game from Dramatic Labs tells an original story following the events of Star Trek: The Next Generation. Given the recent conclusion of Star Trek: Picard Season 3 and the demands for a Star Trek: Legacy series, fans are desperate for more TNG stories.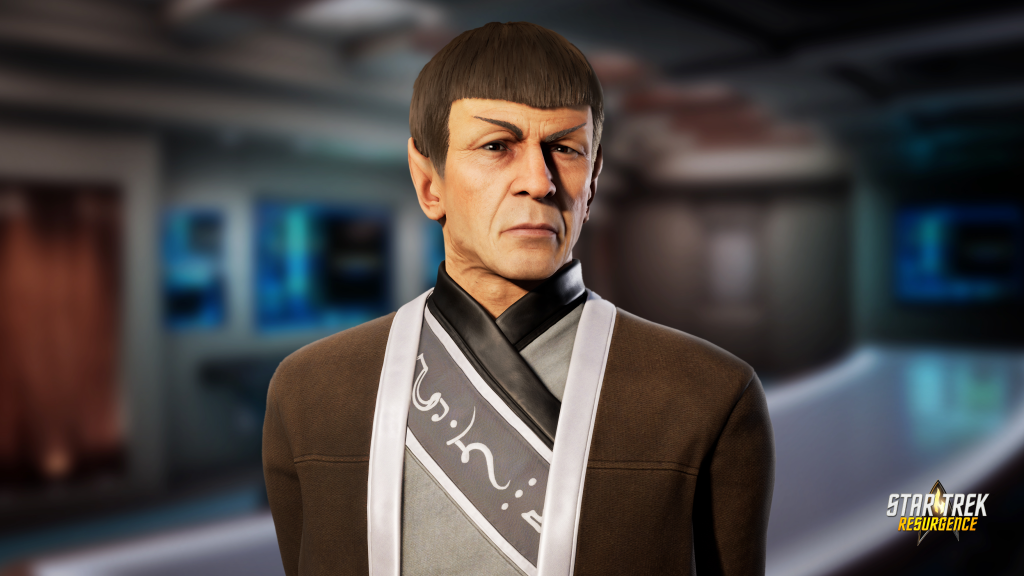 Star Trek: Resurgence Release Date Beams Down
The original Star Trek: Resurgence Release Date was in 2022. However, the game was pushed into 2023 by developer Dramatic Labs to allow for more development time. Now releasing on May 23rd, it looks to take Star Trek fans by storm. Everything shown off by the developers points to the game being in the same vein as the interactive narrative games developed by Telltale Games. This makes sense, as Dramatic Labs was founded by former Telltale Games boss Kevin Bruner.
Star Trek: Resurgence is set in 2380, the same period as Star Trek: Lower Decks Season 1 and a year after Star Trek: Nemesis. Therefore, the game occurred nineteen years before Star Trek: Picard Season 1. The official game story description is as follows:
"A worker uprising threatens the tenuous peace between two alien civilisations, and Starfleet is forced to intervene. Players experience the conflict and larger mystery from two key perspectives. The U.S.S. RESOLUTE's First Officer Jara Rydek is part of the diplomatic envoy led by Ambassador Spock that's tasked with finding a resolution – and uncovering the ultimate source of this tense situation.

Engineering Crewperson Carter Diaz highlights how the mission plays out from the lower decks, caught up in the events in his own unique way. Throughout the gripping story, players can interact with the Star Trek universe like never before, with moments of authentic action and critical decisions that shape the broader narrative in subtle and unexpected ways."

Star Trek: Resurgence Official Blurb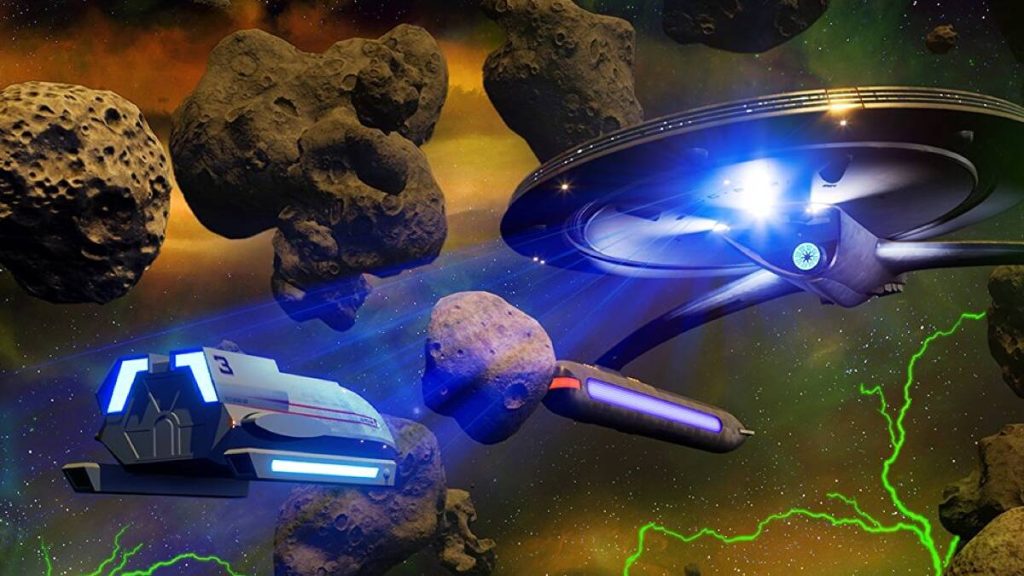 Legends Arrive In Star Trek: Resurgence
In previous gameplay videos, we were introduced to the political elements of this game. The mission you are sent on is with help from Ambassador Spock aboard the starship U.S.S. Resolute! In trailers and videos, you may notice the voice has an uncanny resemblance to the late Leonard Nimoy. Well, Spock is played by actor Piotr Michael, who previously took on the role in the Star Trek Into Darkness Honest Trailer almost ten years ago. 
Notable and current Star Trek actor (He plays L'ak in Star Trek: Discovery: Season 5!) Elias Toufexis recently went to his Twitter to announce that he is in Star Trek: Resurgence. He will be playing one of The Hotari, named Galvan. Elias has been in Trek, with Star Trek: Discovery: Season 1 as the prisoner Cold. He is also a very well-known Video Game Voice Actor, most notably being the voice for Adam Jensen in the Deus Ex series of games.
Star Trek: Resurgence will see you playing as two different characters, the First Officer and a lower decker. The First Officer is Commander Jara Rydek, who we find out is a Kobliad! This is a very deep cut. The Kobliads are mostly secondary characters in Star Trek: Deep Space Nine, Star Trek: Enterprise, and Star Trek: Voyager! Meanwhile, Engineering Crewman Carter Diaz is our resident Starfleet Engineer and Lower Decks person.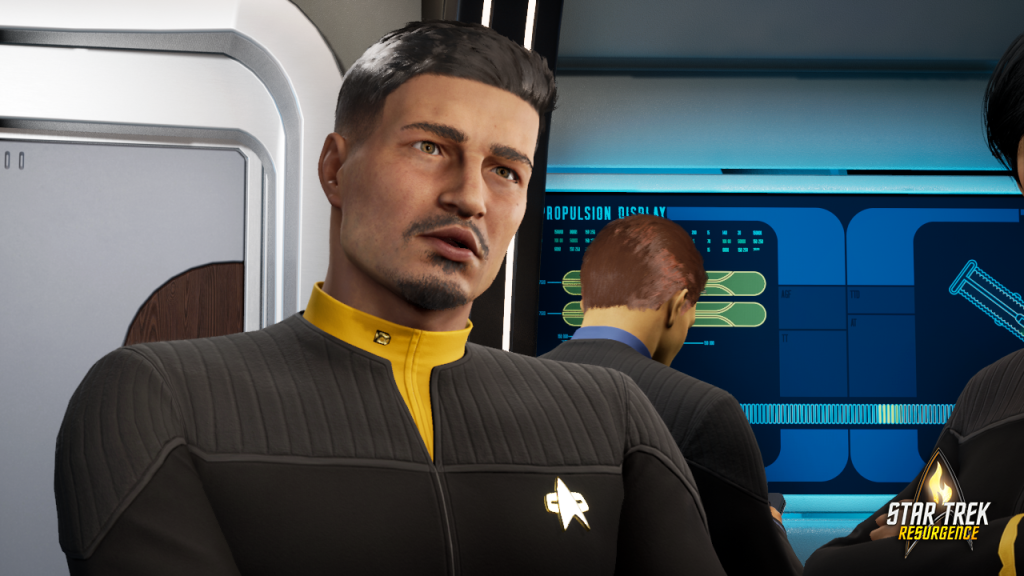 Warp Speed for Star Trek: Resurgence
With the Star Trek: Resurgence Release Date confirmed, fans can get excited. The gameplay of this interactive adventure looks to be the right setting for a Star Trek video game. However, we must also respect the development team's attention to detail. Multiple alien species are featured in the game. Most interestingly, the T'kon Empire seem to be popping up. This was the empire that existed hundreds of thousands of years ago and was capable of moving stars!
Star Trek: Resurgence releases May 23rd 2023. The game will release on PC via Epic Games, PlayStation 4/5, Xbox One, Xbox Series X and Series S. Additionally, players can explore the narrative adventure game through dialogue choices, relationship building and exploration. Follow Trek Central for dedicated gameplay and news coverage about this brand-new adventure in the Star Trek Universe.
---
More From Trek Central
📰 – Star Trek: Section 31 Movie Goes Ahead With Michelle Yeoh!
🔥 – NEW Star Trek: Strange New Worlds Season 2 Trailer Confirms Enemy Return!
🔍️ – Beverly Crusher: Intergalactic Rule Breaker
---
Join the Star Trek conversation via our social media platforms: