Finally, we've reached the musical episode. Star Trek: Strange New Worlds Season 2 Episode 9 will see the Enterprise crew break out in song. It's an episode we heard rumors about since the second season started coming around. However, Star Trek at San Diego Comic-Con finally brought the confirmation. This is the penultimate episode of Strange New Worlds Season 2.
This season has had a number of long-running character arcs for our characters through multiple episodes. We have Spock (Ethan Peck) and Chapel (Jess Bush), La'an (Christina Chong) and Kirk (Paul Wesley), Uhura (Celia Rose Gooding) dealing with work-life balance, and more. This episode should let us get into the nitty gritty, and hopefully provide some development on many of these fronts. However, how this episode will contend with all this and tie it together coherently will be a challenge, so we shall have to see.
'Subspace Rhapsody' was written by Dana Horgan and Bill Wolkoff, and directed by Dermott Downs. Love or hate them, Musical episodes used to be a weird staple of TV Shows and were usually utilized to provide a deeper insight into our character's thoughts and feelings. So what might we be in store, with the first Star Trek Musical episode? Let's take a look!
"an accident with an experimental quantum probability field causes everyone on the U.S.S. Enterprise to break uncontrollably into song, but the real danger is that the field is expanding and beginning to impact other ships — allies and enemies alike."

Official synopsis for Star Trek: Strange New Worlds Season 2 Episode 9 "Subspace Rhapsody"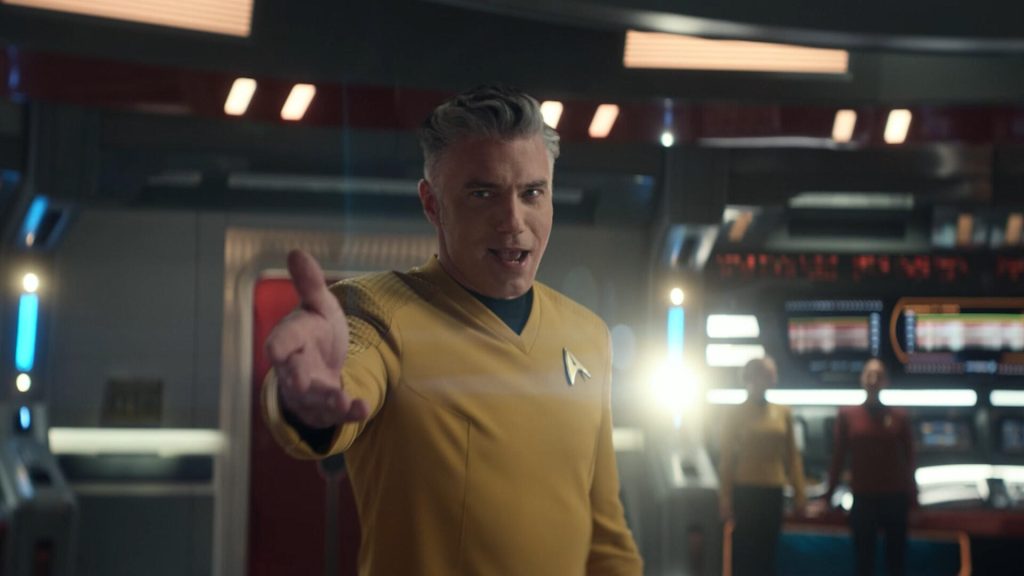 Preview Pictures
As always, we have preview pictures for Strange New Worlds Season 2 Episode 9. The pictures showcase our crew in a variety of different places on the ship. Interestingly, we see James T. Kirk and Number One working in a Jefferies Tube. The pair also might be working on the subspace communications issue which seems to have caused everyone to break out in song. Uhura can be seen at her station, while Kirk is seen once again. However, he is on the bridge this time. Is Kirk on the bridge, again?
Anson Mount's Captain Pike can also be seen leading in song on the bridge. There is also a fantastic shot of all the Strange New Worlds' main cast standing at the front of the bridge. Kirk is hidden just behind them as well. Sadly, I don't see Pelia in this shot which is a bit disappointing. The majority of these "preview pictures" are shots taken from the main trailer. This was released at SDCC 2023.
Strange New Worlds Season 2 Episode 9 Trailer
SDCC brought us the teaser trailer for Strange New Worlds Season 2 Episode 9. It gives us a good glimpse at the crew dancing and singing around the USS Enterprise. It seems the reason in this episode of Strange New Worlds fits the sci-fi theme, with some sort of spatial anomaly enveloping the ship and causing everyone to break out into song.
Another observation is a horde of red shirts dancing down the corridors. I actually do somewhat hope that we get a song about the struggles of being a redshirt and how all red shirts are terrified on the inside because of the possibility they might die, but that might be a little too meta. We'll have to see! We know this episode will feature 10 original songs by "Letters to Cleo's" Kay Hanley and Tom Polce. However who each song is sung by and what they will be dealing with is interesting.
Klingons have reappeared in this season of Strange New Worlds. We saw them in the first episode, and episode 8, "Under the Cloak of War", but we will also see Klingons in this Musical episode. We see Klingon D7 starships around the spatial distortion as well and spinning around the USS Enterprise, so it could be that they have also been affected by the singing phenomena. Could we hear some Klingon Opera from a Klingon captain in this episode? Perhaps the Star Trek theme is even better, once you have heard it in the original Klingon?
The Ready Room Sneak Peek Clip
Our Strange New Worlds Season 2 Episode 9 clip gives a hint at how this episode might unfold. Mr. Spock and Uhura are working in the Engineering department of the USS Enterprise. They're assisted by Chief Engineer Pelia (Carol Kane), who is helping the pair with their new communication technology it seems. Pelia suggests sending music through subspace to test the communication systems. Likely this is where the episode kicks off. However, notice the Enterprise is observing a spacial anomaly.
If I had to theorize, based on this preview clip, there is a subspace anomaly that makes the crew sing. Therefore, if we take the title of the episode and this detail, we might have cracked part of the episode's mystery.
Cast Excitement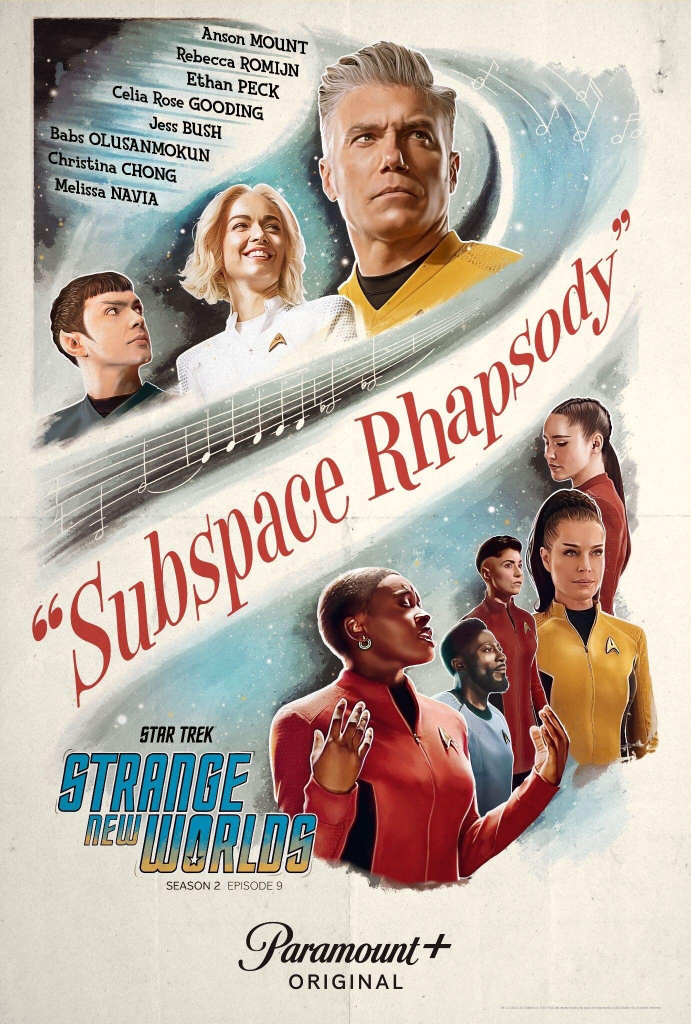 Even before the musical episode came around, the cast was dropping hints. Number One actress, Rebecca Romjin, previously dropped hints during an interview with Gamesradar. This article was published on June 27th, just before SDCC revealed it.
Meanwhile, actress Christina Chong also spoke with Screenrant about the upcoming musical episode. For example, she reveals how Akiva Goldsman revealed the episode idea was already in progress, despite her also pushing for it to happen. Don't forget, that a musical episode is also a first for Star Trek as well. Christina said the following:
It is also worth pointing out that the poster for this episode very much invoking old-style musical posters. The sheet music on the poster looks to play the iconic Star Trek theme, but if you are better at reading sheet music than I am, most likely, let us know in the comment section if it is the iconic Trek piece.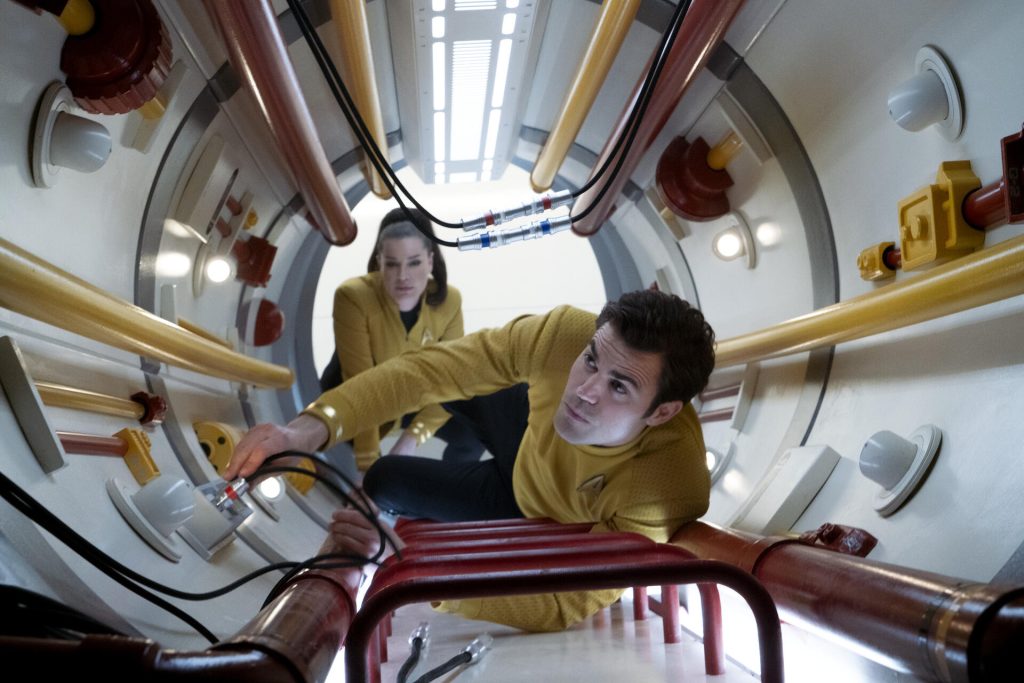 Tracklisting
Interestingly, before the episode even airs, previews of the musical tracks appeared on Apple Music. Now, this is a SPOILER WARNING. These tracks do give a bit away when it comes to the plot of this episode. For example, the listings of who sings what track give us a hint about how parts of the episode will play out.
Listen at your own risk!!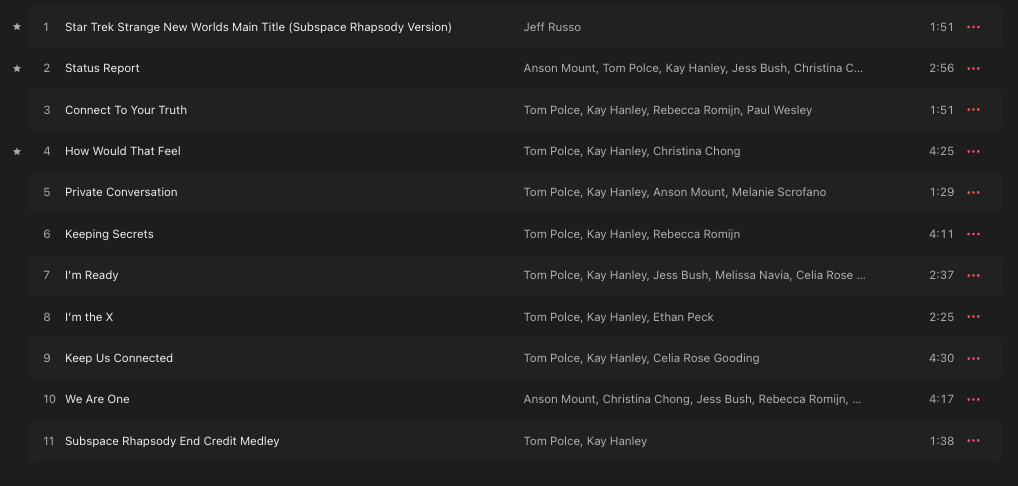 Where to Watch
Star Trek: Strange New Worlds Season 2 Episode 9 streams Thursdays via Paramount+ in the United States, United Kingdom, Australia, Latin America, France, Germany, Brazil, South Korea (via Tving), France, Italy, Germany, Switzerland & Austria. As well as CTV Scifi / Crave in Canada, & TVNZ in New Zealand. And on SkyShowtime in the Nordics, the Netherlands, Spain, Portugal, and Central and Eastern Europe.
---
More From Trek Central
📰 – Star Trek: Discovery Season 5 Clip & Updates
🔥 – Star Trek: Lower Decks Season 4 Trailer & Release Date
🔍️ – Star Trek's SDCC 2023 Animation & Comic Announcements & More!
---
Join the Star Trek conversation via our social media platforms: