Last week may have had the famous Captain James T. Kirk (Paul Wesley), but we're back with Captain Christopher Pike (Anson Mount) this week. It's time to preview this week's Star Trek: Strange New Worlds Season 2 Episode 4. Titled "Among the Lotus Eaters", Pike and his away team find themselves in trouble. This is Star Trek. That is how it always goes!
Each week Trek Central has brand new preview material for Strange New Worlds. Memory loss shenanigans are on the cards this week for 'Among the Lotus Eaters'! We seem to have had a small preview of this episode a while back. Keep reading to find out more! SPOILER WARNING – This is a preview article. You have been warned!
Returning to a planet that dredges up tragic memories, Captain Pike and his landing party find themselves forgetting everything, including their own identities as he confronts a ghost from his past.

Official Synopsis – Star Trek: Strange New Worlds Season 2 Episode 4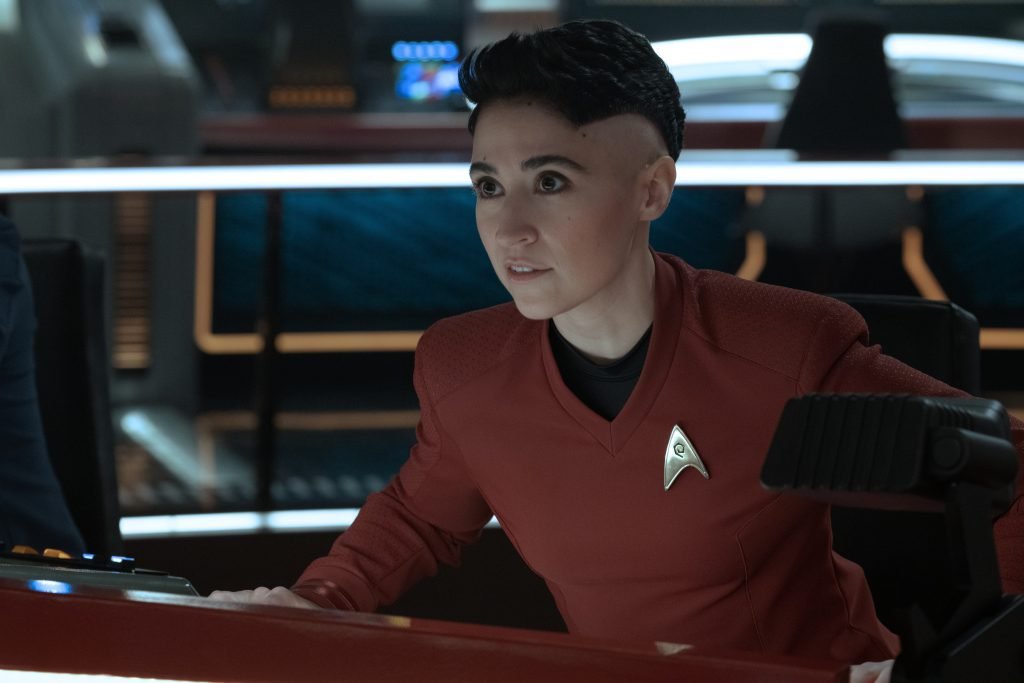 Preview Pictures
Preview pictures for Star Trek: Strange New Worlds Season 2 Episode 4 give us a glimpse of Captain Pike in an away team disguise. For starters, the Captain himself in disguise was one of the local population. Meanwhile, Enterprise's pilot, Ortegas, is taking the helm. We've already seen this episode's glimpses in Strange New Worlds trailers—notably, Ortegas's epic piloting skills and moving the Enterprise around asteroids while cutting holes with phasers.
Additionally, we've got the reveal that Broadway and Tony Award Winning actor Reed Birney will play Luq. There is also a shot of Jess Bush as Nurse Chapel walking the corridors of the USS Enterprise.
Clip – Star Trek: Strange New Worlds Season 2 Episode 4
The latest preview clip from Star Trek: Strange New Worlds Season 2 Episode 4 reveals some key details about this episode. The big kicker here is it looks like Captain Pike and Lieutenant La'an Noonien-Singh (Christina Chong) have crash landed. Doctor Joseph M'Benga (Babs Olusanmokun) is also on the away team. Even more intriguing is the local people seem to be wielding a Star Trek: Discovery-era phaser rifle. These same ones were used by crewmembers onboard the U.S.S Discovery.
Now, the locals are identified as the Kalar, a pre-warp humanoid species. They seem to have suffered some cultural contamination by Starfleet. The incident actually happened under the command of Captain Pike. In 2254, six years before this episode, an away team from the Enterprise were attacked. Three Starfleet crew members were killed, and seven more were injured. This included Mr Spock (Ethan Peck). As you can see in the Star Trek: Strange New Worlds Season 2 Episode 4 clip, Pike recalls Spock's injury.
Missing All The Fun
Strange New Worlds has used episodes to focus on one character in the main crew. We've had episodes focused on both Doctor M'Benga and Uhura (Celia Rose-Gooding). However, Enterprise's Erica Ortegas (Melissa Navia) has not had an episode for herself yet. "Among The Lotus Eaters" seems to be that episode. For example, around nine months ago, Paramount+ dropped an exclusive preview of Ortegas preparing for an away mission.
Conclusion
The idea of Starfleet accidentally messing up a pre-warp society is nothing new. Most recently, the now-canceled Star Trek: Prodigy series explored the idea. It, too, was related to the original U.S.S Enterprise and the Shuttlecraft Galileo. If you find a place to watch Star Trek: Prodigy, you can check out the episode "All the World's Stage" for that reference. Catch the upcoming episode of Strange New Worlds on Thursdays.
Star Trek: Strange New Worlds streams via Paramount+ in the United States, United Kingdom, Australia, Latin America, France, Germany, Brazil, South Korea (via Tving), France, Italy, Germany, Switzerland & Austria. As well as CTV Scifi / Crave in Canada, & TVNZ in New Zealand. And on SkyShowtime in the Nordics, the Netherlands, Spain, Portugal, and Central and Eastern Europe.
---
More From Trek Central
📰 – Star Trek: Strange New Worlds Season 2 Episode Titles & Details
🔥 – Seven of Nine – From Borg to Badass
🔍️ – Star Trek: Resurgence – Writers Interview
---
Join the Star Trek conversation via our social media platforms: