It's time for Captain Kirk In Star Trek: Strange New Worlds. Actor Paul Wesley is back in the second season of Anson Mount's Captain Pike series. This time, it seems time shenanigans are taking place. We always knew that Kirk would appear in the second season. At the time of the announcement, we didn't expect him to be in the first season finale episode. However, what is Kirk up to in this season, and how will it fit around the established canon points that many fans are worried about?
It looks like Episode 3, coming next week, won't be the only time we see Captain Kirk In Star Trek: Strange New Worlds. Fans have noticed that Kirk looks to appear twice in the second season. For example, Kirk is a Captain in the preview we have today. While in another scene from one of the trailers, he is wearing Lieutenant markings. Watch a preview clip from Star Trek: Strange New Worlds Season 2 Episode 3, "Tomorrow, Tomorrow and Tomorrow". SPOILER WARNING!
Strange New Worlds Goes Time Traveling
While the big detail is Captain Kirk In Star Trek: Strange New Worlds, there is another key development. The clip from this week's The Ready Room with Wil Wheaton starts with La'an Noonien-Singh (Christina Chong). The Lieutenant is walking down the USS Enterprise hallways when some temporal effect happens. We can see this as a temporal effect due to a big revelation in a moment. Additionally, an unknown individual appears to have beamed in. He's a man wearing a rather plain suit with a gunshot wound.
The unknown man tells La'an that there has been an attack in the past. This is not the first time Star Trek has dealt with Temporal issues in the past. For example, the series Star Trek: Enterprise dealt with the Temporal War. Many events happened in the past, which would impact the future. Here, it seems Captain Kirk In Star Trek: Strange New Worlds might have appeared due to a Temporal incursion in the past. Or, in this case, the attack the unknown individual mentioned. Are Star Trek's Time Agents going to arrive?
Interestingly, the unknown man pulls out a device to show to La'an. This device design, mainly what it projects, resembles the TCARS design. The "Temporal Computer Access and Retrieval System" about 29th Century Federation Timeships was used. Fans who watched Star Trek: Voyager will remember one such time. The USS Relativity occasionally worked with Captain Kathryn Janeway (Kate Mulgrew) and Seven of Nine (Jeri Ryan) to help correct the timeline.
Captain Kirk Goes Back In Time, Again?
Captain James T. Kirk is no stranger to time travel. Though, at this point, he might be. There were a few adventures with Kirk travelling through time. However, here he could be unaware. If Strange New Worlds showed us anything, Kirk needs to take command of the USS Enterprise at the right time to avoid changing the timeline. Part of me wonders if something similar is going on here. Maybe whoever "attacked" the past has removed Captain Pike from the timeline. Therefore, it would explain Kirk taking command earlier.
In the preview clip, La'an heads to the bridge, and we can see some visual differences in the set design. However, the big difference is Captain Kirk in the command chair. We still see Erica Ortegas (Melissa Navia) at the front console. Therefore, some elements have changed in this temporal incident. Kirk also does not know who La'an is. This episode reminds me of Voyager's "Relativity", in which Seven ends up on the USS Voyager too early. Therefore, no one knows who she is.
It would not surprise me if the attack in the past had taken Captain Pike's family out of the picture. Additionally, Trek Central reported earlier this year that actress Adelaide Kane was set to star in Strange New Worlds Season 2. It looks like she may appear in this episode as well. Adelaide's stunt double should be appearing in Star Trek: Strange New Worlds Season 2 Episode Three. We believe she could be playing Doctor Carol Marcus. We'll need to wait and see when this episode arrives next week.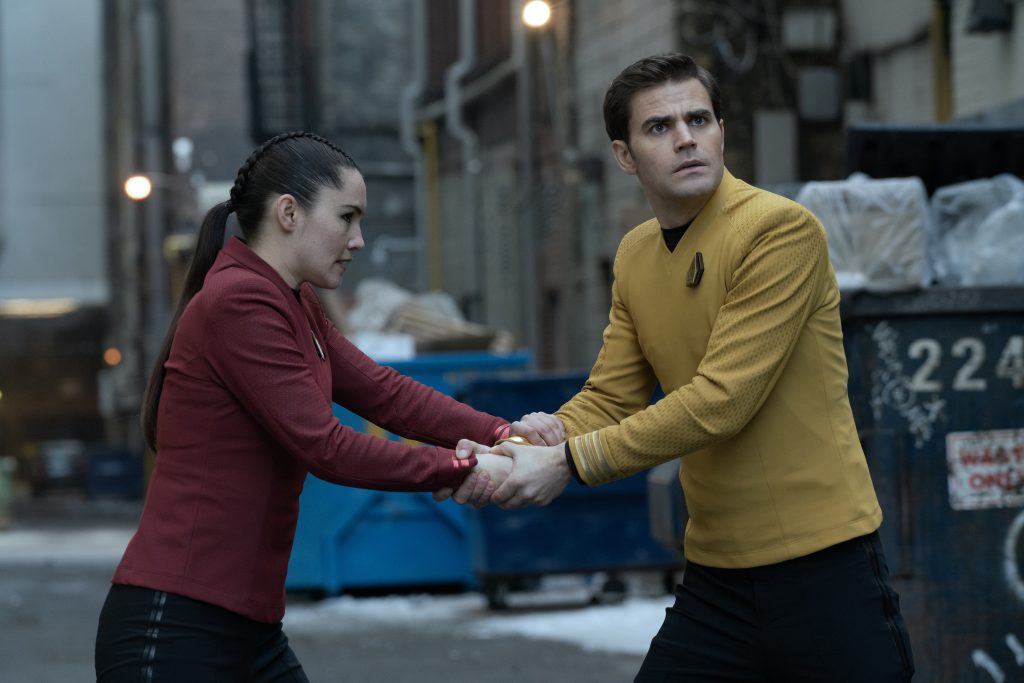 Conclusion
Star Trek: Strange New Worlds Season 2 is off to a fantastic start. The first two episodes have launched the crew of the USS Enterprise into a brand new adventure. However, viewers will know there is trouble on the horizon. Even before we get to the likes of the Star Trek: Lower Decks crossover episode, fans can see a threat building. The Gorn have been teased in the first episode of season 2. Admiral Robert April (Adrian Holmes) knows something is coming. But how long before he reveals the truth to Captain Pike?
Meanwhile, we look to Captain Kirk In Star Trek: Strange New Worlds. Paul Wesley will appear as the legendary Star Trek captain in Episode 3 of Strange New Worlds Season 2.
The second season of Star Trek: Strange New Worlds premieres on Thursday, June 15, exclusively on Paramount+, with new episodes dropping weekly on Thursdays. Star Trek: Strange New Worlds streams via Paramount+ in the United States, United Kingdom, Australia, Latin America, France, Germany, Brazil, South Korea (via Tving), France, Italy, Germany, Switzerland & Austria. As well as CTV Scifi / Crave in Canada, & TVNZ in New Zealand. And from June 16 on SkyShowtime in the Nordics, the Netherlands, Spain, Portugal, and Central and Eastern Europe.
More From Trek Central
📰 – Star Trek: Strange New Worlds Season 2 Episode Titles & Details
🔥 – Seven of Nine – From Borg to Badass
🔍️ – Star Trek: Resurgence – Writers Interview
---
Join the Star Trek conversation via our social media platforms: