Let's be honest, Captain James T Kirk in Star Trek: Strange New Worlds was expected at some point. However, I don't think we expected him to beam aboard this quickly. Yet we found ourselves with the announcement of Paul Wesley as the new Kirk earlier this year. He's expected to join the second season of the bold new Star Trek series. However, Is Captain Kirk arriving sooner than expected?
— SPOILER WARNING —
Thanks to new information, we believe we'll be seeing the legendary Starfleet Captain a lot sooner. Additionally, might we be expecting more reveals from Strange New Worlds. While Captain Pike (Anson Mount) might be the key focus, sadly we can't deny that Kirk is also legendary and a big character. Additionally, the cast and crew have been rather chatty about him as of late.
Kirk's Arrival!
Yes, Captain Kirk is perhaps beaming in sooner than expected. Now there is a big clue to how Kirk might be arriving. This would be to do with the starship the good captain should be stationed at this point in the timeline. James T Kirk is supposed to be on board the USS Farragut. It's also possible Kirk is commanding this vessel, as in Star Trek lore, it lost its captain.
Now, IMDB currently has actress Ana Shepherd listed to play a Crew Member. Specifically, she is listed to play "Ferragut Crew Member" in Star Trek: Strange New Worlds' final episode. An episode which is now titled "A Quality of Mercy". Yes, Ferragut is spelt differently from the actual starship name of "Farragut". It's very possible this is just a misspelling. It's worth noting that Ana Shepherd has also been a stunt double for Melissa Navia (Ortegas).
Perhaps in Episode 10, the USS Farragut will arrive at the last moment. Therefore mirrors the end of Star Trek: Discovery Season One, when the USS Enterprise arrived at the last moment. This ending eventually gave us Captain Pike, so will the end of Strange New Worlds Season One give us Captain Kirk, eventually?

The USS Farragut, Kirk's Ship?
A popular fan theory suggests that Captain James T Kirk could be commanding the USS Farragut. However, does this conflict with canon? Maybe not! Strange New Worlds has been very careful, so far, with how it handles canon and the Star Trek timeline. Additionally, the Farragut has some gaps in its lore as is. So it's possible that Strange New Worlds could actually fill out more of the story.
The Farragut, which was active in the mid-2250s, served as Lieutenant James T. Kirk's first deep-space assignment. However, the ship would meet a tragic accident in 2256. An encounter with a cloud creates would leave 200 crewmen dead, including the ship's commanding officer, Captain Garrovick. Strange New World also has confirmed that Nurse Christine Chapel (Jess Bush) had served onboard.
Currently, we don't know much about the starship. The class is a mystery at the time of writing. However previous comics and stories have listed it as a Constitution-class starship. Therefore being the same class as the USS Enterprise. Additionally, Star Trek extended canon actually lists the starship as officially destroyed. So maybe Strange New Worlds won't follow this story?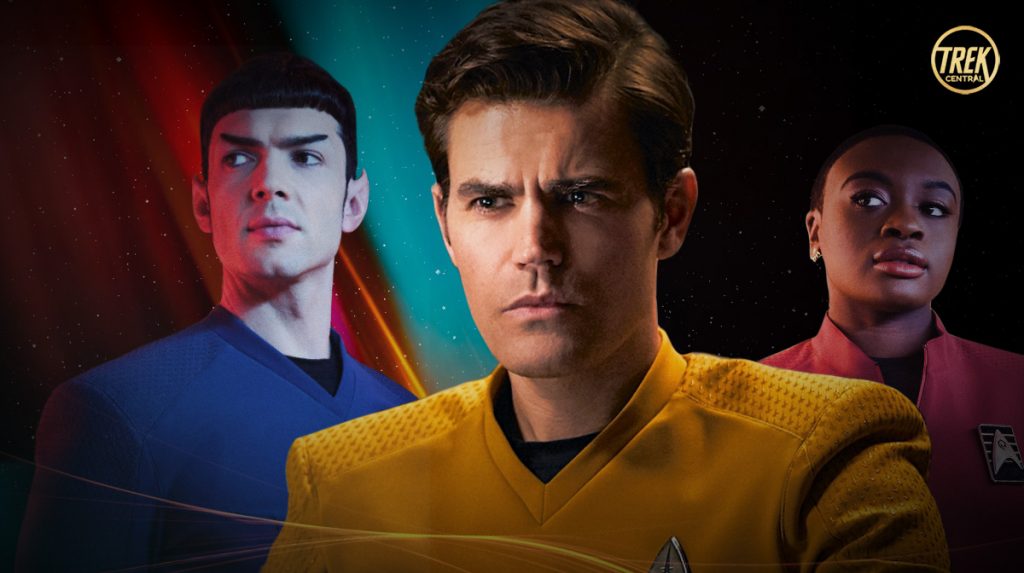 Pike's Relationship With Kirk
Currently, Christopher Pike is commanding the USS Enterprise. However, we know that James T. Kirk will eventually take command. Thankfully, for the sake of the series, this is not happening just yet. Kirk will take command by 2265, at the age of thirty-two. Thus, this concrete event in lore leaves about 5 years time for him to be running around the Star Trek Universe.
Anson Mount has recently spoken about Pike and Kirk. Especially what things will be like when the legendary character eventually makes his appearance in Strange New Worlds. However as we've asked, Is Captain Kirk Arriving Sooner Than Expected? That might be the case, especially with how we find the character it would seem.
"Pike himself is not even aware of the significance of kirk, right? He's going to e discovering this character in real time, hopefully at the same time that we're discovering what a young kirk was like.

Anson Mount – SFX Magazine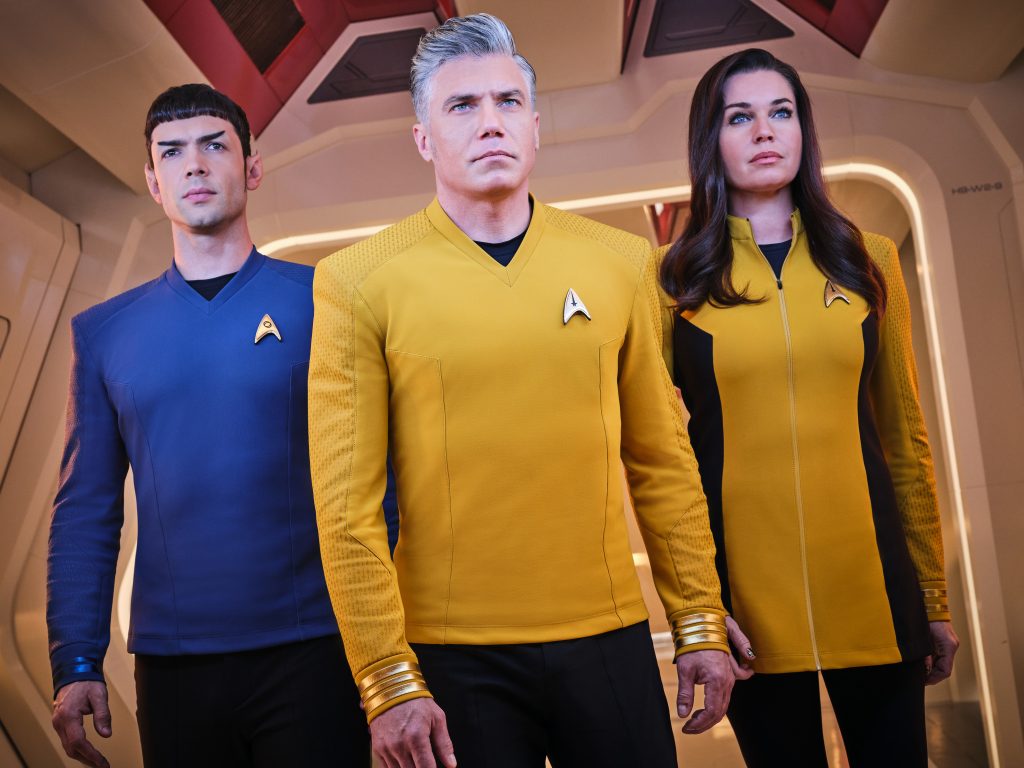 Conclusion
So, Is Captain Kirk Arriving Sooner Than Expected? It perhaps looks that way if we are to believe the IMDB casting. Let's not forget that IMDB can sometimes not be totally correct. However, very recently it did confirm to us that actor James Callis would be appearing in Star Trek: Picard Season 2!
Kirk's arrival into Strange New Worlds will be met with hesitation by many. Some believe that it is too soon for the character to arrive. Additionally fearing that Kirk could take away the focus of the series, which lies with Captain Pike. However, this does remain to be seen. Either way, we're excited to see Paul Wesley taking on this legendary role sometime soon.
---
More from Trek Central
? – STRANGE NEW WORLDS – Who Is Samuel Kirk?
? – REVIEW – Star Trek: Picard "Farewell" – 2×10
? – Everything We Know About Star Trek: Discovery Season 5
---
Join the Star Trek conversation via our social media platforms: