If there was one thing about Star Trek: Strange New Worlds premiere episode that left us a little shook, it was THAT reveal. And by THAT I mean the arrival of Dan Jeannotte's 'George Samuel Kirk'. The series has secretly added the set-to-be recurring character to the crew. Samuel Kirk revealed himself after a surprising 'bait and switch' style build-up. Fans will of course have known that James T isn't the only Kirk, but who is Samuel Kirk?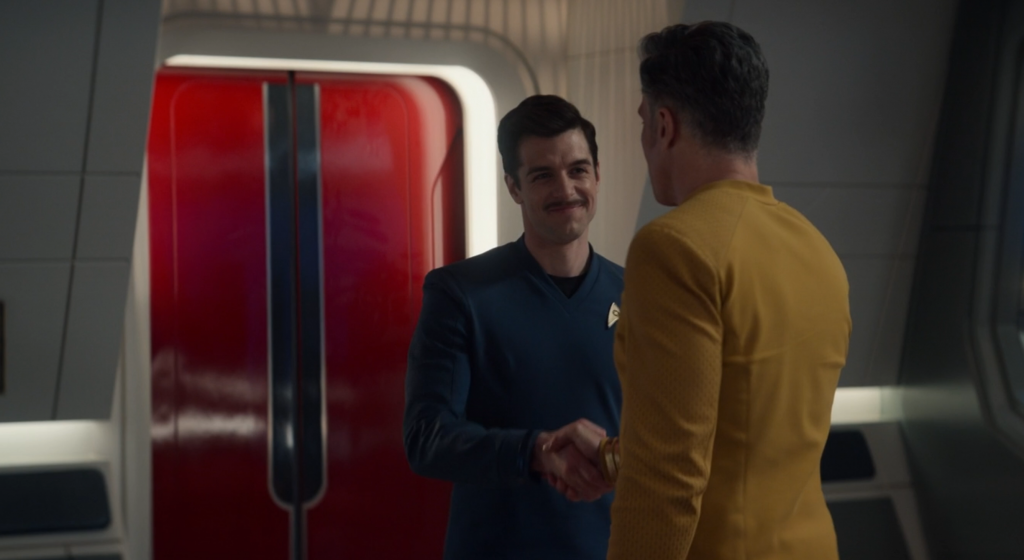 An unexpected surprise…
The latest Star Trek series kicked off this week with its self-titled first episode 'Strange New Worlds'. Lt. Samuel Kirk joins the Enterprise crew in the final moments, much to the shock of the audience. I'm sure the first question on many long-time fans' minds was, does this conflict with canon? And what does it mean for Captain Pike's crew going forward?
We already know that Strange New Worlds would be giving us Sam's younger brother James T. Kirk for the second season. Actor Paul Wesley was announced for the role a few months ago after he was spotted filming in Toronto.
The secret of Sam Kirk almost made it to the premier completely unspoiled. That was until an interview with Akiva Goldsman went public the day before the premiere. Regardless, there were many more fans oblivious to the news. And it was quite the reveal, spoiled or not.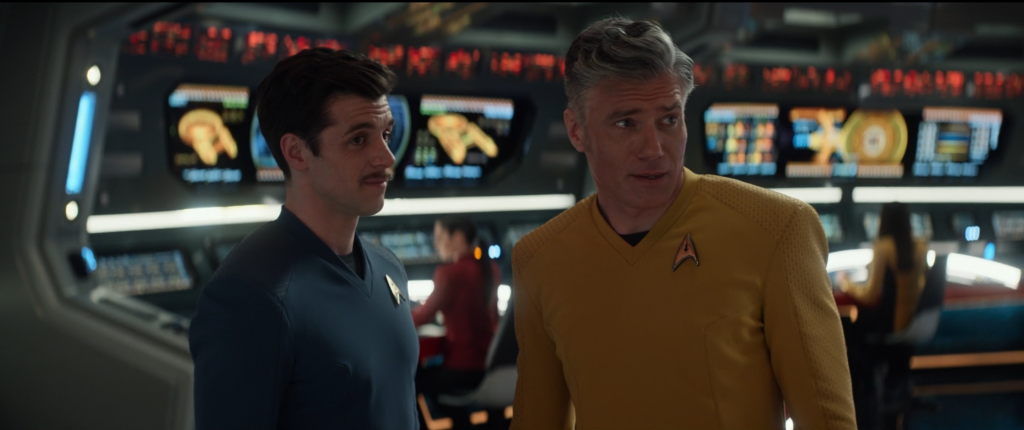 Who Is Samuel Kirk?
There's not a huge amount laid down in on-screen canon for this Kirk brother. George Samuel Kirk only briefly appeared in Star Trek: The Original Series (as a corpse). As well as JJ Abram's first big-screen Trek outing in 2009.
Samuel Kirk is the older brother of Jim Kirk, according to lore. And it was only Jim who called his brother Sam. However, in Strange New Worlds Pike also uses Sam, implying the pair are very familiar with each other. Pike seems to be an old, family friend and specifically requested this Lt. Kirk for the mission.
Additionally like his Captain, Samuel's future holds a cruel fate. However, how is he going to work on-screen in Star Trek: Strange New Worlds.
Samuel Kirk's Star Trek History
When Jim Kirk undertook a new five-year mission, commanding the USS Enterprise, George Samuel Kirk saw him off. It is noted that his wife Aurelan, and their three sons, were also present. Sam would then mention that he wished to be transferred to the Earth Colony II Research Station.
Sam Kirk is a Starfleet Scientist, specifically a research biologist. For Strange New Worlds Sam where's the blue of the science department, fitting with established lore. How does this affect Spock's position as a science officer onboard the USS Enterprise under Pike? As Pike says, 'he's your boss'.
However, as for Sam's unfortunate ending? The Original Series episode "Operation — Annihilate!" sees the death of Sam Kirk and his wife. Flying parasites attack Kirk and his fellow colonists in the colony on Deneva. While his wife, Aurelan Kirk managed to signal for help, Sam would perish. When the USS Enterprise eventually arrived at the colony, Sam Kirk is long dead. As are two of his child, with his wife Aurelan dying shortly thereafter. Only one nephew survived, Peter Kirk.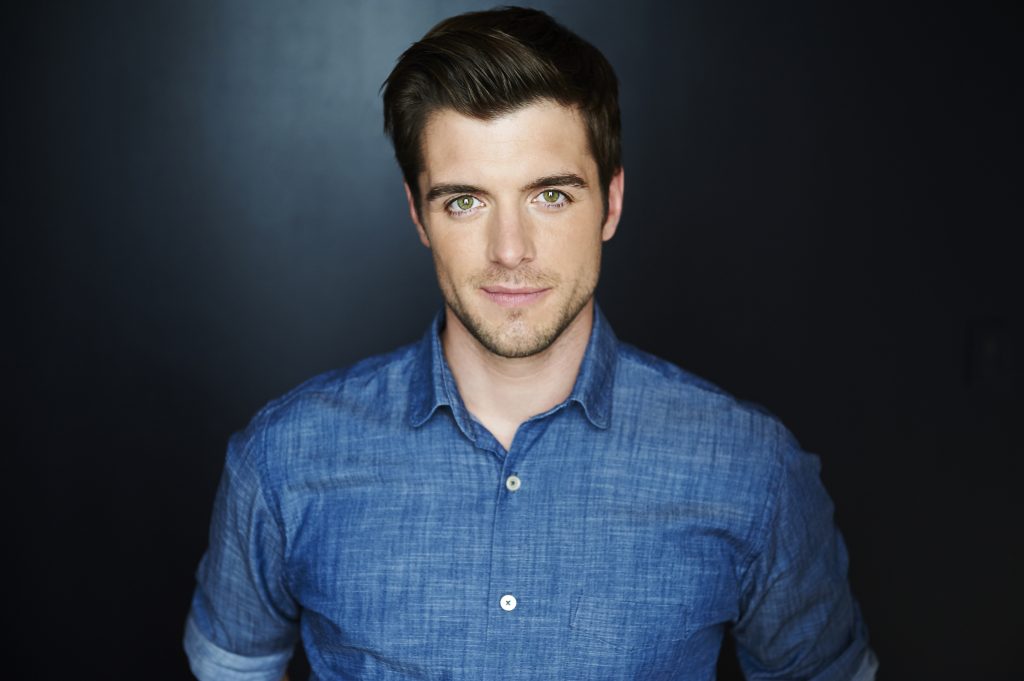 Behind The Scenes
George Samuel Kirk and his moustache are brought to life by actor Dan Jeannotte, best known for his role in The CW's Reign and Hallmark's Good Witch. The actor has done an impressive task of keeping his Strange New Worlds role top secret. Additionally, with the exclusion of Akiva Goldsman's interview, there wasn't so much as a hint this character would be included absolutely anywhere.
Co-showrunner Henry Alonso Myers recently spoke to Inverse about the character, and how he fits into Strange New Worlds.
"He is very much not his brother," Myers says. "And that is important. He's a different person. He comes from a different place. He and Jim Kirk have a complex relationship, that we will eventually learn more about. But, the intention wasn't to come in and give us little 'Kirk-lite' flavor. Sam Kirk is his own man."

Henry Alonso Myers – via Inverse
Alonso's comments definitely point to Sam Kirk's inclusion as having a bigger part to play than initially suspected. If you watch the trailers for Star Trek: Strange New Worlds, you should be able to spot him in what we know is several episodes. He is present in what looks to be the away mission for Episode 2 'Children of the Comet'. Additionally, I'm almost certain we can hear Sam's voice in the teaser for the "Ice World" scenes. According to some spoiler-laden reviews, this episode will see some form of action with the Gorn.
Conclusion
He wasn't the Kirk we were expecting, however, he's the Kirk we've got! For now, anyway, Jim Kirk will make his appearance in season 2. Samuel is now clearly firmly a part of Captain Pike's crew on the Enterprise. This Kirk may well turn out to be a very interesting addition to the crew, but who Is Samuel Kirk? I guess we have plenty of time to find out in the season ahead!
---
Star Trek: Strange New Worlds airs on Thursday, May 5 via Paramount+ in the USA, Australia, Latin America, and the Nordics. Additionally on the CTV Sci-Fi Channel and Crave Streaming in Canada. Plus Voot Select in India, TVNZ in New Zealand, and Cosmote TV in Greece. Additionally, the streaming service will also land in the UK & Ireland on June 22nd, 2022.
More from Trek Central
? – UPDATED – New Star Trek Books for 2022
? – REVIEW – Star Trek: Picard Season 2 Episode 5 'Fly Me to the Moon'
? – Everything We Know About Star Trek: Discovery Season 5
---
Join the Star Trek conversation via our social media platforms: