Captain Pike seeing his future in a time crystal was a game-changing, stand-out moment for Star Trek: Discovery season 2. It helped define the character and his captain's mantra of, "Service, Sacrifice, Compassion, and Love". It also meant that Pike carried a heavy burden with him into Strange New Worlds. The subject of Captain Pike's sacrifice has been a constant presence this season. But could Captain Pike escape his fate? And if he could, what would be the consequences?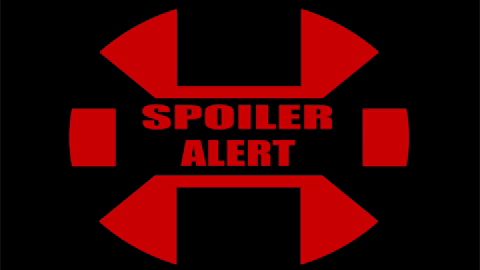 This article speculates on the content of the Star Trek: Strange New Worlds season one finale 'A Quality of Mercy'. Avoid if you don't want potential spoilers!
The End Is The Beginning
When you create such an enormously popular character, you want to hold on to them as long as possible. Star Trek: Discovery, and now Strange New Worlds have taken both Captain Pike and his crew to new heights of popularity with a stellar set of new adventures. With season one's finale rapidly heading our way, the question has to be asked, could Captain Pike find a way to escape his fate?
Pike's popularity comes at the cost of the bittersweet knowledge of his future. And that future is a devastating accident that will rob Christopher Pike of all that he is and could be. Season one has constantly reminded us of the character's future. It has also introduced a question – 'Could Captain Pike escape his fate?'. Perhaps, however, we should ask, 'What if Pike does escape his fate?'.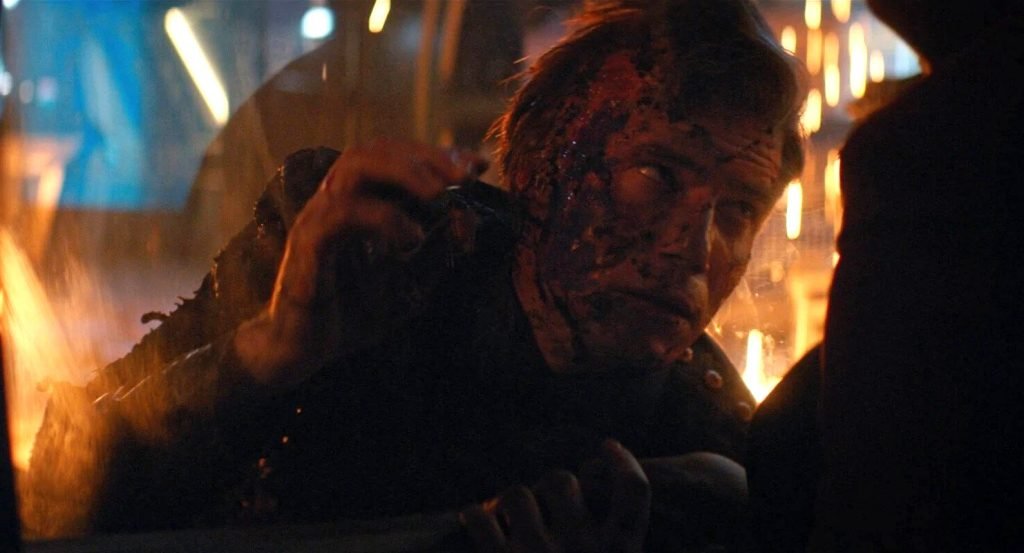 A Question Of Fate
Captain Pike is not one of those stereotypical stoically fearless heroes of old, he is a modern hero. And his revelatory moment with the time crystal epitomizes that courage in spite of fear is true heroism. And that, more than anything else, sets Pike on an irreversible collision course with his future.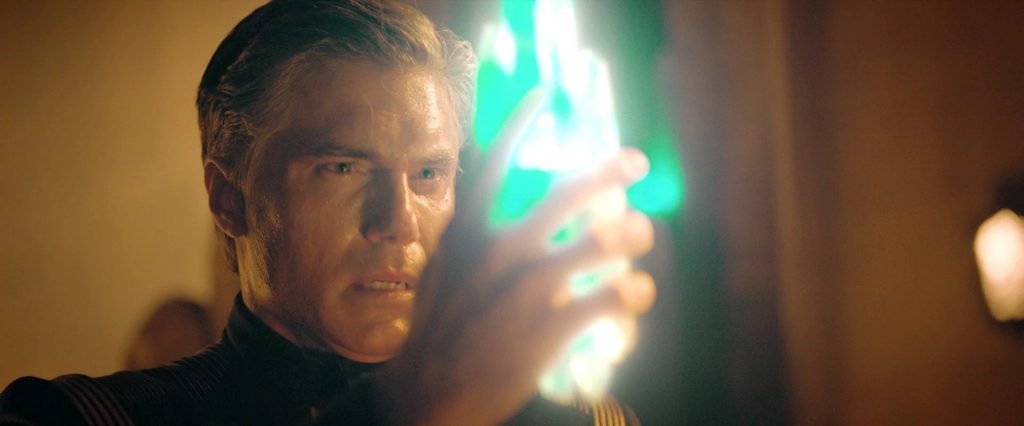 What has been surprising this season on Strange New Worlds is Pike's candid sharing of that knowledge with his friends. They seem unable and unwilling to accept it. So could Captain Pike escape his fate? Surely there is a way? No one, however, has asked, what are the consequences if he does?' And that is a question that needs to be answered in order to allow Pike to make peace with his future. It wasn't just about saving lives during the battle with Control. There is far, far more at stake.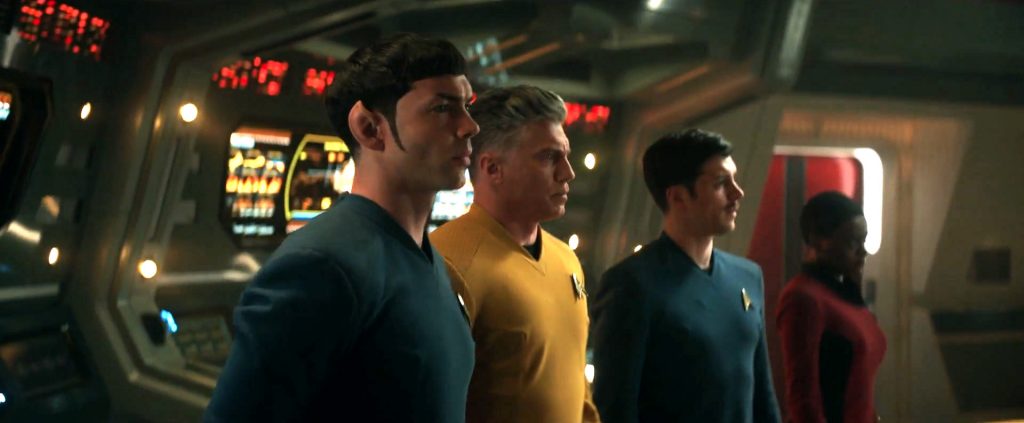 If you watch the very first trailer released for SNW season one, there are a number of stand-out moments. One we have yet to see is the above image of Pike, Sam Kirk, Spock, and most importantly Uhura. Nyota is dressed in her more traditional TOS style mini-dress with gold rank cuffs. One look at this scene and the Early Voyages comics came straight to mind.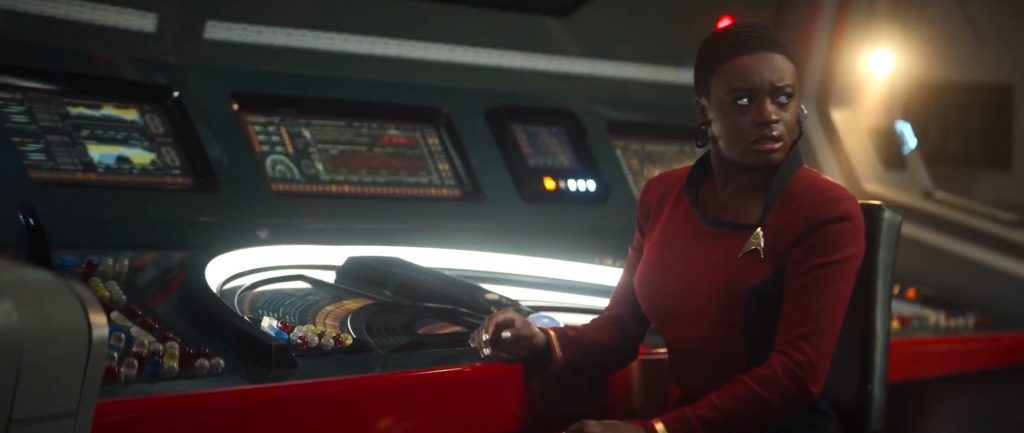 The Origins Of The Story
Until Anson Mount came along and breathed new life into Captain Pike in Discovery, many fans had little awareness of the character. The JJ Abrams Kelvin-verse movies brought him back into the fold but as a minor support character. On TV, however, Pike was a vague figure from the franchise's past, known but not explored.
Off-screen Pike has had a much stronger establishment in Star Trek lore. From early fanzines to many official novels, and comics. With The Next Generation on our TV screens and TOS cast movies in theatres, the 90s also saw the release of the Star Trek – The Early Voyages comic series. It ran for 17 issues and followed the adventures of Captain Christopher Pike, along with his crew.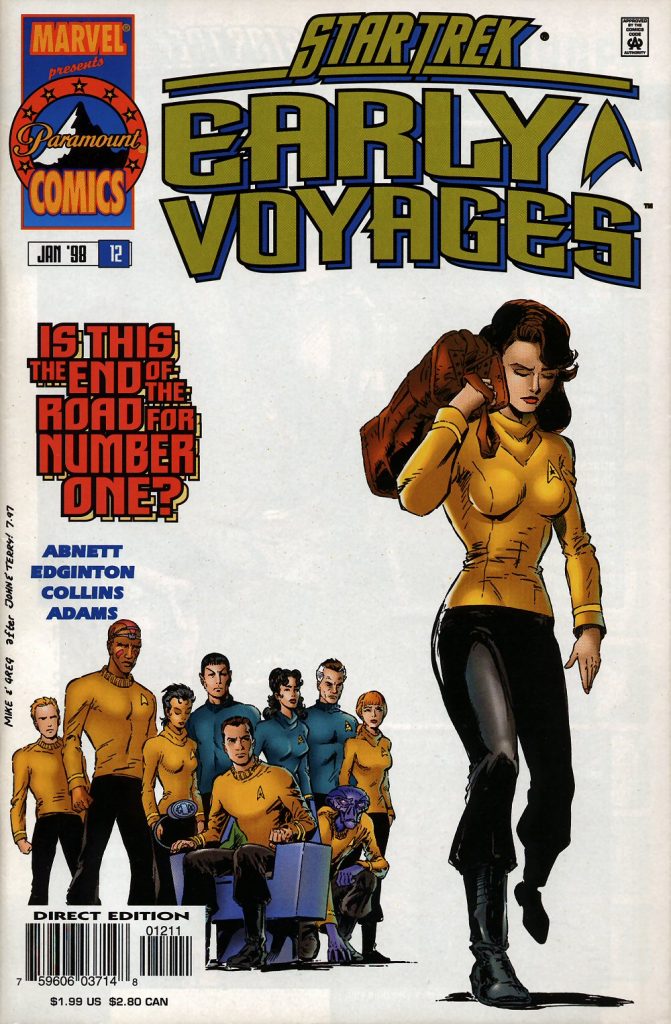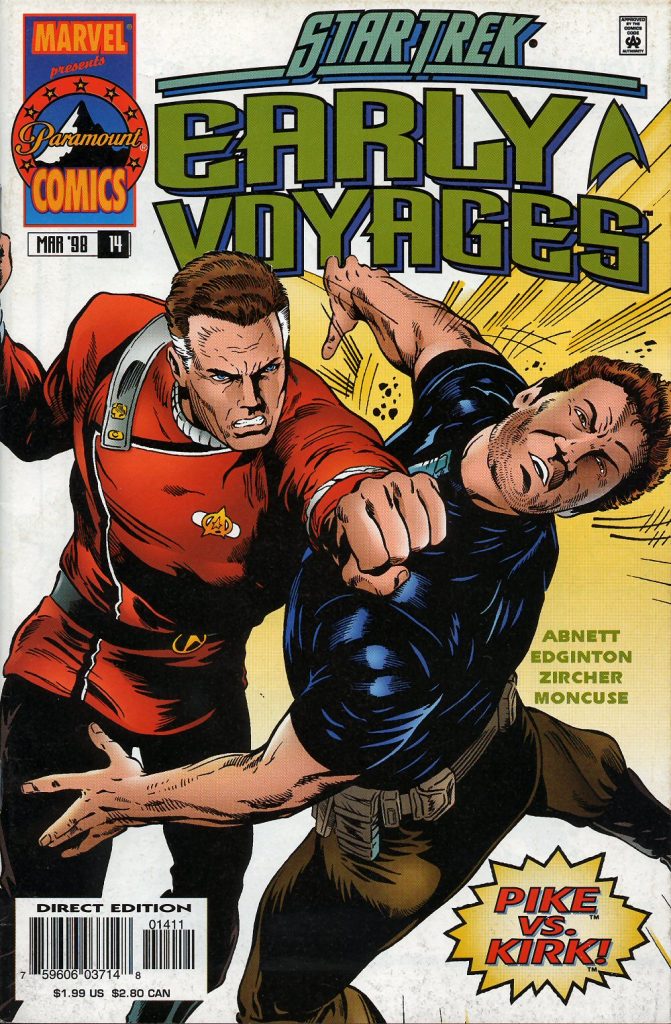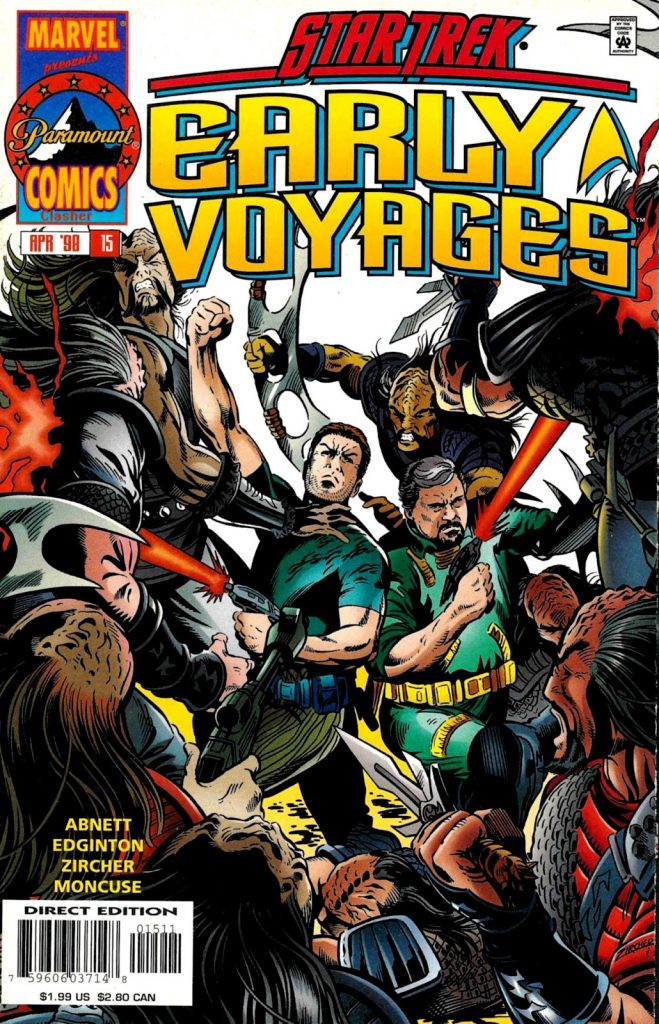 The 4-issue story Futures has already been used to inspire a pivotal moment. It appears to be the origin of Pike's fate being revealed to him in a time crystal. It also poses what might happen if Pike never leaves the Enterprise, and avoids his fate. And more importantly, if Kirk never takes command.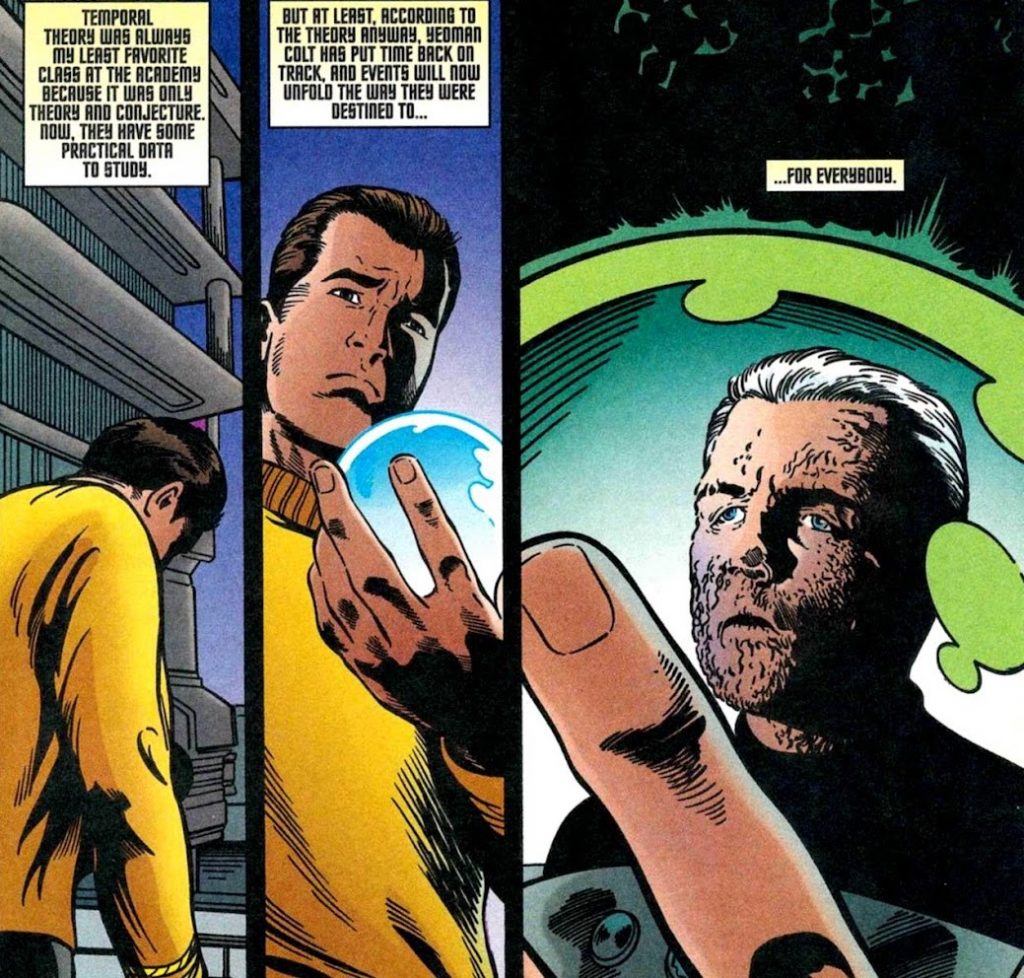 From the Comics…
The story is set into motion when Enterprise visits Algol II. A planet with a legend called 'The Well of Tomorrows'. It is said that a drop of water from the well could reveal one's fate. Whilst exploring the ruins of Algol II Lt's Mia Colt and Jose Tyler find a relic. A glass sphere containing a droplet from the well. When Tyler looks into it he sees his future in the Captain's chair. Mia Colt, however, sees nothing. Determined to understand why she subjects the crystal to a deep tricorder scan and triggers an accident that propels her 15 years into the future.
In this future, Colt officially went missing that day on Algol II never to be seen again. As a result, a young Kirk took her place on Enterprise, becoming the Captain's Yeoman. This Kirk clashes with Pike, resulting in the younger James T. leaving Starfleet. As a result Pike never leaves command of Enterprise, and never suffers the accident that will cripple him.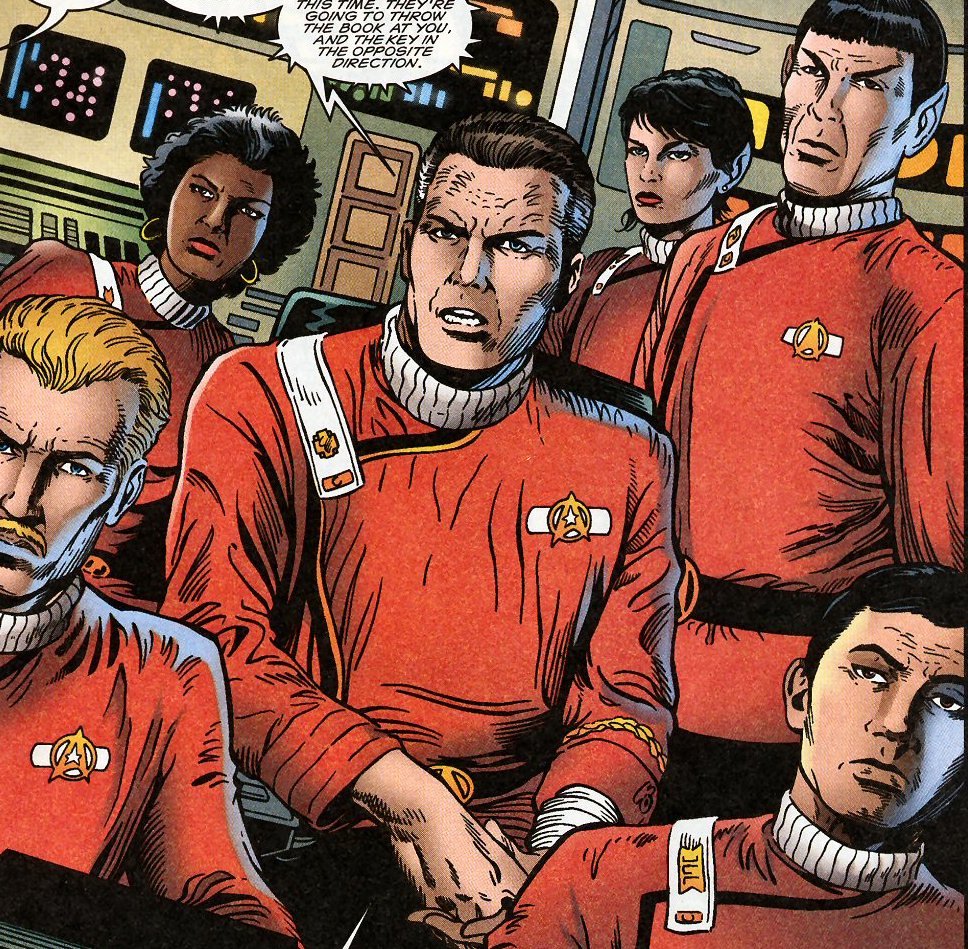 But it also means that many of the people Kirk's captaincy would later influence, never have that chance. And that is the crux of the story. Pike could easily avoid his fate, but if he does it will cause a chain reaction with far-reaching impacts that will touch countless lives.
It's Kirk who ultimately fights to return Mia Colt to her correct place in the timeline. It seems you can take Kirk out of Starfleet, but you'll never take the Starfleet out of Kirk. He and his ragtag freighter crew, including chief engineer Montgomery Scott, take on the challenge of battling Klingons all the way back to Algol II. Aided by Pike in command of Enterprise, and Captain Una Chin-Riley, in command of Excelsior. Both ships also include additional Original Series characters like Sulu and Chekov.
Given the huge popularity of the character, and the incredibly sad ending it would give Strange New Worlds, could they change Pike's fate? I don't believe so. Pike will have to come to terms with that terrible sacrifice and walk unerringly toward it. He will save those cadets, and he will be terribly crippled by delta radiation.
But what lies beyond that? There is practically nothing in canon to say that fate will be permanent. Who is to say there won't be a twist down the line that restores Pike to his former health? Spock didn't stay dead for long after all!
The season finale of Star Trek: Strange New Worlds entitled 'A Quality of Mercy' drops next Thu, July 7 on Paramount+ (US) & CTV Scifi/Crave (Canada). Plus in Latin America, Australia and The Nordics on P+. As well as TVNZ (New Zealand), CosmoteTV (Greece), & Voot Select (India)
---
More from Trek Central
? – Major Star Trek Villains Set To Return!
? – Star Trek Needs A New Villain, And The Answer Is Right Under Its Nose!
? – Is Captain Kirk Arriving Sooner Than Expected?!
---
Join the Star Trek conversation via our social media platforms: