One of the latest Star Trek: Strange New Worlds Teaser Trailers has shown off an important moment. While it's likely not the first meeting in Star Trek Universe between Nyota Uhura (Celia Rose Gooding) and James T. Kirk (Paul Wesley), it's still a good moment to celebrate. The pair can be seen sharing a drink in the Enterprise's bar. A new set for the upcoming season. Season 2 of Strange New Worlds arrives on June 15th via Paramount+. While there is a lack of promotion, this new TV spot gives us fresh looks at the upcoming series.
The new Strange New Worlds Teaser shows what will come this season. We already knew that Lieutenant Kirk would play a role in the season. He appears to be working alongside La'an Noonien-Singh (Christina Chong). However, the story appears to be involving time travel of sorts. Additionally, the teaser also shows that a first-season enemy has returned. Gorn ships are seen taking on the U.S.S Enterprise. Showrunner Akiva Goldsman has confirmed the Gorn are back this season.
ISpot TV revealed the Strange New Worlds Teaser trailer. iSpot.tv helps advertisers measure the brand and business impact of TV and streaming advertising, from concept to airing to conversion. As confirmed by the service, Paramount+ has begun airing the 30-second TV commercial on their platform. You can watch below.
Uhura Meets Future Captain Kirk
Uhura is one of Star Trek's legendary characters. She is also a veteran crewmember of the original Federation Starship U.S.S Enterprise. As shown in Strange New Worlds, she serves well under Captain Christopher Pike (Anson Mount) and would continue to serve on the Enterprise under Captain Kirk. She would serve with Kirk and the crew of the Enterprise for many decades. Additionally, also served on the successor starship, the U.S.S Enterprse-A. Eventually, rising to the rank of Captain.

As revealed in Star Trek: Picard, Uhura would go on to command her own ship with the promotion to Captain. Her ship was the USS Leondegrance. Uhua retained command of the ship until her retirement in 2333. Even a young Jean-Luc Picard (Sir Patrick Stewart) trained under Uhura's command. Therefore, showing how the character's legacy is important to the Star Trek Universe. By the 25th Century, Uhura as a character was honored by having a ship named after her.
The Strange New Worlds Teaser confirms that Uhura will be promoted. As seen in the teaser, she is wearing the officer badge. While she was a cadet on her First Starfleet assignment in Season One, she will be an Ensign now. Based on other Strange New Worlds Teaser trailers, the second season will explore Uhura's past. Long-time fans might know her family was tragically killed in a shuttle accident. Perhaps a story will see her relive this tragic accident.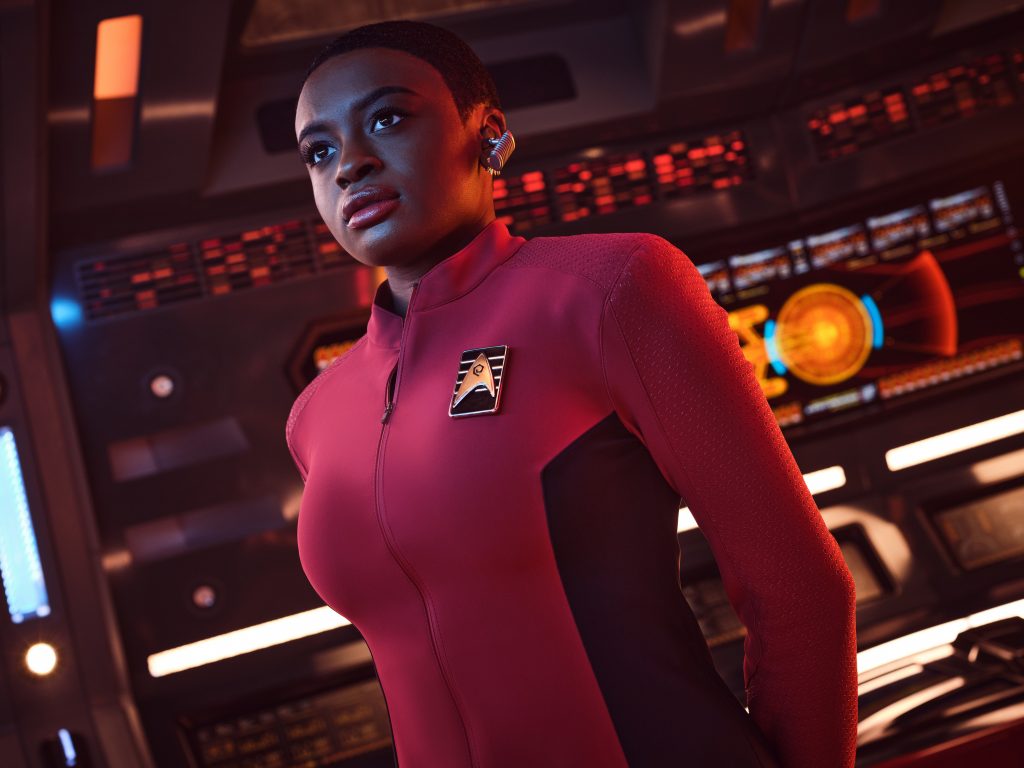 Strange New Worlds Teaser Offers A Fresh Look
It's true! This Strange New Worlds Teaser is filled with new footage. We can see a few shots of the U.S.S. Enterprise warping around the Star Trek universe. For example, there is one shot of the Enterprise approaching a star. Additionally, the Federation Starship can be seen flying in some atmosphere. Large tree-like structures can be seen reaching into the skies. Meanwhile, the ship can be seen taking on Gorn starships. An enemy from the first season.
Captain Batel (Melanie Scrofano), commanding officer of the USS Cayuga, returns in the second season. She can be seen with Captain Pike, sharing an intimate moment, in the Strange New Worlds Teaser. We've also got shots of Pike deflecting phaser fire while two individuals seem to jetson themselves into space. Pike and his away team seem to also be in a shuttle landing freefall, piloted by Eric Oregas (Melissa Navia)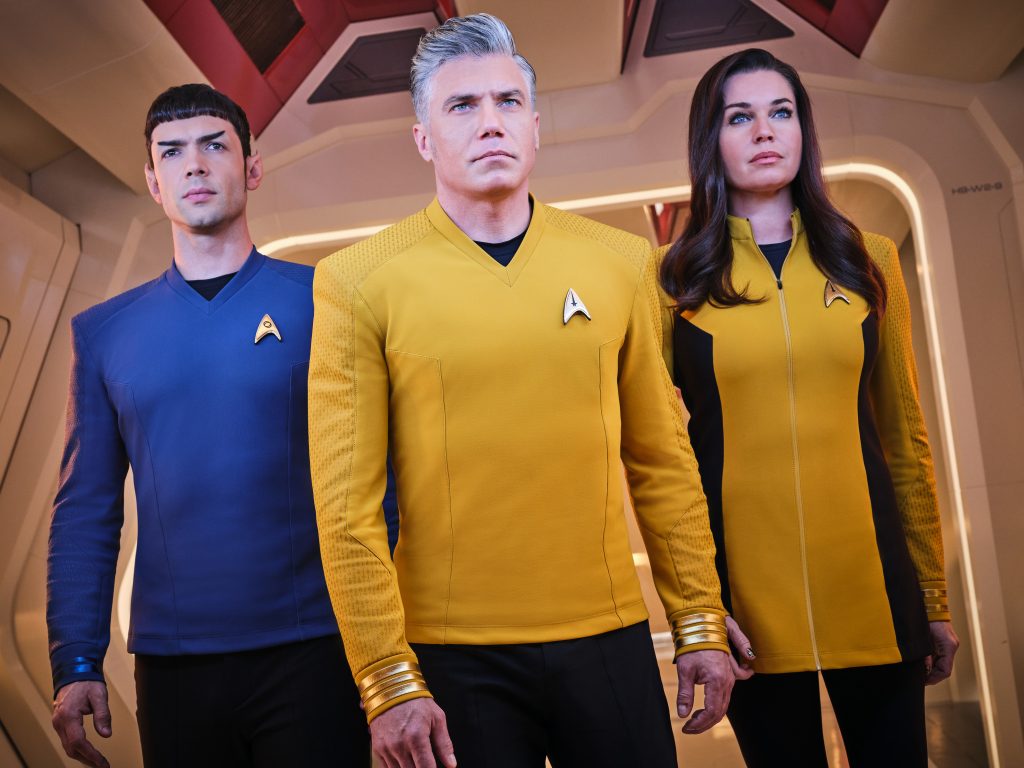 Conclusion
MCM London Comic Con is coming up at the end of May. Some of the Strange New Worlds Season 2 cast will be there virtually anyway. Rebecca Romijn (Number One), Ethan Peck (Spock), Celia Rose Gooding (Uhura), and Melissa Navia (Oretgas) will beam in live as holograms for the first-ever holographic panel experience at MCM. Also, an 'exclusive' clip is promised, along with behind-the-scenes info and more.
It occurs on Friday, May 26, at 5 pm (BST). Entry tickets are still available for Friday Entry; you can pick them up on the MCM London Website. Trek Central's Captain Jack will be there to cover the action, so we'll bring you all the details! Alex Zane will be hosting the panel. While the latest Strange New Worlds Teaser gives new scenes, we await a full trailer for the second season.
The second season of Star Trek: Strange New Worlds will premiere on Thursday, June 15, exclusively on Paramount+, with new episodes dropping weekly on Thursdays.
---
More From Trek Central
📰 – Is Star Trek Legacy already in Development?
🔥 – NEW Star Trek: Strange New Worlds Season 2 Trailer Confirms Enemy Return!
⭐ – BREAKING: Strange New Worlds Season 2 Premiere Date & More!
---
Join the Star Trek conversation via our social media platforms: