Star Trek: Strange New Worlds Season 2 is just around the corner. And you would be forgiven for missing that. Frustratingly, Paramount has been very tight-lipped and given the new season very little promotion. Fortunately, SFX Magazine's new issue promises to deliver new insights into a season we finally know very little about! Additionally, we've learnt more details about Season 2's Star Trek: Lower Decks Crossover episode. The animated characters coming to live-action is a big event for the Star Trek Universe.
Showrunner Akiva Goldsman has been talking about Strange New Worlds more and more lately. He's actively promoting the second season, thankfully. He's not been giving away too many details. However, we've seen a glimpse of the Strange New Worlds and Lower Decks crossover episode. A small teaser featuring Anson Mount, Christina Chong, Jack Quaid, Tawny Newsome and Ethan Peck has found its way online. Additionally, some cast members from the Star Trek series will beam down to MCM Comic-Con London 2023 later this month.
UPDATE (16/05/2023 23:00 BST: Paramount and Crave appear to have been pulled the adverts via YouTube.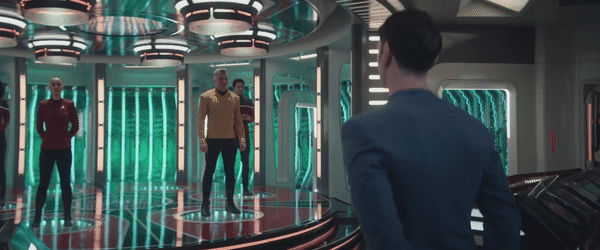 Lower Decks Comes To Strange New Worlds
The last SFX Magazine hits shelves on Wednesday, May 17. Star Trek: Strange New Worlds graces the cover with the issue featuring an 8-page feature with co-showrunner Akiva Goldsman teasing the upcoming action. Fortunately, they've shared a few snippets to whet our appetites with Yahoo News! Akiva confirmed that it was indeed a Gorn we spotted in the trailer. He also reluctantly shared a few details on the highly anticipated Lower Decks crossover episode.
Again, an UNCONFIRMED rumour suggests this episode is entitled 'Those Old Scientists', a play on a quote from Star Trek: Lower Decks. Goldsman noted that there are some 'full-on' animated pieces of the episode. The main action, however, takes place on Enterprise, in the Strange New Worlds universe. And, of course, that means live-action Mariner and Boimler! Star Trek legend, Mr Jonathan Frakes, directs the crossover episode.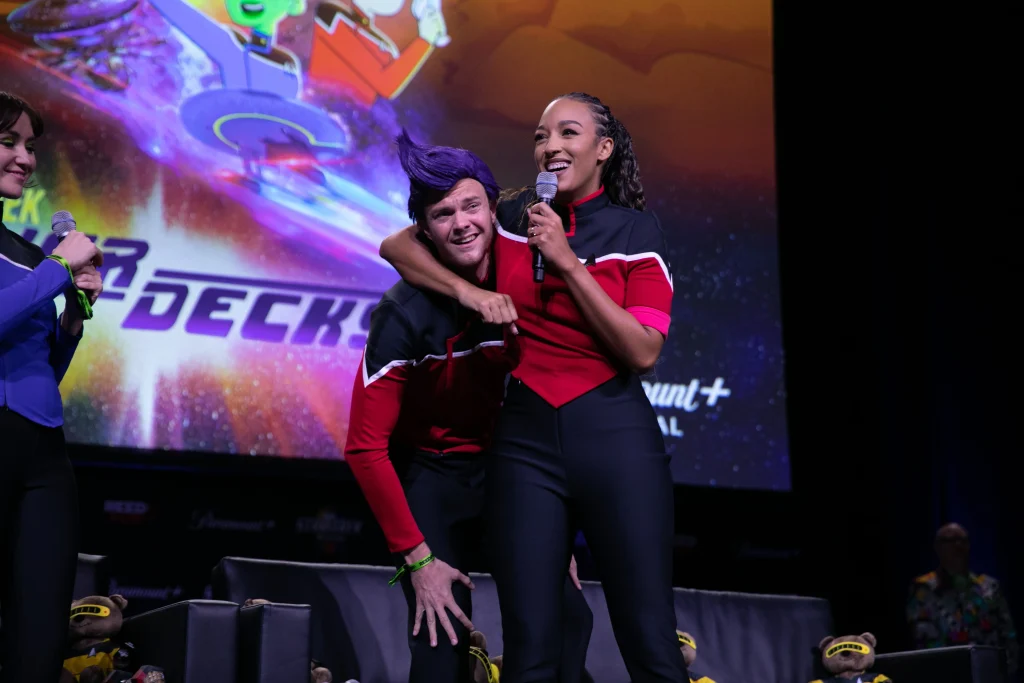 Delving deeper into the characters
Season one ended with Una Chin-Riley's (Rebecca Romjin) fate hanging in the balance after revealing her secret. Una is an Illyrian, a species known for its genetic modifications. Something Starfleet outlaws. It's a legacy from another shipmate's ancestor, Khan Noonien-Singh, the forebear of La'an. The second season also spends more time with cast members who didn't get the spotlight in Season One. For example, Melissa Navia is getting a spotlight in the second season.
We've already dug into the details of the trailer, including seeing 'Number One' back on the Enterprise in her old job. According to an UNCONFIRMED rumour, Season 2's premiere episode is 'The Broken Circle'. Take that with a pinch of salt, though. The information's source was not shared, and we've not yet found any confirmation elsewhere.
We expect the premiere episode to focus on the trial of Rebecca Romijn's 'Number One' and her newly revealed Illyrian identity. IDW Publishing's recent 4-part 'The Illyrian Enigma' comics revealed a surprising link between the Illyrians and Vulcans. We don't know if this will tie into the Strange New Worlds Season 2 premiere episode, but we hope so!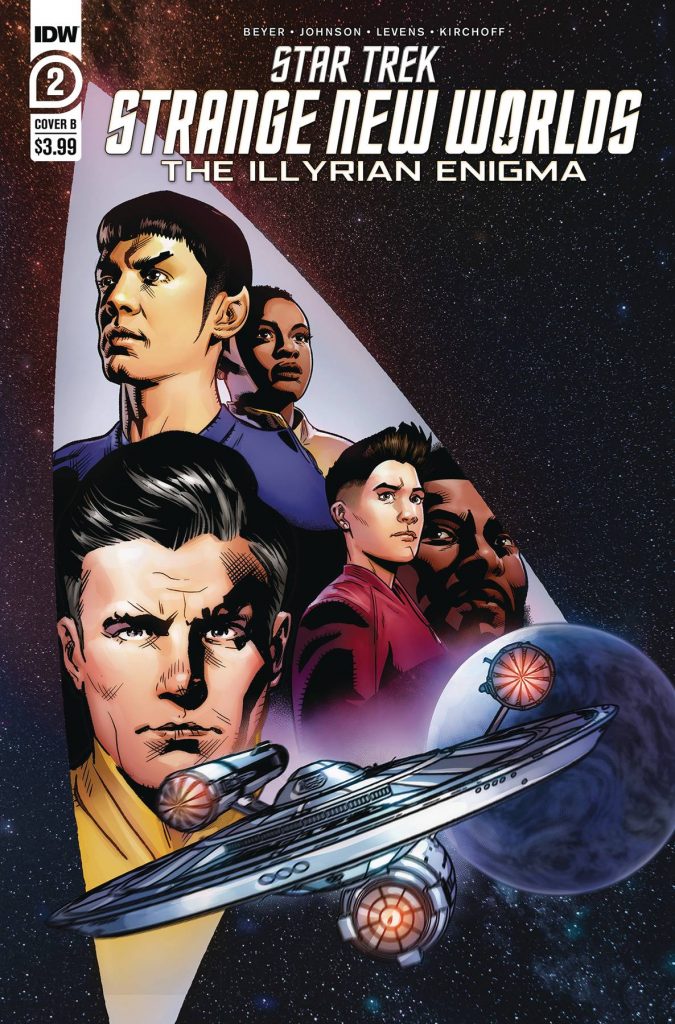 Strange New Worlds Virtually Beams In
MCM London Comic Con is coming up at the end of May. Some of the Strange New Worlds Season 2 cast will be there virtually any way. Rebecca Romijn (Number One), Ethan Peck (Spock), Celia Rose Gooding (Uhura), and Melissa Navia (Oretgas) will beam in live as holograms for the first-ever holographic panel experience at MCM. Also, an 'exclusive' clip is promised, along with behind-the-scenes info and more.
It occurs on Friday, May 26, at 5 pm (BST). Entry tickets are still available for Friday Entry; you can pick them up on the MCM London Website. Trek Central's Captain Jack will be there to cover the action, so we'll bring you all the details! Alex Zane will be hosting the panel. More details about Star Trek: Strange New Worlds are included in this month's issue of SFX Magazine, available May 17th. You can purchase the latest issue of SFX Magazine from MagazinesDirect.com.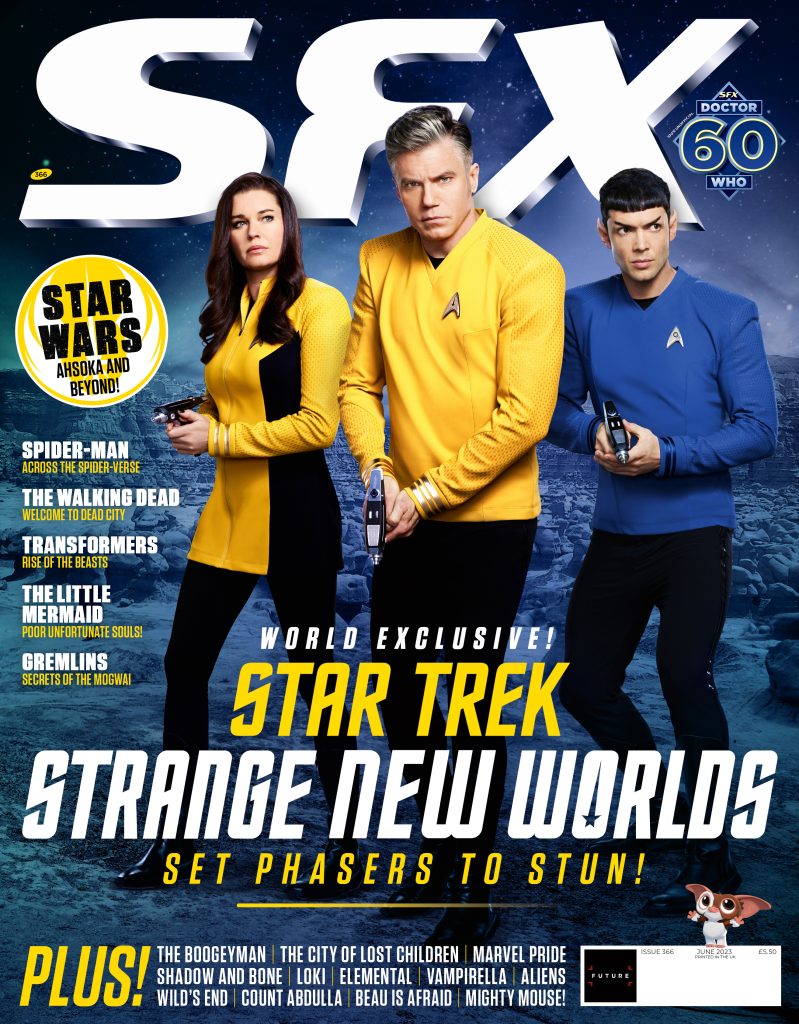 The second season of Star Trek: Strange New Worlds will premiere on Thursday, June 15, exclusively on Paramount+, with new episodes dropping weekly on Thursdays.
---
More From Trek Central
📰 – Is Star Trek Legacy already in Development?
🔥 – NEW Star Trek: Strange New Worlds Season 2 Trailer Confirms Enemy Return!
⭐ – BREAKING: Strange New Worlds Season 2 Premiere Date & More!
---
Join the Star Trek conversation via our social media platforms: