The grand finale of Strange New Worlds: The Illyrian Enigma is here! After the massive success of the first season of Strange New Worlds last year, expanded media felt inevitable. But for a first foray into comics, does this end up worthwhile? How does it tie into the upcoming second season? Let's find out by delving into The Illyrian Enigma Issue #4. Spoiler alert for the entire comic, obviously.
Written by co-executive producer of the television series Kirsten Beyer, it was always bound to bridge the gap between the two seasons in a way that complemented the plot. Joining her is veteran author Mike Johnson, who wrote the Star Trek: Picard comics Countdown and Stargazer and Star Trek: Discovery comics The Light of Kahless and Succession. The pair understand the art of tie-in fiction and bringing established characters to life, and they've pulled this one off beautifully.
Spock Saved
Picking up a short time from the end of issue 3, Spock (now with his genetic modifications removed) wakes back up in the Enterprise's sickbay. Artist Megan Levens and colorist Charlie Kirchoff absolutely excel at bringing it to life, with the color palette and decoration feeling ripped right out of a frame from the show. The characters are also drawn and written identically to the series, even ones like Chapel and M'Benga who don't have all that much to do in this very Spock-centric comic.
Spock analyses the spectrograph crystal he got last issue. He identifies it as an ancient piece of technology, something almost too impressive for the ancient Illyrians to have constructed. It's of Vulcan origin, and their meddling before the age of Surak may go way further than anyone anticipated.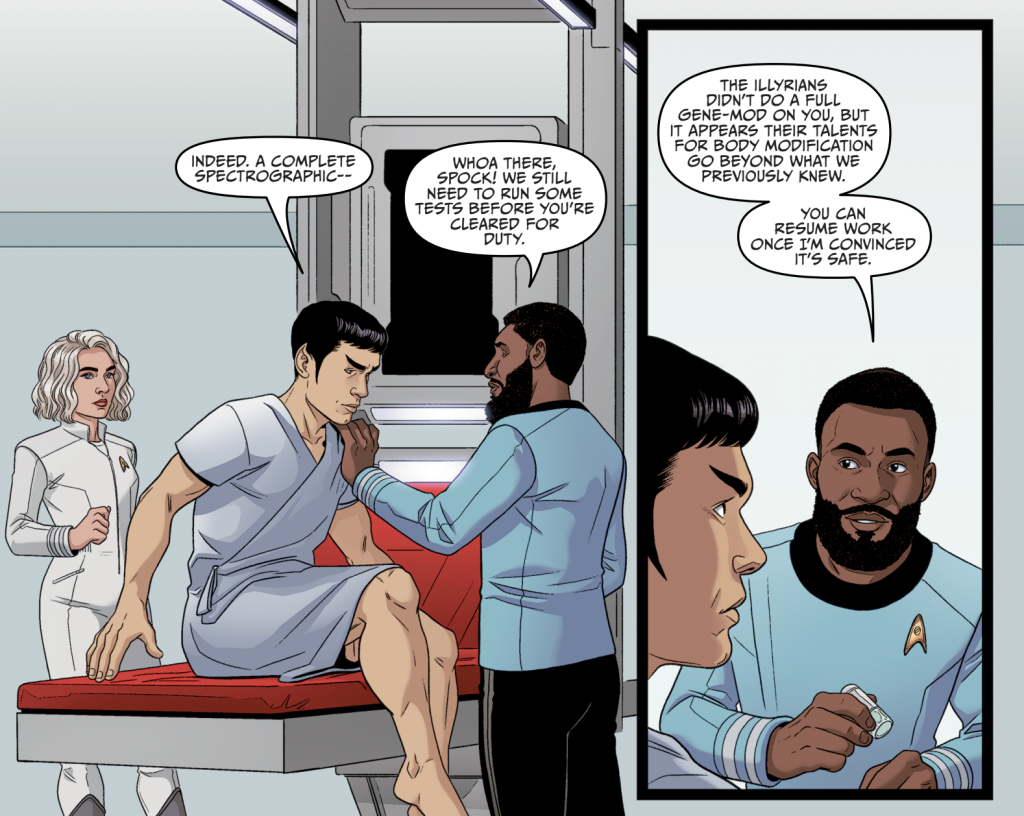 A Sympathetic Villain and a Vulcan Homestead
The Illyrian Enigma Issue #4 really does a lot with the character of Da-Kil. For the last three issues, he's been an ambassador for the species, trying to uncover the history of his species. This issue starts with him being unwillingly beamed onto the Enterprise, where he follows Pike and Spock to uncover these secrets once and for all. He and Pike are almost civil, with Da-Kil's actions throughout being extreme but ultimately understandable given his desperation—really powerful stuff.
Running to Vulcan to figure out the truth, they uncover a secret history on a Vulcan homestead connected to Skalan (the scientist Spock inhabited last issue). The old woman down there, calling herself T'Spa, is almost alarmingly crotchety. I really love what newer Trek media has done to show some emotional range and diversity with its Vulcan characters. The way Pike compares her lifestyle to his back in Montana is also perfect, even if it ultimately doesn't get her to open up, it's very in character for him.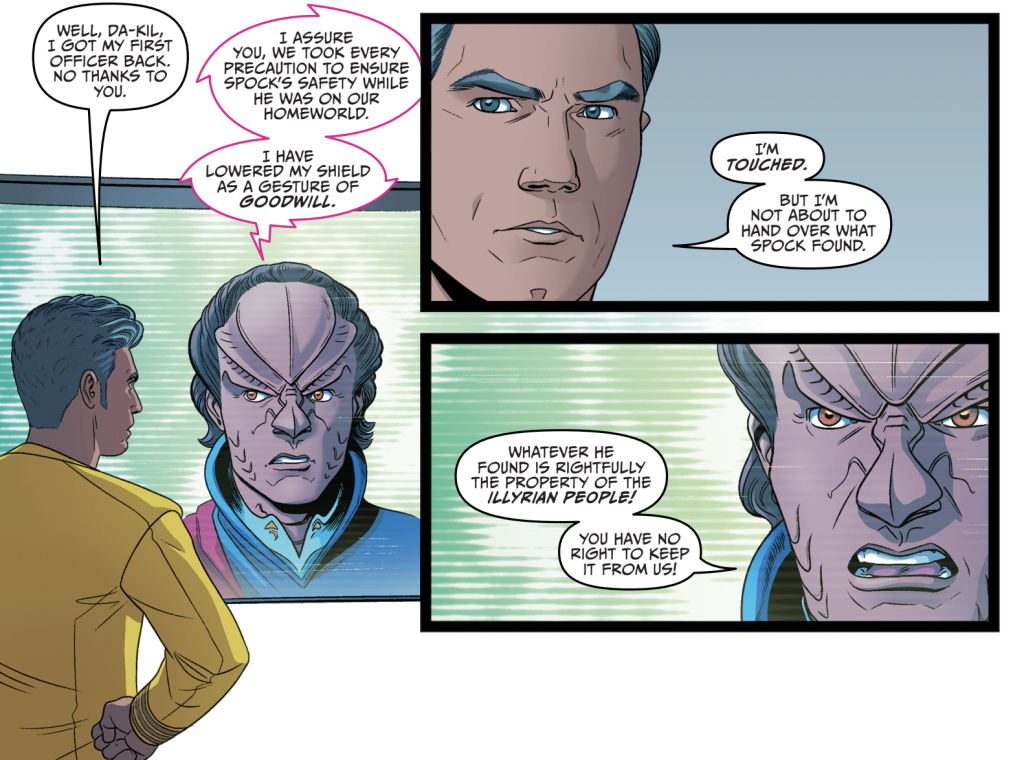 The Secret History – Revealed!
T'Spa provides our trio the tools to uncover the truth behind the Illyrians, and it's so much worse than we feared. The Illyrian people are the result of abandoned, failed Vulcan experiments. They're not special, unique, or chosen, they're discarded lab material. It's an absolute gut-punch of a twist, that even if you see it comic, its delivery still hurts.
We don't just learn about Illyrian history, however. This story involves the Vulcans, a founding member of the Federation. They went around, committing all manner of atrocities on other planets before the age of logic. I wonder if this legacy of ancient Vulcan genetic manipulation is something that will be picked up in later Trek media. It would certainly make for some interesting viewing.
I doubt it'll be happening anytime soon, however. This story isn't leaving this room. Tragically, despite all Da-Kil's deception to uncover this, this story remains covered up. You can feel Pike's rage when he reflects in his log at the end, all this effort and he can't even save his friend. This could end up being a story that Pike struggles to keep to himself, it almost ties into the plot of season two too well to be completely irrelevant. I guess we'll have to stay tuned to find out!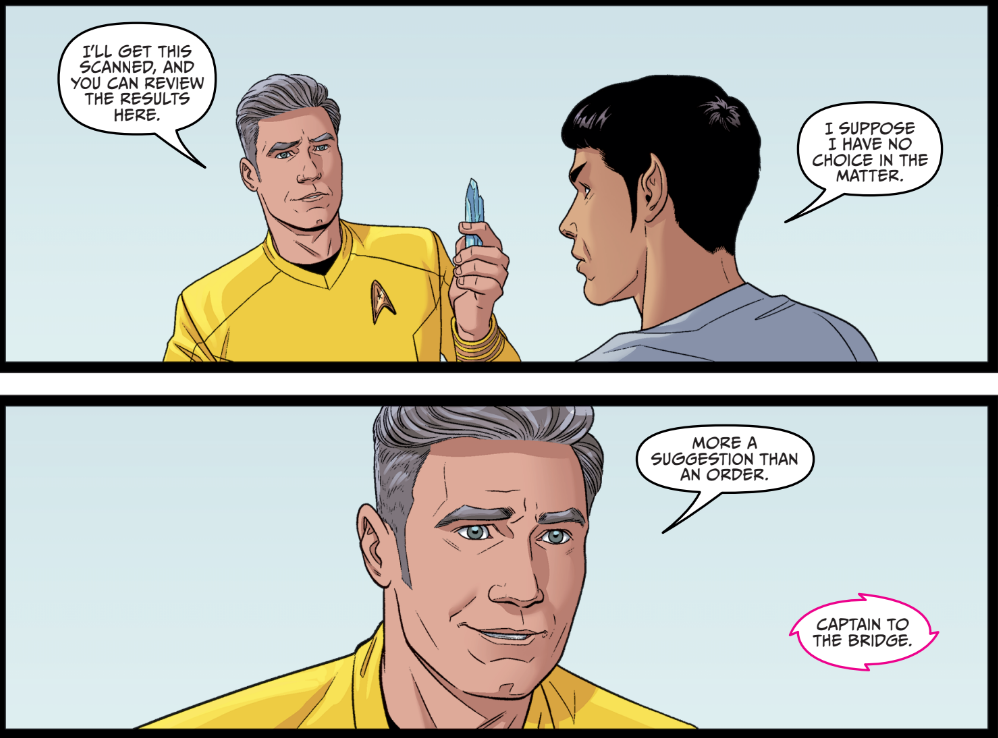 Strange New Worlds – The Illyrian Enigma Conclusion
I can say that The Illyrian Enigma is definitely worth checking out and reading. Little bombshell revelations like this make expanded media worth getting into. The Illyrian Enigma is a great story to bring you back into this part of the timeline. However, between now and then, like the crew at the end of the story, we'll put our feet up and struggle to keep these revelations to ourselves. I really cannot wait to see how Pike's story continues into season two, and this has got me all the more excited.
You can find Strange New Worlds – The Illyrian Enigma Issue #4 in all good comic book stores. Additionally, it's available on Amazon and IDW Publishing's website. For all things Star Trek: Strange New Worlds and for coverage of IDW's Trek catalog, be sure to follow Trek Central!
---
New Star Trek Comic Series Launching!
Resurgence may be over, but hot on its heels is Star Trek: Deep Space Nine – The Dogs of War, which launches with issue #1 of a 5-part series this April!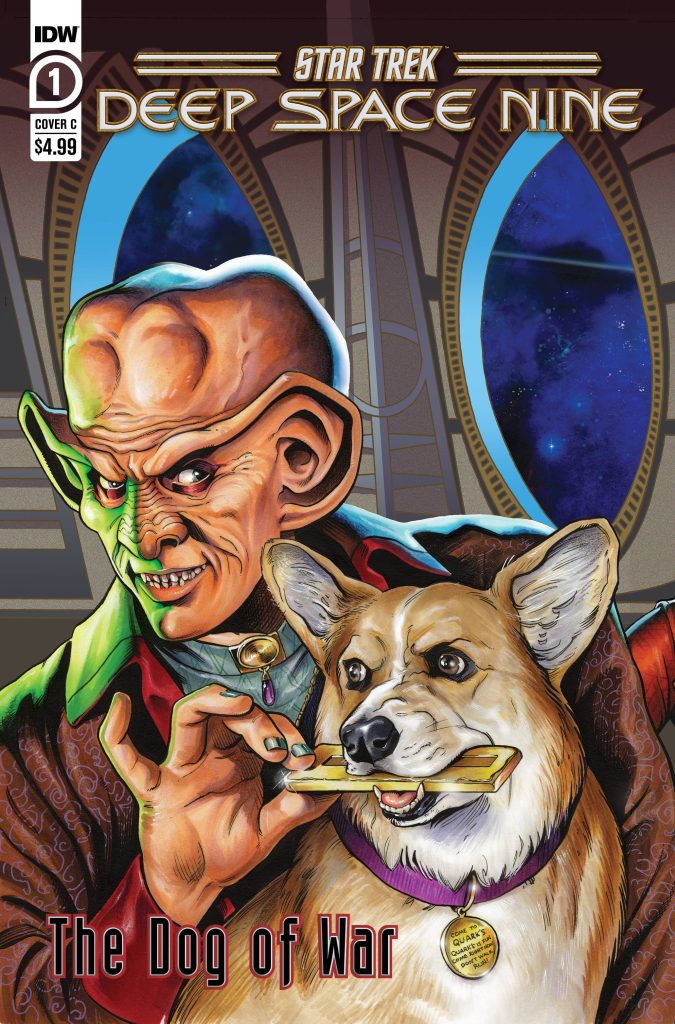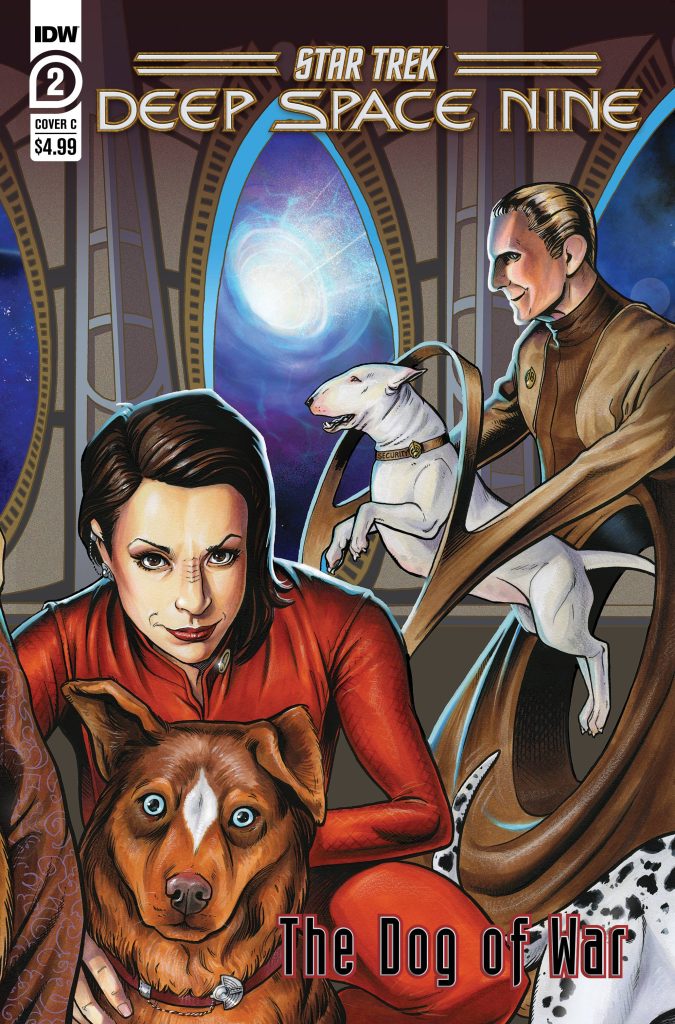 Issue #1 Synopsis: BORK! An extremely rare purebred corgi from Earth makes its way aboard Deep Space 9 when Quark cuts a deal to procure it for a high buyer. After all, a Ferengi without profit is no Ferengi at all!
But Latinum the corgi comes with unexpected cargo that shakes Captain Benjamin Sisko to the core: a Borg component discovered by a crew sent to uncover Cardassian technology after the station's reoccupation.
Don't miss out on this exclusive "lost episode" celebrating the 30th anniversary of the fan-favorite show Star Trek: Deep Space Nine and the debut comic series by acclaimed author Mike Chen (Star Wars: Brotherhood, Here and Now and Then) and Star Trek comics artist extraordinaire Angel Hernandez (Star Trek: Picard-Stargazer, Star Trek: Discovery-Adventures in the 32nd Century)!
Release Date: 5 April 2023
---
More From Trek Central
📰 – INTERVIEW: Star Trek: Picard Showrunner Talks Season 3!
🔥 – NEW Star Trek: Picard Clip Starts The Season 3 Plot
🔍️ – Explore Star Trek: Picard's Stargazer
---
Join the Star Trek conversation via our social media platforms: