After last week's midpoint episode, we're back with Star Trek: Picard Season 3 Ep 6! The third and final season of Star Trek: Picard is charging ahead, and tension is building. However, we've almost got The Next Generation crew back together. Therefore, this week we'll see the arrival of LeVar Burton as Commodore Geordi LaForge. As usual, Trek Central has preview pictures, promo trailers and a healthy dose of fan theories!
The official synopsis, see below, hints at where our crew are going. After last week's encounter with Michelle Forbes Ro Laren, the USS Titan-A is on the run. However, as both storylines of Worf and Picard are about to collide, both groups are likely to meet up, as revealed by one of our promotional videos for this week. Star Trek: Picard Season 3 Ep 6 is directed by Dan Liu and written by Christopher Monfette.
On the run, Picard & Titan's skeleton crew must break into Starfleet's secret facility to expose a plot that could destroy the Federation. Picard must turn to the only soul in the galaxy who can help: an old friend.

Synopsis for Star Trek: Picard Season 3 Ep 6 "The Bounty"
Star Trek: Picard Season 3 Ep 6 "The Bounty" Preview Pictures
This week's preview pictures give us a great preview of the upcoming episode. We've got fantastic shots of LeVar Burton back in uniform. Additionally, LeVar's real-life daughter, Mica Burton, plays Alanda LaForge alongside him. She can be seen alongside her in-universe sister, who is played by Ashlei Sharpe Chestnut. The Ready Room clip reveals that Raffi (Michelle Hurd) and Worf (Michael Dorn) are onboard the USS Titan-A. They are likely coming straight from their previous location. There is a great shot of Worf shaking hands with Jean-Luc (Sir Patrick Stewart).
A shot features William T. Riker (Jonathan Frakes) alongside Worf and Raffi. I'd presume this shot revolves around part of the plot for this episode. Therefore, we should perhaps expect your typical Star Trek away mission. Many Star Trek fans have waited years for the reunion of Worf and LaForge with Jean-Luc Picard. Finally, we're getting this moment with Star Trek: Picard Season 3 Ep 6. There is also a fantastic shot of Gates McFadden as Doctor Beverly Crusher alongside Jean-Luc. See all images above.
Exclusive Clip – Star Trek: Picard Season 3 Ep 6
As always, last week's Ready Room aftershow featured a clip from Star Trek: Picard Season 3 Ep 6. The clip, which you can watch below, shows us Raffi and Worf onboard the USS Titan-A. However, part of me does wonder if they use the La Sirena to get to wherever the Titan is. Therefore, what do they do with this ship afterwards? It would be great to see more of the ship actually doing something this season, given it is now the former "hero ship" for the Star Trek: Picard series.
The preview clip reveals some details about where the story will go. Jean-Luc and the crew need to return to the scene of the crime. It's been established that something else was stolen from Daystom Station, not just the Portal Gun tech. It's also alluded that Frontier Day will be our villains' big target this season. This event has been mentioned multiple times in season 3. However, we also see part of it in preview trailers for Star Trek: Picard Season 3.
CLIP 2 – Sneak Peek!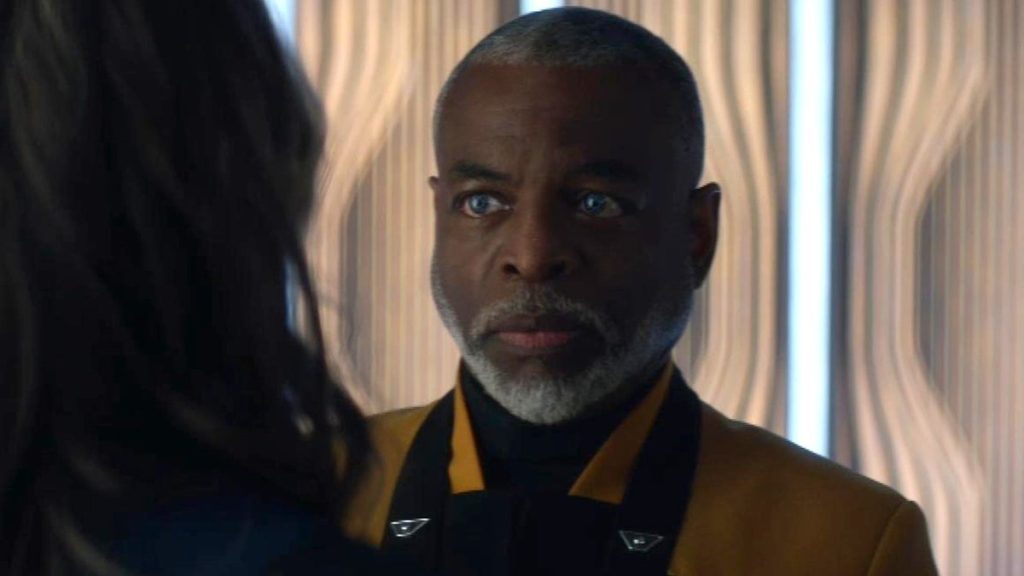 Entertainment Tonight got their hands on a short, but sweet new sneak peek from 'The Bounty'. Commodore Geordi La Forge (Levar Burton) and his daughter, Alandra La Forge (Mica Burton) beam aboard the Titan and reunite with some old friends of the family.
Conclusion
We're past the halfway mark now. So Star Trek: Picard Season 3 is going to need to start thinking of moving the story past its mid-mark and resolving some of its plot lines. After this episode, we'll only have four more left. It now looks like the upcoming episode will give us all of our TNG characters. Well, those who are living. We know Brent Spiner is showing up in some form, either as Lore or perhaps B4. Maybe we'll get a hint this week with the adventure to Daystrom Station.
Star Trek: Picard Season 3 airs on Thursdays via Paramount+ for those in the United States. Additionally, on Crave and the CTV Sci-Fi channel for viewers in Canada. However, new episodes air Fridays via Amazon Prime Video in international regions like the United Kingdom. Paramount+ also streams the episodes in select locations, such as Italy, Germany and France.
---
More From Trek Central
📰 – INTERVIEW: Star Trek: Picard Showrunner Talks Season 3!
🔥 – NEW Star Trek: Picard Clip Starts The Season 3 Plot
🔍️ – Explore Star Trek: Picard's Stargazer
---
Join the Star Trek conversation via our social media platforms: