Star Trek: Strange New Worlds season 1 was a massive success last year. With season 2 unreleased, it's lovely to have IDW's Strange New Worlds – The Illyrian Enigma to tide us over. Thankfully, the latest issue, The Illyrian Enigma Issue #3, is here! It's been an exciting read so far, so it'll be lovely to see how the comic concludes and leads into season 2.
This is the penultimate issue of the four-issue comic, following the release of the first and second issue over the past two months. The comic is written by the co-executive producer of Strange New Worlds, Kirsten Beyer, alongside veteran Star Trek author Mike Johnson. Artist Megan Levens really helps this issue to shine with some amazing artwork. She does this alongside colourist Charlie Kirchoff, whose work on Spock and Illyria in this issue helps it to feel distinctly alien.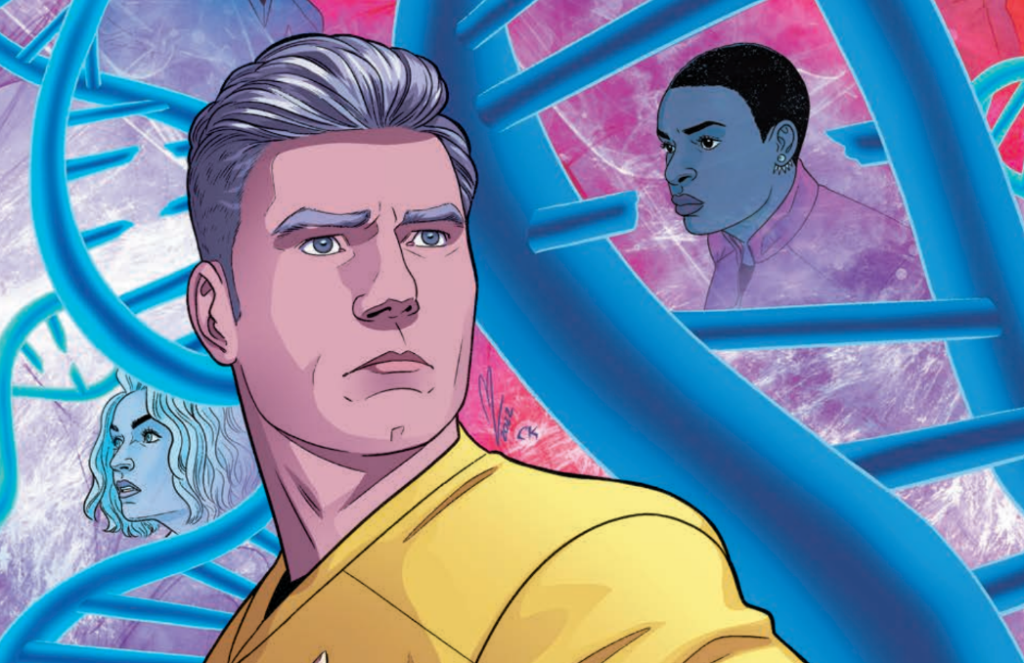 Down to Illyria
Following Spock's kidnapping by the Illyrians at the end of the last issue, it was interesting to see what the Illyrians had tasked him with. Turning Spock to stone, sending him down to the acidic Illyrian homeworld, and tasking him with finding the lost genetic secrets of the Illyrians made for very intriguing premise. This story would never have been attempted on the show, which makes this a very refreshing read.
However, comics may have been the best medium for this story. Thought bubbles allow for insights into Spock's thoughts and motivation, something unavailable on TV. The interaction between his thoughts and his words when on ancient Illyria was an absolute joy to behold. The artwork matches the beautiful writing too, with Illyria and Spock's stone skin being particular highlights.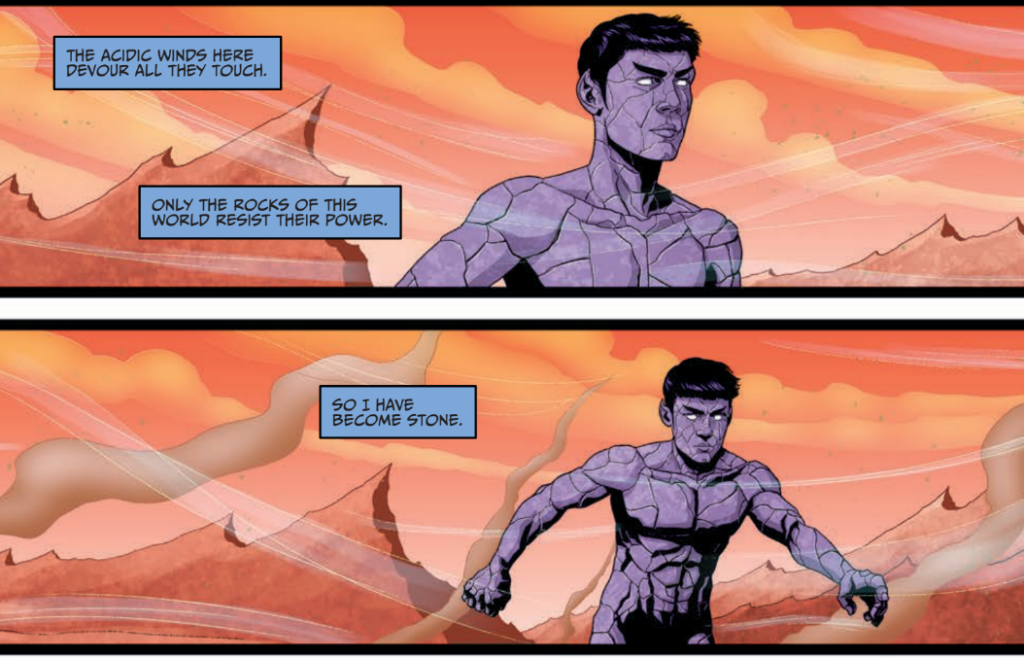 Secret Vulcan Lore
This issue starts with a tease of a Vulcan statue on Illyria, even though there are no records of Vulcans ever having visited the planet. As some dormant technology reactivates, Spock is sent into the past. He sees Illyria in its former beauty, and the Vulcan's first contact with Illyria. We also see them bring a couple of Sehlats, a species originating in Star Trek: The Animated Series
But all is not as it seems. There are hints that the Vulcans invited themselves. They're freely sharing technology with other species, coming out with potentially sinister "ideas" about how they might be of help. Being before the time of Surak as well, this story and conspiracy is thousands of years old. We're uncovering a potentially diabolical secret right at the heart of one of the Federation's founding members.
Pike to the Rescue!
With Una being arrested by Starfleet at the end of season one, and Spock being kidnapped last issue, Pike's determination grows. From the quieter moment in Pike's head at the start, to the fast-paced scenes on the bridge toward the end, we get a really good picture of Pike's mental state. Chasing down the Illyrian ship to save Spock, you can feel Pike's anger at the evil, yet sympathetic, Captain Da-Kil grow exponentially. It nails Anson Mount's portrayal of Pike in the show perfectly.
The ending has him taking a shuttle down to Illyria to save Spock. The shuttle's trail and Pike talking to himself on the way down really helps to show the tension in the scene. This compensates for the absence of music and motion perfectly. He meets up with Spock, cursing the Illyrian modifications, as the planet collapses around them. Spock gives only one hint. The answers are on Vulcan.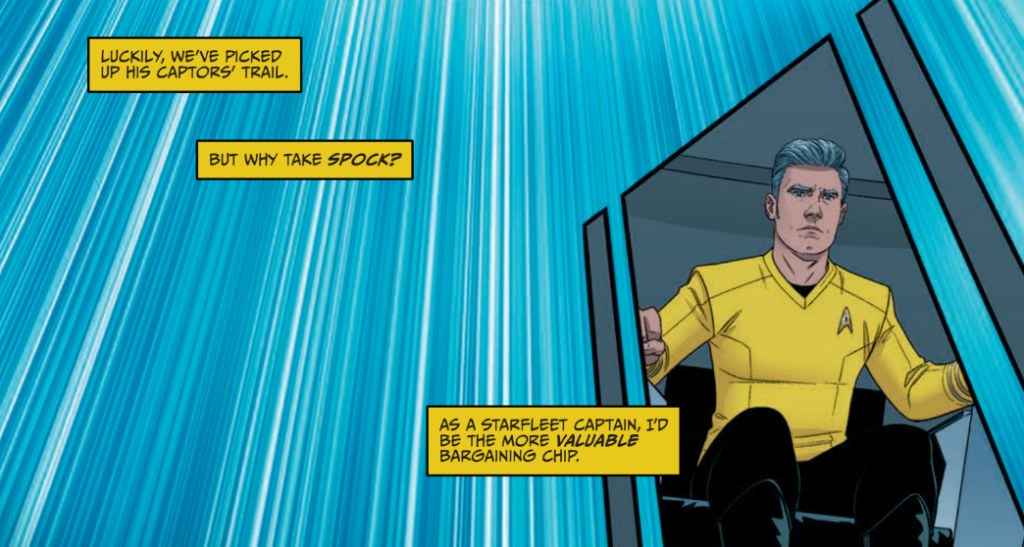 Strange New Worlds – The Illyrian Enigma Conclusion
Strange New Worlds – The Illyrian Enigma Issue #3 is a fantastic story continuation, with a lovely cliffhanger leading to the conclusion. I can't wait to see how it all ends next month. I was worried this comic would resolve season one's cliffhanger, but that's starting to look very unlikely. We may, however, uncover some big secrets to expand the cliffhanger, and I can't wait to see what they are.
With this story ending in March, may we see Star Trek: Strange New Worlds season 2 return shortly after Star Trek: Picard season 3 in April or May of this year? Only time will tell. You can find Strange New Worlds – The Illyrian Enigma Issue #3 via all good comic book stores. Additionally, it's available on Amazon and IDW Publishing's website. For Star Trek: Strange New Worlds coverage, be sure to follow Trek Central!
---
More From Trek Central
📰 – INTERVIEW: Star Trek: Picard Showrunner Talks Season 3!
🔥 – NEW Star Trek: Picard Clip Starts The Season 3 Plot
🔍️ – Explore Star Trek: Picard's Stargazer
---
Join the Star Trek conversation via our social media platforms: