With an amazing Season 1 of Star Trek: Strange New Worlds and more news coming out about the Second Season, Strange New Worlds – The Illyrian Enigma is giving us a good look into the events between the two seasons.
We had already got a First Issue of The Illyrian Enigma and now with a second issue, how does the story hold up? The four-issue comic series has a co-executive producer for Star Trek: Strange New Worlds, Kirsten Beyer, reuniting with Star Trek author Mike Johnson. Artist Megan Levens does some amazing work in this issue alongside colourist Charlie Kirchoff. Charlie Kirchoff also recently did the colours for the Star Trek: Resurgence comic as well!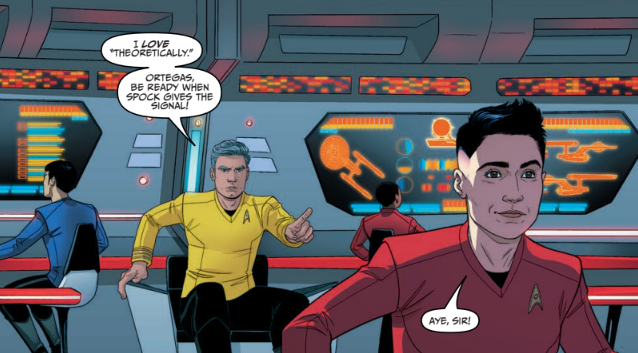 The Illyrians
This issue gives us a closer look at the Illyrians, with Governor Da-Kil. There is this excellent panel of Da-Kil explaining how dangerous the Illyrian homeworld is. Beset by acid rain storms, that would even destroy Federation environmental suits. We get to see how it would tear through one of these suits and kill the user inside.
Not only that, but we learn that there are even more Illyrians in Starfleet and that the secret Spock is going to uncover is located within a Tomb on Illyria. The secret of how Illyrians first modified their genetics. In Strange New Worlds "Ghosts of Illyria" we see Illyrians trying to reverse their genetic engineering, so perhaps this secret could help, and the solution to getting Una back into Starfleet is to remove her augmentation.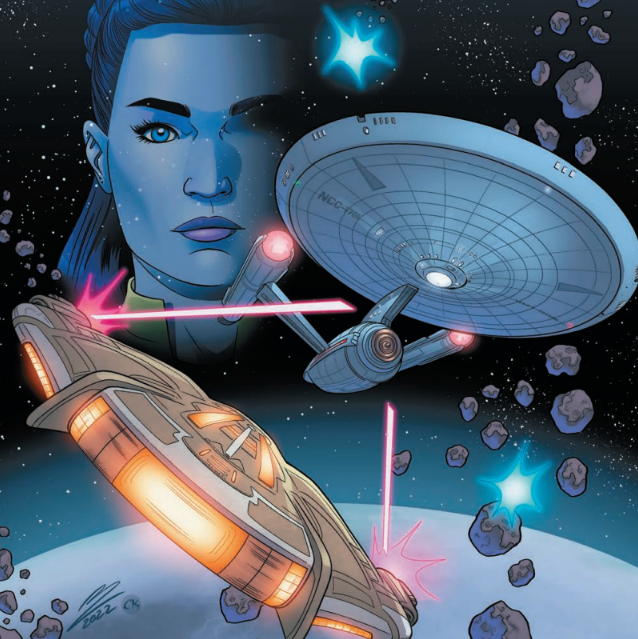 Spock
One fascinating thing about issue #2 is its focus on Spock. Something that can be done with Comics and Books compared to TV is really getting into the thoughts of a Character. This issue exemplifies it, looking inside the struggle of Spock. Spock may contain his emotions on the outside, shown by Ortegas repeatedly admiring his composure under stressful situations, but inside the conflict arises.
It is nice to get this Spock, portrayed by Ethan Peck in Strange New Worlds, as a younger Spock than Leonard Nimoy and still coming to terms with this emotional expression. By the end of this chapter we get Spock being captured by the Illyrians. It seems like he is now being tasked with the mission to recover Illyrian Genetic Secrets from their toxic homeworld. These secrets can hopefully help Una, but also for some reason, can only be accessed by a Vulcan?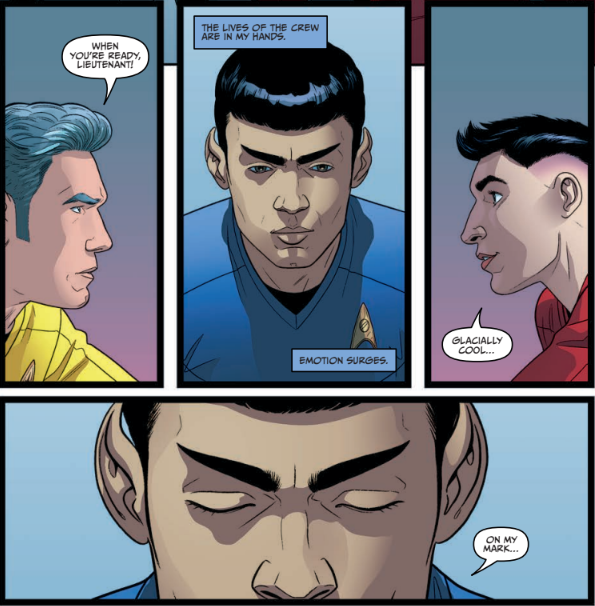 A Strange New Worlds Cliffhanger
This is such a fascinating way to end this issue, giving us further progression and world-building with the Illyrians, and focusing it somewhat on Spock. We see by the end of the issue that not only has Spock been captured, but being genetically changed to look almost Rigellian with cracked skin.
We hear from the inner dialogue that not only has his outward appearance changed, but so have his insides. No longer able to even feel the emotion that he was suppressing throughout this issue. This is really interesting and could lead to some fascinating development for Spock as a character.

Strange New Worlds – The Illyrian Enigma Conclusion
Overall this is a fantastic continuation of Strange New Worlds – The Illyrian Enigma and has me extremely excited for the next two issues. My only concern will be if this does solve the Una Problem before Season 2, though we shall have to wait for future issues. Each issue drops monthly and should take us up to March 2023. Therefore, perhaps it indicates Star Trek: Strange New Worlds will return in April/May 2023?
You can find Strange New Worlds – The Illyrian Enigma Issue #2 via all good comic book stores. Additionally, it's available on Amazon and IDW Publishing's own website.
---
More From Trek Central
📰 – INTERVIEW: Star Trek: Picard Showrunner Talks Season 3!
🔥 – NEW Star Trek: Picard Clip Starts The Season 3 Plot
🔍️ – Explore Star Trek: Picard's Stargazer
---
Join the Star Trek conversation via our social media platforms: