The elusive Investor Day Star Trek: Strange New Worlds Secret Trailer has been deemed not for fans. Some of us, however, were lucky enough to catch its one-time-only showing. And you know what? We absolutely loved it! So while we can't show you any images or risk incurring Paramount's wrath, we can tell you everything we saw. Get ready for Captain Pike's next adventure!
SPOILER WARNING
Don't want to risk being spoiled? Please don't read beyond this point.
SPOILER WARNING
---
WHAT JUST HAPPENED?
With just two months to go to the series premiere, Star Trek: Strange New Worlds finally got its first official teaser. Much to our surprise, this wasn't the one shown during Paramount's Investor's Day event. This new trailer stripped out the character content and replaced it with a more somber tone, generic scenes, and a poignant voiceover. While good, it revealed very little about the show.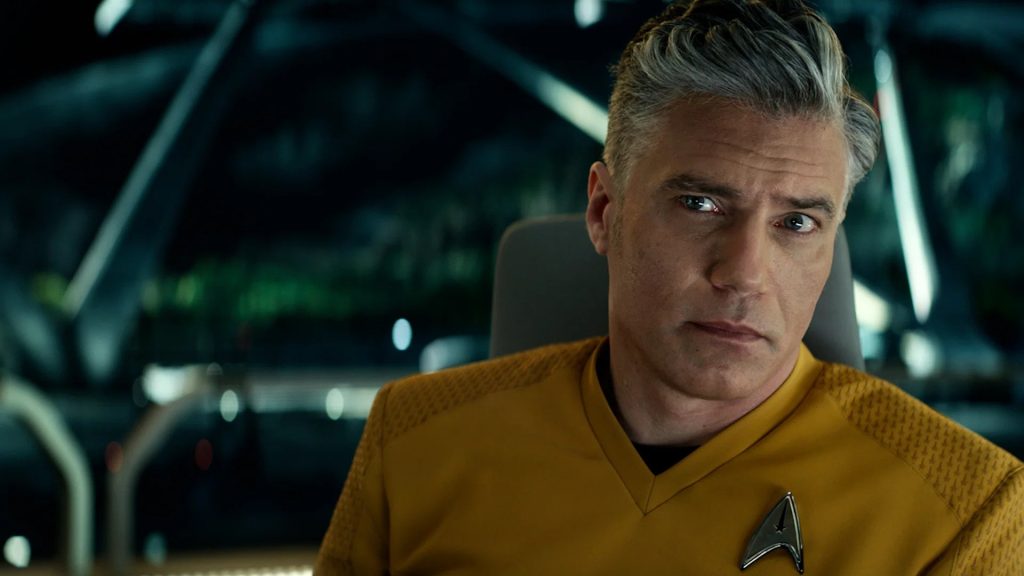 Now for those not paying attention, the 'secret' trailer's first and only showing was a bit of a mess. Fans were invited last year to watch the live stream of the Paramount Investor's Day event. We love to report Star Trek news, so of course, watched it again this year. Paramount didn't make the event private but forgot to tell fans they weren't invited. They also forgot to blank out the Star Trek presentation on the public feed.
What began with an introduction by Star Trek's captains, ended with our first taste of Strange New Worlds. After waiting 2+ years to see something, we got more than a little excited. The trailer was sadly never posted as expected, and when the public replay was uploaded the following day, it had been removed from the feed. The introduction however remains, with a little glimpse of new footage.
Any screencaps that were taken of the live stream and shared were slapped with copyright strikes. This means unfortunately we won't be showing you any new images from that trailer. We can however tell you what we saw, and why it got us so excited.
OFFICIAL TRAILER
The official release certainly held a promise of great things to come, but it was missing something. Opening with a bearded, despondent-looking Pike, the tone was somber. Rebecca Romijn then narrates viewers out of the dark place Captain Pike is clearly in, toward the promise of the final frontier.
Two key elements were missing: its characters, which we rarely catch a glimpse of besides Pike. And to be blunt: fun. The latter is important when the producers have been promising a lighter, brighter Trek show.
The investor trailer nailed both these missing elements. And it revealed a few key details for what to expect from Strange New Worlds.
A SPICY VULCAN ROMANCE?
We've been told we're getting character backstory and the opening of both trailers could certainly fit that description. The secret trailer opens with the same shots of the Captain on horseback, but instead of SadPike, we got Spock locking lips with T'Pring! Yes, THAT T'Pring!

Last year we reported on an exciting new credit added to IMDb. Canadian actress Gia Sandhu was listed to appear under a character name we knew well. Those credits later disappeared but that didn't wipe away the anticipation. While not explicitly named, it's pretty hard not to recognize the character first seen in The Original Series' iconic episode Amok Time. We can only hope the history of Spock's relationship with T'Pring is as spicy as hinted.
GEARING UP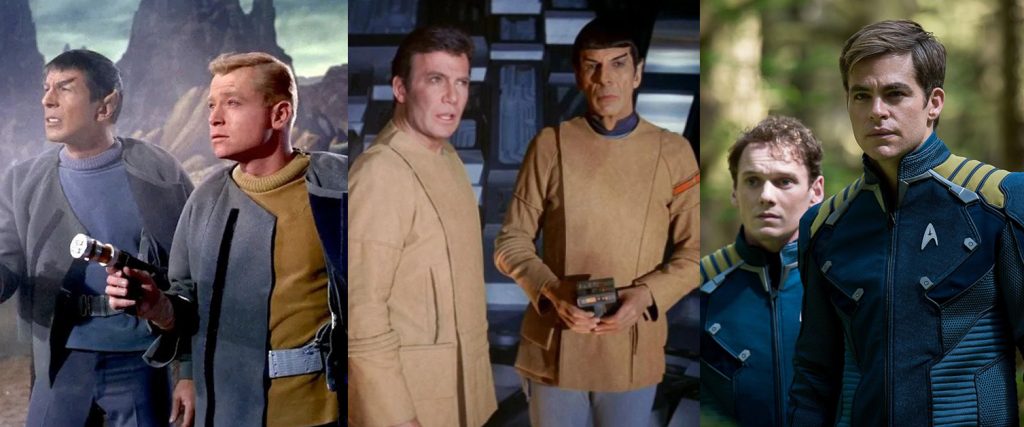 We've seen the new tweaked Strange New Worlds uniforms in the earlier character reveal video. What we haven't seen are away jackets. Now, these might seem a bit trivial, but it's something fans have eagerly anticipated. We've seen these as a prominent part of the uniform in the original The Cage pilot, plus used in The Motion Picture and Kelvin movies. And now it looks like SNW will have their own too. Unfortunately, we only spotted these briefly at a distance, so we'll have to wait for more details.
UHURA (Celia R. Gooding)
The Original Series kept its Uhura (Nichelle Nichols) on the bridge, woefully underused and away from the action. That certainly does not seem like the case for Strange New Worlds. Footage in the officially released trailer and the publicly viewable investor intro show Celia R. Gooding's character in an EV suit. Yes, Uhura will get to go on away missions! The investor trailer also shows what that means to the young cadet and her smiling enthusiasm is both infectious and compelling.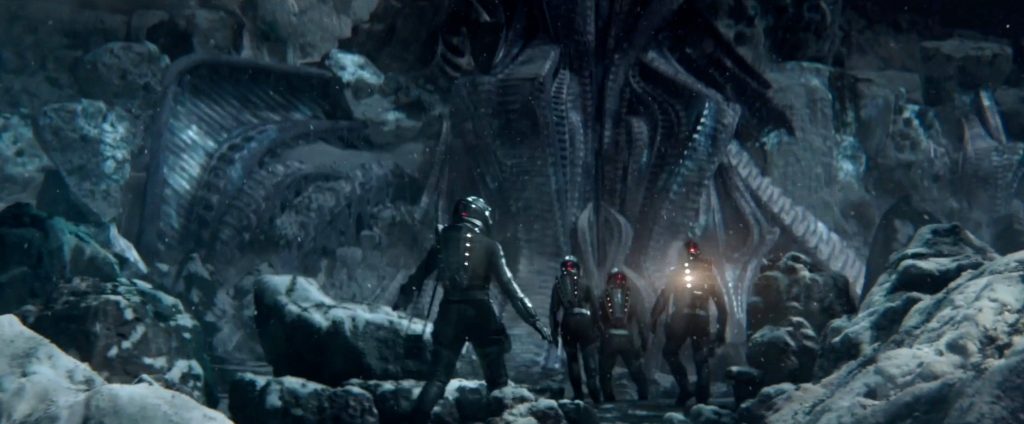 We also got a better look at the away team, and a brief glimpse of a crew character alongside Spock, Uhura & La'an. This character looks like it might be actor Graham Parkhurst's 'Lt. Dever'. New credits are popping up on IMDb all the time, and Strange New Worlds has a slowly growing list of additional crew members.
NURSE CHAPEL (Jess Bush)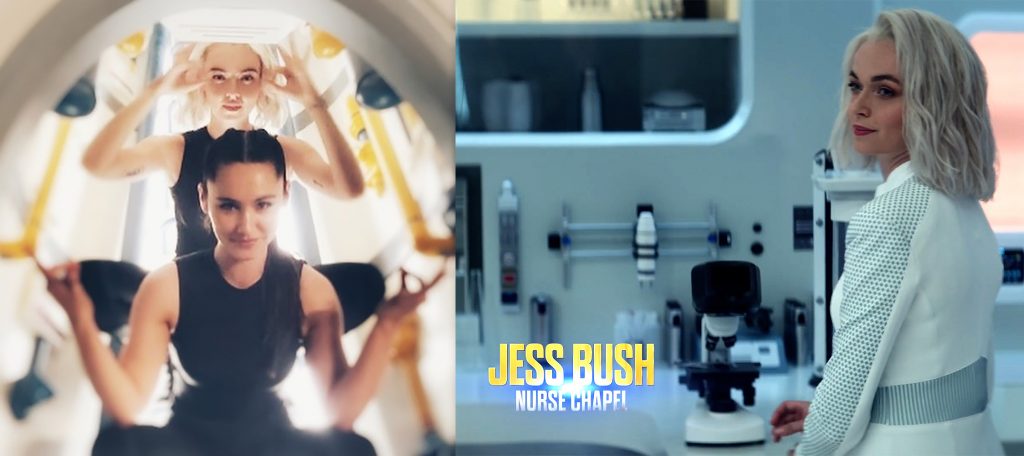 What follows is a montage of moments showcasing all the main characters. Jess Bush's Nurse Chapel climbs through a very TOS-era Jefferies tube (as she also posted on Instagram above).
HEMMER (Bruce Horak)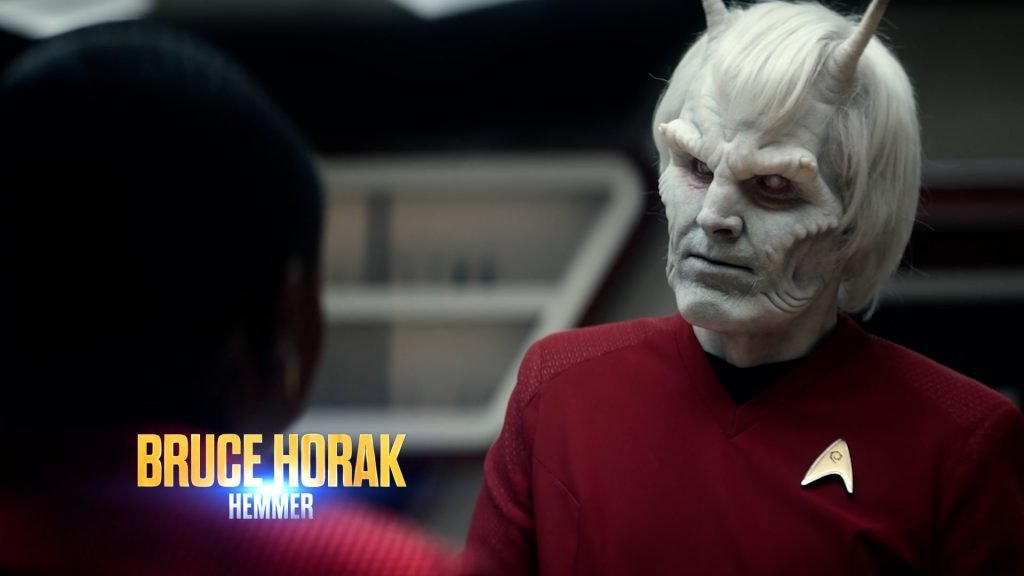 Bruce Horak's Aenar character 'Hemmer' is in the transporter room. Judging by the bag the character is carrying, this may well be his arrival on Enterprise for the first time. Not a lot has been revealed about Hemmer. His red shirt does suggest engineering rather than security, due to his species trait for pacifism. It'll also be interesting to see how the Aenar's natural telepathic abilities are used on SNW.
NUMBER ONE (Rebecca Romijn)
Rebecca's Romijn's 'Number One' didn't even get a single frame in the new official trailer, just a voiceover. Her first appearance in the Star Trek: Strange New Worlds Secret Trailer is badass, pointing a phaser at the camera. Like her Captain, there is little to nothing established about Una in canon. Until Discovery she had simply been known as 'Number One'. The character reveals teaser updated that to 'Una Chin-Riley', but gave us little else.
What also intrigued us was her tweaked appearance, leading some to wonder if there was a Vulcan connection. In author John Jackson Miller's recent novel The Enterprise War she is described as being brought up on a planet called Illyuria. Illyurians share some similarities with Vulcans, including the discipline of emotional control. This certainly seems to lend itself to what little we know of her. Not only is Number One seemingly unflappable, even in the face of great danger, but also commands with a no-nonsense manner. Traits a Vulcan could admire.
DR M'BENGA (Babs Olusanmokun)
We only get a brief glimpse of Babs Olusanmokun's Dr. M'Benga hovering over what appears to be a patient in a yellow command shirt. We have no clue yet if M'Benga is CMO or if The Cage era's Dr. Boyce will be lurking around somewhere in a less prominent role. Illuminerdi's casting breakdown did suggest M'Benga has a very similar, close relationship with Captain Pike.
LA'AN NOONIEN-SINGH (Christina Chong)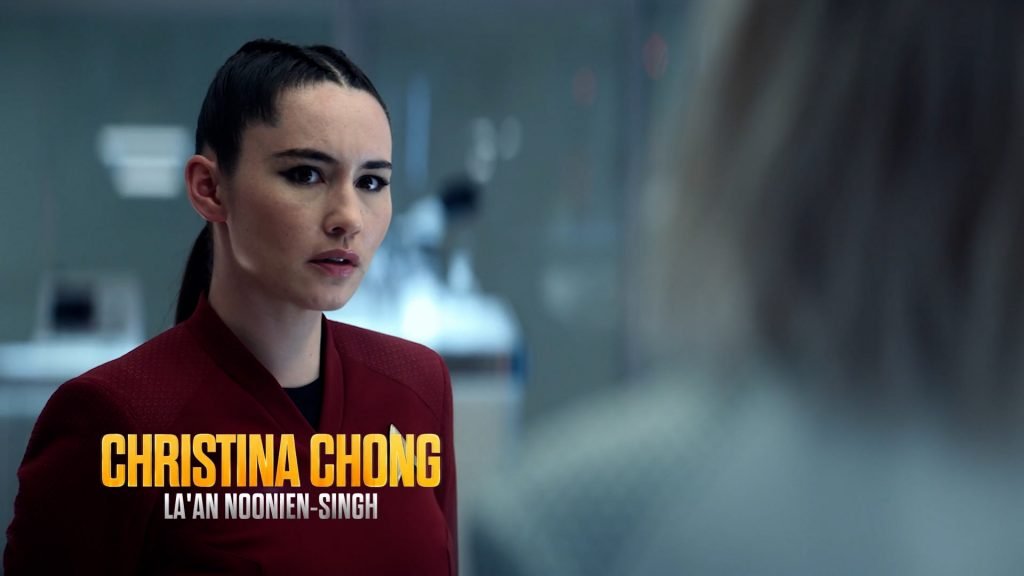 We didn't capture a moment with Christina Chong's La'an Noonien-Singh, but if memory serves the same scene is used in the character reveal video. Early casting documents identify the character as Head of Security. And co-showrunner Akiva Goldsman has confirmed she is indeed a descendent of the infamous Khan. Nothing so far suggests she's an augment, but revealing the link suggests that might be addressed.
ERICA ORTEGAS (Melissa Navia)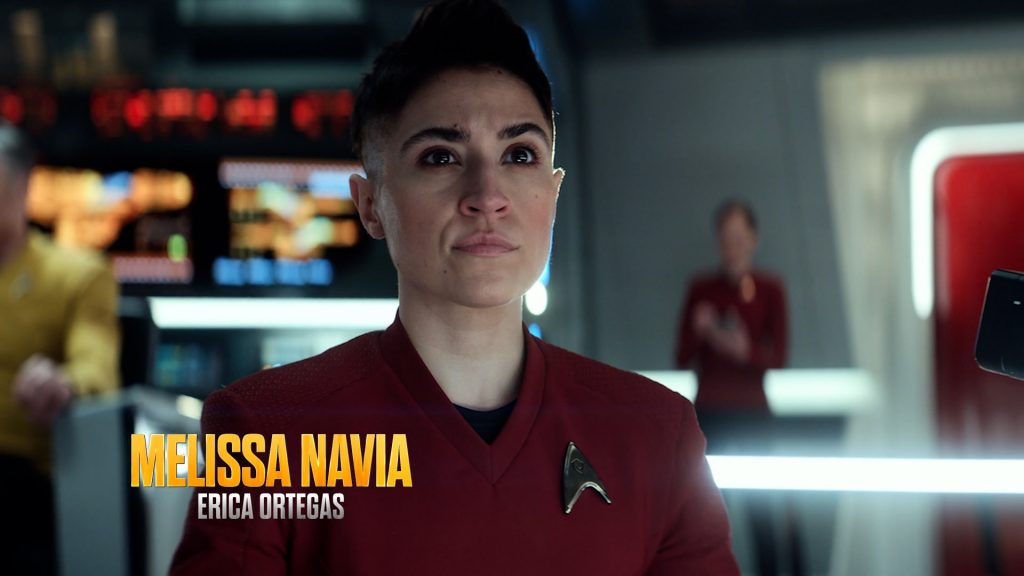 We do however spy La'an in a new scene a little later, at the ops position on the bridge. She sits alongside another new character, Melissa Navia's 'Ortegas', who takes the helm. Again little is revealed of this character, but casting notes definitely make Ortegas sound both fun and potentially a little bit of a wild card.
>>>UPDATE: We only had a blurry cap before to go on, but thanks to the new character teasers we now know that La'An is Chief of Security, and its likely Lt. Jenna Mitchell (actress Rong Fu) sitting at ops. Mitchell appears to take the ops position whenever Number One is busy elsewhere.<<<
Sadly the bridge positions likely mean that Samora Smallwood's Lt. Amin did not carry over from Star Trek: Discovery and the Short Treks. If this is the case then it's a real shame, the actress did a great job in those outings and is already very popular among fans. We hope the character will eventually turn up on Strange New Worlds, even if not in a regular role.
BOLDLY GOING
The teaser ends with Pike in the captain's chair, first impressions are that the bridge set certainly looks like it's had a tweak. Gone is the rear corridor from the Discovery bridge build, with the dimensions, reduced down to more TOS era proportions. The biggest visual clue is via the turbo lift doors, which are now more flush with the rear wall, also moving the dedication plate position.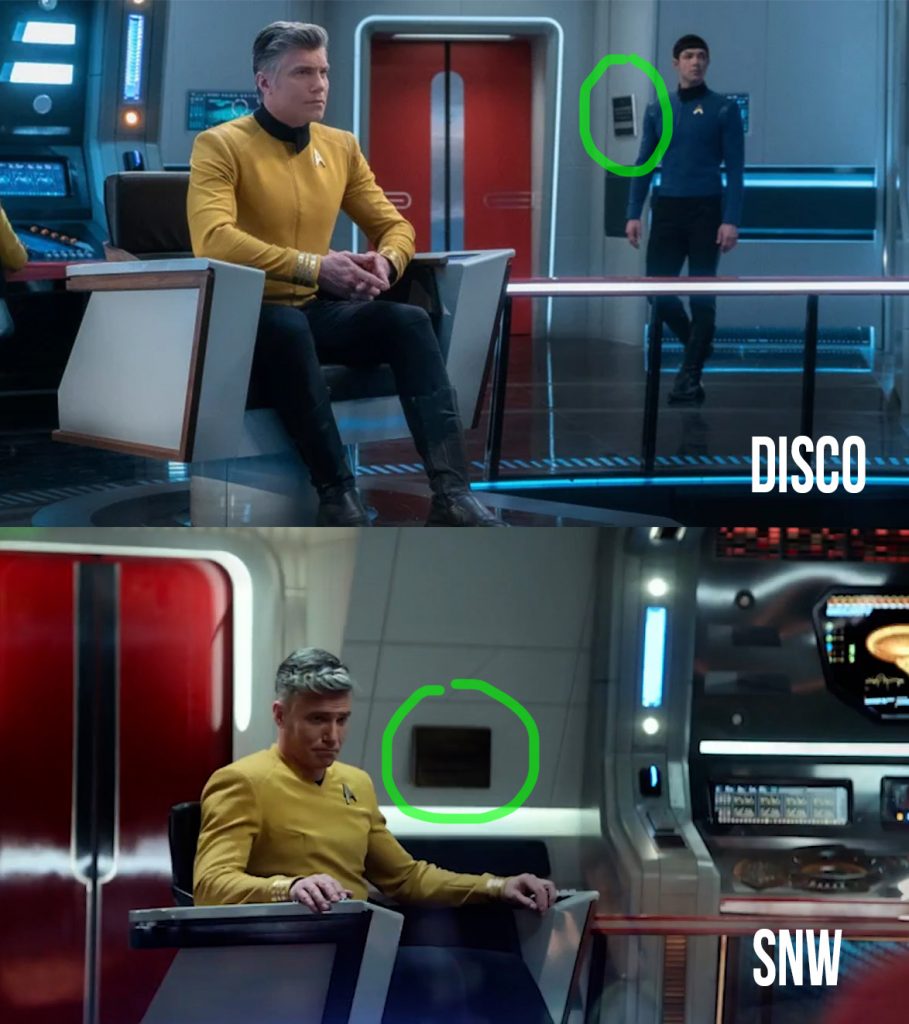 And more importantly, the teaser ends with both Captain Pike and Uhura lending a sense of barely contained excitement. Uhura, giddily grinning, utters a "cool" to Pike. It's a mirror of what fans who were watching were feeling, thrilled and barely containable eagerness for the adventure ahead. Clearly this charms her Captain, who turns to Number One and whispers that he "loves his job".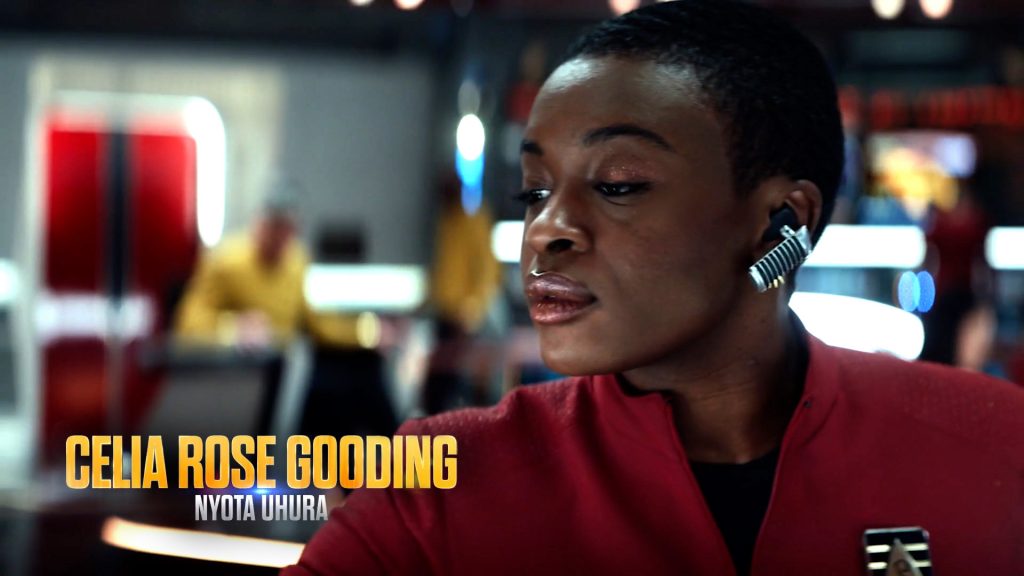 THE FINAL FRONTIER
There are also many of the scenes and images we've now seen, but mixed with great new character moments, this was the teaser we wanted to see. It's much faster paced and packed with fun and excitement. If the series feels like this did, it's a slam dunk on what was promised. We don't need to be constantly reminded of the tragedy that awaits Captain Pike, and the cost of its knowledge. What we really needed to see was the explorer, the mentor, the Captain at his finest. The series is a chance to finally color in Pike's story and see all the adventures that make him one of Starfleet's most decorated Captains.
For now, though, we're ready to boldly go and explore that new frontier with Captain Pike and his crew, and that's exactly the kind of anticipation built by this trailer. Will we ever see the Star Trek: Strange New Worlds Secret Trailer? Unlikely.
PREMIERE DATE
Strange New Worlds is set to premiere May 5, 2022. It will stream on Paramount+ in the US, Latin America, Australia & the Nordics. In Canada, the series will show on CTV Sci-Fi Channel & stream on Crave. Currently there is no further international streaming information or premiere dates.
---
More from Trek Central:
? – SNEAK PEAK – Star Trek: Picard Season 2, Episode 4 'Watcher'
? – REVIEW: Star Trek The Mirror War – La Forge #1
? – Everything We Know About Star Trek: Discovery Season 5
---
Join the Star Trek conversation via our social media platforms: