Today Star Trek: Online Refractions launches on PC. The long-standing Star Trek MMO video game is celebrating its 13th anniversary. Initially launched in 2010, the incoming 13th year sees a brand new update. Additionally, the game is getting a brand new Star Trek: Picard Season 2-themed lockbox. Perfect for the upcoming third season of the series. However, Refractions also sees the conclusion of the "Terran Gambit" arc. Yet there is still plenty for players to get involved with.
The new season launches today on PC. However, the update will come to consoles at a later date. Iconic Star Trek cast members Wil Wheaton and Gates McFadden star in Star Trek: Online Refractions. They'll be playing Terran Emperor Wesley Crusher and Terran Dr Beverly Crusher. However, they're also joined by Chase Materson as Terran Admiral Leeta. The Refractions update brings a new task force operation and two new patrols for players to take on.
New Content for Star Trek: Online Refractions!
Star Trek: Online always celebrates its anniversary in style. This year is no different. Therefore, players can beam themselves into brand new content throughout the game. A new Task Force Operation named "Bird Cage" has arrived. This acts as a prequel to the episode "Fujiwhara Effect". The goal of this mission is to rescue Terran Doctor Crusher. Therefore, respect a prison break with four other players. Additionally, Two New Patrols join the game. These are "Jupiter Station" and "Khonshu Khaibit".
Players can also get involved in the 13th Anniversary event. It runs from January 24th to February 23rd. Additionally, if you're participating in this event, you can earn a new Tier 6 ship. This is the V'ger-themed "Compiler Science Dreadnought". Like in previous years, players need to speak with Q, in-game to learn more about participating In the 13th anniversary.
Star Trek: Picard Meets Star Trek: Online
We're all excited for Star Trek: Picard Season 3, right? Well, if you're playing Star Trek: Online Refractions, you've got to get in the mood. The latest season introduces a new Picard Season 2-themed lockbox. Named "A Safe Galaxy". Therefore, players can expect to find gear related to the second season. This includes weapons and gear related to the "Confederacy" and "Watcher". However, the big surprise is the Tier 6 World Razer Temporal Op Juggernaut. This Starship was recently revealed by the Star Trek: Online team.
Introduced in Star Trek: Picard Season 2, the CSS World Razer is the alternate timeline version of the USS Enterprise-D. General Picard said the World Razer helped the Confederation conquer the stars. Therefore, during season 2, you can see a painting of the ship on display in Chateau Picard. Now Star Trek: Online players have a chance at getting this ship in-game to celebrate the 13th Anniversary. Perfect timing for Star Trek: Picard.
Play Star Trek: Online Refractions Today!
Star Trek Online is a free-to-play massively multiplayer online game that allows players to explore the Star Trek universe from within. Players can forge their own destiny as Captain of a Federation starship, champion the Empire through the far reaches of the galaxy as a Klingon Warrior, rebuild the Romulan legacy as the commander of a Romulan Republic Warbird or carry out daring missions on behalf of the Dominion as a Jem'Hadar soldier.
Captains can also explore iconic locations from the Star Trek universe, make contact with new alien species and battle alongside other players in customizable starships. Star Trek Online is currently available on PC, PlayStation 4 and Xbox One. To download and play Star Trek Online today for free, visit www.playstartrekonline.com.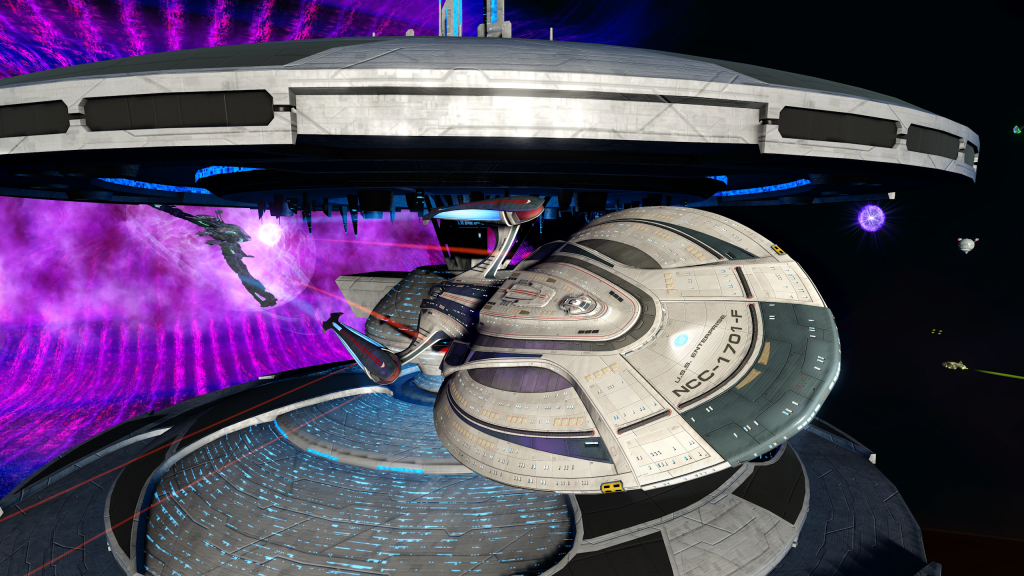 ---
More From Trek Central
📰 – INTERVIEW: Star Trek: Picard Showrunner Talks Season 3!
🔥 – NEW Star Trek: Picard Clip Starts The Season 3 Plot
🔍️ – Explore Star Trek: Picard's Stargazer
---
Join the Star Trek conversation via our social media platforms: