Star Trek: Strange New Worlds took the world by storm. Earlier this year we again joined Anson Mount's Captain Christopher Pike. However, the season one ending cliffhanger left us with many questions. While we know the second season is in post-production, we're still waiting for more story details. Thankfully, IDW's new Strange New Worlds – The Illyrian Enigma comic bridges the gap.
Announced in late September, this comic follows the series' success. The four-issue comic sees co-executive producer for Star Trek: Strange New World, Kirsten Beyer, reunite with Star Trek author Mike Johnson. The pair recently collaborated on the comic series of IDW's Star Trek: Picard Stargazer. Therefore, bridging the gap between Star Trek: Picard's second and third seasons. Artist Megan Levens takes the pages while colourist Charlie Kirchoff joins the creative team.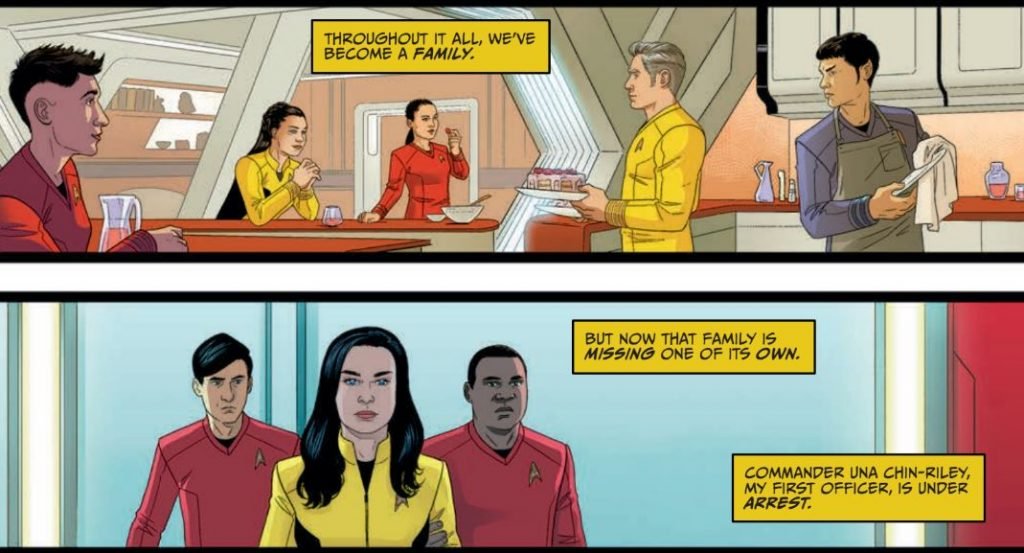 Strange New Worlds – The Illyrian Enigma
As the comic title suggests, we're focusing on Commander Una Chin Riley. Played by Rebbeca Romjin in the series. Therefore, we all know the cliffhanger at the end of the first season. It's here where the comic picks up. We're immediately thrown into a conversation between Captain Pike and Admiral April. However, what stands out is you can hear Anson Mount's voice while reading these lines. The writers have done a fantastic job making this read like a conversation between the two on-screen characters.
Continuing this, we're reading a briefing scene with the Captain and his crew. The artists and writers have done a fantastic job capturing each crew member. Reading La'an's lines feel like Christina Chong speaks them. While Uhura's lines also feel the same. You can tell how passionate the characters are about each other. However, the comic also explores the standard issue. This issue is Starfleet's views on augmentations. It's a theme brought up recently in Star Trek: Prodigy. Perhaps another crossover?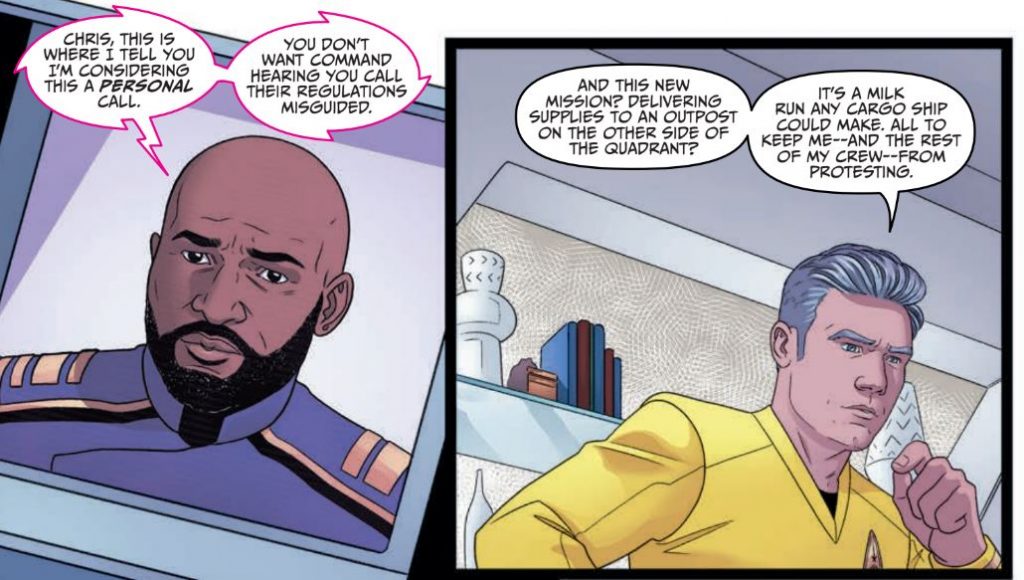 Enterprise Connections
For a species developed and introduced in Star Trek: Enterprise, Strange New Worlds has given them a new lease of life. Captain Jonathan Archer's encounter with the Illyrians is certainly a memorable episode. Especially as the Starfleet captain steals from the species and leaves their ship stranded in space. Therefore, this is a serious episode. It's one of the only instances when we see Starfleet acting outwardly hostile for their own benefit. Additionally, deploying MACOs for the sake of boarding and seizing assets.
These events are brought up in the comic here. However, when Spock mentions Archer, I thought his likely end title would refer to him. This being either Admiral or president. Additionally, this added detail would have given more detail to Star Trek: Enterprise's eventual fate for its characters. Given most of them have been ignored in new trek, for now at least. Still, you've got to love how Spock is written. Referring to the warp coil as "appropriated" rather than anything else.

A Strange New Worlds Cliffhanger
The first issue of Strange New Worlds – The Illyrian Enigma has me hooked! It's like a story has jumped off the screen and into comic book form. It happily nailed the characters of Captain Pike, Mr Spock and the crew of the USS Enterprise. However, I hope to spend time with the other crew members for the next few issues. I want to see La'an kicking some Illyrian ass in this new trap they find themselves in. We've spent a fair amount of time reading Uhura's words in this issue.
I wonder if this comic will tie into Star Trek: Strange New Worlds season 2. Una's arrest at the end of season one leaves us with a big cliffhanger. Currently, this comic looks on course to perhaps solve the mystery behind it. However, with the Enterprise's capture at the end of issue one, perhaps they never find Una. Therefore, this could be left to the upcoming second season of Strange New Worlds.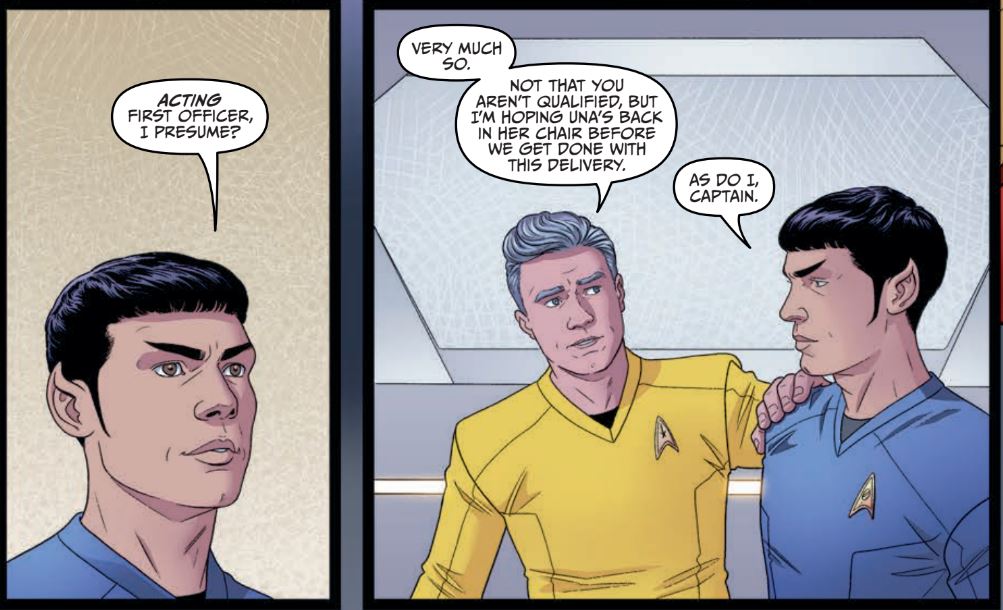 Strange New Worlds – The Illyrian Enigma Conclusion
Strange New Worlds – The Illyrian Enigma Issue #1 has me hooked. We're all waiting for season 2 of Captain Pike's adventures. However, it looks like this comic will lead us right into the upcoming season. Each issue drops monthly and should take us up to March 2023. Therefore, perhaps it indicates Star Trek: Strange New Worlds will return in April/May 2023?
You can find Strange New Worlds – The Illyrian Enigma Issue #1 via all good comic book stores. Additionally, it's available on Amazon, Forbidden Planet and IDW Publishing's own website.
---
More from Trek Central
? – INTERVIEW: Star Trek: Prodigy Writer Chad Quandt
? – Star Trek: Discovery – Season 4 Giveaway
? – REVIEW: Resurgence Issue #2
---
Join the Star Trek conversation via our social media platforms: