Waiting for a video game release is always painful. Even more so when the game has been delayed past the original release date. However, thankfully we've got IDW's Star Trek: Resurgence Issue #2. The prequel comic series ties right into the upcoming game. However, it also gives us an insight into some of the characters we will meet. Additionally, taking us back to the past of Star Trek.
Star Trek: Resurgence game writers Dan Martin and Andrew Grant write the comics. However, the artwork is by Josh Hood, known for Star Trek: Mirror Broken. We're following the adventures of Captain Solano and First Officer Commander Sutherland. However, this is leading the USS Resolute into hostile territory. It's almost like a classic Star Trek adventure. One I am very much enjoying as we await the video game in 2023.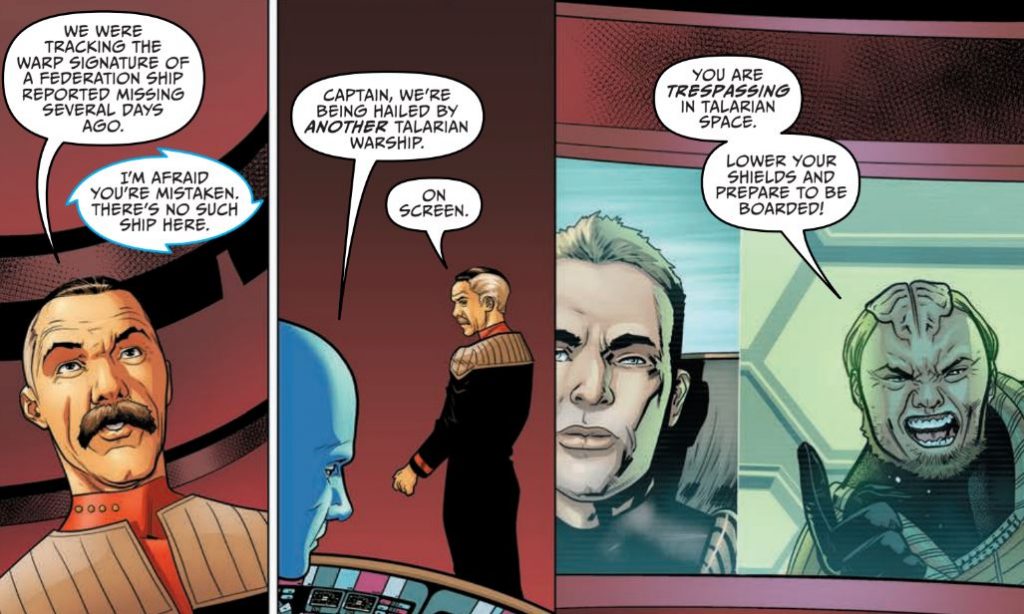 The Villain
The last issue's reveal of Jono Endar was fantastic. If you'd asked me to speculate on species showing up in this comic, I would not have guessed the Talarians. It's a fantastic call back to Star Trek: The Next Generation. However, it also firmly reminds us where this comic series will take place. Therefore, it also cements the time setting of the upcoming video game. I also really appreciate the world-building taking place. Jono mentions The Dominion War.
The conflict explored through Star Trek: Deep Space Nine has been mentioned a fair bit in Trek media lately. However, mentions like this remind us how damaging the war was. Perhaps this is one of the motivations behind the Talarian people. Jono reveals how the war did damage to them. Therefore, we could speculate that they are using Doctor Leah Brahms to further their goals. Additionally, I very much liked the counter to Jono. The other Talarian leader is what we've come to expect. Hopefully, he's not around too much.

The Crew of the Resolute
Spending time with the crew of the USS Resolute sells this comic for me. It's what is needed. Especially as the upcoming game will have us interacting with all of them. However, I still remain concerned about Commander Sutherland. He's growing on me with the way his character is written. Therefore, it will be a total shame if he ends up dead by the end of this adventure. We know another character will take the First Officer spot in Star Trek: Resurgence.
Star Trek: Resurgence Issue #2 highlights more of the crew again. While Captain Solano and Commander Sutherland are off getting captured, we see others working together. Commander Urmott gets to command the starship while it's under attack from the Talarians. Although, he does plot the rescue of the Captain as well. However, this reminds me of classic The Next Generation adventures. Moments we'd get with the other crew members while Jean-Luc Picard (Sir Patrick Stewart) is off saving the day.

A Shocking Betrayal?
We're searching for Doctor Brahms through the first issue and Star Trek: Resurgence Issue #2. But I don't think any of us expected what seems like a betrayal from her. However, when we look at it, it is default science-type behaviour in a sense. It's a bit of a cliche seen in other Sci-fi stories. The scientist wants to do their work and will work with anyone. Still, from everything we learnt of Leah in TNG, I didn't expect this.
While Captain Solano and the away team attempt to rescue her, they learn the truth. Doctor Brahms came to the Talarian people by choice. She was not kidnapped as initially presumed by Starfleet. This also raises the question of whether Jono was in on it from the beginning. Perhaps he is being used as a pawn by his own people. It would make sense, given they do not trust outsiders very well. We'll need to wait and see where this goes.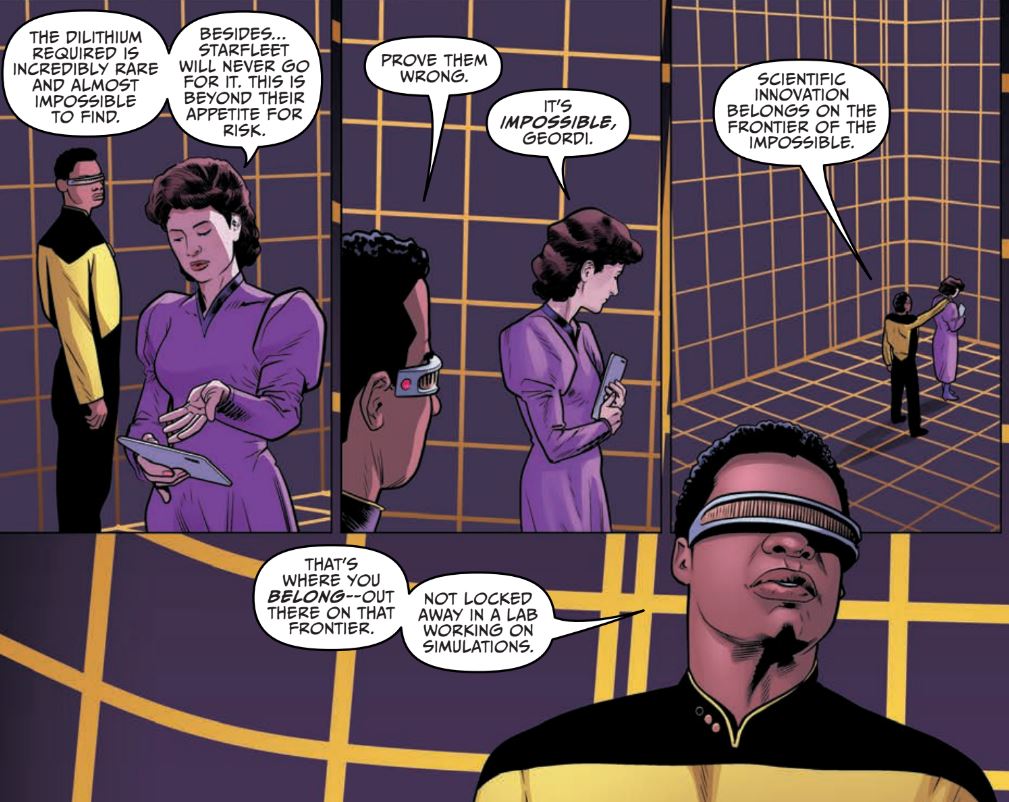 Conclusion
Star Trek: Resurgence Issue #2 is a fantastic story continuation. I love this prequel comic so far. I already love the writing direction. Therefore, this gives me high hopes for the Star Trek: Resurgence video game. If we're getting complex plots and intriguing stories just in a comic book, the video-game will go one step further and build on this. Issue #3 of IDW Publishing's Star Trek: Resurgence will be out in January 2023.
---
More from Trek Central
? – Star Trek: Lower Decks – Issue #2 Review
? – Star Trek Needs To Learn From Star Wars!
? – Star Trek Picard Season 3 Trailer Reveals A New Enterprise!
---
Join the Star Trek conversation via our social media platforms: