There are just a few shopping days to go to Christmas. Last-minute Christmas shoppers might be having a slight panic, but we've got you covered! Of course, you might also be a huge Star Trek fan banking on some present money, or maybe just a good Trekmas bargain. So whether you want to treat someone (on the day or later), or treat yourself, we've got some awesome recommendations in our Trekmas Gift Guide.
We're kicking off with the best bargains we've spotted. Most of these are online and UK based, but we've marked link origins to help.
TREK-OUT YOUR BOOKSHELVES
Forbidden Planet is a cornucopia of all things geeky, including some fantastic Star Trek merch. From Strange New Worlds t-shirts to exclusive Prodigy Murf and Rok Tahk pins. But what's really jingling our bells at the moment is a bunch of great Trek reference hardback books at just £5 each!
STAR TREK: DISCOVERY – Season 1 Behind-the-Scenes (Hardcover)
From the Publisher: "For over half a century, Star Trek has thrilled global audiences, exploring strange new worlds, encountering new civilizations, and boldly looking toward humanity's future.
Now, after an absence from television screens for over a decade, Gene Roddenberry's groundbreaking sci-fi legend returns. With exclusive interviews, character profiles, and amazing features, it's time to rediscover Star Trek!"
Price: £5
?? BUY HERE
STAR TREK COSTUMES (Hardcover)
From the Publisher: "Showcasing the unique costumes featured in the Star Trek franchise, from Mr. Spock's Starfleet uniform to Uhura's mirror universe ensemble.
The book features a wardrobe gallery that explores beautiful and innovative fashions from the various film and television versions of Star Trek, including different iterations of the Starfleet uniform, exquisitely designed alien garb, and exclusive interviews with costume designers and experts."
Price: £5
?? BUY HERE
The Art Of Star Trek: The Kelvin Timeline (Hardcover)
From the Publisher: "A complete and in-depth look at the art of the newest Star Trek trilogy.
Covering the creation of Star Trek (2009), Star Trek Into Darkness, and Star Trek Beyond, this lavish art book contains never-before-seen concept art and designs, as well as interviews with the key creatives who helped bring these exciting movies to life on the big screen."
Price: £5
?? BUY HERE
And there are loads more to choose from all at £5: Star Trek: Discovery: The Official TV Companion, Star Trek: The Art Of Star Trek, Autobiography Of Jean-Luc Picard, Star Trek Beyond: Makeup Artistry Of Joel Harlow. And if those don't take your fancy, there are plenty more Star Trek books to choose from.
FROM ADVENT CALENDAR TO MERCH BUNDLE!
We know this might feel a little late for our Trekmas Gift Guide but bare with us. Eaglemoss' Star Trek goodie-packed Advent calendar is back on sale. It might be too late to count down the days to Christmas, but it isn't for a bargain!
From socks to a mug and much more, that's 24 'stocking stuffers' style goodies, and all in a very cool package. A number of sites have it available, marked down from the original price of £119.99, now just £39.99.
AVAILABLE FROM:
?? Menkind, Lost Universe
TREK POPS!
We know there are a lot of Pop Vinyl fans out there! They do tend to go flying off the shelves and cause complete carnage at conventions for the rarer versions. So we couldn't miss some bargains we spotted from our Trekmas Gift Guide!
If you're missing the Star Trek TOS Mirror Universe Spock or Sulu, or the Khan pop, then a bunch are on sale right now.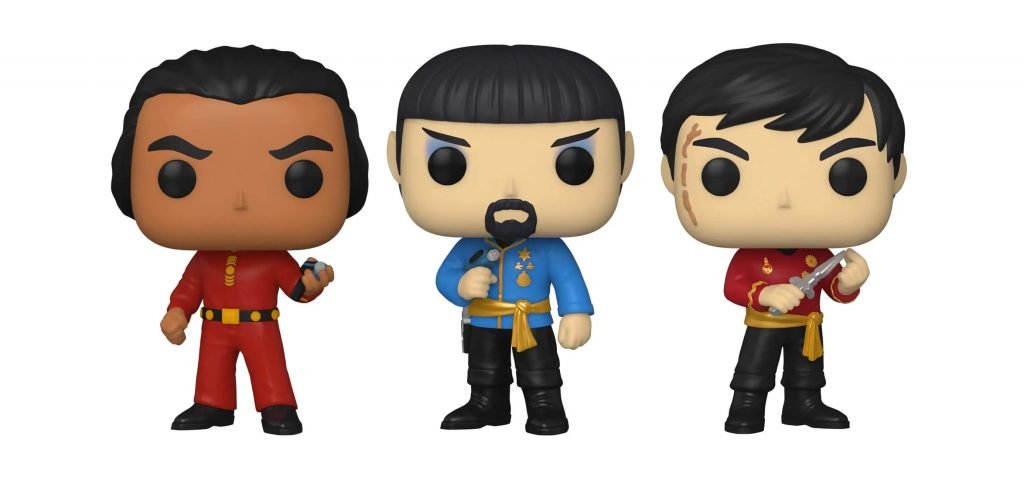 All 3 figures are just £5 from various sites including:
HISTORY LESSONS
We couldn't let this Trekmas Gift Guide pass without recommending one of this year's really great new books! Star Trek celebrated its 56th Anniversary in 2022, a long and illustrious history. And it's a history full of drama, twists and turns, and some very interesting people. Quite a difficult story to try and encapsulated. Author Ryan Britt has pulled it off though with both a deeply informative and highly entertaining read.
The book does not shy away from some of the more difficult parts of Trek's story. And it also tries to peel back some of the misconceptions and popular myths, revealing the 'hidden figures' that helped shape Trek's legacy. Definitely a great gift for a fan who prides themselves on knowing Trek inside out.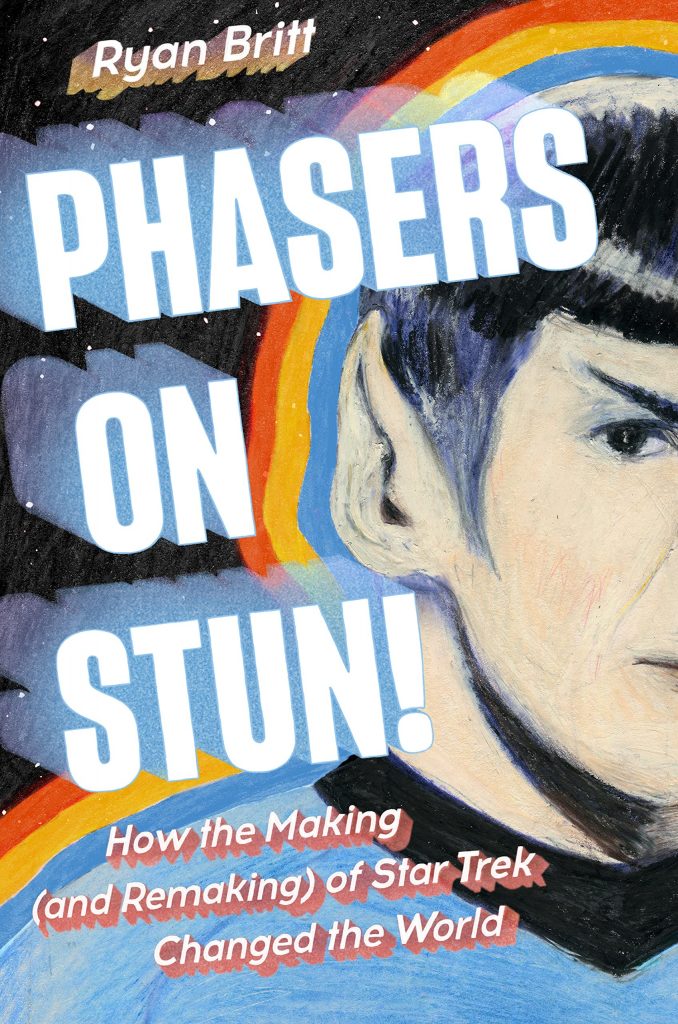 Available from:
Amazon UK, Amazon US, Forbidden Planet
TREK STYLIN'!
If you like to wear your fandom on your sleeve and rep with some great apparel, then check out Heroes Within Inc. We got a close-up look at their bomber jackets at NYCC and were not disappointed. The Star Trek Bombers are totally on point for the fashion-conscious.

And it's not just bomber jackets. Hero Within Inc. now has added its whole range online. This range includes the Strange New Worlds Away Team-based jacket which was a con exclusive. Head to their website to check out the range and find out prices & shipping for your region.
LINK: HERO WITHIN INC WEBSITE
BANDAI'S USS ENTERPRISE
If you fancy a USS Enterprise model gracing your collection. But don't want to pay out crazy money, or spend hours putting one together. Then you can't go wrong with the new Bandai model. It's an impressive 18″ in size, nicely detailed, and has fun light and sound elements too.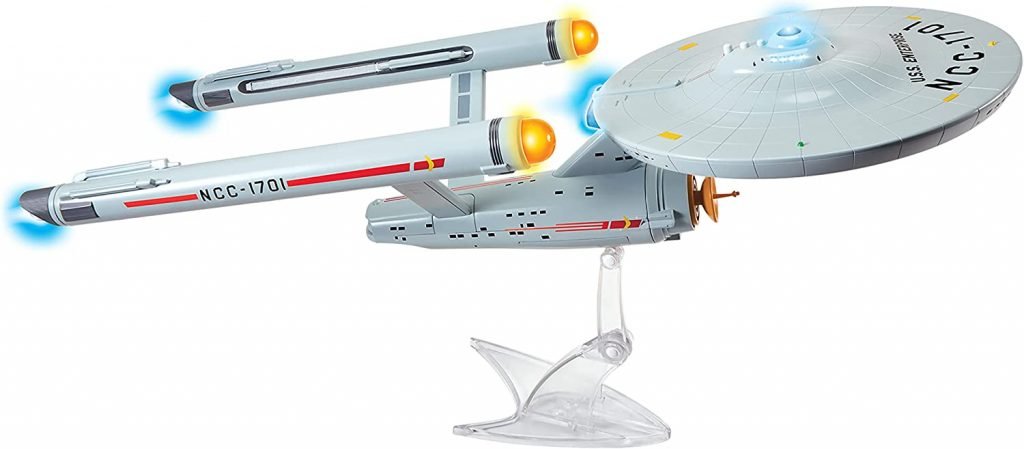 They're available from a number of sites but Amazon currently has a 17% (from their Black Friday sale).
Available from: Amazon UK
MORE SITES TO CHECK OUT
If you're still looking for that extra special gift for someone, or for yourself, then here are a few more places to check out for some awesome Star Trek merch!
?? TONYK TOYS – Has a wide selection of Star Trek items including StarTrekUnlimited.com's offerings like the Engineering kit & the new NCC 1701 Dinner set. Plus plushies, Qraftworks Puzzlefleet ships, and loads of apparel.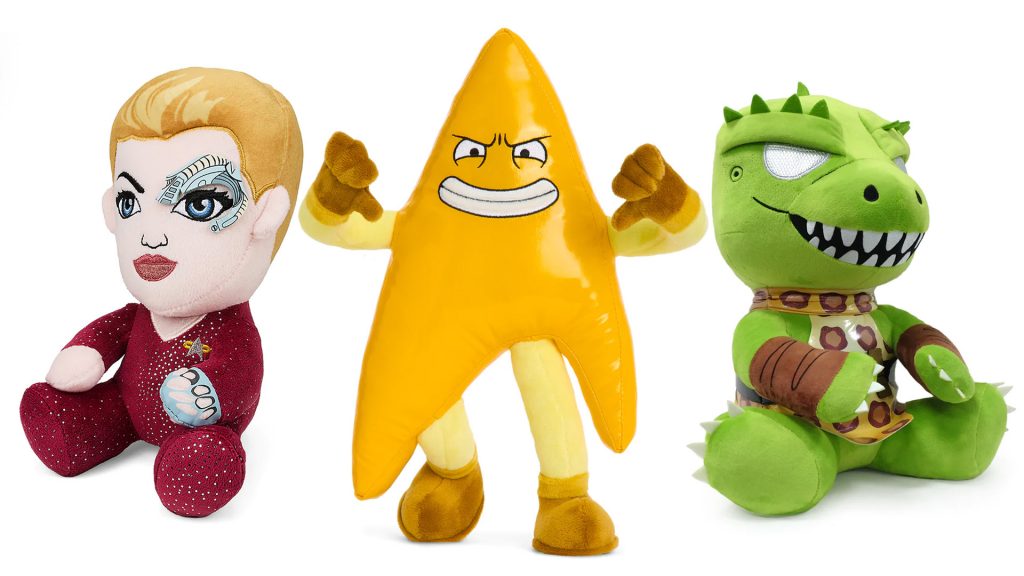 ?? KID ROBOT – The plushie specialist including the Gorn, Data, Seven, Picard, and the hilarious Badgey from Star Trek: Lower Decks.
?? HEROES & VILLAINS – Very high-quality apparel, most of which is currently on sale at excellent prices. The t-shirts are butter soft, and the print quality and designs are top-notch! Sadly their gear is currently only available in the US due to licensing limitations.
?? EMP.CO.UK – Another great site for Star Trek apparel including leather jackets, t-shirts, and footwear (including the now sold-out boots which went viral on Twitter last year).
---
More from Trek Central
? – INTERVIEW: Star Trek: Prodigy Writer Chad Quandt
? – Star Trek: Discovery – Season 4 Giveaway
? – REVIEW: Resurgence Issue #2
---
Join the Star Trek conversation via our social media platforms: