It would seem ahead of Star Trek: Strange New Worlds, the Star Trek Universe is expanding. While the upcoming series may focus on Captain Christopher Pike (Anson Mount), we'll be meeting the first captain of the USS Enterprise. Adrian Holmes will portray Admiral Robert April in the upcoming series. So, let's meet the Enterprise's FIRST Captain!
Deadline reported in May 2021 that actor Adrian Holmes would appear in a recurring role on Star Trek: Strange New Worlds. However, with the arrival of the new series, more details have been confirmed. IGN has since confirmed that Holmes will be playing Admiral Robert April. The former commanding officer of the USS Enterprise. Additionally, he's a good friend of Christopher Pike!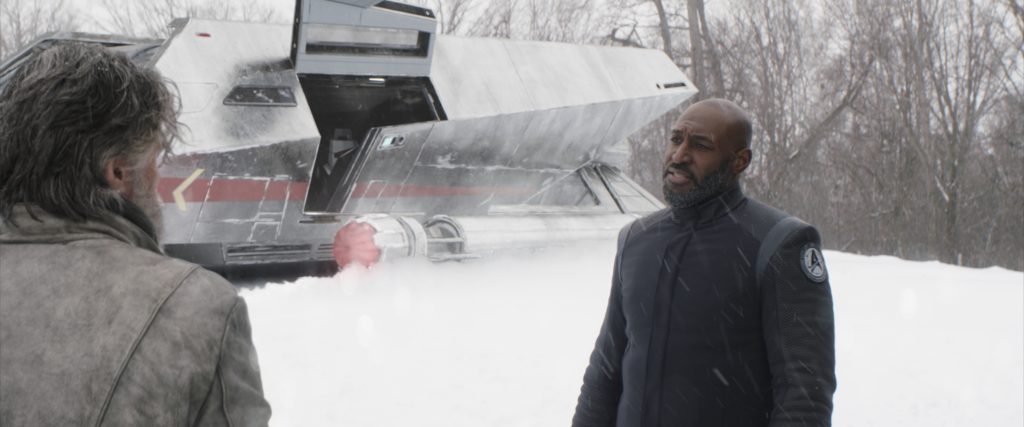 Who Is Robert April?
If you're new to Star Trek, you might not know who Robert April actually is. The character has been referenced a few times in the Star Trek Universe. Additionally, he has appeared in Star Trek: The Animated Series, voiced by James Doohan. April is mentioned in Star Trek: Discovery Season One. Discovery's computer listed him as one of Starfleet's most decorated captains at the time.
April has never appeared in live-action Star Trek up until this point. However, the character is regarded highly in Star Trek lore. As an example of this, Robert April has a close relationship with the USS Enterprise. He's listed as overseeing the construction components for a Constitution-class starship. This ship would eventually become the USS Enterprise.
The relationship between Pike and April is very similar to that of Kirk and Spock. Pike served as Robert April's First Officer aboard the USS Enterprise. However, when April was promoted, Pike would take over and that leads us into his first Five-year mission.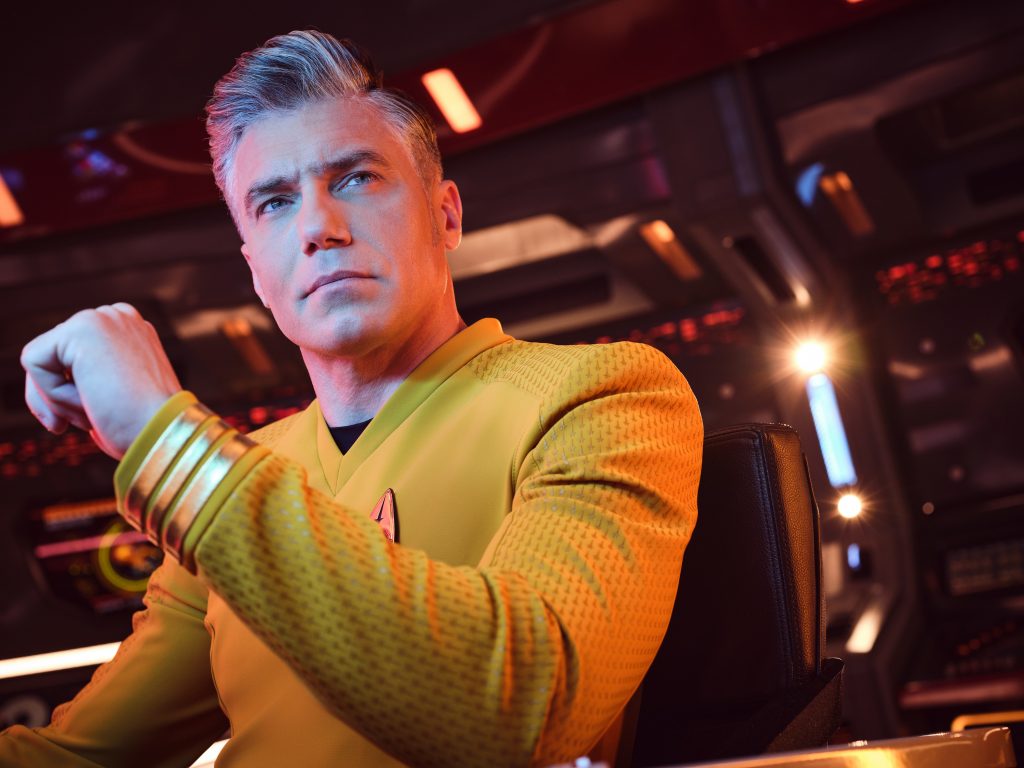 Who Is Adrian Holmes?
So, who is the man playing Admiral Robert April? Actor Adrian Holmes is well known for his roles in the entertainment industry. He's perhaps best known for his role of "Uncle Phil" in the upcoming Fresh Prince of Bel-Air reboot. Additionally, he has appeared in "The Boys" and "Chained", both in 2020.
Holmes is perhaps also well known for his role as Frank Pike on Arrow. However, many will likely associate him with the character of Uncle Phil which we mentioned above. Additionally, actor Will Smith has given him the stamp of approval for the role. This is because Holmes takes on the character previously played by the late James Avery.
Now with Holmes taking on the role of Robert April, he adds another impressive character to his list. Additionally, the original creator of April has given his blessing.
Hasn't April Appeared Before?
You might be wondering if Robert April has been on-screen before. Yes, he has. While not on-screen in a live-action Star Trek series, he has beamed down in Star Trek: The Animated Series. In the episode "The Counter-Clock Incident", April comes aboard the Enterprise to help out. Seemingly as the crew age backward?
Now, Star Trek: The Animated Series is a hot topic among Trekkies on whether it is actually "Canon". Additionally, at one point Paramount did not regard TAS as canonical. However, in later years they have since worked parts of it into new Star Trek media. As an example of this, Star Trek: Lower Decks, also an animated show, has made references to The Animated Series.
It would be safe to perhaps assume Paramount treats TAS, the same way Disney treats Star Wars Legends. This is that while the overall series is NOT canon, certain bits can be taken and inserted into the canon. This would allow them to carefully input content, without it confusing the current Star Trek Universe canonical setting.
Star Trek creator, Gene Roddenberry, even spoke on the matter in the past. He stated that had he known that more live-action Star Trek would have been created in the future, things would be different. This being that The Animated Series would have been far more logical and "cannonable". Additionally, he might not have produced the animated series at all.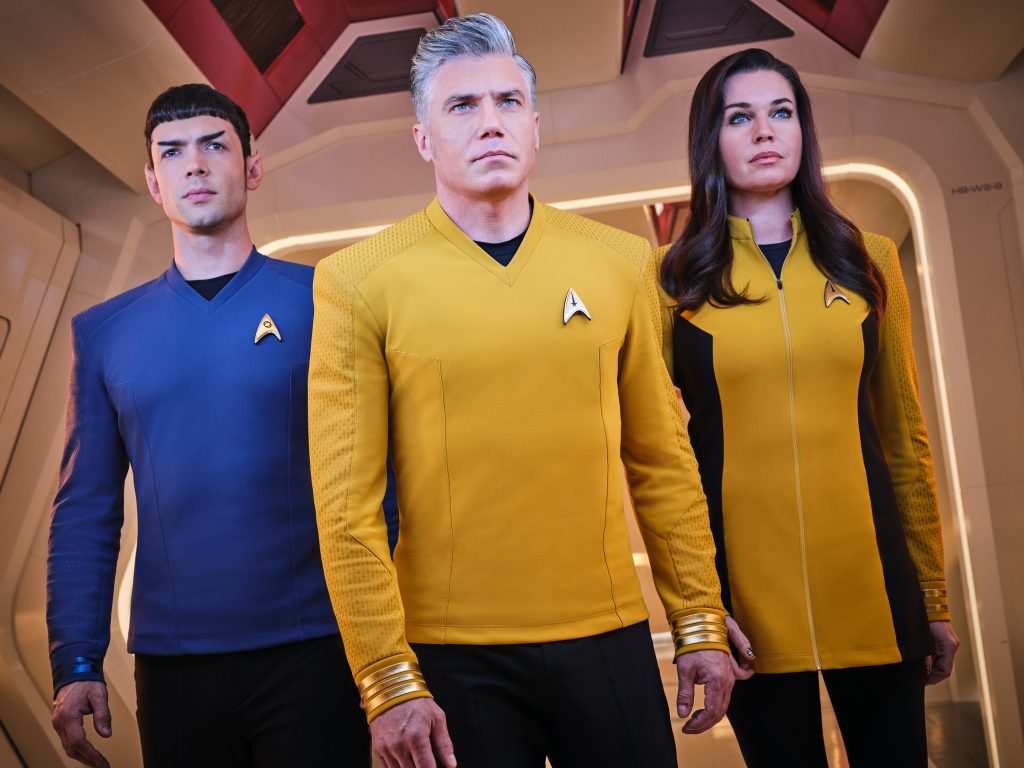 Conclusion
It's the week of Star Trek: Strange New Worlds! We're excited to be finally watching Captain Christopher Pike and the crew. It's going to be great to Meet The Enterprise's FIRST Captain when he eventually appears on-screen. We can only hope that the series lives up to our expectations. Speaking of which, the details you might need to watch!
International Distribution has not been announced for Star Trek: Strange New Worlds, we have some details for the USA Trekkies. Star Trek: Strange New Worlds airs on Thursday, May 5 via Paramount+ in the USA, Australia, Latin America, and the Nordics. Additionally on the CTV Sci-Fi Channel and Crave Streaming in Canada.
---
More from Trek Central
? – UPDATED – New Star Trek Books for 2022
? – REVIEW – Star Trek: Picard Season 2 Episode 5 'Fly Me to the Moon'
? – Everything We Know About Star Trek: Discovery Season 5
---
Join the Star Trek conversation via our social media platforms: