Star Trek: Strange New Worlds is coming in hot with its inaugural season set to kick off on May 5. It's a journey more than half a century in the making! Publicity for SNW was frustratingly slow to arrive with secrecy tight. Now the doors have been blown off! Characters teasers, cast interviews, trailers, posters & now some pretty spoiler-filled 'previews'! It's time to delve into those episode details and more, for the season ahead.
Here's Everything We Know About Strange New Worlds. Hit it!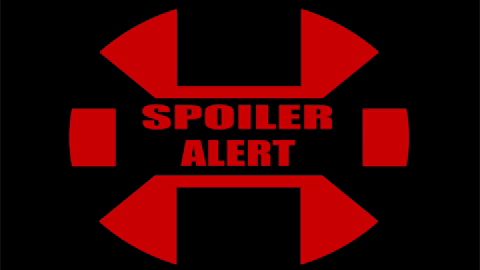 Please don't read on if you don't want spoilers!
Each episode is its own adventure
The first season will consist of 10 episodes and will be episodic in format. That's not to say there won't be season-long arcs. Character development will carry through the episodes to allow for growth. But when it comes to episodic storytelling, expect to get variety.
"If you think back to The Original Series, it was a tonally more liberal — I don't mean in terms of politics, but it could sort of be more fluid. Like sometimes Robert Bloch would write a horror episode. Or Harlan Ellison would have "City on the Edge of Forever," which is hard sci-fi. Then there would be comedic episodes, like "Shore Leave" or "The Trouble With Tribbles." So [co-showrunner] Henry Alonso Myers and myself are trying to serve that. We've all become very enamored, myself included, with serialized storytelling. But Strange New Worlds is very much adventure-of-the-week but with serialized character arcs."

– Akiva Goldsman via THR
And no doubt some of the 'big ideas of the week' will root themselves in contemporary themes. Star Trek has never shied away from being political and socially-minded but told its stories through a sci-fi allegory.
SEASON 1
Shooting for season one began in February 2021 in Toronto (Canada), and was completed around August. IMDb notes all the episodes are all now 'complete' including post-production. This means that Strange New Worlds should play out each episode weekly, with no hiatus or interruption. The premiere is set to stream from May 5, with the finale falling on July 7.
We also have the first 5 episode titles, synopsis, and some details!
DISCLAIMER: Trek Central has not been privileged with press screeners. All information below is gathered from various industry sites including IGN, Gizmodo, Engadget, Inverse, IndieWire & more. We are not responsible for the content of those external sources but have been careful to select what details we share.
Episode 1 – 'Strange New Worlds' (May 5)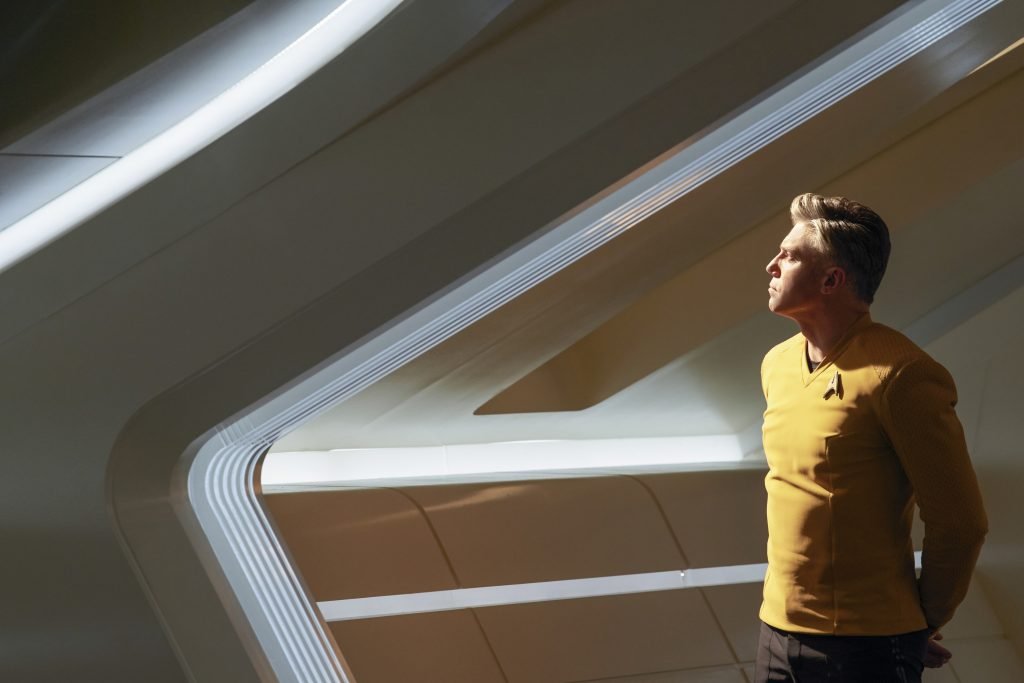 "Captain Christopher Pike comes out of self-imposed exile to rescue an officer gone missing during a secret mission."

Official Synopsis
Strange New Worlds story begins around the end of Star Trek: Discovery season 2. That secret mission alluded to above, has now revealed to be Number One's. Captain Pike and the rest of the crew are on downtime, while the Enterprise is in dry dock being repaired after the battle with Control.
"You don't want me in command of that ship."

– Captain Pike (via IGN)
Pike is struggling to cope with the knowledge of his future and has gone into a self-imposed exile (complete with epic beard). Of course if there's one thing guaranteed to bring someone like Christopher Pike back into the fray, it's knowing a friend is in need.
Una does not do downtime and has signed up for a secret mission. During that assignment she disappears. Meaning her Captain must pull himself together, and head out on a rescue mission.
The premiere, by all accounts, combines a classic Star Trek adventure with an introduction to characters new and old. And that's not just the characters we know about, several outlets have hinted at a few surprise additions to the cast that may get some interesting reactions.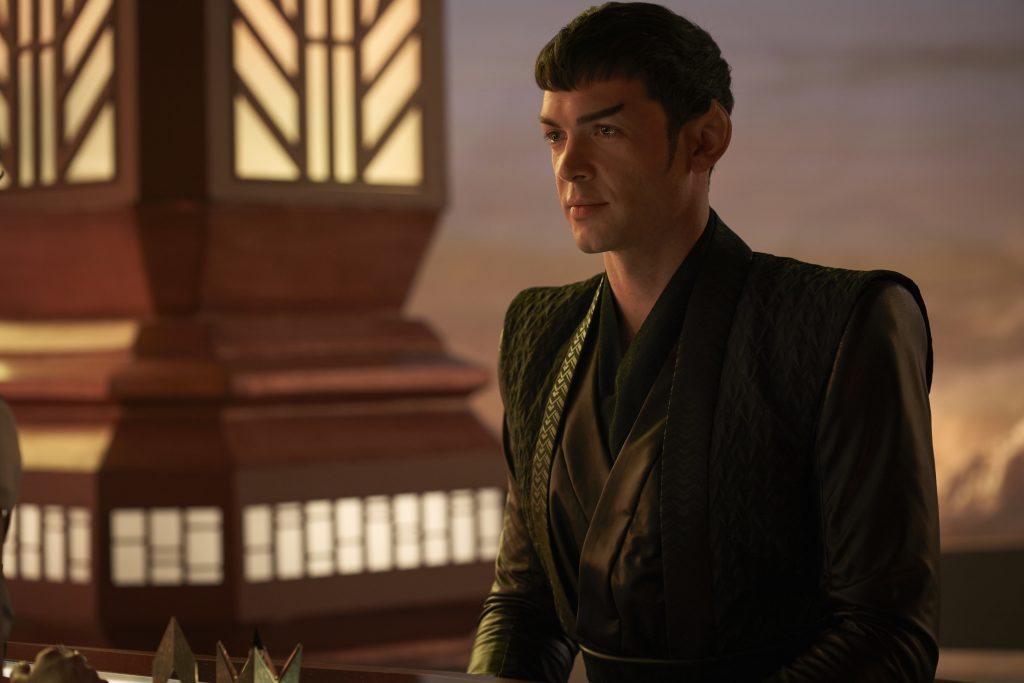 IGN has revealed one of these castings. Adrian Holmes will play Admiral Robert April, the former and first Captain of the USS Enterprise NCC-1701. Pike served under April's command as his first officer, so the pair have a long standing relationship. April is also a character many fans fervently hoped to see included in Strange New Worlds.
This episode also features Spock on Vulcan, with a re-introduction to another legacy character – 'T'Pring' (played by Gia Sandhu). Reviewers make note that Spock and T'Pring are comedically interrupted whilst in the midst of sexual relations. Now that may ruffle a few feathers!
Episode 2 – 'Children of the Comet' (May 12)
"An ancient alien relic thwarts the Enterprise crew from re-routing a comet on track to strike an inhabited planet."

Official synopsis
That ancient relic is some sort of machine buried in the comet. It's a mystery to be solved for the Enterprise crew! Most reviewers have noted that each episode will deliver a level of focus on certain characters. We'll get backstory and more about their personalities. For 'Children of the Comet' it's Uhura's chance to shine.
We know from earlier articles that Uhura's parents are sadly deceased. She was raised in part by her grandmother, a former Starfleet Officer. Entering the Academy was not a focused choice but a chance to explore possibilities for the young cadet. Beaming down onto the surface of a comet with an ancient alien machine buried in it sounds like a pretty terrifying opportunity to explore ones limits.
And while the away team are dealing with the comet, Captain Pike has to deal with a ship full of religious zealots. This 'spanner in the works' group worship the comet and do not want it interfered with.
Episode 3 – 'Ghost of Illyria' (May 19)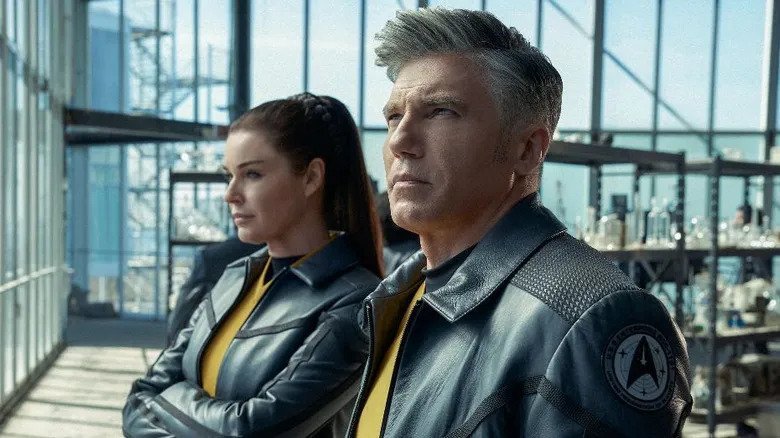 "Una must confront a secret she's been hiding when a contagion ravages the ship, incapacitating the rest of the crew."

Official Synopsis
'Ghost of Illyria' will delve deep into some long-overdue backstory for Rebecca Romijn's 'Number One'. The 'secret' is one the character is potentially ashamed of. Her secret has been revealed by a few outlets, but we don't want to ruin the surprise. And Una is not the only character with something to be revealed.
The A-plot involves an seemingly incurable virus brought back to the ship, which affects everyone except Una. And a B-plot that sees Pike and Spock trapped on the planet's surface. The pair are trying to decipher what happened to the planet's inhabits from an ancient "glowing scroll".
Episode 4 – 'Momento Mori' (May 26)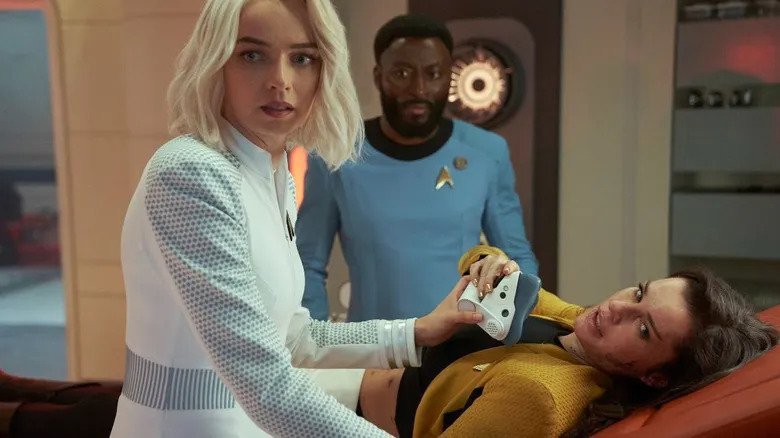 Pike must find unconventional Starfleet methods to deal with a malevolent force that attacks the Enterprise.

Official Synopsis
'Momento Mori' will delve deeper in to Christina Chong's Chief of Security and her past. She is familiar with the malevolent force attacking the Enterprise and what appears to be a superior foe. It's going to take good old-fashioned ingenuity to even the odds and survive.
The characters are split up, working to solve various problems in pairs, including Uhura aiding an injured Hemmer to repair the ship. Trek is always at its best when it showcases intelligent problem solving alongside character development. Add that to the promised action and this episode has definitely got us excited to watch!
Episode 5 – 'Spock Amok' (June 2)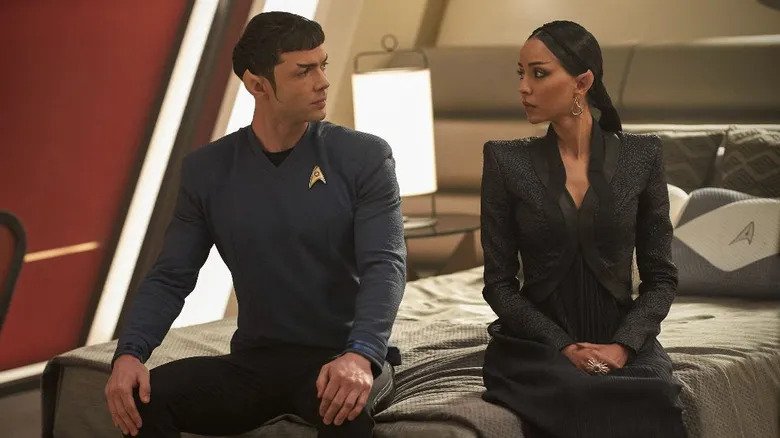 A personal visit causes a comedy of errors during Spock & Pike's crucial negotiations with an unusual alien species.

Official Synopsis
'Spock Amok' is a fun title riffing on The Original Series 'Amok Time'. It involves 4 main plot threads and has reviewers divided as to its effectiveness. T'Pring returns to visit Spock, in the second of three appearances this season. Captain Pike has to negotiate with a notoriously difficult species, who wish to join the Federation. Nurse Chapel and Lt. Ortegas spend time together and reveal some personal details. Una and La'An discover some ensigns are involved in a secret game they call 'Enterprise Bingo'…
Episode Stills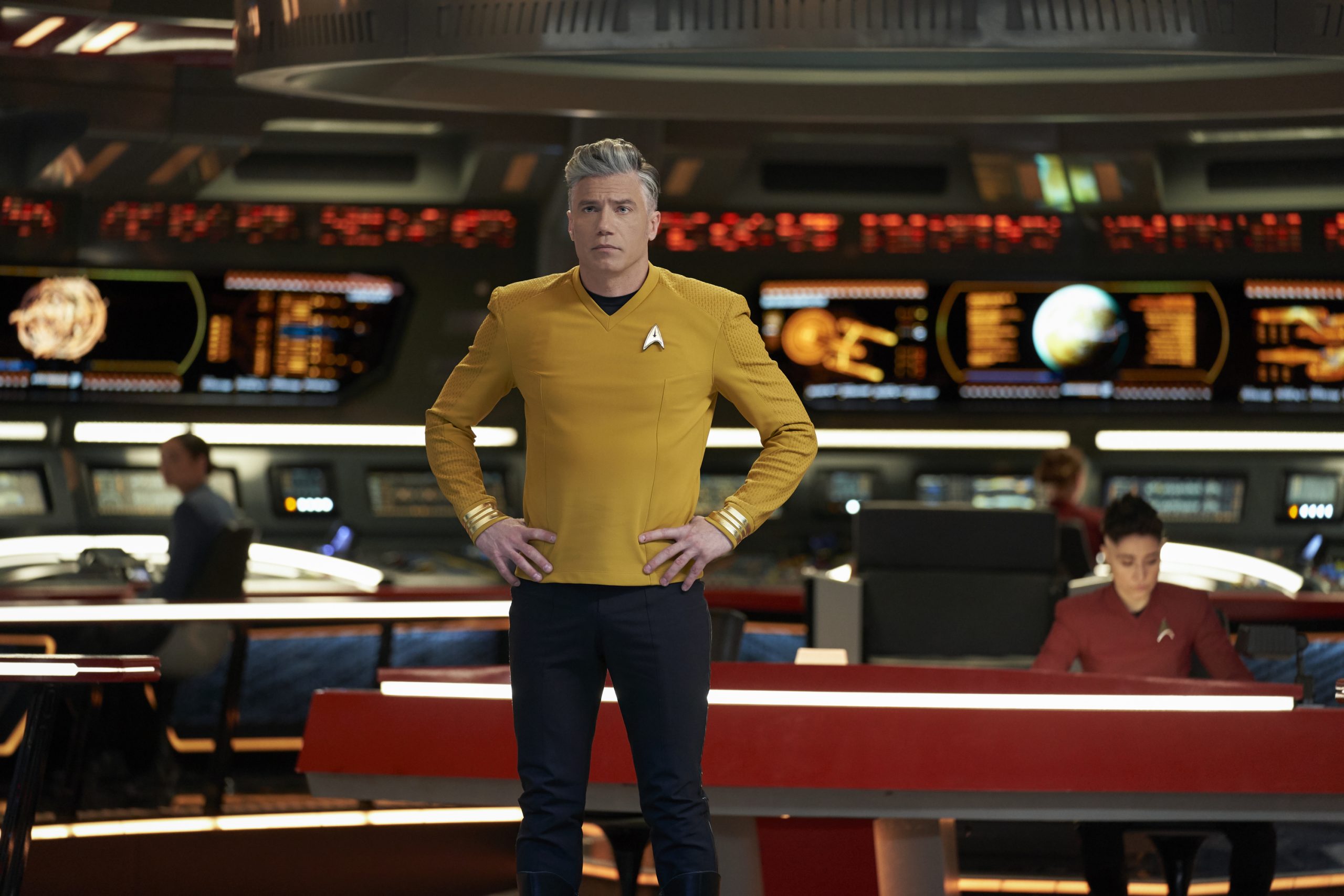 Cast & Characters
Sadly those hoping to see Cage-era figures like Dr Boyce, Yeoman Colt and Lt Jose Tyler won't get their wish. It's not impossible that some may turn up, or be lurking around somewhere. The series is set 5 years on from the events of 'The Cage' so it is natural that some crew have moved on. Fans of Samora Smallwood's Lt. Amin may also be disappointed, as it doesn't look like this character has been brought over from Discovery either.
ANSON MOUNT – Capt. Christopher Pike

Set post-Discovery, Pike will have to deal with the consequences of accepting a fate worse-than-death. That knowledge, and its effect on the Captain, will be explored during Strange New Worlds. But we'll also get to see this Pike fully in his element. Facing danger, exploring new worlds, mentoring and supporting his crew, and maybe a little romance too.
---
REBECCA ROMIJN – Cmdr. Una Chin-Riley – First Officer

Pike's first officer is the most unexplored central character in all of Trek history, even more so than her Captain. Una only received a full name in the first SNW character reveal. 'Number One' appeared in the unaired pilot, plus a handful of Discovery episodes and Short Treks. The character only played a more minor role in Disco due to the huge ensemble of characters. Strange New Worlds however is her time to take command. So it'll be virgin territory for this enigmatic character. Unsurprisingly she has some pretty big secret tucked under the professional stoic exterior.
---
ETHAN PECK – Lt. Cmdr Spock – Science Officer

In contrast to Number One, Spock is Trek's most beloved and explored character of all time. Ethan Peck now takes on the mantle of the young, but slightly more seasoned (than Discovery) Lt. Cmdr Spock. Despite appearing in multiple series, and films spanning all Trek's 6 decades, there is still a lot of his history unexplored on screen. Most significant is Spock's relationship with T'Pring (from TOS' iconic 'Amok Time' episode). According to Peck we'll see Spock's struggle to balance his human and vulcan sides, and living with the rage of that battle.
---
CELIA R. GOODING – Cadet Nyota Uhura

Another Trek legend and beloved character, Uhura however, has little to no backstory. We've had the odd fact peppered throughout episodes and movies, most of which was inconsequential. So SNW will be a chance to correct a historic mistake, and give Uhura the full respect and exploration this character deserves. We'll meet her as a wide-eyed young Cadet on her first assignment in space.
---
CHRISTINA CHONG – Lt. Cmdr La'An Noonien-Singh – Chief of Security

As soon as La'An's family name was revealed, we knew this character was going to be interesting. Producers confirmed she is indeed related to another 'Noonien-Singh', the infamous Khan. But is La'An an augment? That is a question set to be addressed during the season, and how it connects her to other characters. The character teaser introduced La'An as Chief of Security, and that she is a 'survivor'. Stoic and serious, there appears to be a lot of layers to peel with this character.
---
BAB OLUSANMOKUN – Dr M'Benga – Chief Medical Officer

The Original Series fans will be familiar with M'Benga as he appeared in two episodes. We know from those episodes that the doctor is adept at Vulcan medicine, having done his medical internship there. M'Benga's teaser also shows the affable nature of the character. And a penchant for more practical medicine, like his Denobulan predecessor on the Enterprise NX-01. There's still a lot to learn about the doctor however, including if his first name really is Jabilo..
---
JESS BUSH – Nurse Christine Chapel
The second of two characters originated by the late Majel Barrett-Roddenberry. Chapel made appearances in all three seasons of The Original Series, as well as a couple of movies. The most lasting image of Chapel could be argument to be her unrequited crush on Spock. And that's a storyline already shown to be explored in SNW. We'll also get to learn more about her expertise and surprisingly, see her kick a little ass too!
---
MELISSA NAVIA – Lt. Erica Ortegas – Helm

Melissa Navia's 'Ortegas' is considered a new character, but there is a little lineage there too. The original casting descriptions of Lt. José Tyler (Peter Duryea) from 'The Cage' named him 'Ortegas'. This Ortegas come's with bags of personality, including a mischievous sense of humor. The character already has a following thanks to the sense of fun she exudes, and some swashbuckling antics in the teasers.
---
BRUCE HORAK – Cmdr. Hemmer – Chief Engineer

The final member of the Enterprise crew is Bruce Horak's Aenar (a sub-species of Andorian) Chief Engineer Hemmer. Aenar are blind from birth but have powerful telepathic abilities that compensate for the lack of sight. Hemmer declares himself a genius and if the teasers are anything to go by, he might not be exaggerating. Hemmer believes his purpose is to 'fix what is broken'. The Aenar will be a 'grumpy but loveable' mentor to some of the crew.
---
Recurring Characters
GIA SANDHU – 'T'Pring' (Recurring)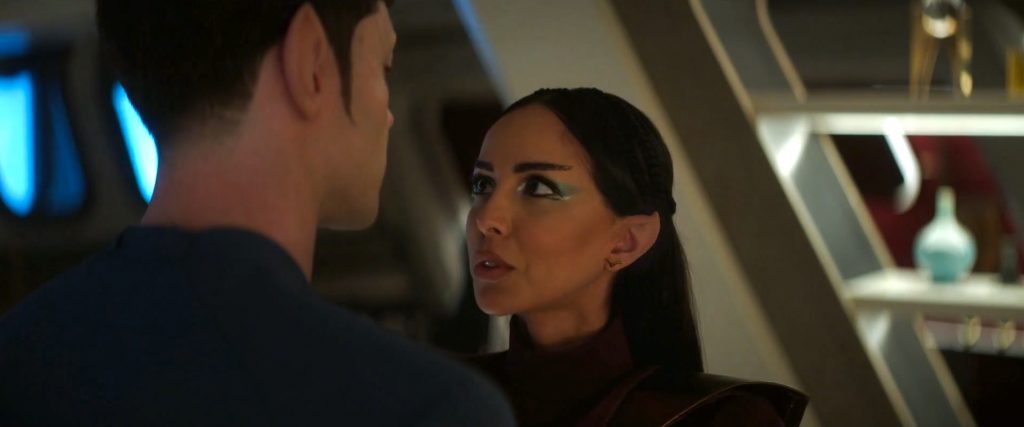 Not only will we be learn more about Spock, but also his infamous betrothed. T'Pring appeared in the iconic Original Series episode 'Amok Time', but she left quite the mark. Strange New Worlds looks set to delve deeper into their relationship. As per the original IMDb listing, T'Pring will appear in 3 episodes.
ADRIAN HOLMES – Admiral Robert April
Deadline noted last year that the actor would be appear in a recurring role. Holmes character was not revealed at that time. Now we know the actor is taking on the role of Admiral Robert April, the first Captain of the Enterprise NCC-1701. Christopher Pike was his first officer, and like his 'Number One', is one of the Starfleet's most decorated officers. Strange New Worlds will mark the first time the character has been cast in a live-action Trek series. However, the character of Robert April has made many appearances in comics & books, as well as The Animated Series. So far we know he'll appear in at least the first two episodes of season 1.
Character Promos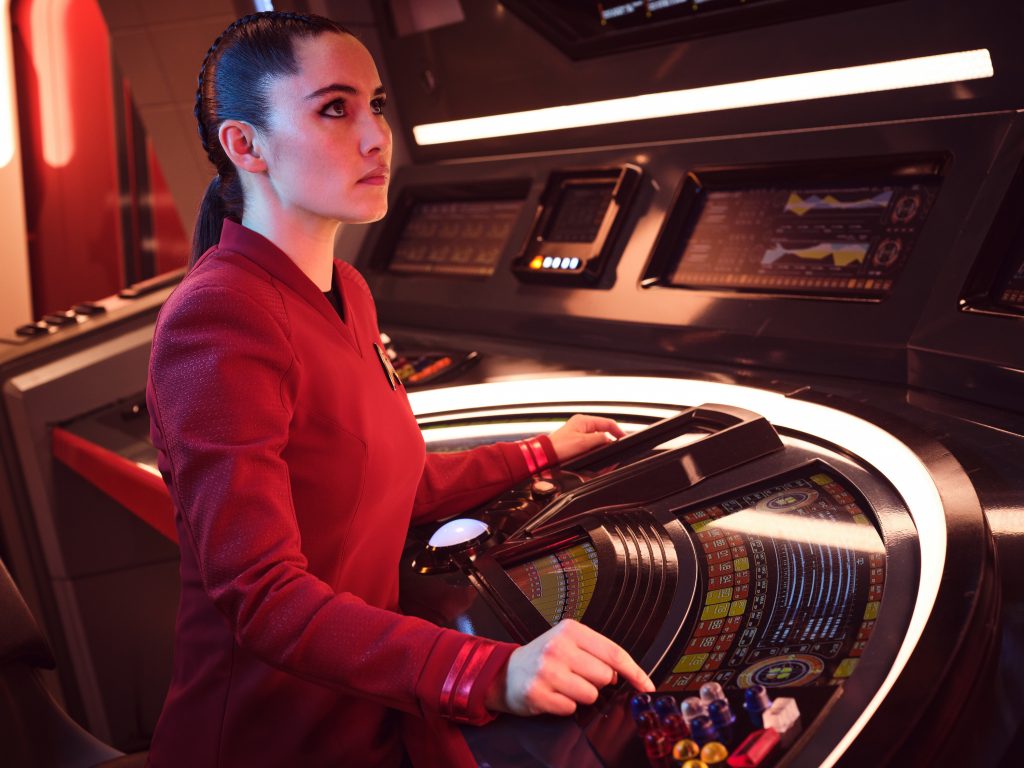 ---
New Sets & Virtual Production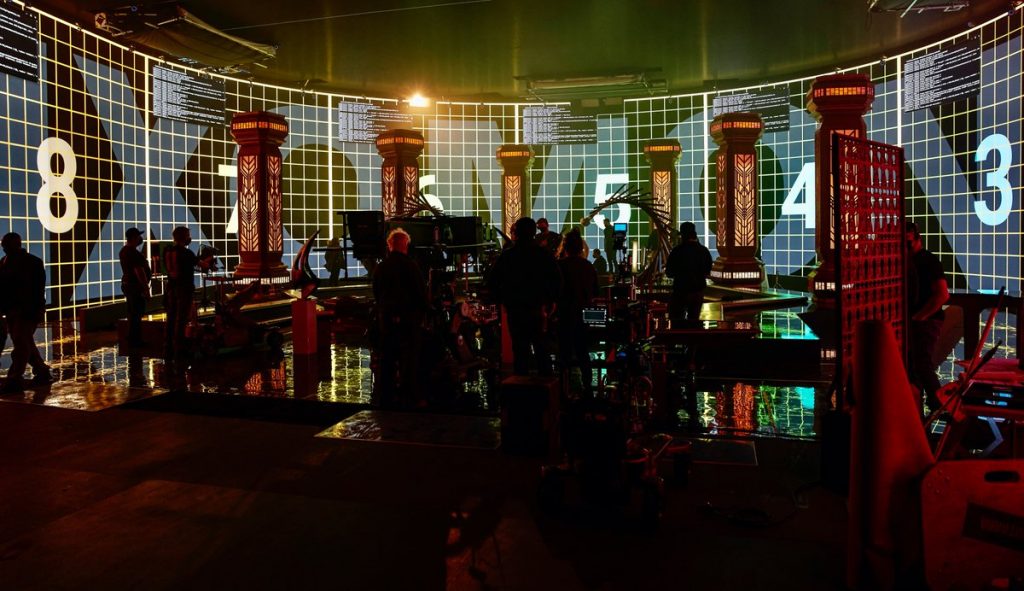 With a new series comes a ton of new sets. The Enterprise bridge has been tweaked since its Discovery days. Plus there's a 'ten forward' style crew lounge, a new sickbay, various crew quarters & more. Most notable is the new engineering set which looks huge thanks to Virtual Production. Part of the set uses the new 'AR Wall', giving it impressive depth and scale.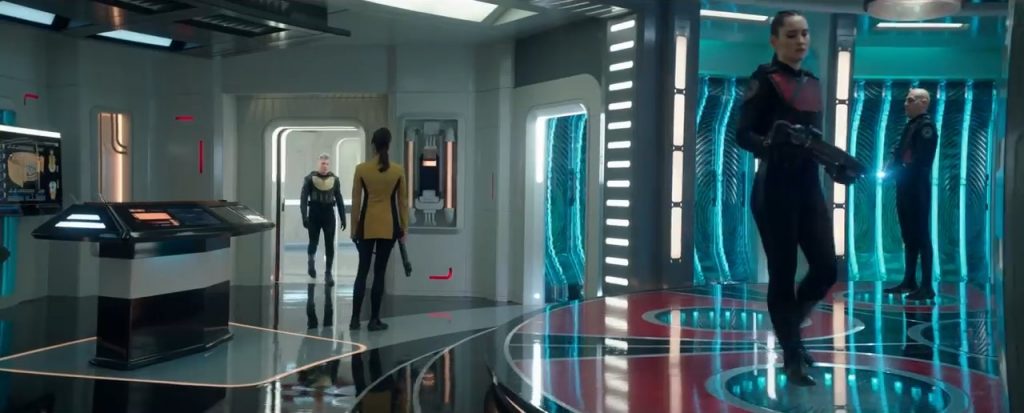 Set Images – Credit: Paramount+
How to Watch
The premiere episode 'Strange New Worlds' will stream from Thursday, May 5. It is available on-demand via Paramount+ in the US, Latin America, The Nordics, and Australia. Plus CTV Sci-fi Channel / Crave in Canada, Voot Select in Indian, and TVNZ in New Zealand. All other international release information is currently unavailable, and will be announced at 'a later date'.
Preview Articles
---
More from Trek Central
? – Star Trek: Strange New Worlds Episode Titles & Details Revealed
? – TNG Reunites! Trailer for Star Trek: Picard Season 3!
---
Join the Star Trek conversation via our social media platforms: