We're just 2 weeks away from the long-awaited Star Trek: Strange New Worlds premiere on May 5. The official trailer dropped a few weeks ago and delivered a visual feast to get us hyped for the show. While we knew the series would be episodic in format, we had no plot details. Now we have the first 5 Strange New Worlds Episode Titles & Details. Along with some tantalizing synopsis to pour-over. So let's dive in and see what early Season One has in store for Captain Pike and crew.
---
STRANGE NEW ADVENTURES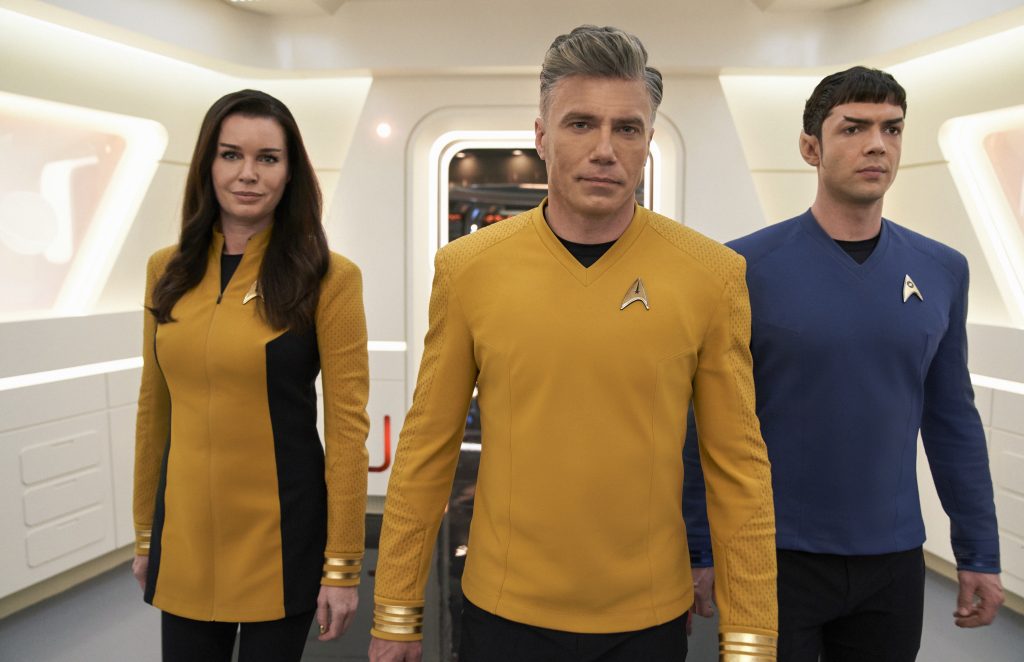 Strange New Worlds is promised to be an episodic show, each episode a new adventure. Co-showrunner Henry Alonso Myers promised audiences at Mission Chicago they would introduce new aliens and new 'planets of the week'. Of course, that doesn't mean some elements won't carry over to allow for character growth.
We're trying to be true to canon, but also to introduce some interesting new creatures you've never seen before. We've been working with legacy VFX to do a bunch of really cool prosthetic creatures, as well as some CG stuff. You will be meeting new aliens. There's new aliens almost every week.

Exec Prod. Henry Alonso Myers – via Cinemablend
Set circa 2259, the series takes place after Pike's time commanding Discovery in season 2 of Star Trek: Discovery. Captain Pike (Anson Mount) will be joined by First Official Una 'Number One' Chin-Riley (Rebecca Romijn) and Science Officer and now Lt. Cmdr Spock (Ethan Peck). Plus legacy characters Cadet Nyota Uhura (Celia R. Gooding), Dr. M'Benga (Babs Olusanmokun), and Nurse Chapel (Jess Bush). And some new characters; Lt. Cmdr. La'An Noonien-Singh (Christina Chong), Cmdr. Hemmer (Bruce Horak), and Lt. Erica Ortegas (Melissa Navia).
EPISODE TITLES
The first half of season one details have been revealed with 5 of 10 episodes titles and basic synopsis. We've also had a number of character teasers and a full trailer to give us some clues. So let's take a dive in and see if we can connect some dots!
EP #1 'Strange New Worlds'
Written & Directed by Akiva Goldsman.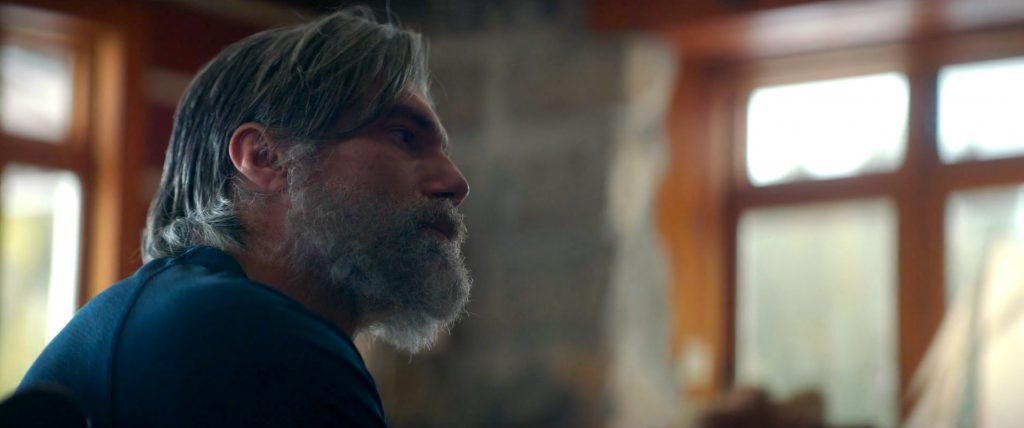 "Captain Christopher Pike comes out of self-imposed exile to rescue an officer gone missing during a secret mission."

– synopsis via TV Fanatic
The self-titled premiere episode doesn't sound like it's hanging around and wasting much time on introductions. The crew will dive right into a mission out of the starting blocks. We've already seen Pike in 'exile' mode from the first teaser. Frustratingly, they give us very little other clues as to what content will be in which episode. However, we do know from official episode stills, that we'll see Spock on what looks like Vulcan. Plus an IMDb cast listings (since removed) noted that this episode will be the first of three appearances for Gia Sandhu's iconic 'T'Pring' character.
OFFICIAL EPISODE PROMO STILLS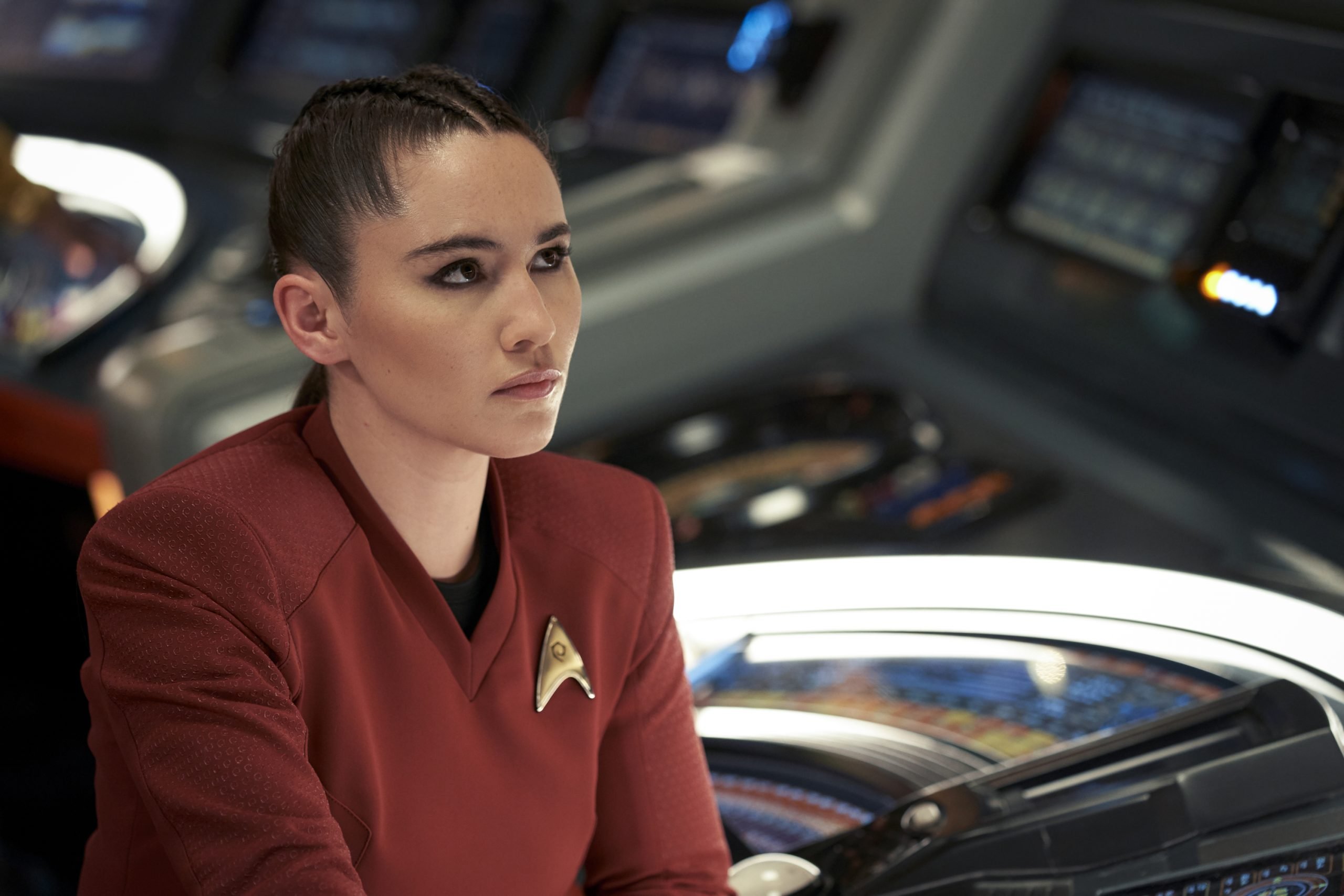 EP #2 'Children of the Comet'
Written by Henry Alonso Myers & Sarah Tarkoff, and directed by Maja Vrvillo.
"An ancient alien relic thwarts the Enterprise crew from re-routing a comet on track to strike an inhabited planet."

– synopsis via TV Fanatic
We've already presumably seen a number of moments from this episode in various teasers. Uhura makes note that the away team were 'standing on a comet' in her teaser. And what looks like that same away team is also shown finding an ancient alien structure and artifact. And most notably, it may contain an unfortunate encounter for a 'red shirt' character!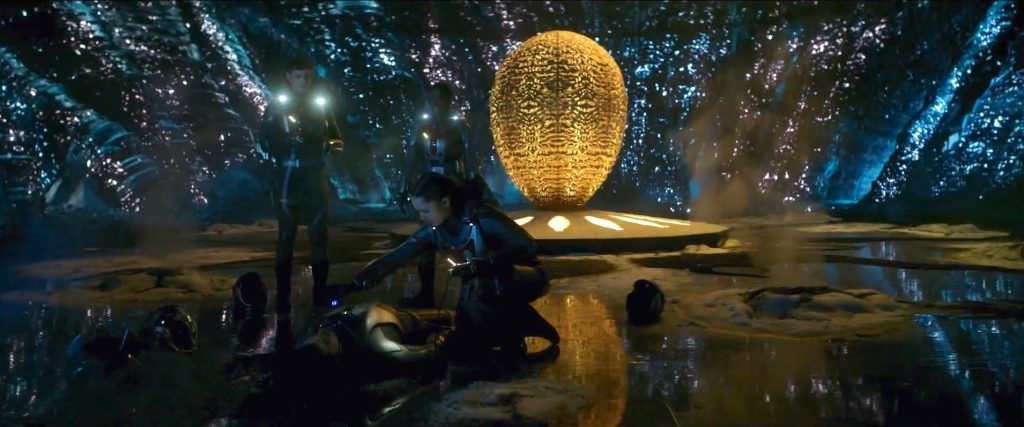 The sets for this episode look incredible, utilizing new Virtual Production technology and the 'AR Wall' to full effect, to create something exciting and visually stunning.
OFFICIAL EPISODE PROMO STILLS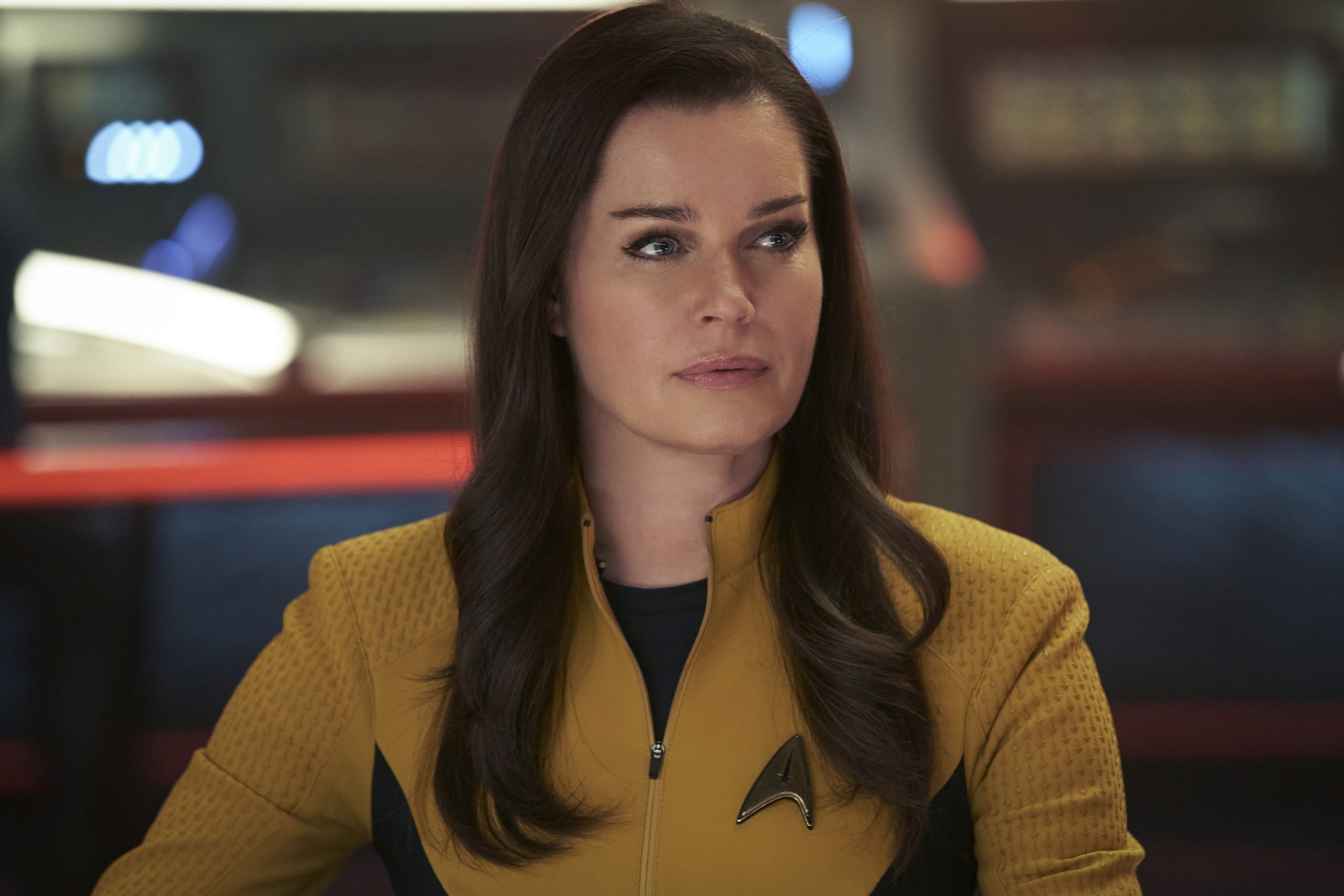 EP #3 'Ghosts of Illyria'
Written by Akela Cooper & Bill Wolkoff, & Directed by Leslie Hope.

"Una must confront a secret she's been hiding when a contagion ravages the ship, incapacitating the rest of the crew."

– synopsis via TV Fanatic
Rebecca Romijn has been teasing background exploration for her character since the 2020 Star Trek Day panel. And for those who read Star Trek comics and books, especially the recent 'The Enterprise War' by John Jackson Miller, the name 'Illyria' will ring bells. Illyria is noted as the world in which Una grew up. Its inhabitants have some unique qualities which are instilled in Number One – mental discipline and control.
It'll be exciting to see which beta canon details will be canonized for the character. And of course, what secrets the enigmatic first officer has been keeping. We also know from IMDb cast listings that Cameron Robert's character 'Manu Noonien-Singh' will turn up in this episode. So part of the plot may tie in some way to La'An's family and/or past.
Out of all the Strange New Worlds Episode Titles & Details, this is our favorite so far!
OFFICIAL EPISODE PROMO STILLS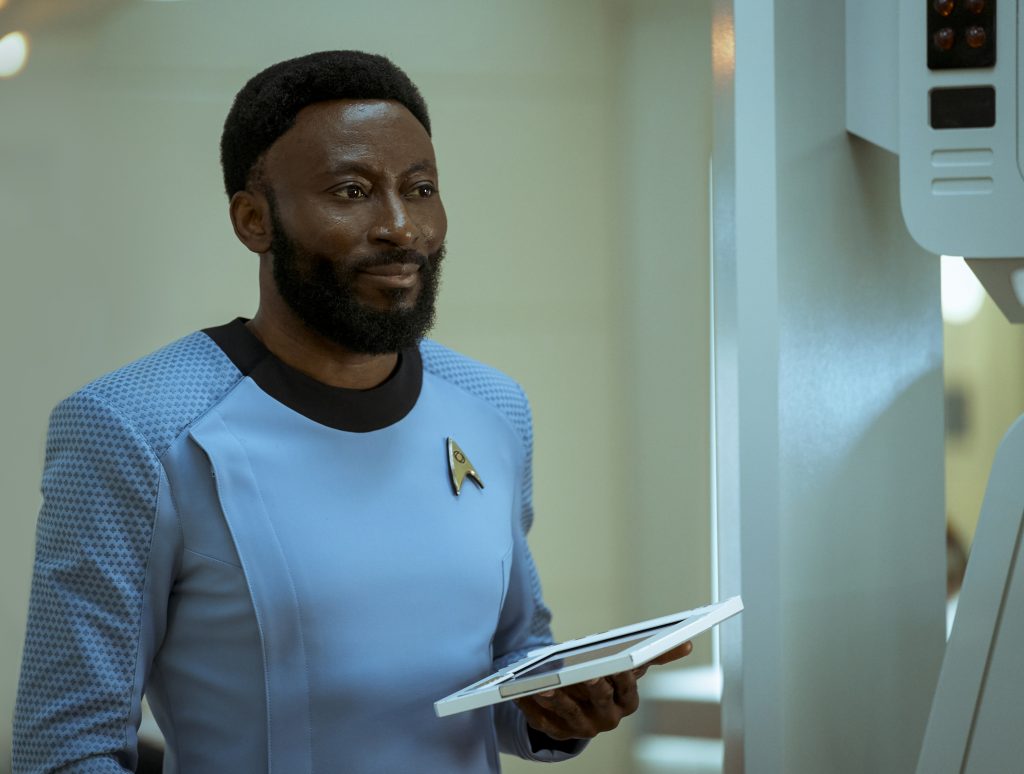 EP #4 'Momento Mori'
Written by Davy Perez & Beau DeMayo, Directed by Dan Liu.
"Pike must find unconventional Starfleet methods to deal with a malevolent force that attacks the Enterprise."

– synopsis via TV Fanatic
'Momento Mori' from the Latin means 'remember that you [have to] die'. Presumably this relates to Pike's struggle with this horrific fate, but that could be a little obvious. Many of the trailers have also shown Enterprise in big trouble. From phaser battles on the bridge, to La'An and her security team stalking dark corridors. To Nurse Chapel kicking some sort of "pirate" ass, and unintelligible encounters with a blue alien. These scenes could all be from a single episode or several!
EP #5 'SPOCK AMOK'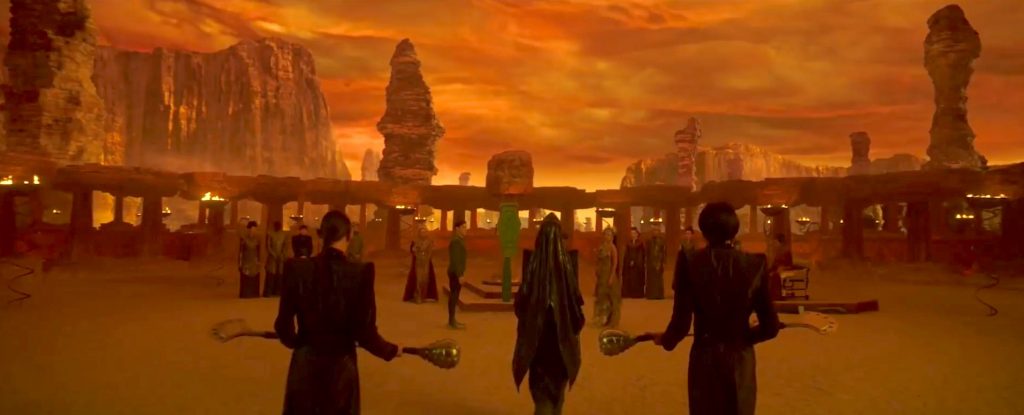 A personal visit causes a comedy of errors during Spock & Pike's crucial negotiations with an unusual alien species.

– synopsis via TV Fanatic
The title is a play on Star Trek TOS's 'Amok Time'. And there's no shortage of visual references to that iconic episode in the teasers. The original listing for Gia Sandhu also notes her appearance in this episode, so no doubt T'Pring will turn up. What was the most notably interesting in the teasers during the Amok references, was a very odd encounter.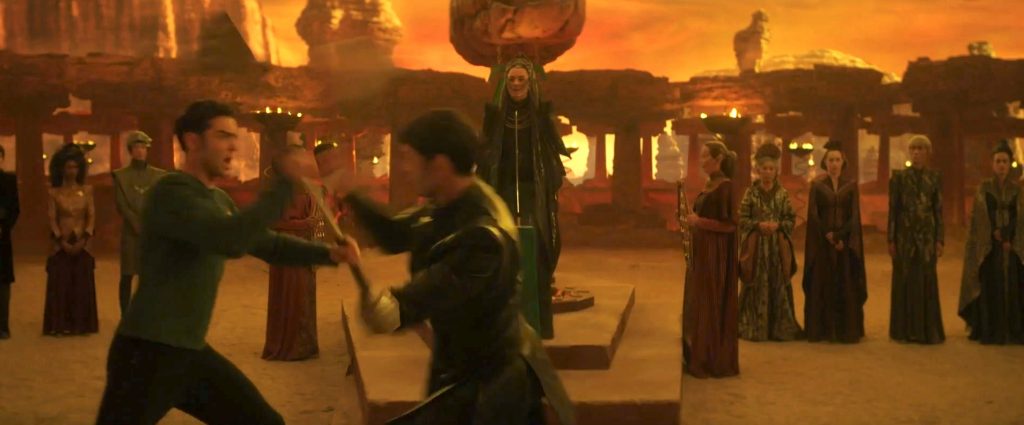 Spock vs Spock? Is it a dream? A hallucination? Who knows, but there does seem to be some visual referencing to Spock's internal battle between his two halves. His human side, and his Vulcan side. These are all the Strange New Worlds Episode Titles & Details we have so far. Check back in the future with Trek Central for your latest news on Star Trek: Strange New Worlds.
---
Where can I watch it?
Star Trek: Strange New Worlds will premiere on May 5 on Paramount+ for the US, Australia, Latin America, and the Nordic countries. Plus on the CTV Sci-fi Channel & Crave in Canada. International release information is TBC but it's likely the series will be rolled out along with Paramount+, as it continues its expansion globally.
---
More from Trek Central
? – UPDATED – New Star Trek Books for 2022
? – REVIEW – Star Trek: Picard Season 2 Episode 5 'Fly Me to the Moon'
? – Everything We Know About Star Trek: Discovery Season 5
---
Join the Star Trek conversation via our social media platforms: