Another week, another episode of Star Trek: Strange New Worlds. Season 2 episode 5, titled "Charades", was written by Kathryn Lyn and Henry Alonso Myers. It had quite a lot to say about Vulcan customs, at the sort of level we've not seen since "Amok Time" or The Search for Spock. Whether or not it's as good as those all-time great Star Treks is up for debate, but it was undoubtedly lore-heavy. As with every other week, it is my absolute pleasure to dissect, pull apart, and even theorize on the latest episode of Strange New Worlds – "Charades"!
Chapel's New Career Move
Nurse Chapel (Jess Bush) makes some interesting career decisions this week. We learned in the season's premiere episode "The Broken Circle" that she was beginning to study archaeological medicine. Here, we see her start to get more specific, referencing the research principles of Dr Korby. This, of course, refers to Roger Korby from the classic Original Series episode "What Are Little Girls Made Of?".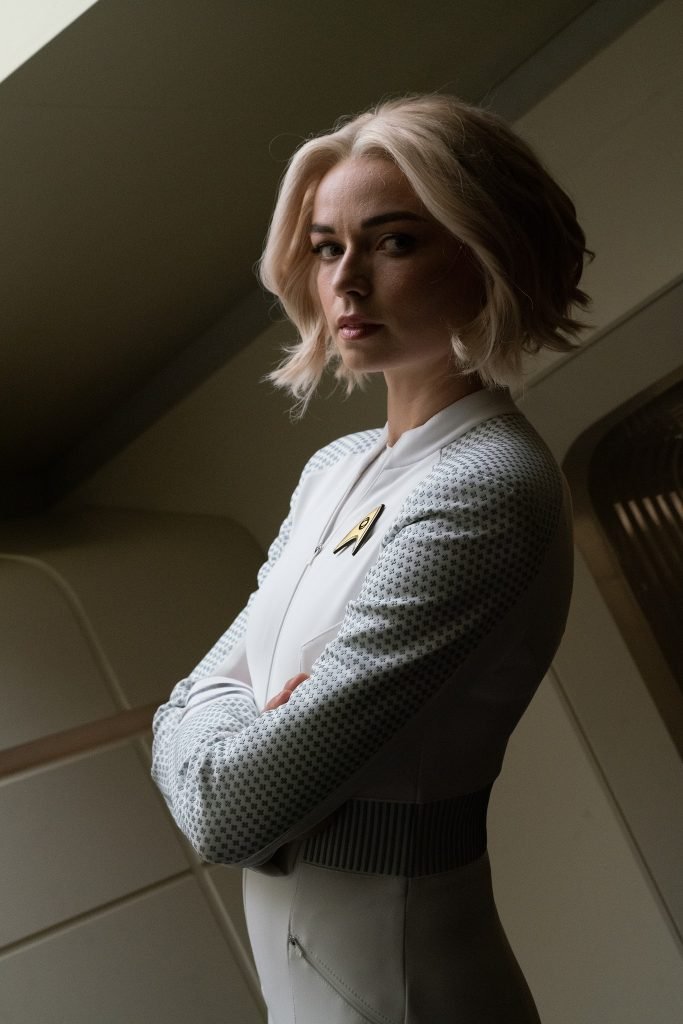 She's studying to go to the Vulcan Science Academy. She wouldn't be the first human to go to the Academy, with Michael Burnham (Sonequa Martin-Green) having attended to study quantum mechanics. While it's unclear if it was at the science academy, we also know that Dr M'Benga (Babs Olusanmokun) spent a few years studying on Vulcan. However, we know that the Vulcan Science Academy is not something in Chapel's future
At some point not too far from now, Chapel will become a student of Roger Korby. This isn't the first time we've seen him mentioned in this season either, so an appearance is on the cards. Eventually, they need to become engaged, so it will probably be an arc that runs into Season 3. Given the timeline of these events, I wouldn't be surprised if he appeared by the end of the season. He's one of the more interesting guest characters from TOS, so I look forward to seeing what SNW does with him.
T'Pring & Spock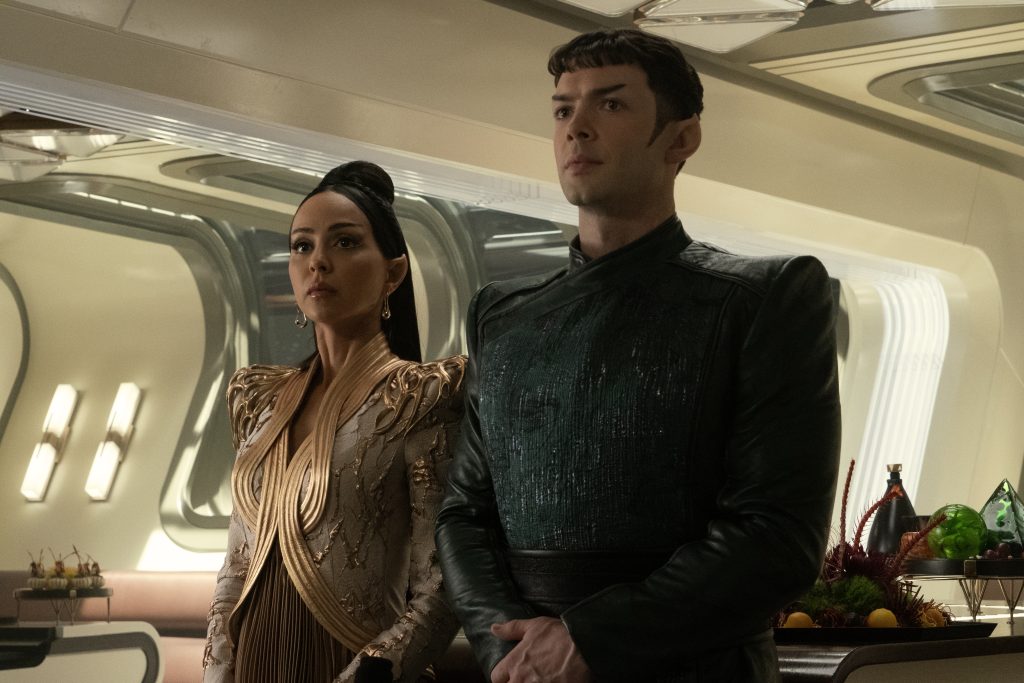 We always knew that Spock (Ethan Peck) and T'Pring (Gia Sandhu) weren't going to end up together. However, their meeting here was still quite a lot of fun with all the shenanigans involved. The way they greeted one another was the same dialogue they used in "Spock Amok". Interestingly the line in question, "parted from me and never parted" actually originates from "Amok Time".
Spock spends much of Strange New Worlds – "Charades" lying to T'Pring about the accident with the Kerkhovians. She also becomes increasingly irritated at the way in which his duties on the Enterprise have resulted in many delays to their Vulcan rituals. By the end of this episode, she finds out and the lies have taken their toll. This rift established between them by the end of the episode is the same rift we see later in TOS.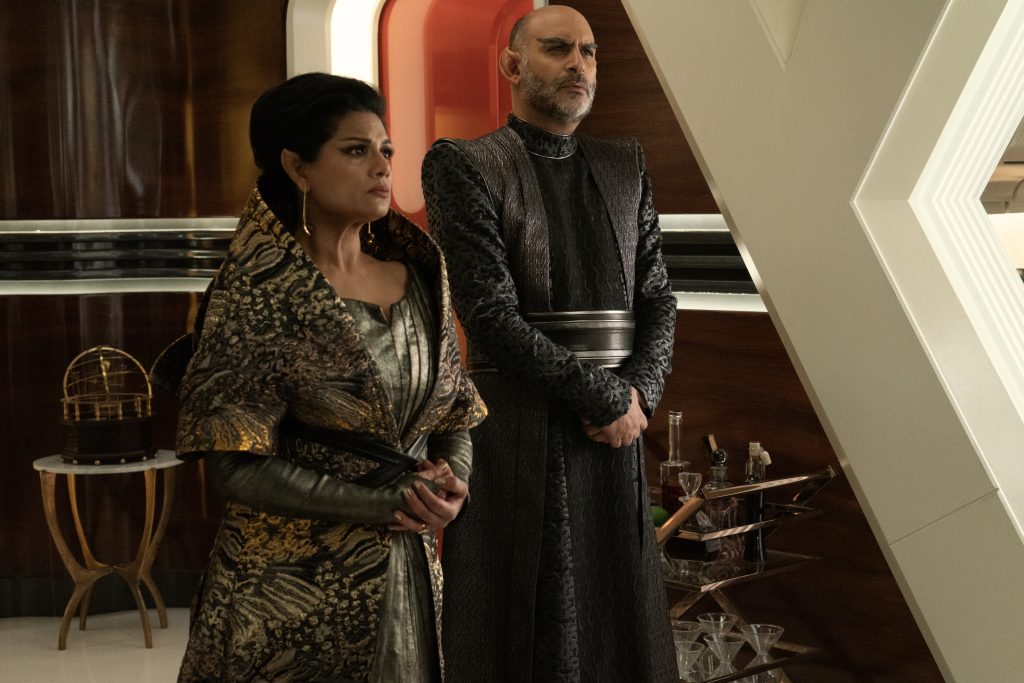 T'Pring's mother, T'Pril (Ellora Patnaik) points out that there are other Vulcan men who would happily take Spock's place in the relationship. One of these men would presumably be Stonn, the woman T'Pring preferred to Spock in "Amok Time". We don't know for sure if T'Pring and Spock will see each other again in SNW, but where this episode leaves their arc does lead perfectly into the only Vulcan-centric episode of TOS.
Spock's Human Side
It's always a treat when series regulars get to play the polar opposite of what they usually do. Here, after the incident with the Kerkhovians, Spock's human side takes over. He was like a moody teenager for most of the Strange New Worlds – "Charades". This left him unable to complete all the Vulcan rituals for his dinner with T'Pring and her parents. It all made for quite the comedy of errors. His interactions with returning guest star Amanda Grayson (Mia Kirshner) were especially funny.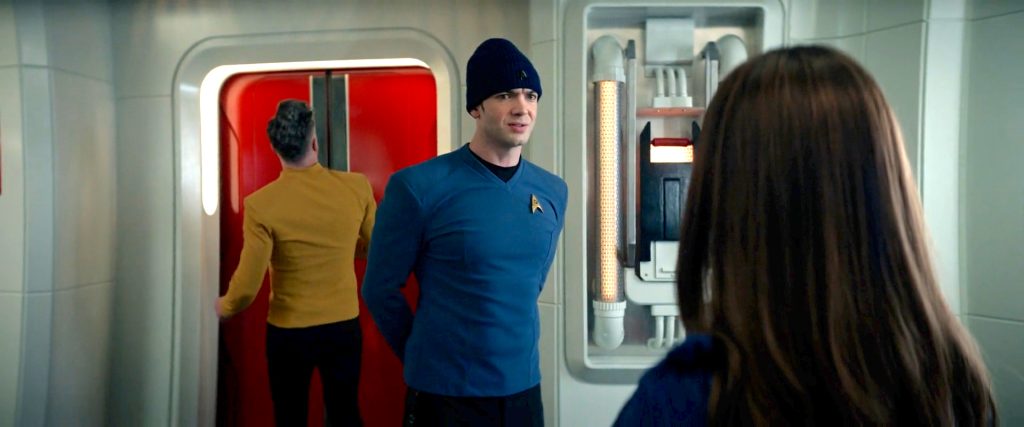 Who doesn't love Spock wearing a beanie? We had him wearing one in "The City on the Edge of Forever", where he traveled back to the early 20th century. The difference here is he's using it to hide human ears instead of Vulcan ones. The beanie looks like it could be a standard-issue Starfleet one, but the Starfleet insignia appears to be backward. While this could have symbolic meaning, the beanie being a lie on multiple levels, it appears to just be a production goof.
When talking with Captain Pike (Anson Mount), Spock tries bacon. Vulcans are vegetarians, although Spock had previously eaten meat in the TOS episode "All Our Yesterdays". The most interesting thing about it is that Spock chose bacon. Legendary TOS actor Leonard Nimoy, who originated the role of Spock, was Jewish. Nimoy even helped to develop the character, including the iconic Vulcan salute, using his faith as inspiration. The choice of bacon here, which doesn't keep to a Kosher diet, was an interesting decision.
Meet the Parents
I mentioned earlier how cool it was to see Mia Kirshner reprise her role as Amanda Grayson. We've not seen her since the second season of Discovery, so it was cool to see Strange New Worlds acknowledge its roots. While she's unfortunately not in the episode, it was nice to see some mention of Pelia (Carol Kane) when Grayson beams over to the Enterprise. We learned earlier on in the season that Amanda was one of the first people that Pelia came out to, so they must be pretty close friends.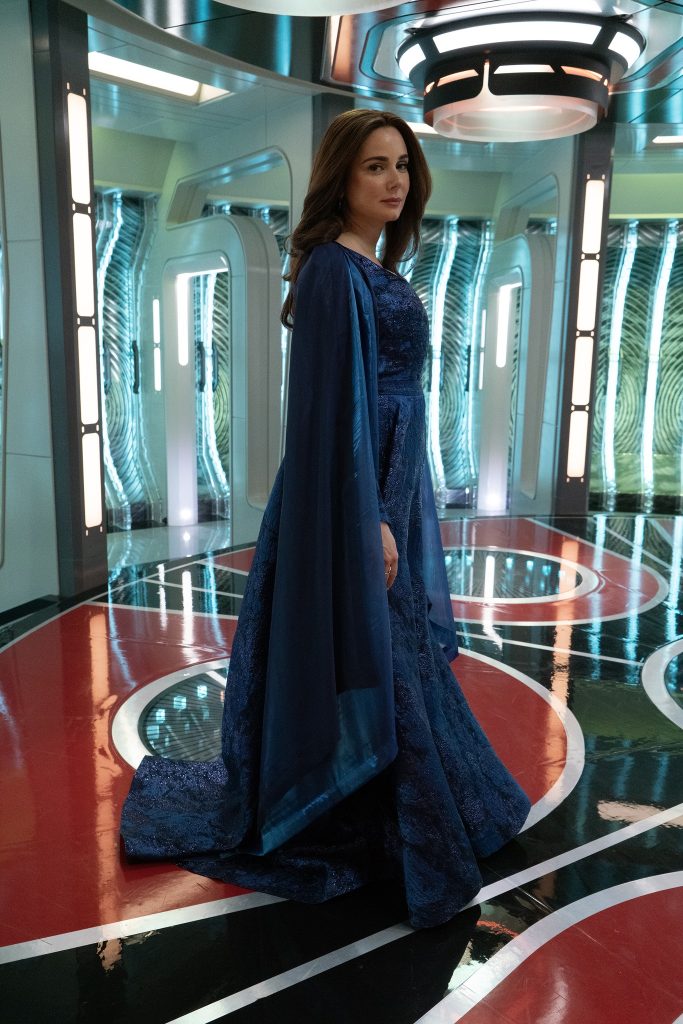 Even cooler was how we saw T'Pring's parents, T'Pril and Sevet (Michael Benyaer). I'm always glad to get to know more Vulcan characters, especially when they find fresh ways of displaying Vulcan emotions. Sevet in particular is seen to be a little bit more emotionally expressive than the other Vulcans we're familiar with. Although Vulcans feel emotion, and express strong ones, it's unlike them to react to food like that.
Sarek was absent in this episode, the only parent missing from the dinner. I suppose that Pike in his green tunic was an attempt to remedy this absence, although now I'm thinking that he only wears it in expressly comedic episodes. Although Sarek's absence ties into his appearance in "Journey to Babel", where it's said that Spock hadn't spoken to him in years. It's unlikely then that Sarek is a character we'll see interacting with Spock for the rest of the series.
Spock & Chapel – THAT Moment
Even from the early days of TOS, the episode "The Naked Time" to be precise, it's been obvious that Spock and Chapel are in love. In that episode, Chapel told us that she loved the whole of Spock, both the human and Vulcan sides. It makes sense then that here she told the Kerkhovians that Spock being solely human felt wrong. It's nice to have some continuity honored here, although I don't know how I feel about them kissing.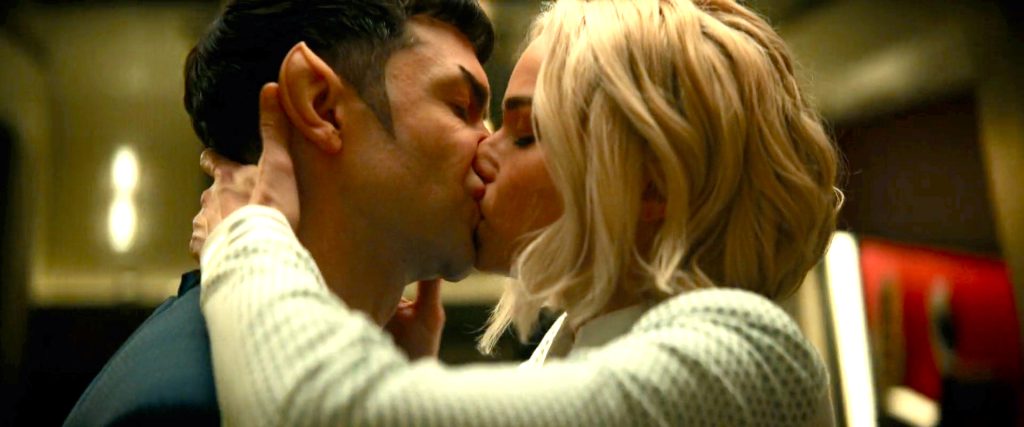 What I read from The Naked Time was that Spock also loves Chapel, obviously. It's been canon since the beginning. It's not a secret, but the way he represses it tells me that they wouldn't have been overly affectionate. His scene as he struggles to maintain composure is an iconic one, one that tells me that the two of them are not in a relationship. So it's clear that, as much as they may remain in love, they're no longer in a relationship by the time TOS starts.
Perhaps, as much as they love one another in TOS, they tried out a relationship and it didn't work out. It'd be an interesting arc, but this relationship's potential canon disturbance bothers me a lot. It would be great if the agents from the Department of Temporal Investigations return if this doesn't work out, but that kiss at the end isn't a can of worms I thought this series would be opening. Where it goes from here really is anyone's guess, but it probably won't be too pretty.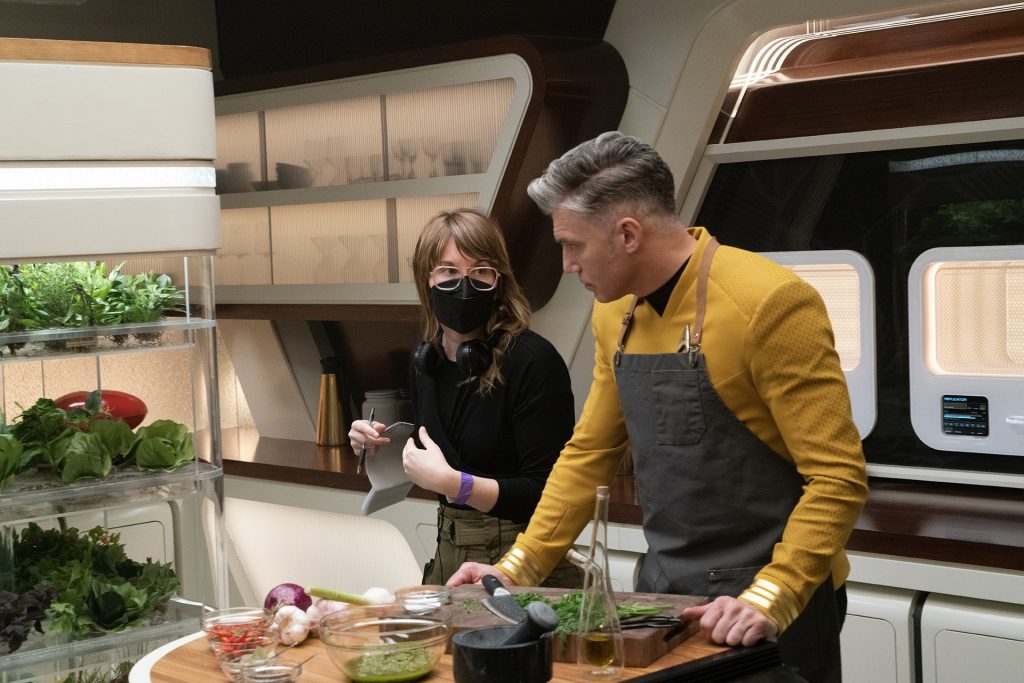 Behind-the-Scenes on Strange New Worlds – "Charades"
Photo Credit: Michael Gibson/Paramount+
Conclusion – Looking Forward to "Lost in Translation"
While certain aspects of this episode didn't exactly thrill me, it was mostly a fun watch. At the halfway point, I can confidently say that this series has been consistently really enjoyable. I look forward to a lot of where this might lead, especially the potential appearance of Roger Korby ("What Are Little Girls Made Of?" is a favorite of mine). As much as I love Spock and Chapel, that's an aspect I'm not quite as thrilled by, but I'm more than willing to see where this leads.
The variety of episodes this season has been a really strong point, and next week's episode is totally different. It's called "Lost in Translation" and sees Uhura getting all sorts of nasty visions. Interestingly, it features the return of Hemmer (Bruce Horak) as a zombie. We knew that Horak would be returning for the second season, and that's a really unique choice. James Kirk (Paul Wesley) is also making an appearance, and how he's implemented is to make Strange New Worlds – "Charades" a whole lot of fun.
How to Watch
Star Trek: Strange New Worlds streams via Paramount+ in the United States, United Kingdom, Australia, Latin America, France, Germany, Brazil, South Korea (via Tving), France, Italy, Germany, Switzerland & Austria. As well as CTV Scifi / Crave in Canada, & TVNZ in New Zealand. And on SkyShowtime in the Nordics, the Netherlands, Spain, Portugal, and Central and Eastern Europe.
---
More From Trek Central
📰 – PREVIEW – Star Trek: Strange New Worlds Season 2 Episode 6
🔥 – Star Trek at SDCC as Actors Join Writers on Strike
🔍️ – REVIEW – Star Trek: Day of Blood Part #1
---
Join the Star Trek conversation via our social media platforms: