We're already over the halfway mark for Star Trek: Strange New Worlds Season 2. As such, the second season's sixth episode is airing later this week. Titled "Lost in Translation", Star Trek: Strange New Worlds Season 2 Episode 6 looks like the Uhura (Celia Rose-Gooding) episode we have been expecting. For example, ever since the early trailers for season 2, we've been wondering if the series will explore more of the character's past. This looks to be the case, especially as hallucinations are mentioned in the episode synopsis.
Each week Trek Central has brand new preview material for Strange New Worlds. The episode is written by Onitra Johnson & David Reed while being Directed by Dan Li. Following this week's sixth episode of season 2. We also have the Star Trek: Lower Decks crossover episode. Additionally, this week is San Diego Comic-Con week. Therefore, there is potential for a glimpse at the Star Trek Universe once again.
Uhura seems to be the only one who can hear a strange sound. When the noise triggers terrifying hallucinations, she enlists an unlikely assistant to help her track down the source.

Star Trek: Strange New Worlds Season 2 Episode 6 "Lost in Translation" – Episode Synopsis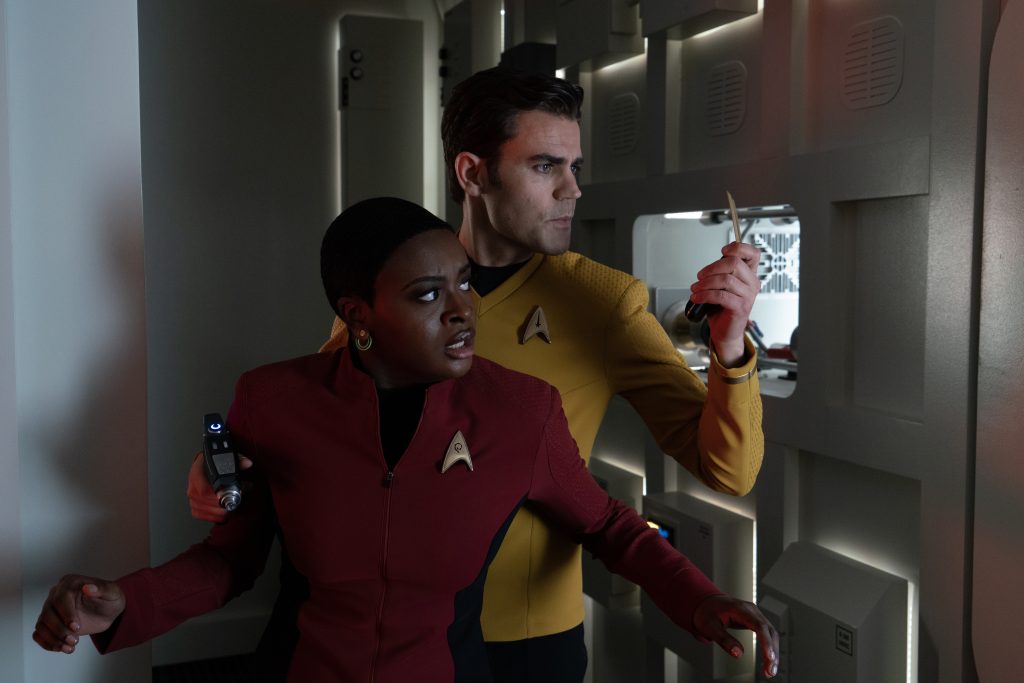 Preview Pictures
Brand new preview pictures for Star Trek: Strange New Worlds Season 2 Episode 6 give us a glimpse of the upcoming episode. First up, we've got a fresh look at the latest Chief Engineer of the USS Enterprise. Carol Kane's Pelia has already made quite an impact. Sadly she was absent from last week's episode. However, perhaps we'll spend more time with her this week. For example, based on the preview clip, we might see her doing engineering work.
In a not-so-surprising reveal, if you've watched the trailers, Paul Wesley returns as Lieutenant James T Kirk. What he is doing onboard the Enterprise is unknown currently. However, he does appear to be working alongside his brother, Sam Kirk (Dan Jeannotte). Perhaps Kirk might be under suspicion for whatever happens to the ship and crew in his episode. Finally, we've got shots of Uhura looking serious with a phaser. Though one shot may point to something we've theorised about for some time now.
The picture of Uhura standing on grass, clearly observing something, likely links with the trailer of her looking at a shuttle crash. Previous Star Trek media informs us that Uhura's family were tragically killed in a shuttlecraft accident. We've long theorized that this episode's "hallucinations" element might force her to relive these traumatic memories. Additionally, based on trailers, it links with a conversation she has with James T Kirk.
The Ready Room Preview Clip
Last week, as always, The Ready Room Aftershow with Wil Wheaton gave us a preview of Star Trek: Strange New Worlds Season 2 Episode 6. While the word "sabotage" might interest everyone, something else is worth pointing out. The location that Number One (Rebecca Romjin) and Chief Engineer Pelia (Carol Kane) find themselves in looks oddly familiar. This looks like it could be the USS Enterprise Warp Nacelle control areas. Maybe not, though, as they are working on life support.
Still, it reminds me of the Star Trek: Enterprise episode "The Catwalk". This is where Captain Jonathan Archer (Scott Bakula) and his crew had to spend eight days inside the maintenance shafts of the warp nacelles. I doubt that is what is going on here. However, it seems like the Enterprise is perhaps a victim of sabotage. This could be a ruse linked to whatever is happening with Uhura in this upcoming episode. It would link both the A plot and B plot together nicely.
Conclusion
While we await this week's Star Trek: Strange New Worlds Season 2 Episode 6, it's worth pointing out something. The upcoming seventh episode of Strange New Worlds season 2 is our Star Trek: Lower Decks crossover episode. It's something fans have been looking forward to since it was announced. We've already seen Brad Boimler (Jack Quaid) in the trailers for the second season. With San Diego Comic-Con taking place this week, it's possible we might get another extended look.
Star Trek: Strange New Worlds streams via Paramount+ in the United States, United Kingdom, Australia, Latin America, France, Germany, Brazil, South Korea (via Tving), France, Italy, Germany, Switzerland & Austria. As well as CTV Scifi / Crave in Canada, & TVNZ in New Zealand. And on SkyShowtime in the Nordics, the Netherlands, Spain, Portugal, and Central and Eastern Europe.
---
More From Trek Central
📰 – Star Trek: Strange New Worlds Season 2 Episode Titles & Details
🔥 – Seven of Nine – From Borg to Badass
🔍️ – Star Trek: Resurgence – Writers Interview
---
Join the Star Trek conversation via our social media platforms: