Just over a year ago, I wrote an article like this. No, I am serious. It's here. However, we're again introducing Star Trek's New Chief Engineer! Carol Kane takes on the role of Pelia. The new Chief Engineer of the USS Enterprise made her debut appearance in Star Trek: Strange New Worlds Season 2 Episode One, "The Broken Circle". She takes over from Hemmer, played by Bruce Horak. He was introduced in the first season but quickly met his demise before the conclusion of that season. It's a shame.
The Enterprise being a revolving door of Chief Engineers is nothing new. If you've read Star Trek books, you know of other Engineers. No one sticks around on that ship for too long before Scotty. However, speaking of Scotty, Strange New Worlds did tease the famous Engineer in Season One's finale episode. That's another story for some time. However, what do we know about Carol Kane and Chief Engineer Pelia? She's an interesting character we are excited to learn more about in Strange New Worlds.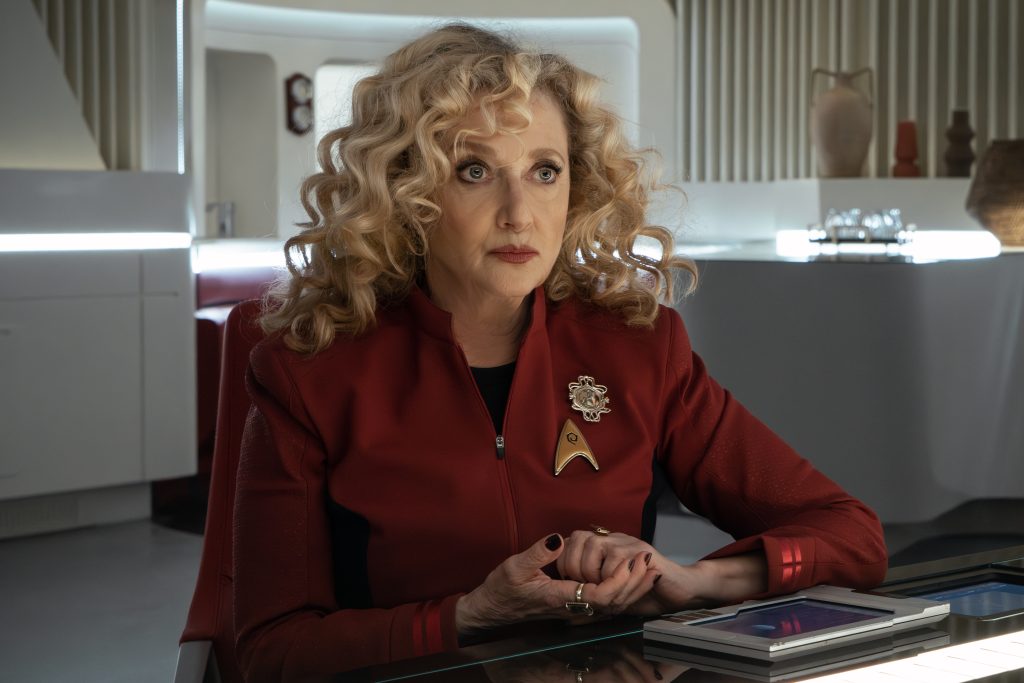 Who Is Star Trek's New Chief Engineer?
Introduced in the premiere episode of Strange New Worlds Season 2, Pelia strutted onto the bridge. We're also introduced to the new species of Lanthanites, which Pelia is a part of. It seems Starfleet and The Federation are already aware of this mysterious species. Pelia also shares a connection with Mr Spock (Ethan Peck). She first revealed her Lanthanite heritage to Amanda Grayson, Spock's Human mother.
Holding the rank of Commander, Pelia also served as an instructor at Starfleet Academy. She was then assigned to Operation Support Services as Chief Fleet Insprector, which explains her being onboard the Enterprise in time for the events of Season 2's premiere episode. It seems she'll pop up a few times in the second season. A new trailer points to her working with Ensign Uhura (Celia Rose Gooding) and solving a crisis aboard the ship.
A detail many Strange New Worlds viewers have pointed out is Kane'a accent when playing Star Trek's New Chief Engineer. Carol Kane has explained that she wanted Pelia's accent to be mysterious to viewers. Additionally, Kane also spoke about the differences between herself and her character. Confidence is one key difference. When we're introduced to Pelia in Strange New Worlds, she boldly approaches Mr Spock, the acting Captain, on the bridge of the Federation Flagship.
"I wanted her to sound like you don't know where exactly she comes from, There is an elegance and a power to it. It's unique on the ship — nobody else has that accent or whatever it is."

Carol Kane via Variety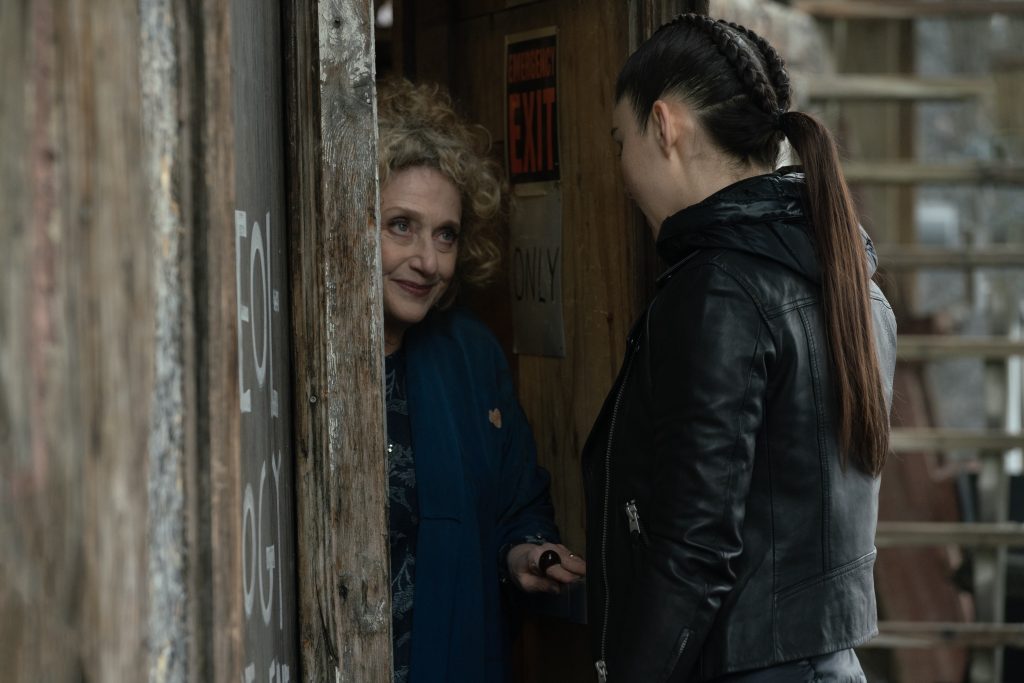 Who Is Carol Kane?
Actress Carol Kane takes on the role of Pelia. While she may be Star Trek's New Chief Engineer, she is no stranger to odd characters. Kane is known for her roles in "The Princess Bridge" and "Taxi", to name a few. The actress has established herself as a master of playing wonderful oddball characters. Her talent with these characters is disrupting the norm when she appears. Something she has already done since arriving in Strange New Worlds.
Kane has admitted that she'd never actually watched a single minute of Star Trek before getting the role of Pelia. During her interview with Variety, Kane reflected on how she now understands the importance of Star Trek in pop culture and the franchise's vast presence.
"The science fiction world has not really been attractive to me for some reason, Now that I'm in it, I'm very excited about it. It just wasn't on my path until now."

Carol Kane via Variety
The Future Is Bright for Star Trek's New Chief Engineer!
Joining a legendary franchise like Star Trek carries immense pressure, especially in the modern age when fan opinions can be online within moments of an episode airing. Kane is preparing herself for her character's reception by fans. However, so far, many have praised her for the character of Pelia. Therefore, we look forward to how Star Trek's New Chief Engineer contributes to the USS Enterprise's legacy.
I've been told that when you become part of the world, you will experience a reaction from the fans, which I guess are called Trekkies, don't know exactly what it will be like, but I'm kind of bracing myself for it, and also excited about it."

Carol Kane via Variety
I look forward to her interactions with Captain Christopher Pike (Anson Mount). So far, she has invited herself aboard the Enterprise. However, with Pike absent searching for a lawyer for Una Chin Riley's (Rebecca Romjin) Starfleet Trial, perhaps Spock signed off on the crew transfer. After all, the Chief Engineer position was vacant with the loss of Hemmer. The question on everyone's mind now is, how long will Star Trek's New Chief Engineer stick around?
The second season of Star Trek: Strange New Worlds premieres on Thursday, June 15, exclusively on Paramount+, with new episodes dropping weekly on Thursdays. Star Trek: Strange New Worlds streams via Paramount+ in the United States, United Kingdom, Australia, Latin America, France, Germany, Brazil, South Korea (via Tving), France, Italy, Germany, Switzerland & Austria. As well as CTV Scifi / Crave in Canada, & TVNZ in New Zealand. And from June 16 on SkyShowtime in the Nordics, the Netherlands, Spain, Portugal, and Central and Eastern Europe.
---
More From Trek Central
📰 – Star Trek: Strange New Worlds Season 2 Episode Titles & Details
🔥 – Seven of Nine – From Borg to Badass
🔍️ – Star Trek: Resurgence – Writers Interview
---
Join the Star Trek conversation via our social media platforms: