It's time we get introduced to Star Trek's New Chief Engineer! Meet Hemmer. The new Chief joined the USS Enterprise in Star Trek: Strange New Worlds Season One Episode Two Children Of The Comet. Additionally, we've got details on Bruce Horak, the actor who portrays Chief Engineer Hemmer in the brand new series. Plus what makes the character unique and what we can expect.
While he technically appeared in the premiere episode of Strange New Worlds, the second episode was his proper debut. However, we did not spend much time with him this week. I'm thinking we'll get a dedicated episode to Hemmer later on in season one. Given that most of the episodes appear to be focused around one of the main cast. So, what do we know about Hemmer so far?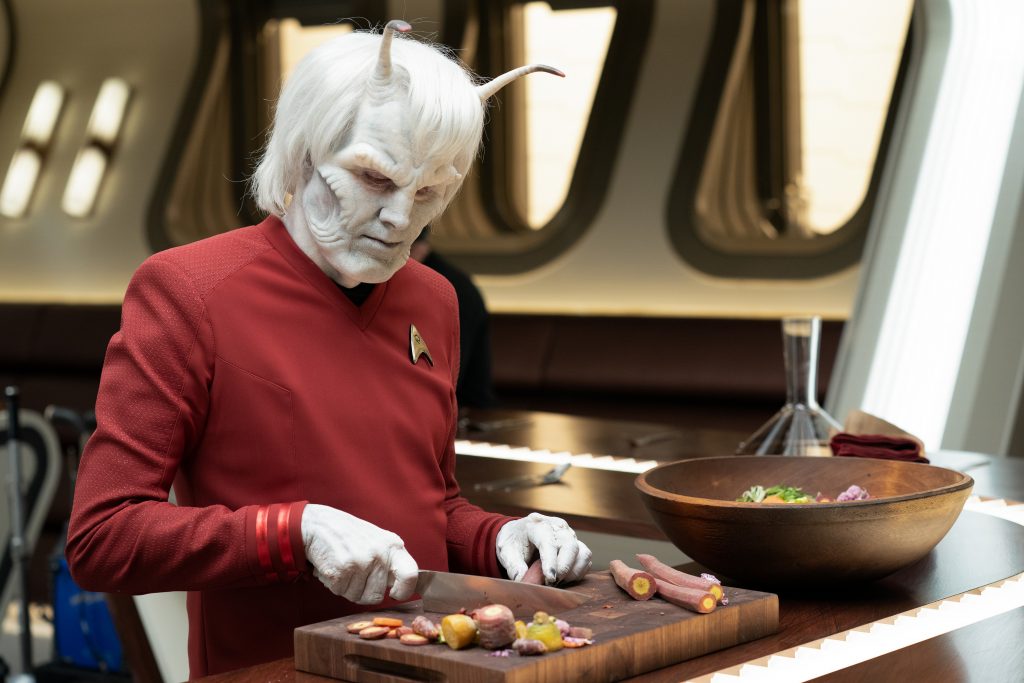 Hemmer – The Chief Engineer
Joining the crew is another alien. Hemmer is an Aenar, which is a subspecies of the famous Star Trek species, The Andorians. We'll talk more about the Aenar and what makes them special later on. Hemmer first beamed onboard during Episode One "Strange New Worlds", however only for a brief moment. Episode 2 "Children of the Comet" was his first proper introduction.
Audiences will get to see what Bruce Horak's Hemmer is all about in upcoming episodes of the series. However, we've already got a small introduction to what Hemmer is like. During his interaction with Cadet Nyota Uhura (Celia Rose Gooding), Hemmer and Mr Spock hazed the young cadet.
Additionally, what makes Hemmer so cool is his character's status in the Star Trek Universe. It's over 50 years since the Andorian species introduction, first featured in "Journey to Babel". This makes Hemmer the first Andorian to be a regular cast member in a Star Trek series.
Bruce Horak – The Actor
So, who brings Hemmer to life? That would be actor Bruce Horak, who was announced alongside the main cast of Star Trek: Strange New Worlds in 2021. Horak is legally blind, having lost 90% of his eyesight to childhood cancer.
Fans of Star Trek: Enterprise's Chief Engineer, Trip Tucker, will appreciate that Bruce Horak lists him as one of his favourite engineers of the entire franchise. Speaking with Cinemablend, he spoke about past Aenar performances:
I particularly liked just the physicality of those actors and how they were moving. Not kind of stumbling around with their hands or anything, but moving with this grace and the slowness and the stillness. That I really appreciated. That was a big part of it. Just really taking on and trying to embody some of that physicality.

Bruce Horak – Cinemablend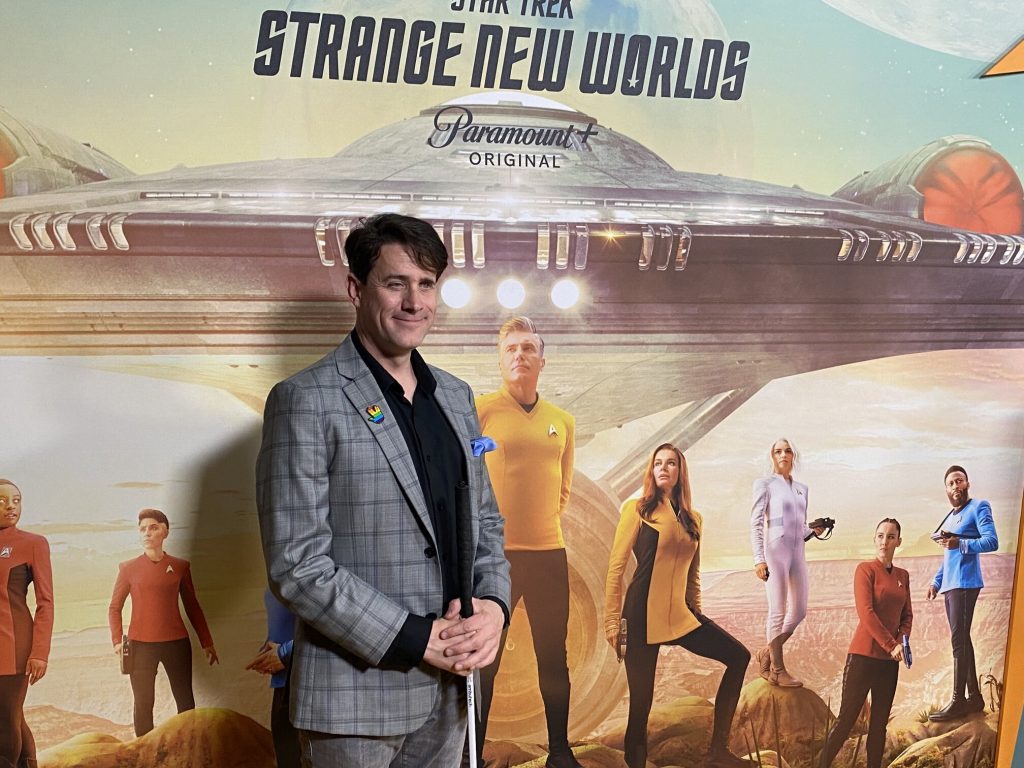 The Aenar – The Subspecies
Originally introduced in Star Trek: Enterprise, the Aenar are a humanoid species native to the Northern Wastes of Andoria. They're a subspecies of the Andorians and are a rather small subspecies at that. Additionally, Aenar were completely blind, yet could see via telepathy.
Star Trek's first introduction to the species was in 2154, via the NX-01 Enterprise under the command of Captain Jonathan Archer. Additionally, the Romulan Star Empire kidnapped the Aenar known as Gareb. They forced him to use telepresence to pilot an experimental drone starship. The goal at hand was to disrupt interstellar affairs and kill off the idea of cooperation.
However, Captain Archer along with the Aenar Jhamel was able to foil the Romulan's plans and destroy the drone ship. It seems that over 100 years later, at least one Aenar, Chief Engineer Hemmer was serving in Starfleet. Given the species' low population count, it makes sense that we don't see many others in Starfleet or around the Federation.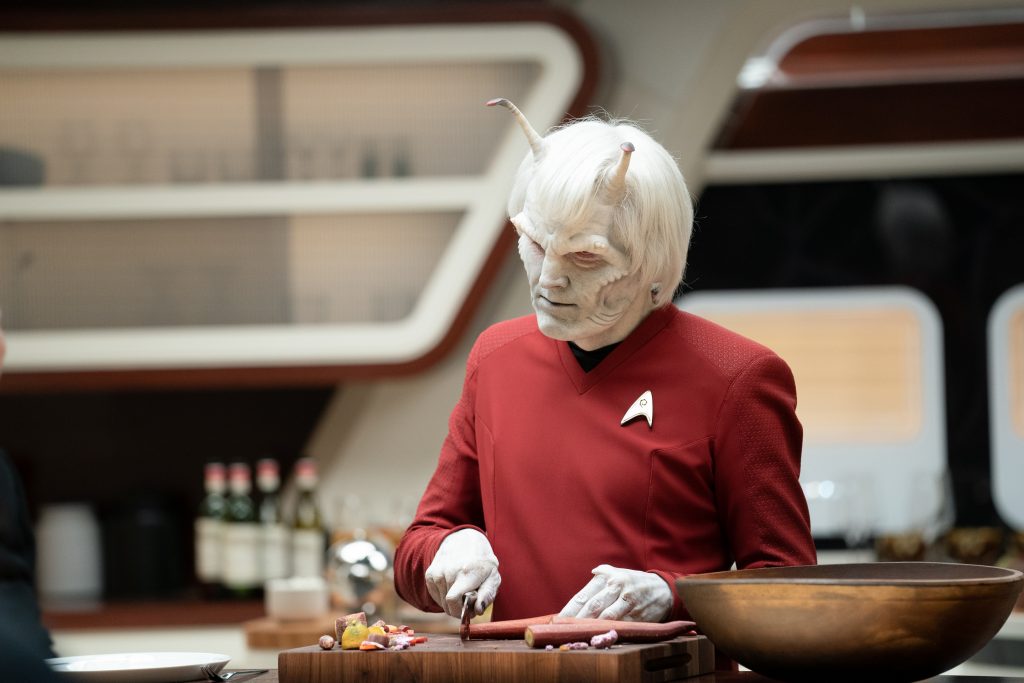 Conclusion
Based on Star Trek: Strange New World's season trailer, we'll be getting to spend a fair amount of time with Star Trek's NEW Chief Engineer. Already the upcoming Episode 3 looks to make use of his technical skills. Additionally, with the series playing on the classic vibes, I'm hoping we get a dedicated engineering episode at some point.
Star Trek: Strange New Worlds airs on Thursday, May 5 via Paramount+ in the USA, Australia, Latin America, and the Nordics. Additionally on the CTV Sci-Fi Channel and Crave Streaming in Canada. Plus Voot Select in India, TVNZ in New Zealand, and Cosmote TV in Greece. Additionally, the streaming service will also land in the UK & Ireland on June 22nd, 2022.
---
More from Trek Central
? – STRANGE NEW WORLDS – Who Is Samuel Kirk?
? – REVIEW – Star Trek: Picard "Farewell" – 2×10
? – Everything We Know About Star Trek: Discovery Season 5
---
Join the Star Trek conversation via our social media platforms: