Season 2 of Star Trek: Strange New Worlds is almost here. With that, Captain Christopher Pike (Anson Mount) takes the U.S.S. Enterprise out again for a spin. This week, Star Trek: Strange New Worlds Season 2 Ep 1 kicks off the ten-episode run of the second season. Teaser trailers have given us glimpses of Klingons, Gorn, and James T. Kirk (Paul Wesley). However, what does the premiere episode for season 2 hold? More Star Trek epicness, or perhaps some time travel? Let's check it out!
Each week Trek Central has brand new preview material for Strange New Worlds. Star Trek: Strange New Worlds Season 2 Ep 1 sees Mr Spock (Ethan Peck) disobeying orders and taking the U.S.S Enterprise out for a spin. It seems another crew member, Lieutenant Noonien-Singh (Christina Chong), had sent a distress call. Sunday night saw a small premiere event for Strange New Worlds Season 2. While media coverage was low, fans watched the second season premiere episode alongside the likes of Showrunner Akiva Goldsman.
Episode 201 'The Broken Cirlce'
"A distress call from Lt Noonien-Singh compels Spock to disobey orders and take the USS Enterprise and its crew into disputed space, risking renewed hostilities with the Klingons in a bid to aid their shipmate."

Star Trek: Strange New Worlds Season 2 Ep 1 – 'The Broken Circle' official synopsis
The season 2 premiere episode 'The Broken Circle' is written by Henry Alonso Myers & Akiva Goldsman, and directed by Chris Fisher.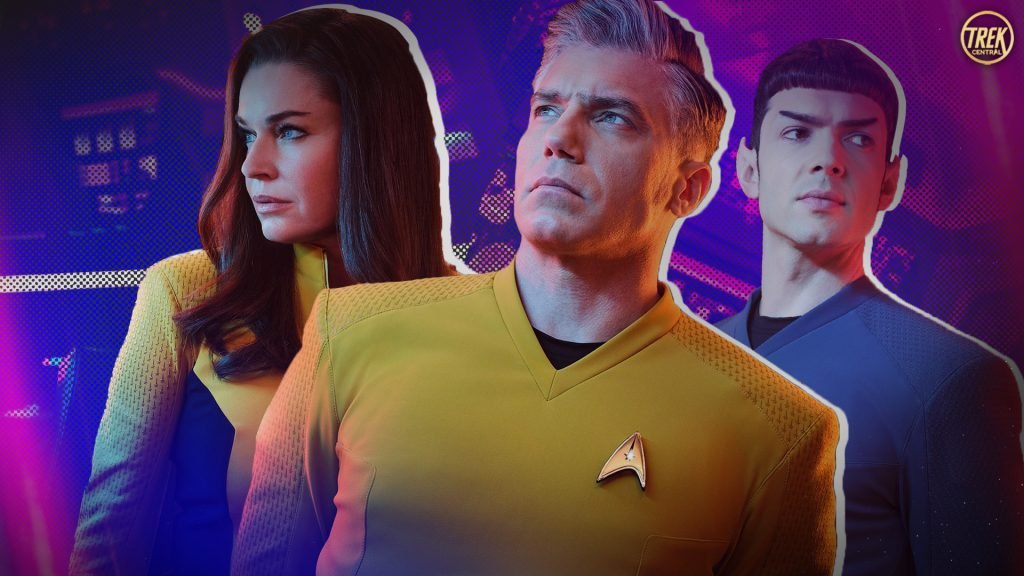 Preview Pictures
New promo images have finally been released for the episode. They give us our first close-up look at Strange New Worlds' take on the Klingons of the 23rd Century. And they look a long way from what we have become accustomed to on Star Trek: Discovery. SNW has chosen to take a more traditional approach to the species. Much as it has done with most of its production design, trying to find a balance between The Original Series aesthetic, and modern production values.
And like many an away mission for Kirk, Spock, and Bones on TOS, it's undercover shenanigans afoot! Spock, Uhura, M'Benga, and Chapel all look to be joining La'an on whatever mission she is on.
Number One's Trial Begins – Exclusive Clip
Fans attending London's MCM Comic Con in May were treated to an exclusive Star Trek: Strange New Worlds Season 2 clip. It shows Number One's trial starting. Of course, fans will remember that Captain Batel arrested Una Chin-Riley in the season one finale of Star Trek: Strange New Worlds. We also have the Judges of this court in uniforms similar to Admiral April from Season One of Strange New Worlds! This is a flag officer uniform, and I love what I see.
We've had numerous legal episodes of Star Trek in the 60-odd-year history of the franchise. Some, like Star Trek: The Next Generation's "The Measure of a Man", were in a very hastily put together Judge Advocate Generals office on a Starbase. The Original Series had multiple court martial scenes set on the U.S.S. Enterprise. Well, Star Trek: Strange New Worlds is going a step further and taking us to Starfleet Commands Judge Advocate General's Office on Earth!
We are definitely moving closer to Star Trek: The Original Series era now! Star Trek: Discovery gave us similar medals to The Original Series on its uniforms, but Star Trek: Strange New Worlds is going further. The Dress uniform is very much an update on the dress uniform of The Original Series!
The Ready Room – Star Trek: Strange New Worlds Season 2 Ep 1
Wil Wheaton has beamed ahead of Thursday's Star Trek: Strange New Worlds return. A special episode of The Ready Room, released last Friday, looks ahead to the series's second season. The video below features interviews with Anson Mount, Rebecca Romijn, and Ethan Peck. Sadly, Paramount has once again geo-locked the content on YouTube. Those outside of the United States are unable to watch it. We recommend using a VPN or visiting the Official Star Trek website to watch the content.
Conclusion
Early reviews for Star Trek: Strange New Worlds Season 2 have begun hitting the internet. Sadly, Trek Central does not get advanced screeners of Star Trek episodes from Paramount+. Therefore, stick with us each week for our on-the-spot reviews as we watch alongside you each week.
Production on Star Trek: Strange New Worlds Season 3 has been delayed. The Writers Guild of America has gone on strike to fight for better terms for its members. Star Trek: Strange New Worlds was due to begin filming its third season on May 2nd, the same day that strike action began. Canadian Film and TV Unions also stand in solidarity with the WGA, impacting US productions in Canada. Unfortunately, filming for Strange New Worlds Season 3 must have unavoidably been delayed.
The second season of Star Trek: Strange New Worlds premieres on Thursday, June 15, exclusively on Paramount+, with new episodes dropping weekly on Thursdays. Star Trek: Strange New Worlds streams via Paramount+ in the United States, United Kingdom, Australia, Latin America, France, Germany, Brazil, South Korea (via Tving), France, Italy, Germany, Switzerland & Austria. As well as CTV Scifi / Crave in Canada, & TVNZ in New Zealand. And from June 16 on SkyShowtime in the Nordics, the Netherlands, Spain, Portugal, and Central and Eastern Europe.
---
More From Trek Central
📰 – Star Trek: Strange New Worlds Season 2 Episode Titles & Details
🔥 – Seven of Nine – From Borg to Badass
🔍️ – Star Trek: Resurgence – Writers Interview
---
Join the Star Trek conversation via our social media platforms: