Last week, SAG/AFTRA – the Actors' Union – negotiations with the AMPTP (Alliance of Motion Picture and TV Producer's Union) broke down, leading to industrial action. And now Star Trek actors have joined the writers on strike, standing shoulder-to-shoulder, picketing the studios. It's the first time in 60 years both unions have gone out on strike together. These new strikes will have far-reaching effects. And yes, that includes fan conventions, Star Trek at SDCC this week, and keeping all live-action production on hold.
So what's it all about? How will it affect fan events? And what can we do to show support?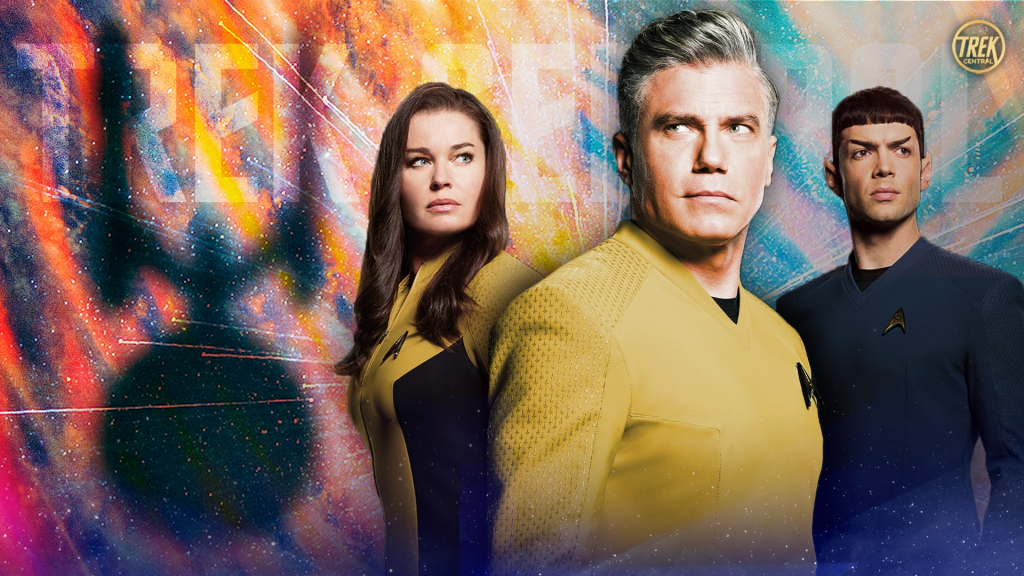 Why the Strikes are Happening
The WGA has been on strike for nearly three months, diligently picketing outside the studios, including Paramount and CBS Studio City. They are fighting for fair pay and contract terms. The problem stems from the AMPTP refusing to negotiate in good faith, leading to a strike first for the writers and now the actors. This is a struggle many industries are now battling – many years of soaring corporate profits, often at the expense of their workers. The use of AI is also a major sticking point, with the studios pushing for some pretty controversial and frankly abhorrent terms.
Michelle Hurd, Star Trek: Picard's 'Raffi', is part of the negotiating committee for SAG/AFTRA and explained the strike's key points in the video below.
And it's not just filming that stops. The strikes have wide-ranging effects, including on press or promotional events and social media. According to Discussing Film, strike action means actors cannot participate in "press junkets or film premieres". Nor can they "promote anything at SDCC, and will be advised not to attend at all". And that will definitely affect the planned panels for Star Trek at SDCC.
Plus, even if their show is airing, Strange New Worlds' cast can no longer share about the show, as it constitutes a promotion. Most have now gone silent on socials in accordance with the rules.
Events Might Be In Trouble
It also affects other events too. Variety shared a list of specific no-nos for actors during the strike. They encompass pretty much everything to do with their work. With those stipulations considered, actors spoke to the union about how they can still attend fan conventions and what the rules might apply. At least Star Trek's current shows will be off the table to discuss. So the events may be a little different than you'd expect. Hopefully, they will still be able to go ahead without too much disruption. And that includes STLV next month.
What's happening with SDCC?
San Diego Comic-Con 2023 is set to kick off this week. The WGA strike has already badly affected the convention, with several major Studios not attending. Star Trek at SDCC looks okay, with Paramount currently set to be one of the few to invest and going big with its presence this year.
A Star Trek Universe panel is set to happen with exclusive content from Star Trek: Discovery, Star Trek: Lower Decks, and Star Trek: Strange New Worlds. As well as a 50th Anniversary celebration of Star Trek: The Animated Series. Paramount did not reveal who they were planning to bring. Now that the strike is officially on, the cast will follow the rules and not attend.
Star Trek Panels @ SDCC 2023
While Paramount+ have there big Star Trek Universe panel, there are a range of other panels for Star Trek at SDCC. On Thursday, July 20th, at 12:00 – 13:00 PM PST (20:00 BST), the "Star Trek: More Bold Than Ever Before" panel occurs. This features talent from IDW Publishing, the creatives behind the latest Star Trek comics. IDW Group Editor Heather Antos and writers Chris Cantwell, Collin Kelly, and Jackson Lanzing look inside Star Trek: Day of Blood, the first-ever Star Trek comics crossover event.
Immediately following the IDW Star Trek panel, Trekkies can head to the "How to Boldly Go into the Star Trek Universe". Hero Within's Tony B Kim leads this fun and helpful discussion with Star Trek pros Giraffe, Myrriah Gossett, and Clyde Haynes. This panel takes place at 13:00 – 14:00 on Thursday, July 20th. Please note that some panels are being cancelled due to the ongoing WGA and SAG strikes. Fans should refer to the official SDCC 2023 schedule page, which can be found HERE.
Additional Panels include:
It's Alive, Jim! Evolutionary Biology in Star Trek @ THURSDAY 20:00-21:00
Official 50th Star Trek Animated Celebration @ FRIDAY 10:00 – 11:00
Star Trek: The Art of Neville Page @ SATURDAY 17:30 – 18:30
Boldly Go: The Psychology of Star Trek: Picard @ SATURDAY 19:00 – 20:00
Star Trek: Picard—Unofficial!: Backstage and Between the Cracks @ 13:00 – 14:00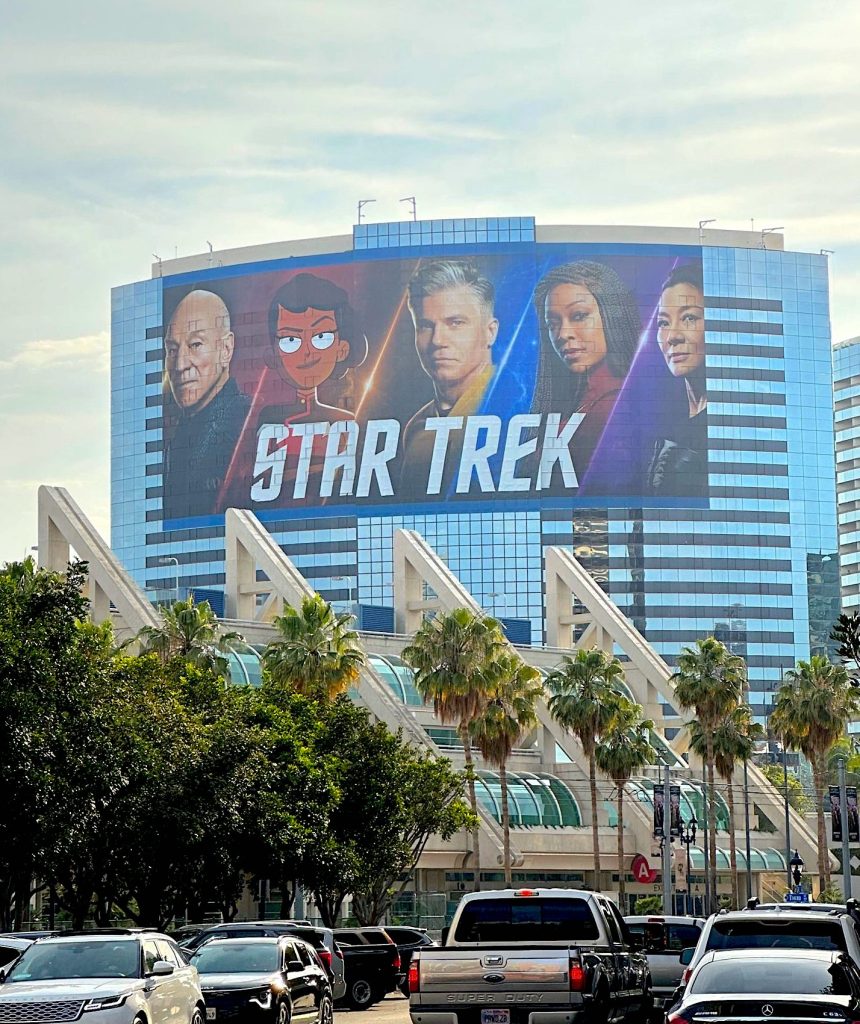 Fans and Influencers
While the actors have fallen silent, fans still want to discuss their favourite shows. Does that constitute promotion, and therefore make us 'scabs'? The short answer for fans, at least, is no, but it is a bit tricky for some influencers who promote anythings Trek on a more professional level.
Most sites like Trek Central should not be affected. We are not SAG/WGA members, as most of the team is in the UK. We have no association or contract with Paramount. We're a fan site (we don't even get screeners). We're just supporting the actors and shows we love, as we have always done. Variety has a full breakdown of the distinctions and rules for those concerned or curious.
A Don't
SAG/AFTRA is asking supporters not to boycott by cancelling their streaming services. If you chose to on moral grounds, that is entirely up to you. And please don't try to push, promote or organize a boycott. The Unions have a massive amount of experience and the resources to launch one if they feel it's the right thing to do. We're being encouraged to show support the old-fashioned way. Go to the movies. Watch the shows. Buy the DVDs. Talk about the things you love on social media.
How to Support
It's worth stressing that we absolutely support both the WGA & SAG/ACTRA. Star Trek is the collective work of the writers, the actors, and the many talented professionals working behind the scenes. Without them, these would not be the shows we love. It is not the work of those that hold the purse strings or the many highly paid executives sitting in their ivory towers. Creative talent should be recognized and rewarded fairly. Workers should be able to pay their rent, mortgages, and healthcare. And that's from the faces on the screen to the folks turning plywood into starships. Star Trek can not be made without them.
And while it's easy to think actors and writers are already paid huge sums, the reality is the mass majority are not. And wages for junior professionals especially have plummeted. Contrast that against corporate profits soaring and executive pay hitting record levels. Understandably, these strikes are happening.
The sad reality is this huge industrial action will affect everyone in the entertainment industry and all its support industries. And will have lasting and very painful consequences for many.
If you want to help, several organisations are being highlighted to do just that.
Join the pickets line! If you're in the area and able to, you too can make the message be heard. Or you can take snacks for the picket lines yourself. Or go down and offer moral support.
---
More From Trek Central
📰 – Star Trek: Strange New Worlds Season 2 Episode Titles & Details
🔥 – Seven of Nine – From Borg to Badass
🔍️ – Star Trek: Resurgence – Writers Interview
---
Join the Star Trek conversation via our social media platforms: