Nominations for the Annual Hollywood Critics Association Awards were just announced, and Star Trek: Picard absolutely cleaned up with an impressive seven nominations for Acting, Writing, Direction, and a Best Series nomination. It's fantastic recognition for the hard work of a passionate cast, crew, and creators who put their heart into Picard's incredible third and final season.
HCA Nominations 2023
Star Trek: Picard blew critics and fans away with its final season receiving an overwhelmingly positive reception. Not surprising given the pure nostalgic joy of seeing the original Next Generation crew back and in the saddle for one final adventure. And some new and quickly popular characters along for the ride. So it's exciting to see that translate into award nominations with the Hollywood Critics Association announcing theirs today. The Emmys of course, are also just around the corner…
Picard doesn't have it all in the bag just yet though. It's up against some stiff competition in all of its nomination categories. Its first nod for 'Best Streaming Drama Series' is alongside the likes of Andor, The Mandalorian, 1923, and The Diplomat.
Sir Patrick Stewart (Jean Luc Picard) is nominated for 'Best Actor in a Streaming Drama Series'. Jeri Ryan (Seven of Nine) and Brent Spiner (Data) are both nominated for 'Best Supporting Actor/Actress in a Streaming Drama Series'. Plus Michelle Forbes (Ro Laren) is up for a 'Best Guest Actress in a Streaming Drama Series'.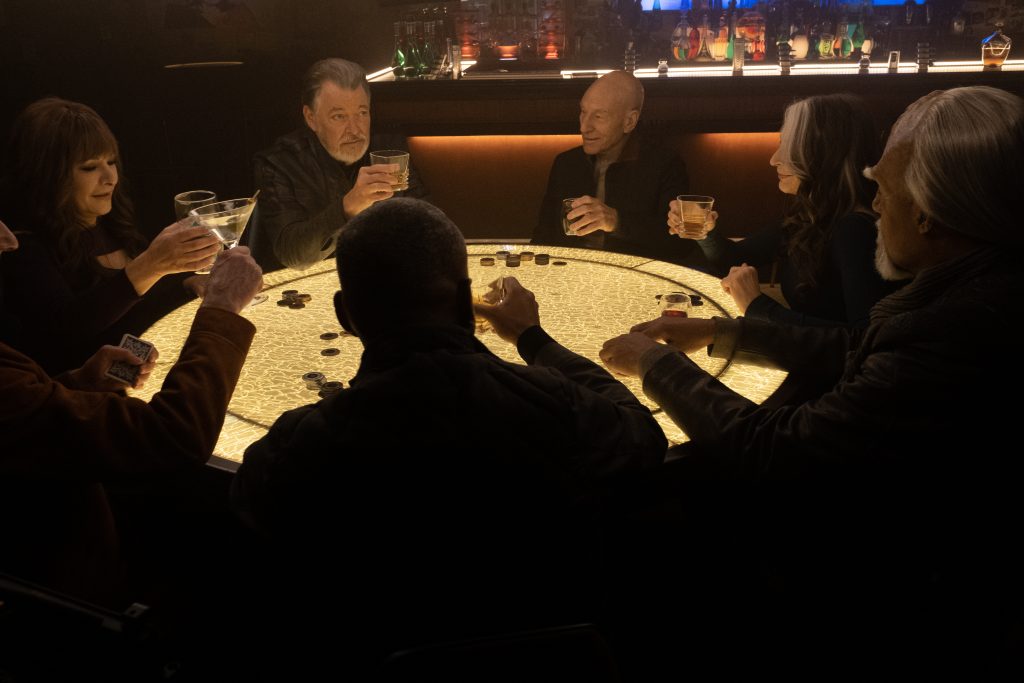 Showrunner & Executive Producer Terry Matalas picked up two nominations for 'Best Writing…' and 'Best Direction in a Streaming Drama Series'. Both are for the final episode of Star Trek: Picard, 'The Last Generation'.
Star Trek: Lower Deck's also picked up a single award nomination for 'Best Streaming Animated Series or TV Movie'. Plus Jack Quaid (Boimler) has been nominated alongside Sir Patrick Stewart in the 'Best Actor in a Streaming Drama Series' for his role in The Boys.
Upcoming Emmy Awards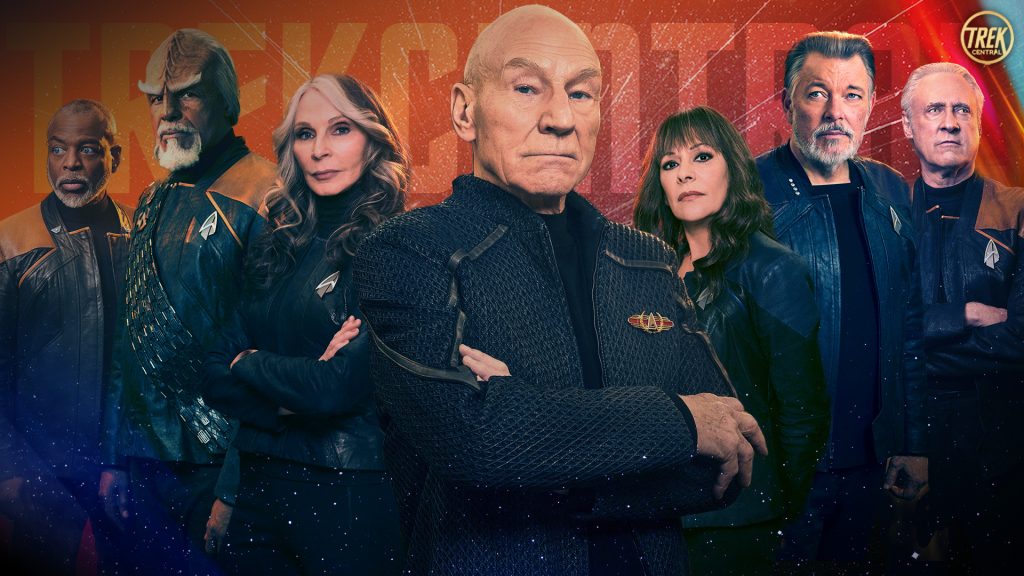 Currently, there's no date set for the announcement of the winners due to the ongoing WGA (Writers Guide of America) strike, and looming action by SAG/AFTRA (Actors Guilds). They were due to be announced in August, but are delayed until industrial action concludes.
Of course, the Hollywood Critics Association announcements come just one day before this year's Emmy nominations. Paramount and the Star Trek: Picard creative team have been going all out to secure nominations with a 'For Your Consideration' campaign. So keep your fingers crossed for a similarly impressive lineup of Emmy Award nominations for Picard! And for those to include plenty of recognition for the incredible production work that went into the series.
Sir Patrick Stewart wants to bring The Next Generation and Picard cast back for one final theatrical adventure. So a few Emmy Nominations might be handy! Plus, Awards success might tip the scales in favour of that highly coveted Star Trek: Legacy spin-off! Keep an eye on the Trek Central social channels. We'll get the news out as soon as it breaks!
Star Trek: Picard Season 3 streams via Paramount+ for those in the United States. Additionally, on Crave and the CTV Sci-Fi channel for viewers in Canada. However, new episodes air Fridays via Amazon Prime Video in international regions like the United Kingdom. Paramount+ also streams the episodes in select locations, such as Italy, Germany and France.
---
More From Trek Central
📰 – REVIEW: Strange New Worlds: "Tomorrow and Tomorrow and Tomorrow"
🔥 – Star Trek: Strange New Worlds – 'Ad Astra per Aspera' Easter Eggs
🔍️ – Star Trek Library Collection: Volume 1 Review
---
Join the Star Trek conversation via our social media platforms: