Star Trek has officially done a musical episode! It's very exciting and was the episode I was most excited about this season. The latest edition to Season 2 is Star Trek: Strange New Worlds "Subspace Rhapsody". Before we get into the quality of the job that director Dermott Downs and writers Dana Horgan & Bill Wolkoff did, we need to acknowledge what a gambit this was. There have been many experimental episodes and out-there concepts, with something like "Spock's Brain" being the worst example.
Even as far as crossovers like the one earlier this season go, a musical episode is still very, very risky. In a season full of crazy ideas, this stands out a lot, and that says something. So how much did this risk pay off? Is "Subspace Rhapsody" an instant classic or an episode that's best left ignored? All of this and more in this review for the latest episode of Star Trek: Strange New Worlds.
WARNING: This review contains full spoilers for Star Trek: Strange New Worlds Season 2 Episode 9 – "Subspace Rhapsody". If you've not seen the episode, please turn away now!
NOTE: This is being written amidst the 2023 WGA and SAG-AFTRA strikes. Without the work of those on strike, this episode could not exist. Any praise for this episode should be considered praise for the writers, actors, and other artists involved. As far as I can tell, independent reviews like this (made without the use of studio-provided screeners) are not against strike rules. I fully support both unions' fight for fair working conditions and adequate compensation. Do not support studios during a strike.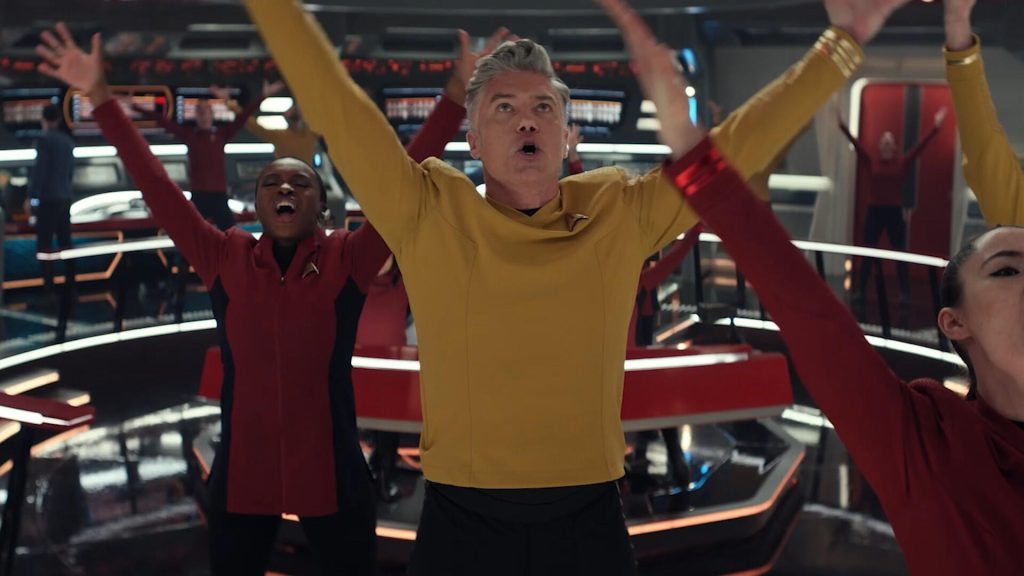 The Music
I'm not much of a musician, but know enough to know that the music here was amazing. The soundtrack isn't due for release until tomorrow, but I'll definitely be streaming it for a while. It's full of a really good mix of songs, from show-stopping ballads to hilarious smaller numbers. I loved it, especially considering most of the cast aren't known for their musical talents. The voice training they went for with the entire cast, even with the smaller characters paid off in droves. There's scarcely a note off-key.
The biggest exception to the "not a musician" rule is La'an (Christina Chong). She has released some music recently that I find myself obsessed with. Her number in Strange New Worlds "Subspace Rhapsody", entitled "How Would that Feel", had my jaw on the floor. I knew she had an amazing voice, but wow. It managed to pack in so much emotional power into a few minutes. By far, it's my favourite of the episode. It was equal parts exhilarating and emotionally devastating, with all the punch of one of the ballads from Falsettos. I loved it.
Songwriters Tom Polce and Kay Hanley really knocked it out of the park. I appreciated how distinct all the songs were, with none of them feeling the same. There's flashes of all sorts of genres, but the Klingons stand out the most. I'm also fairly certain they managed to integrate Bruce Horak into that scene, which was amazing. The integration of science-fiction nomenclature was also fun, this being the only musical I know of to do that. There's a variety here that, much like this season, is of very high quality.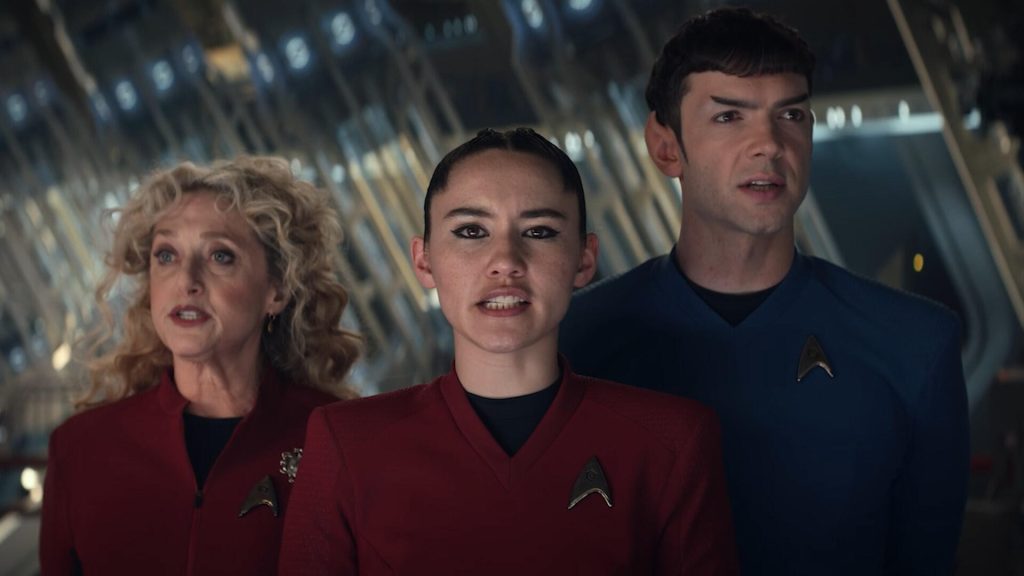 Spock and Christine
I've made no secret of how I feel about the romance between Spock (Ethan Peck) and Chapel (Jess Bush) this season. That being said, this episode really put everything in perspective, carefully explaining why Spock is so hurt by Christine. We finally get word of the as-of-now unseen Dr Korby accepting Chapel into his fellowship program. We know from The Original Series episode "What Are Little Girls Made Of?" that she ends up engaged to him. I wait in anticipation for his appearance, and the actor they choose to portray him.
Their breakup here felt a little forced, but also understandable. I'm not a fan of their relationship at all, still, seeing the silence between them at the end was gutwrenching. As funny as all the maths jokes were in "I'm the X", Peck did a great job, considering he got broken up with through song. Vulcans are said to only express strong emotions like this, which made it all the more devastating. Him getting broken up with through song was pretty sad, but also a little on the funny side.
I'm curious to see what Chapel joining Dr Korby does to Spock. Compared to my previous indifference, I'm now incredibly invested in their relationship. With how quickly they broke up, it's as if every awkward moment between them in TOS is completely recontextualised. I'll never be able to watch the older episodes the same way, and I love that. It really is astounding that all these characters are in the same place, years before the events of TOS. Seeing the change in relationship dynamics over that time is equally astounding.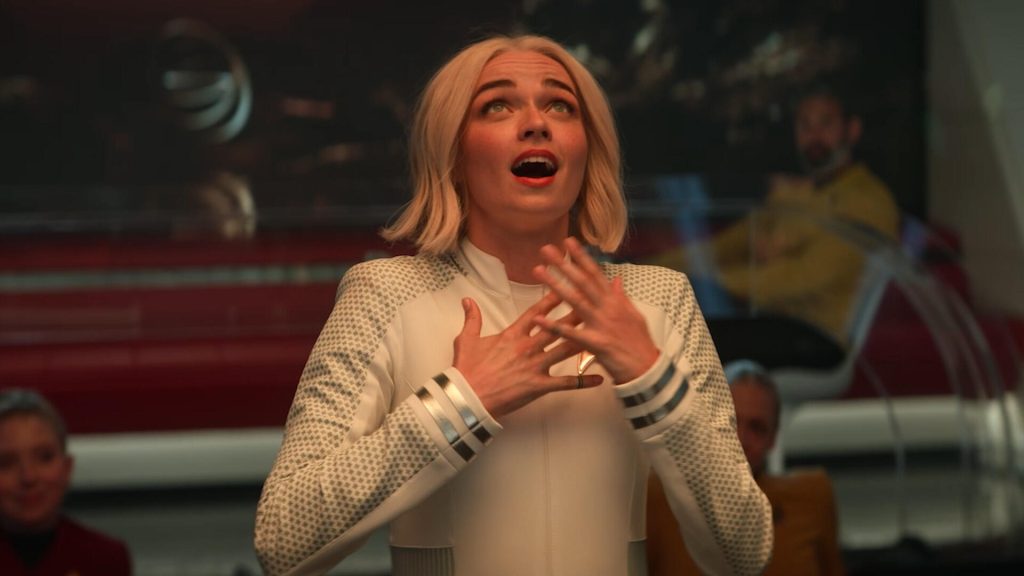 Number One
Una (Rebecca Romijn), outside of a lovely musical number mostly plays second fiddle to the other characters in Strange New Worlds "Subspace Rhapsody". She's there to support Jim, who's beamed over from the USS Farragut trying to move up the ranks. And then she's there to support La'an through her breakup. Although I guess it plays into what she sings about, getting closer with her officers. Even though this was a thing that was shown gradually onscreen over the past two seasons, it's nice to have it in the form of song as well.
The song also plays into her obsession with Gilbert and Sullivan, which gets namedropped here. The song, while less opera, it definitely has more in common with something like The Pirates of Penzance than Wicked. It's probably the most distinct song in the musical in this way, and I think I mostly enjoyed it. Seeing Romijn, who can also actually sing, perform something like this is awesome.
While most of the cast aren't experienced singers, having people like Romijn, Chong, and Gooding sing to their known strengths was a great choice. It's a side of the actors' skillset that most Star Trek fans may not be aware of, so it's great outlet for them to show off that side of themselves. Strange New Worlds "Subspace Rhapsody" also created a musical universe in this anomaly, something that they could easily revisit in another series years down the line for more fun. That being said, this should definitely remain a one-off for a while.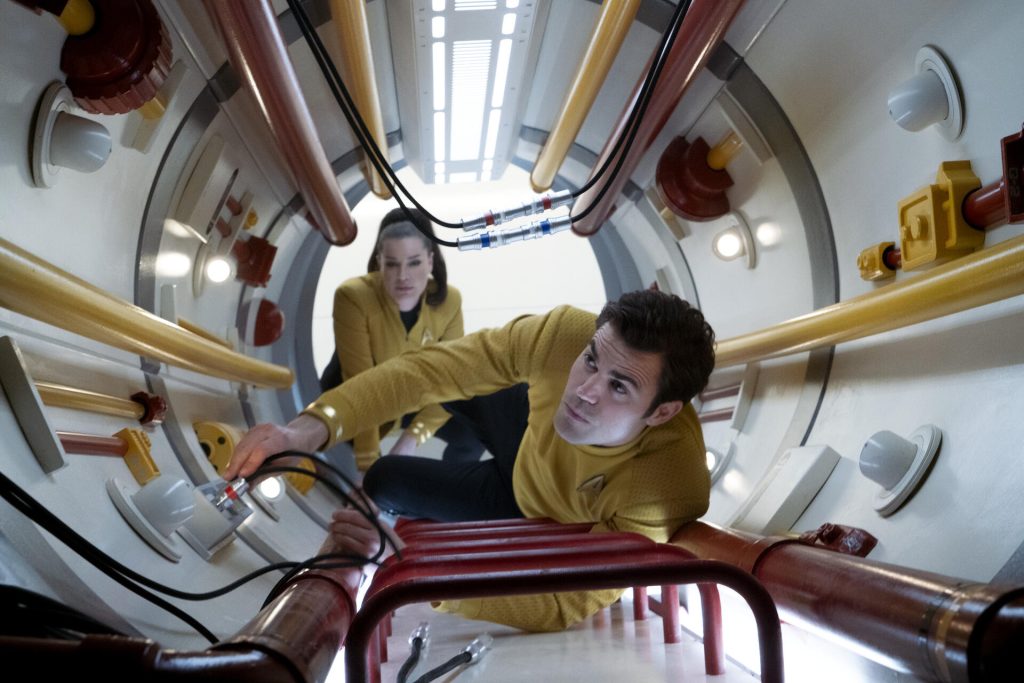 Kirk and La'an
After "Tomorrow and Tomorrow and Tomorrow" put La'an in a relationship with an alternate Kirk (Paul Wesley), I've been intrigued to say the least. I wasn't sure what to make of it initially, but I finally see what they were going for. A bit like the relationship between Spock and Chapel, it feels like a lot of the plot points this season has introduced are being closed off. The scene between them was sweet, and I'm glad it didn't descend into song.
It's pretty much the only scene of the episode that did this, to the point where the conversation they had stands out as one of the few traditional scenes of the episode. As much as it turns out Paul Wesley has a nice singing voice, I'm glad this scene remained pretty serious. I'm also glad that they chose not to add another romance into the fold, with the series feeling a little crowded in that department already. As nice as it is to have closure, it's gutting for La'an, to the point where I'm wondering where she goes from here.
We know that she's not in TOS, is it possible that she resigns after Kirk takes command?They also referenced Carol Marcus. We here at Trek Central thought this might happen before the season even came out. While she didn't appear, I did appreciate the nod. There's no big need for the character to appear, just knowing that Carol's out there and pregnant (with David) is enough for me. It's as far as they need to go, and for Kirk to keep the 'deadbeat dad' reputation for The Wrath of Khan, it's probably as far as they can.
Uhura
The journey of Uhura (Celia Rose-Gooding) this season has also been a lot of fun. The character finally feels like she's coming into her own. I think the crossover episode, "Those Old Scientists", in which she met both Boimler (Jack Quaid) and Mariner (Tawny Newsome) changed her for the better. The second she heard she was considered a legend, her confidence has increased tenfold. Watching her as more of a phone operator this week was the ultimate sign of this, working quickly, effectively, and well… confidently.
It ties in to how we see her in TOS, where she was played by the brilliant Nichelle Nichols. The series has built on a lot of her most iconic moments from the series. I guess that also includes the singing talent that she displayed during "Charlie X". This was on such a bigger scale, turning every musical number the series had ever done up to 11. Honestly, my biggest complaint is the lack of references to songs and musical moments like that.
It's safe to say Uhura was not as much of a character in TOS. She was there, but was never really the focus for more than the occasional scene. It's great to have her more fleshed out. Seeing that she has the capability to inspire the whole of the crew to sing as one, in a moment that was absolutely awe-inspiring. It's the song that's going to get stuck in your head, probably more so than Uhura's solo number. They're able to cram so much into an hour of television, so many songs and yet still recognisable as an episode of Star Trek.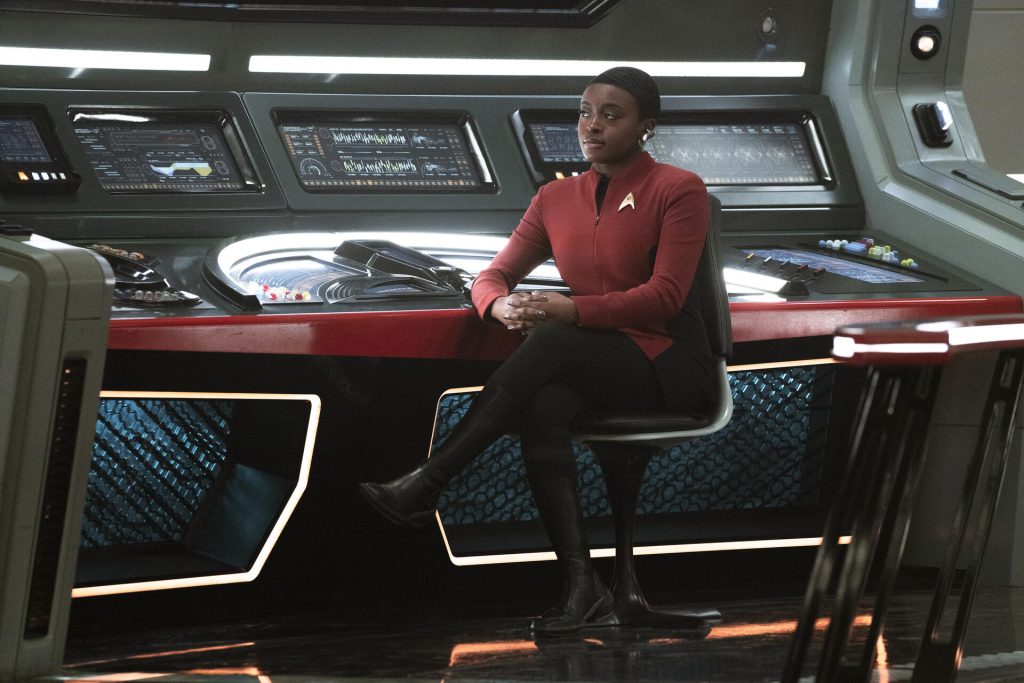 Directing
It didn't surprise me to learn that the director this week, Dermott Downs, has prior experience with special musical episodes. He's also had a lot of experience with the scale of science-fiction, directing a lot for the superhero genre. One of these episodes he previously directed was "Duet" for The Flash. Interestingly, it featured a similar premise – the series regulars being dragged into a musical before fighting their way out. However, I consider this to be the superior product of the two, by far.
While both episodes are enjoyable, this one's less of a novelty and the songs actually drag the plot forward. As well as this, Downs has clearly become more experienced when it comes to spectacle. The way the Klingons were framed when singing was amazing, and the shots of the dancers moving around the hallway during the final number was nothing short of epic. It was all amazingly well choreographed, even the ships spinning in time with the music was such an inspired choice.
If the franchise were ever to do anything similarly theatrical, I'd expect him to at least be considered for the director's chair. That being said, I hope this doesn't happen again. I loved it, but we don't want to risk Star Trek becoming too much of something its not. Variety is a great thing, especially with the shorter episode count that these newer series have. However, adding musical to the list of formats that the series uses regularly isn't special.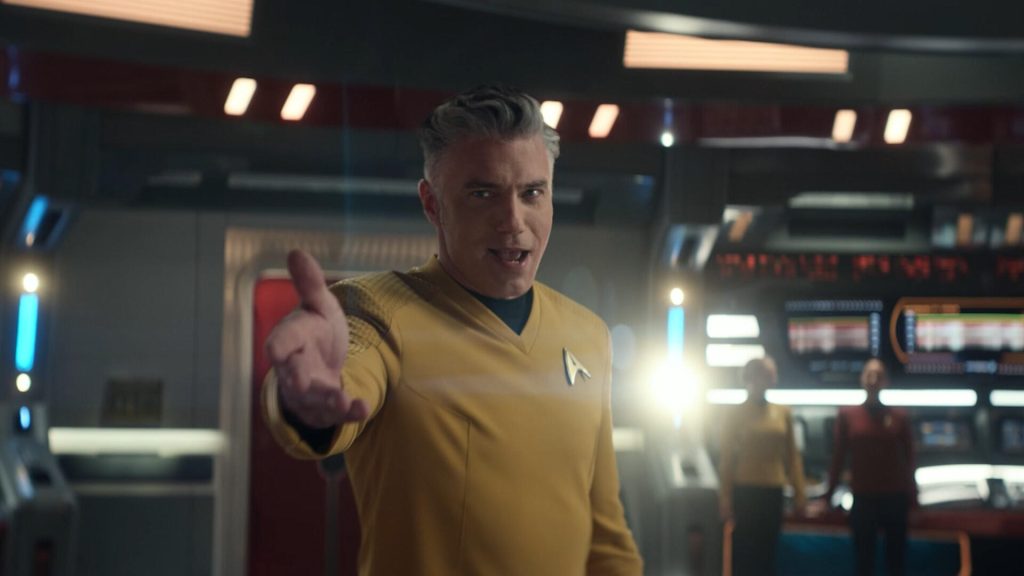 Conclusion
This exceeded even my expectations. It was so much fun. I loved how, unlike musical episodes like The Flash's "Duet", and Buffy the Vampire Slayer's "Once More with Feeling", this was really special. "Subspace Rhapsody" in no uncertain terms propelled the plots forward, inching the characters closer to their TOS starting positions. It did this and also had a lot of fun singing, dancing, and prancing around the Enterprise. Lots to love here.
I mentioned a few times now, not just in this article but over the last few weeks, that Strange New Worlds "Subspace Rhapsody" was the episode I was most excited for. What can I say? I'm a fan of musicals, of course I was going to love this. Whilst the format isn't for everybody, and can even be a bit of a turn-off, I had a lot of fun here. It's essential viewing, especially for the novelty component. That being said, I wouldn't call this my favourite episode of this season. Although with how strong it's been, that's hardly a criticism.
I'm glad this came in the series when it did. If it were done at the other end of the season, it wouldn't have succeeded as much as it did. It definitely worked better when we knew what to expect from the characters, and what sort of dramatic moments would happen. It managed to get a laugh and smile out of me more than your regular episode. This was well worth the hype and secrecy, it was so much fun and was just the lighter pick-up I needed after last week's very dark episode.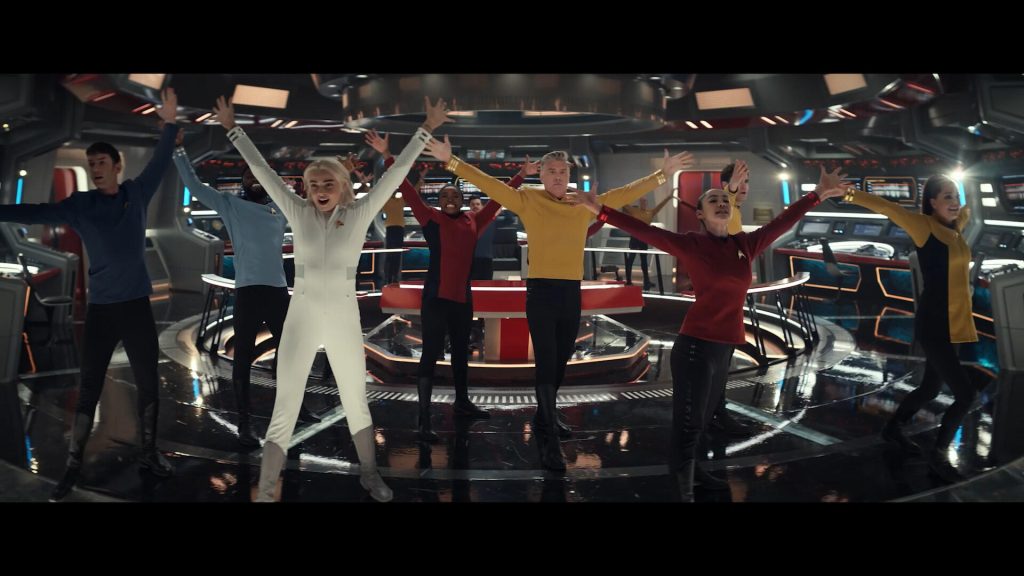 Where to Watch
Star Trek: Strange New Worlds streams Thursdays via Paramount+ in the United States, United Kingdom, Australia, Latin America, Brazil, South Korea (via Tving), France, Italy, Germany, Switzerland & Austria. As well as CTV Scifi / Crave in Canada, & TVNZ in New Zealand. And on SkyShowtime in the Nordics, the Netherlands, Spain, Portugal, and Central and Eastern Europe.
---
More From Trek Central
📰 – Star Trek: Discovery Season 5 Clip & Updates
🔥 – Star Trek: Lower Decks Season 4 Trailer & Release Date
🔍️ – Star Trek's SDCC 2023 Animation & Comic Announcements & More!
---
Join the Star Trek conversation via our social media platforms: