The official Star Trek: Mission Chicago convention took place this weekend. While the event attracted Trekkies from around the world, it also delivered new Star Trek announcements and updates. News on Lower Decks Season 3, Discovery, and Star Trek: Strange New Worlds has been released. If you're looking for updates on things you might have missed from the convention, fear not, Trek Central has you covered!
ReedPop, event organizer for Mission Chicago has confirmed the event will return. Trekkies can get ready to beam down to Seattle, Washington next year. The official Star Trek Convention will return on May 26-28, 2023. However, no convention center location details have been released yet.
Star Trek: Strange New Worlds
Everyone is hyped for Star Trek: Strange New Worlds right now! We're less than a month away until we're back on board the USS Enterprise with Captain Pike. Thankfully Paramount is finally treating fans to some good PR and marketing for the upcoming series. A full trailer has been released along with some great looks at Captain Pike's Enterprise crew.
Straight away the panel featured a new art teaser for Strange New Worlds. As you'll be able to see below, this included Gorn and Tribbles. Two iconic Star Trek Alien species which might appear in the upcoming series? The panel featured Anson Mount, Ethan Peck, Rebecca Romijn, Celia Rose Gooding as well as co-showrunner and Executive Producer Henry Alonso Myers.
Trekkies who attended Star Trek: Mission Chicago were shown an exclusive scene from Star Trek: Strange New Worlds! According to fans this was a bridge scene from the show! Additionally, event staff had apparently asked all attendees, including the press to put away cameras and phones to avoid leaks. However, Paramount+ will release the scene at some point, according to the panel presenter.
Fans were treated to an insight into the creation of Star Trek: Strange New Worlds. Ethan Peck (Spock) spoke about how he brought his version of Spock to life. Rebecca Romijn (Number One) also spoke about how it's been fun developing her character and getting to know her.
"I focused on Nimoy's Spock. Spent a lot of time with the original series. I hear his voice in my head when I approach the work."

– ETHAN PECK
Henry Alonso Myers confirmed at the panel that Strange New Worlds will feature a non-binary character. Speaking on the issue of continuity, aka canon, he said the show is trying to be true to it. You'll be excited to know that the series will have new aliens, "almost" every week.
What might be perceived as a little bit of a low blow to fans is a quick announcement. The Star Trek: Mission Chicago Twitter stated that fans who had booked photoshoots for Strange New Worlds and Ethan Peck had been canceled. For example, this was released during the middle of the panel as well.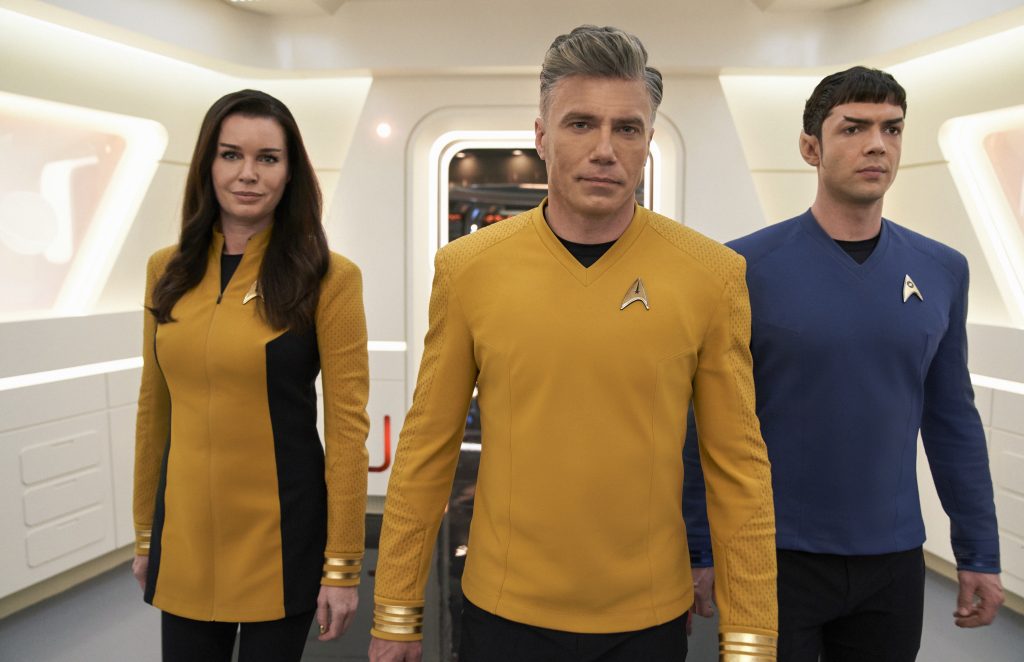 Star Trek: Lower Decks!
The hit animated series from creator Mike McMahan has struck a chord with Trekkies since it began. Star Trek: Lower Decks returns with its third season later this year. For instance, the running gag is that the poster and trailer hint toward a Star Trek III reference. Of course, The Search for Spock was the third Star Trek movie. This time around, we've got The Search for Freeman!
Today at Star Trek: Mission Chicago, fans were treated to the Lower Decks panel. Along with a new teaser trailer, the cast and crew took to the stage to give details away. Series creator Mike McMahan was joined by Tawny Newsome, Jack Quaid, Noël Wells, and Jerry O'Connell. Questions were answered, as well as Quaid was gifted a Star Trek Commemorative plate!
But International fans can breathe a sigh of relief for the moment. According to both Collider and CBR, Star Trek: Lower Decks Season 3 will air on Amazon Prime Video. Star Trek: Lower Decks Season 3 is teased to have "classic faces", as well as cool new starships. You can watch the new teaser trailer below. However, there is no release date announced just yet, but we'll keep you updated.
Star Trek: Discovery
While Star Trek: Discovery did have a panel at Mission Chicago, there is nothing to write home about. The upcoming fifth season of the series is not yet filming, so no trailer or promotional materials were expected. However, we did however learn via another panel that actor Anthony Rapp (Paul Stamets) might be directing an episode of the upcoming season.
Star Trek: Discovery Season 5 is expected to begin filming in June 2022. No details for what the fifth season will be about, have been released as of yet. Trekkies can likely expect the fifth season sometime in 2023.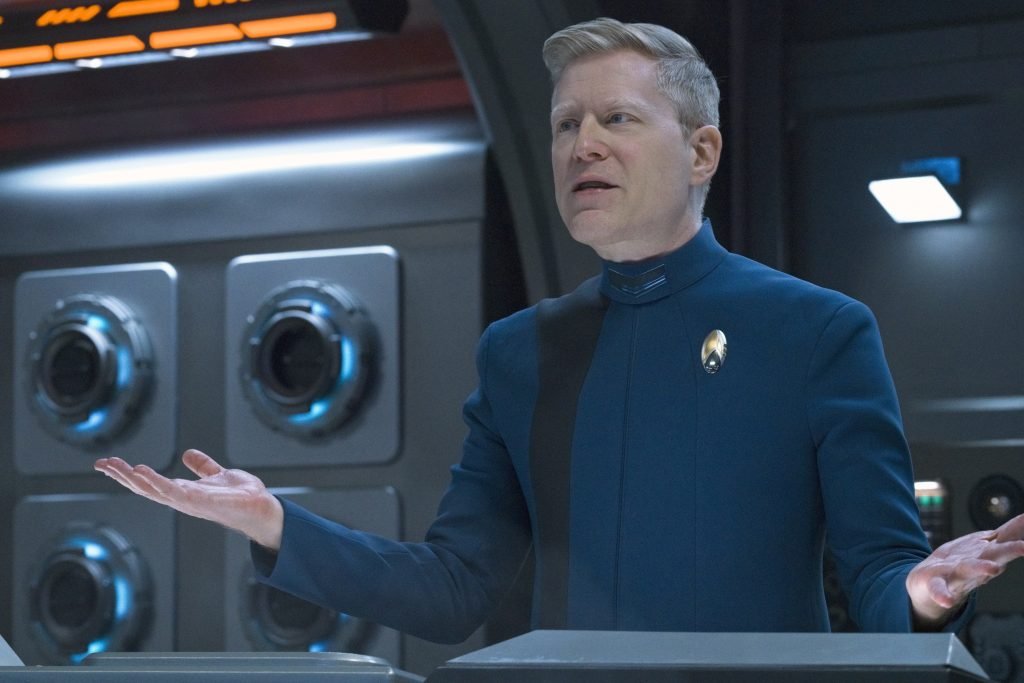 Mission Chicago's NFTs
While Star Trek: Mission Chicago has been positive for fans, there has been one bad egg according to the fandom. This would be the Star Trek NFTs project. We've touched on Paramount's recent partnership with RecurForever and the release of Star Trek Continuum.
The official Star Trek Twitter account announced Star Trek: Continuum on April 6th, just before Mission Chicago. However, what fans did find surprising was that RecurForever, the company behind the game/NFTs project would be appearing at the convention. Therefore, some Trekkies' response to the booth has been eye-opening in many ways. Take a look for yourself.
Once More Onto The Floor…?
Star Trek: Mission Chicago still has a full Sunday of events to go at the time of writing this. Including panels in Star Trek: Picard and Star Trek: Prodigy. We'll be updating this article with any information that comes out of either panel. We're hoping that Prodigy's panel will give us more news on the next adventure with the USS Protostar's crew. Especially after the revelation in Episode 10's ending.
---
More from Trek Central
? – James Callis Is A Villain In Star Trek: Picard?
? – REVIEW – Star Trek: Picard Season 2 Episode 5 'Fly Me to the Moon'
? – Everything We Know About Star Trek: Discovery Season 5
---
Join the Star Trek conversation via our social media platforms: