The kids animated series of Star Trek: Prodigy has been a hit with Trekkies young and old. While it may be targeted at younger audiences, this has not stopped fans of all ages from enjoying the adventures that the series offers. Fans at Star Trek: Mission Chicago, the official Star Trek Convention, have been treated to a Prodigy panel! Additionally, the series is soon to beam down for International audiences, such as the UK on April 25th! Star Trek: Prodigy's Future is expanding!
A video game based on Star Trek: Prodigy, titled "Supernova" is also currently in development. More on that later in the article. Thanks to the panel, we've learned some great details about what to expect from the upcoming second half of season one. Additionally, we've got details on what the future looks like for the crew of the USS Protostar.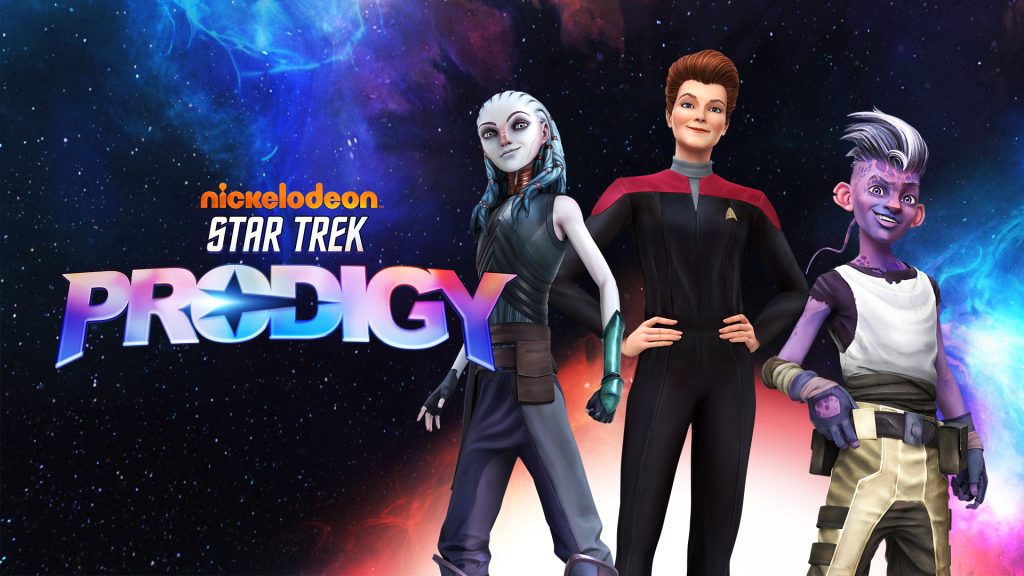 Janeway's Mission
Episode 10 of Season One, which was the mid-season point for Star Trek: Prodigy, left us with a big reveal. The actual flesh and blood Admiral Kathryn Janeway (Kate Mulgrew) is alive and well. She is commanding the USS Dauntless searching for the Protostar and the long-lost Captain Chakotay (Robert Beltran).
Revealed by panel guests, Admiral Janeway is on the hunt for the USS Protostar. She's going to have to contend with a smart rival though. That would be herself, Holo-Janeway. The real Janeway seeks the Protostar to find Chakotay, Holo-Janeway will be helping the kids evader her. We'll be seeing Janeway VS Janeway it would seem.
Kate Mulgrew also teased that we'll be finding out all kinds of secrets about Janeway. Specifically, she mentioned finding out secrets about "all kinds of Janeway" as well. Personally, I wish we had spent more with "Evil Janeway". This is the alt/goth version of the hologram. A man can dream I guess.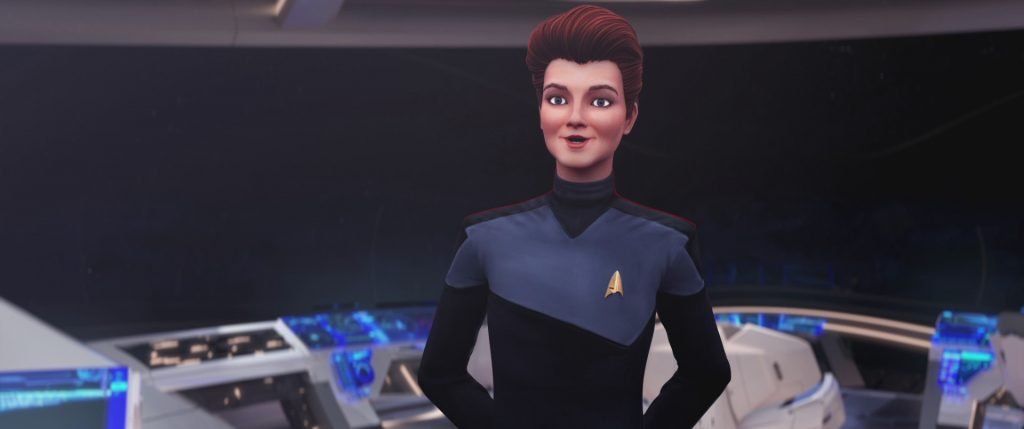 Murph, The Real Star!
There is no denying fact that Murph (Dee Bradley Baker) has been a hit with everyone. Star Trek: Prodigy introduced the mysterious lifeform in episode one of season one, to instant success. Fans will also be glad to know that we'll be getting more Murf in the next ten episodes. Also revealed, Murhp will go through some sort of "metamorphosis". Perhaps the mysterious creature will evolve? Seems like Star Trek is going Pokemon if you ask me.
A young fan at Star Trek: Mission Chicago asked the question on everyone's mind. When are we seeing Murph plushies? While Star Trek has expanded Its offering of merchandise for fans, it still needs to do more it would seem. Star Trek: Prodigy's Future already has a line of action figures on the way. We can only hope that a real Murph plush is on the way.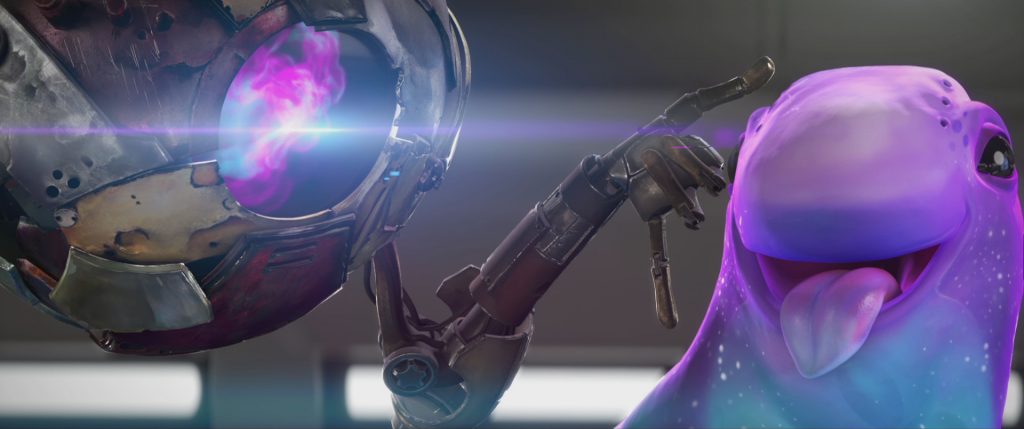 It's In The Details!
It appears Episode 40 might not be the best for Dal. One of the series' creators, Dan Hageman, teased the cosplay version of the character on the panel. This does confirm that we've only seen 10 out of the 40 episodes of Star Trek: Prodigy, so far. I'm personally super excited to see the continuing adventures. Fans at the panel got to see a preview of what is coming up, which we're all keen to hear about.
Dan Hageman has confirmed that the second season is fully written. Dan also answered some burning fan questions about Jankom Pog. Like, why does a kid character have facial hair? Well, according to the series creator, Tellarites grow facial hair early on. Also, Jankom is over two hundred years old due to his time on a sleeper ship! The more you know huh?
One fact that is surprising to many is the amount of time it takes to create an episode. There is no denying Star Tek: Prodigy is a well-crafted show. It can take the team a few months to create an episode. This does depend on the complexity of the story.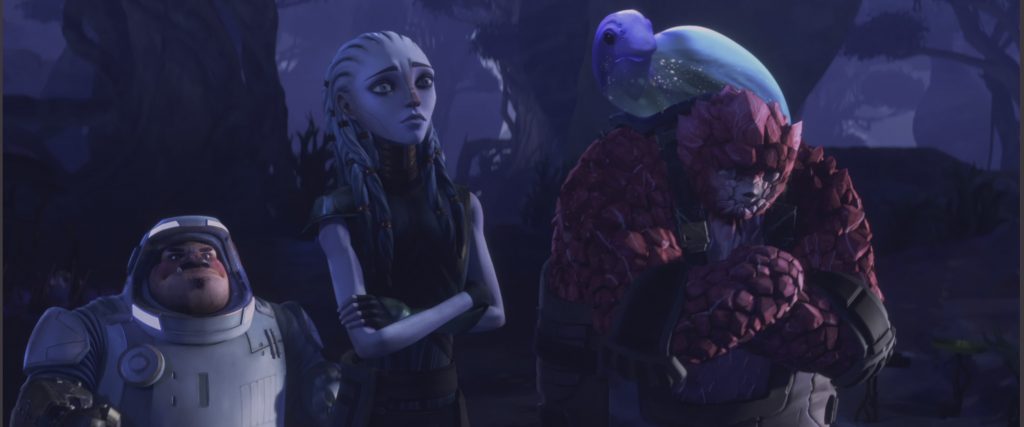 Star Trek: Prodigy Supernova!
Initially revealed via banners around Star Trek: Mision Chicago, a videogame is in the works. While we've already got the upcoming Star Trek: Resurgence for TNG fans and such, Supernova is targeted at Prodigy's younger audiences. Details on the upcoming game are sparse. However we do know that the game will release on PC, Xbox One, PS4, and Nintendo Switch platforms.
Star Trek: Prodigy Supernova is the first time a Star Trek video game is aimed at younger players. Thus bringing gaming to a new generation of Trekkies. Outright Games are the development studio behind the game. Video games for younger audiences are their specialty, having developed games on other well-known franchises. Tessera Studios is also involved in development and production.
Additionally, writer/Producer Aaron Waltke confirmed via Twitter that the game was written by Star Trek: Prodigy writer, Lisa Boyd. For example, Boyd previously wrote "Dream Catcher" and along with Prodigy's entire writing staff, "A Moral Star".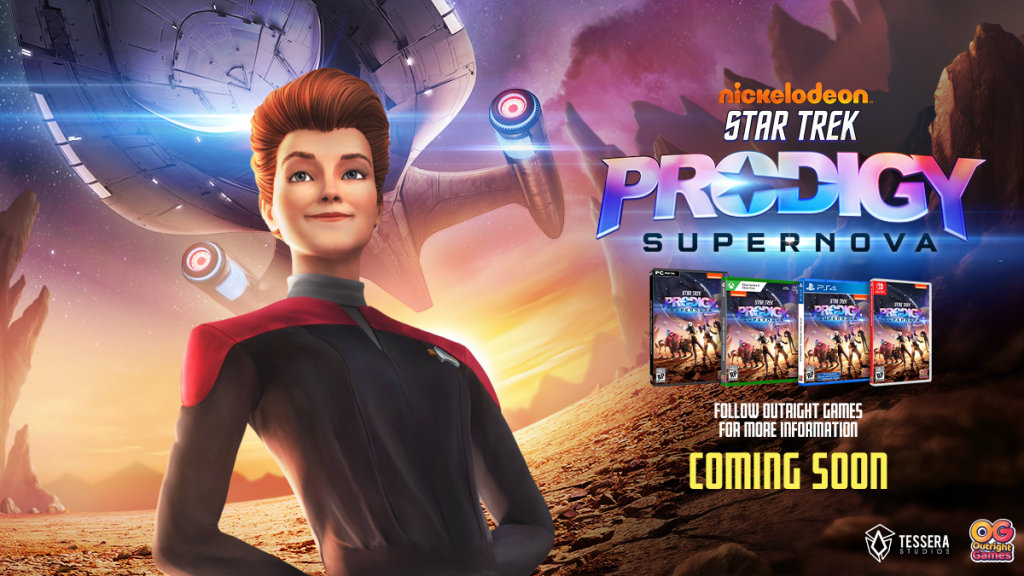 Star Trek: Prodigy's Future IS BIG!
Star Trek: Prodigy's Future is bright. With 40 episodes now written and the remainder of season one on the way, fans are in for a ride. Additionally, series creator, Dan Hageman, confirmed that the second season of Star Trek: Prodigy is fully written now. Star Trek: Mission Chicago certainly has given us some good Prodigy news!
International Star Trek fans are getting excited, as Star Trek: Prodigy beams down to more countries. Starting April 18th, Nickelodeon will see the international rollout of Prodigy begin. UK audiences can expect to beam up on Monday, April 25th. Paramount has not shared details on the next installment of the animated series at this time, though we expect it to follow Star Trek: Lower Decks Season 3.
More from Trek Central
? – James Callis Is A Villain In Star Trek: Picard?
? – REVIEW – Star Trek: Picard Season 2 Episode 5 'Fly Me to the Moon'
? – Everything We Know About Star Trek: Discovery Season 5
---
Join the Star Trek conversation via our social media platforms: