Last week First Contact Day delivered a fantastic day of surprises from new trailers for Star Trek: Discovery, Picard, and Lower Decks, to character reveals for Prodigy. The news covered four of the five current Star Trek shows, but one show was conspicuously missing. Frustratingly for fans eagerly anticipating Star Trek: Strange New Worlds, we'd have to wait a little longer for news.
The Hollywood Reporter today brought a tease of something new, thanks to an interview with showrunner Akiva Goldsman. The producer spoke fresh from directing duties on the premiere of Strange New Worlds, which began shooting in late February. There's a lot of discussion about how SNW will find its place in the Star Trek Universe, as well as excitement at returning to something comfortingly familiar. Goldsman offered a little insight into the themes of the show:
"If you think back to The Original Series, it was a tonally more liberal — I don't mean in terms of politics, but it could sort of be more fluid. Like sometimes Robert Bloch would write a horror episode. Or Harlan Ellison would have "City on the Edge of Forever," which is hard sci-fi. Then there would be comedic episodes, like "Shore Leave" or "The Trouble with Tribbles." So [co-showrunner] Henry Alonso Myers and myself are trying to serve that. We've all become very enamored, myself included, with serialized storytelling. And I'm talking to you from behind the stage where we're shooting Picard, which is deeply serialized. But Strange New Worlds is very much adventure-of-the-week but with serialized character arcs."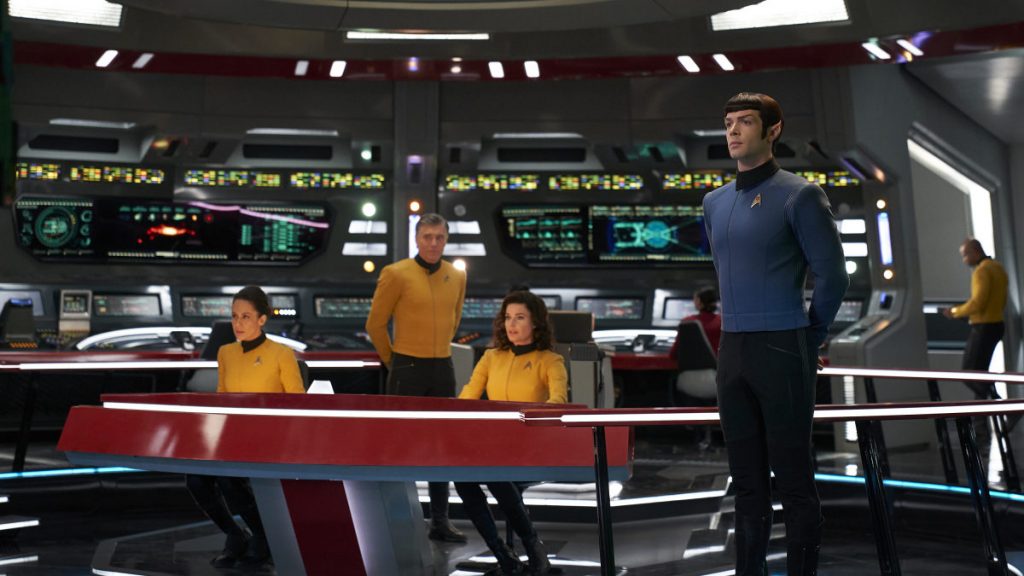 WRITING & DIRECTING THE STRANGE NEW WORLD'S PREMIERE
Goldsman not only wrote the premiere episode, but as showrunner got the privilege of directing duties as well:
"It was super fun and I've finished almost all of it. There were certain scenes that we couldn't shoot in Toronto because of quarantine — in terms of limits on the number of extras [in a scene] — that I'll back and finish pretty soon I hope. But there's something extraordinary about, uh, a bunch of folks coming together to do a new thing; you're surrounded by people who would be perfectly happy to be on the floor of a Star Trek convention, which is a little different than a typical show."
Of course we're all eager to hear about not only the storyline, but how the show will look too. Production design has been a major focus since the reveal of Enterprise's new bridge set in Discovery's season 2 finale. We've seen Discovery's own production design evolve over the years, will we see changes for Strange New Worlds?
"Yeah. It's a fine line because obviously we want to keep continuity with the storytelling and the style, but we also want Strange New Worlds to be a different show. It's not Discovery. There are a few more reach-backs (to The Original Series) and the uniforms have been adjusted slightly, the sets are slightly different. Remember the Enterprise existed as a little piece of [the show Discovery] but now its its own object. When you close your eyes and think of the key sets and situations that you think of The Original Series, that's what we're looking to do."
A big topic of debate is 'when did the idea of Strange New Worlds as a series actually came about'? Fans began campaigning for the show during Discovery's season 2 in early 2019, with Anson Mount beginning work on the series in 2018. We also learned that the decision to make Enterprise Short Treks happened at the end of filming, before season 2 had even aired. While fan support was certainly a factor, it seems we have Akiva Goldsman (along with Alex Kurtzman) to thank for helping to ensure Captain Pike got to boldly go to a show of his own.
"There are few things I will take credit for in the Star Trek universe but this is actually one of them. When [executive producer] Alex Kurtzman called about [joining the Discovery team], I was wildly envious of any involvement in Star Trek because I love it so much — my very first Star Trek convention was in 1975. I had no idea what his show was about, so I went online and I started reading that it was clearly going to be about Captain Pike and Number One. So that's what I thought I was going to join. Then I got there and it couldn't have had less to do with Captain Pike and Number One. So I started agitating for them because the timelines overlapped with Discovery and the Enterprise was out there. When the Enterprise appeared at the end of the season one, and once Anson and Rebecca and Ethan started living those characters in season two, I think it sort of became this wonderful inevitability."
ANSON MOUNT TALKS TO THE POD DIRECTIVE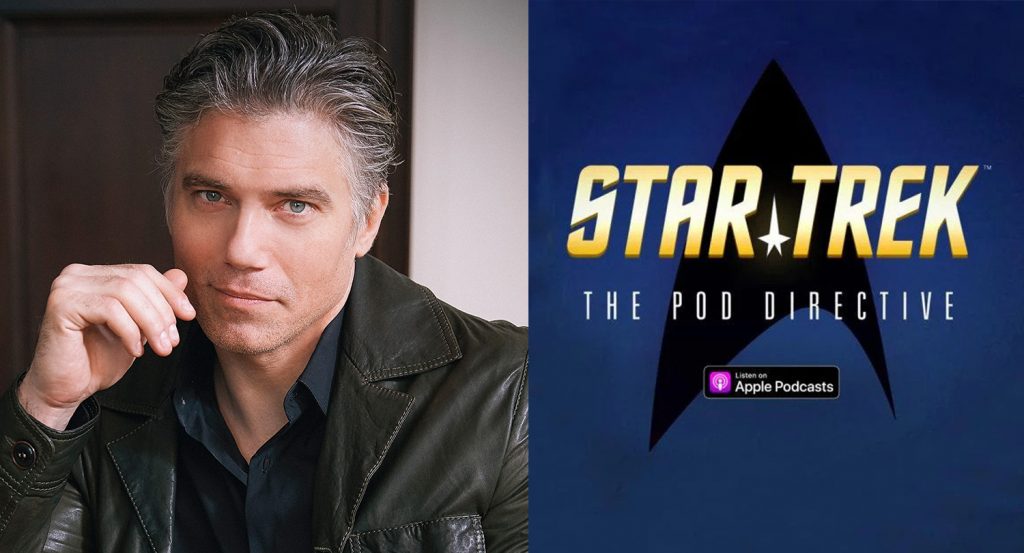 Speaking of Captain Pike, Anson Mount recently joined the official Star Trek podcast – The Pod Directive – in a new episode released last week. The actor has told his audition story many times, sharing that he originally was up for the role of one 'Captain Parker', which of course turned out to be Pike. And finding the right actor for the job might just have helped make the dream of a new Enterprise series all the more a possibility.
"I found out much later, actually just a FEW months ago. Alex [Kurtzman] & Akiva [Goldsman] told me that they'd actually been talking about this idea of doing a Pike series well before they even cast me."
For the actor, taking on such an iconic role – Star Trek's very first Captain – was a huge responsibility. It came with more than a little pressure, even without knowing there were hopes of a series riding on the character's success.
"I know how much it means to the fans… if you think about it, Pike was Roddenberry's originally conception of what a Starfleet captain should be. So he has to be the embodiment of the idealism that lived inside of Gene Roddenberry".
Like his showrunner, the actor also spoke about the shift in format for Strange New Worlds to a more episodic storytelling, going back to where it all began.
"I'm also excited about the fact that we're going to be doing more of an old school Trek. A lot of the iterations in this current generation of Trek, the storylines tend to be serialised, which comes with a lot of benefits. But I grew up on an episodic Trek, where there was a big idea of the week, or the planet of the week, and we're going to be getting back to more of that. So it's not just going to be in the look, but it's going to be in the overall structure and feel of the show, that's why it's called Strange New Worlds."
Mount was asked about working on SNW now that production has officially gotten underway, though at the time of the interview shooting had not begun. Of course, he couldn't share much, but the actor did share a little of the experience, "I can't tell you anything other than my emotions about it. I can tell you I'm excited!"
Dr Douglas Vakoch joined Mount on the episode, and pointed out that the switch back to a Star Trek show focused on exploration was also beneficial for real world science. Vakoch works for METI (Messaging Extraterrestrial Intelligence) which Anson Mount recently joined, it's the successor of the SETI (Search for Extraterrestrial Intelligence)
"As this show goes forward, it makes it easier for us to do the work at METI. It's in our core mission, which is to reach out, to boldly go and create a vision of what we want to be two hundred years from now. We often talk about science informing science fiction, but science fiction can also pull science forward."

Dr Doug Vakoch talking on The Pod Directing season 2.
Strange New Worlds looks set for a 2022 premiere, so we've still got a while before the show arrives. So far we've not seen a single frame or photo of the new show, with all publicity materials taken from Discovery and the Short Trek episodes. With new technology helping to speed up the production process, hopefully a new trailer will be revealed soon. We certainly can't wait to finally see how Strange New Worlds will shape up!
Read the full interview with Akiva Goldsman on The Hollywood Reporter, and you can catch Anson Mount's full episode of The Pod Directive on Spotify.
Also, from Trek Central:
---
Don't forget, you can also get involved via our social media platforms:
▶ Facebook – https://www.facebook.com/TrekCentral
▶ Instagram – https://instagram.com/TrekCentral
▶ Twitter – https://twitter.com/TheTrekCentral
▶ YouTube – https://youtube.com/TheTrekCentral
▶ Discord – https://discord.gg/f62Gbcu