Star Trek: Discovery made its long awaited return last week with the 4th season premiere (in North America). And it's not just the show that has things to celebrate, as Trek Central welcomes a new member to the writing team! Michael D. Stark makes his debut with his thoughts on why the show has finally found its stride with a season premiere that really hits the spot.
Welcome to the team Michael!
---
WARNING: MINOR SPOILERS AHEAD
---
Review: 'Kobayashi Maru'
I'm what I would call a casual Star Trek: Discovery viewer. I've been watching Star Trek my entire life, thirty-some years now. It's a franchise I love dearly. But with a franchise as vast as Star Trek, there are bound to be iterations I like more than others. Discovery, through its first three seasons, hasn't connected with me. There are a few prominent reasons, particularly around character development, that haven't landed with me — which is fine. I still watch it hoping I'll enjoy it more. It just hasn't happened.
Until the season four premiere. I loved it. Every minute.
Discovery's central problem for me was that its main character wasn't the captain. It's a fascinating idea, in theory. And it was one I found intriguing before the show premiered. In execution, it never quite worked. Michael Burnham has always been the central character — and in most ways — the leader of the USS Discovery. But because she didn't have the rank, her decision-making seemed abrupt and insubordinate, even though I could tell it wasn't meant to come across that way in the writing or the performance.
While the show has gotten better with each season, the fourth season is the one I finally found myself longing for. Michael Burnham is finally the captain. And she looks tremendous in that chair. This premiere episode, "Kobayashi Maru", had Captain Burnham's full qualifications on display. She shined. She showed diplomacy, empathy, and a willingness to lead. Note, her ongoing temptation to be the savior is still there, and it is being monitored (more on that later). But she's a great captain.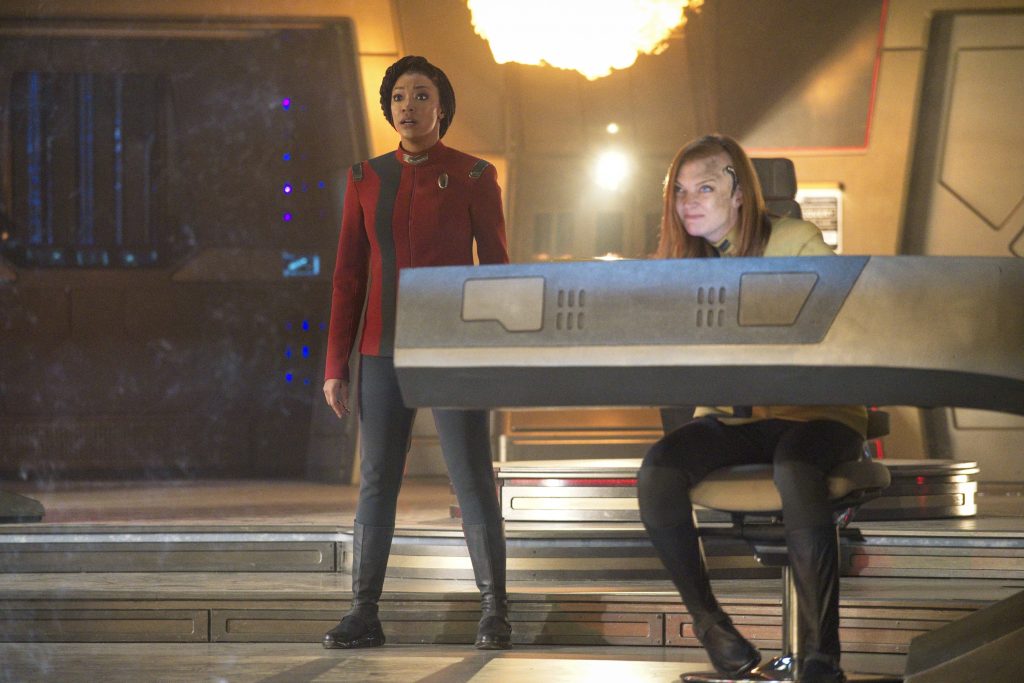 There's a wonderful side effect of Michael Burnham's captaincy: the other cast members also get to thrive. One of my bigger issues with Discovery up until now is that there's been little exploration of characters other than Burnham (minus, say, Saru & Tilly). With Burham finally being the captain, she's needing to rely on her officers to perform their jobs and do them well. This episode was a fantastic away mission episode and required several of the others to make their impression to save the deep space station. I hope to see much more of this as the series progresses.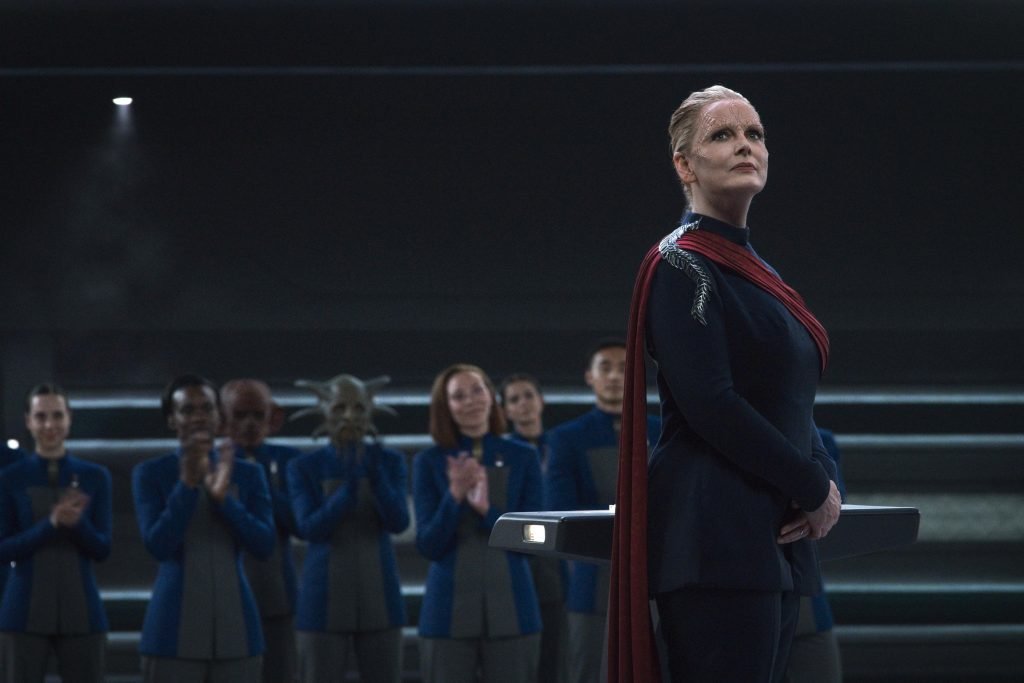 Now to Federation President Rillak. Her character introduction was fantastic. I'm already intrigued by her origins as a Bajoran-Cardassian individual, and she's a fantastic political figure. Yet what I am most curious about is what her relationship with Burnham will turn out to be. I got vibes of an antagonistic relationship based on pride – two individuals wanting to vie for prominence. I also took in what appears to be a mentor type role that Rillak might play. Perhaps most likely is a combination of the two: a gadfly dynamic in which Rillak tries to help Burnham become a better leader through criticism of her decisions. That was certainly on display here with the discussion of Burnham's Kobayashi Maru scenario. I can't wait to see where this goes, and but I'm hoping it's not a season-long arch of Burnham having to "prove" herself as the captain. She was promoted for a slew of reasons that justify her position entirely. Let her thrive, and help her become an even better leader through an examination of her decisions.
Overall, I loved the start to this season. I can't wait for more. Let's fly. 
Image Credits: Photos by Michael Gibson – Paramount+ © 2021 CBS Interactive.
* * *
HOW TO WATCH
Star Trek: Discovery streams weekly with new episodes Thursdays on Paramount+ in the US. And on the CTV Sci-fi Channel at 9pm ET and next day on-demand streaming via Crave in Canada. It is also available from Friday November 26th in additional Paramount+ regions (Australia, Sweden, Latin America etc). And on PlutoTV in Austria, France, Germany, Italy, Spain, Switzerland, and the UK, streaming live at 9pm local time, with repeats on Saturday & Sunday at also at 9pm. Some select countries will also be able to purchase digital downloads via participating platforms.
---
VIDEO REVIEW – 4×01 Kobayashi Maru
You can also check out Trek Central's Captain Jack as he dives into the Star Trek: Discovery season premiere with our weekly in-depth review. If you haven't seen the episode we recommend skipping this video, or if you enjoy being spoiled, then hit that play button!
More from Trek Central:
Join the Star Trek conversation via our social media platforms:
▶ Facebook – https://www.facebook.com/TrekCentral
▶ Instagram – https://instagram.com/TrekCentral
▶ Twitter – https://twitter.com/TheTrekCentral
▶ YouTube – https://youtube.com/TheTrekCentral
▶ Discord – https://discord.gg/f62Gbcu