The situation around the cancelled Star Trek event, "Destination Star Trek", has taken another turn. Now a whistleblower exposes Paramount's decision To cancel the Destination Star Trek event, according to their statement. Following the event cancellation and news that fans could not get refunds, one employee has taken to social media to expose Paramount Global's involvement in the cancellation of the event. The full unedited statement posted to social media can be viewed below.
Jill Ubdegrove, Marketing Director at Showmasters LTD / Massive Events LTD has taken to social media to state her frustration about how fans are being treated. Additionally, she states how Paramount Global has cancelled the London event in the midst of pulling back European event coverage. Jill is a veteran employee of Massive Events, having been with the company for 9 years. Previously working for Media 10 LTD, a company associated with the promotion of Destination Star Trek events.
During her statement, Jill states her frustration at how Paramount is not owning their own actions which is resulting in harm to the Star Trek fandom. Additionally, she has decided to go public so that fans can actually understand what is going on. She's also outright stated that it is Paramount that made the decision to cancel the event and therefore are the ones responsible for the ongoing damage to the fandom right now.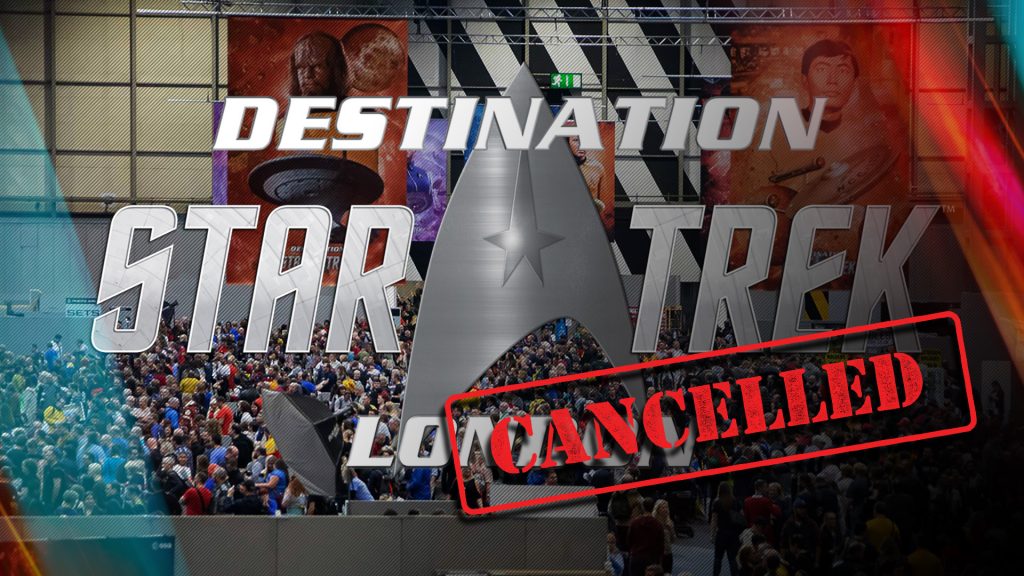 Paramount's Involvement
The statement posted by Jill shines a light on what she states is Paramount Global's involvement in the cancellation of Destination Star Trek. Note, as the company was previously called ViacomCBS, her statement refers to Paramount Global as the former company name.
The statement says Paramount wanted to cancel both Destination Star Trek events for 2022. This included both DST London, as well as DST Germany. However, as of the time of writing, DST Germany is still planning to go ahead in September. Jill refers to the fact that Paramount does not want to run events in Europe anymore. Thus, cutting off a large part of the Star Trek fan base and leaving them in the dark.
"Then in early May I was aware more conversations took place, and then in late May I heard that Viacom had sent their answer. London is cancelled, but the German event can happen. Talking to Jason and Mark they told me that VIACOM just did not want to do big events in Europe anymore. They had decided that they wanted to just do the odd small gatherings for promotional purposes going forward, and the idea of any official celebrations where fans can get together are over."

Jill Ubdegrove – Massive Events LTD / Showmasters LTD
All that effort to survive lockdown to now deal with this cancellation, to all the fans this effects and there is also the guests that have been booked in good faith, VIACOM has called the shots on cancelling DST London and it's important to note that Viacom do this with nothing to lose financially at all, it's just Massive events that lose their money and fans are left disappointed.

Jill Ubdegrove – Massive Events LTD / Showmasters LTD
Official Paramount Comments
At the time of writing, Trek Central has reached out to Paramount Global for comment on the content of Jill Ubdegrove's statements. We have so far not heard anything back (but will update if we do).. However, the company did send us a statement following an inquiry after the cancellation of Destination Star Trek London last week. You can read that in full below.
Statement attributed to Paramount Consumer Products & Experiences

Given the unpredictable challenges of in-person events at this time, we wanted to focus all of our resources towards delivering one strong show for European fans as opposed to two events that are a few weeks apart. We look forward to celebrating with the fans later this year in Germany.

Paramount Global / Paramount Consumer Products & Experiences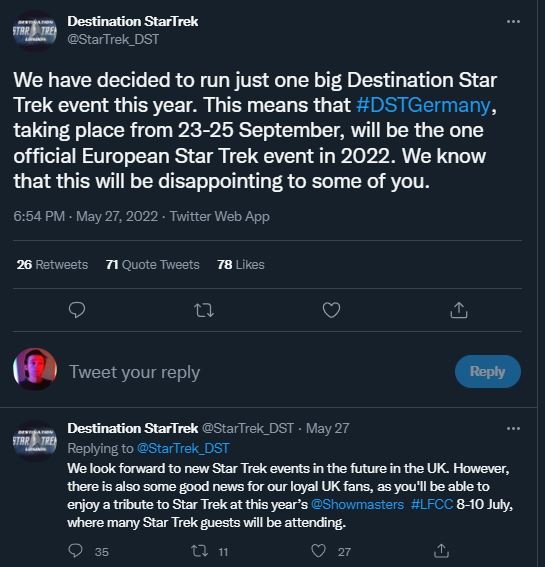 Fan's Seeking Refunds!
Obviously, fans' most immediate concern right now is getting their money back. And it's not just for event tickets, but photo ops, autographs, not to mention travel expenses and accommodation costs.
Standard tickets for Destination Star Trek London are £54 for the 3-day weekend. Packages, however, can run up to £2999. Add to that more pre-purchased photo ops and autograph tickets and it really adds up.
As the event was cancelled outright by the organiser, consumer protection sites note that event tickets at least should be refunded in full. Massive Events' terms and conditions even make note of this.

At the moment the organisers appear to be automatically issuing vouchers to their other shows like London Film and Comic-Con this summer. Not everyone can attend or even wants this option. However, most are having a very hard time contacting Massive Events to pursue a cash refund.
Fan shares successful refund process
We were contacted by fan Matt Davies who is one of the lucky few who succeeded in getting a cash refund for their event ticket. He had to try several times but eventually got his ticket money back.
Matt originally sought a refund via ticket issuer Eventbrite but was rejected. Like everyone else, he wasn't having any luck contacting Massive Events customer service.
Instead of going direct again, Matt lodged a dispute with Paypal (his original payment method). He used Massive Events' notice of cancellation, as well as a screenshot of their original terms and conditions. Paypal then accepted his dispute claim, leading to a chargeback against Eventbrite. As a result, they "proactively" decided to reverse their decision and sent a full cash refund. Within 24 hours of notice of that refund, he has now received back the full face value of his ticket of £145.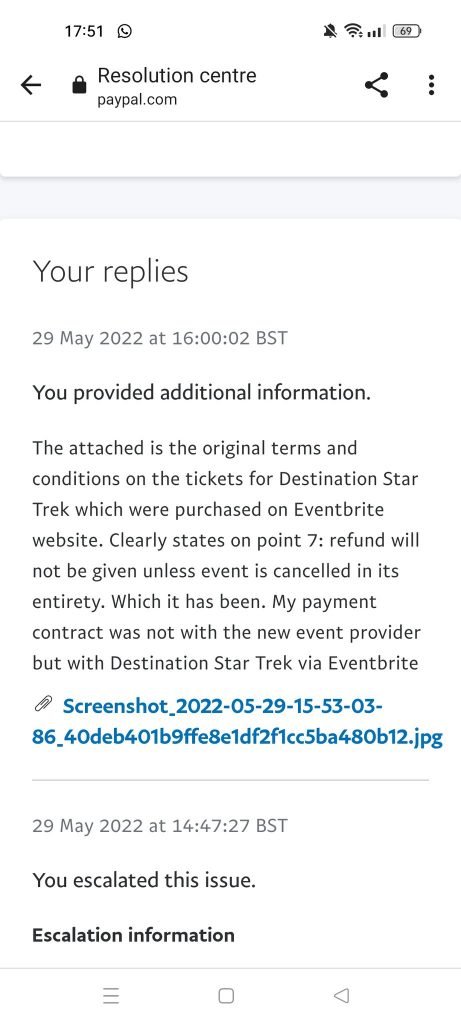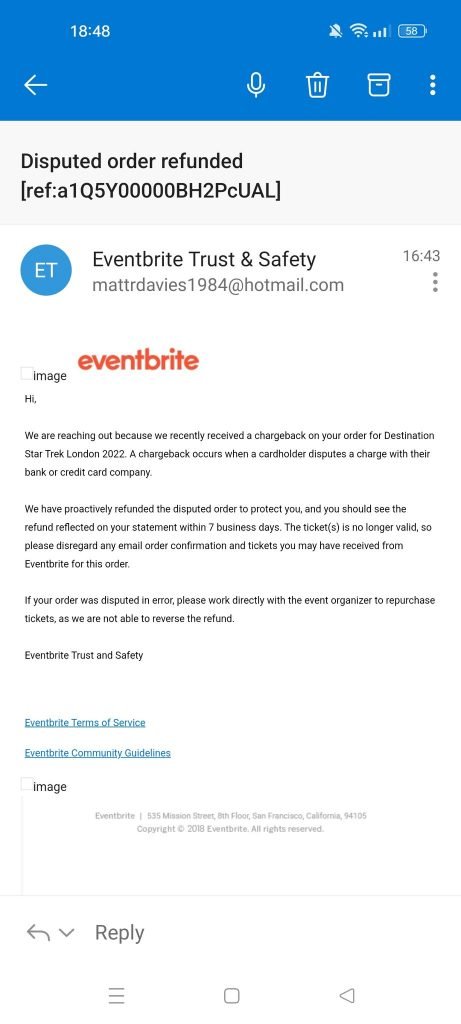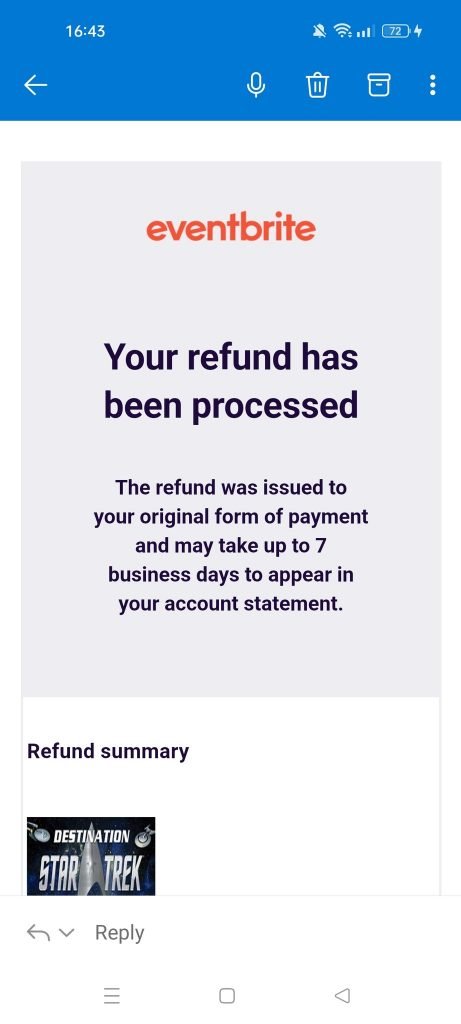 Fans also hoping to get a cash refund but struggling to so can try Matt's process. You first need to lodge a dispute with your payment method. If successful and accepted, they will then issue a chargeback for Eventbrite. To lodge that dispute you will need supporting evidence of the cancellation (the screens shots above), as well as the event's terms and conditions (the original version can be found via google cache here).
Full Statement From Massive Events Employee
Below you'll find the statement from Marketing Director Jill Ubdegrove in full and unedited. This has been posted in multiple online forums. As such, you'll find it currently in groups like "Destination Star Trek" and "UK Star Trek Fans" on Facebook. Additionally, the post is now circulating in other online forms and on social media platforms. Whistleblower Exposes Paramount's Decision To Cancel Destination Star Trek Event!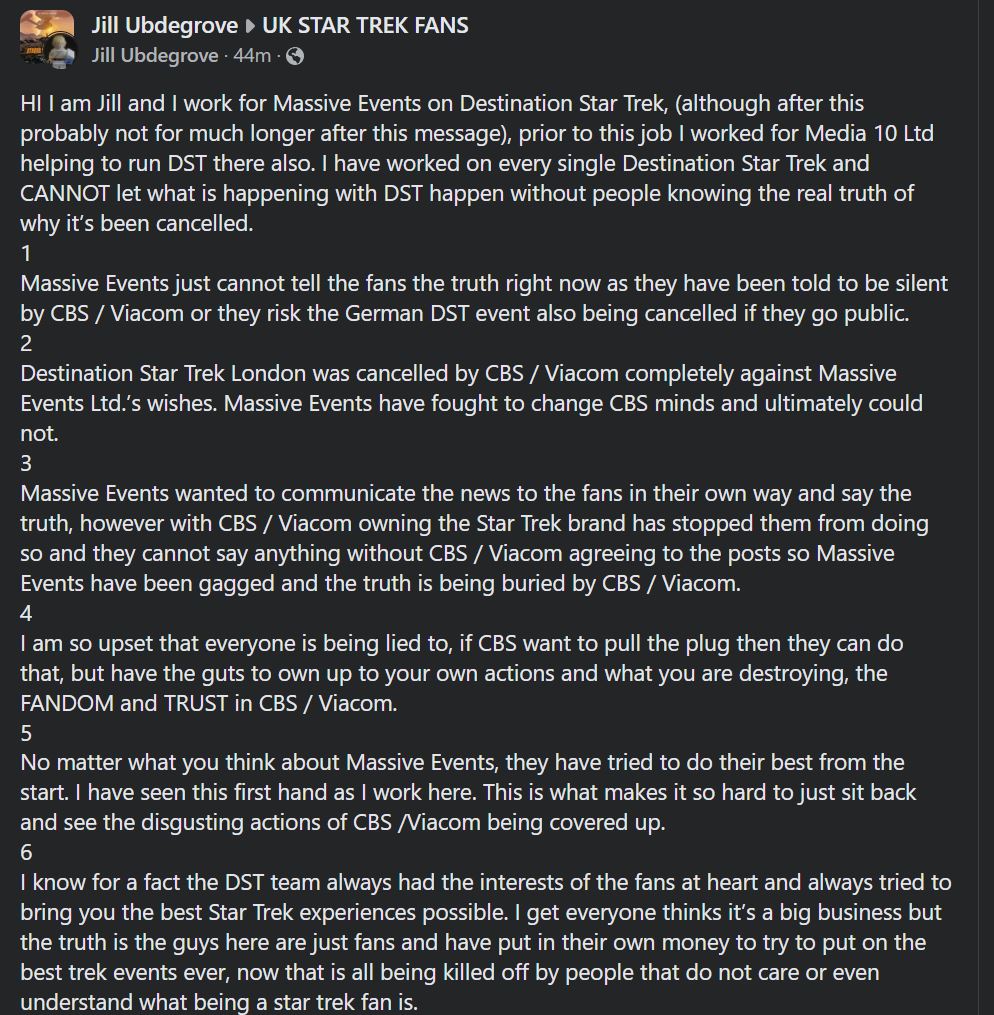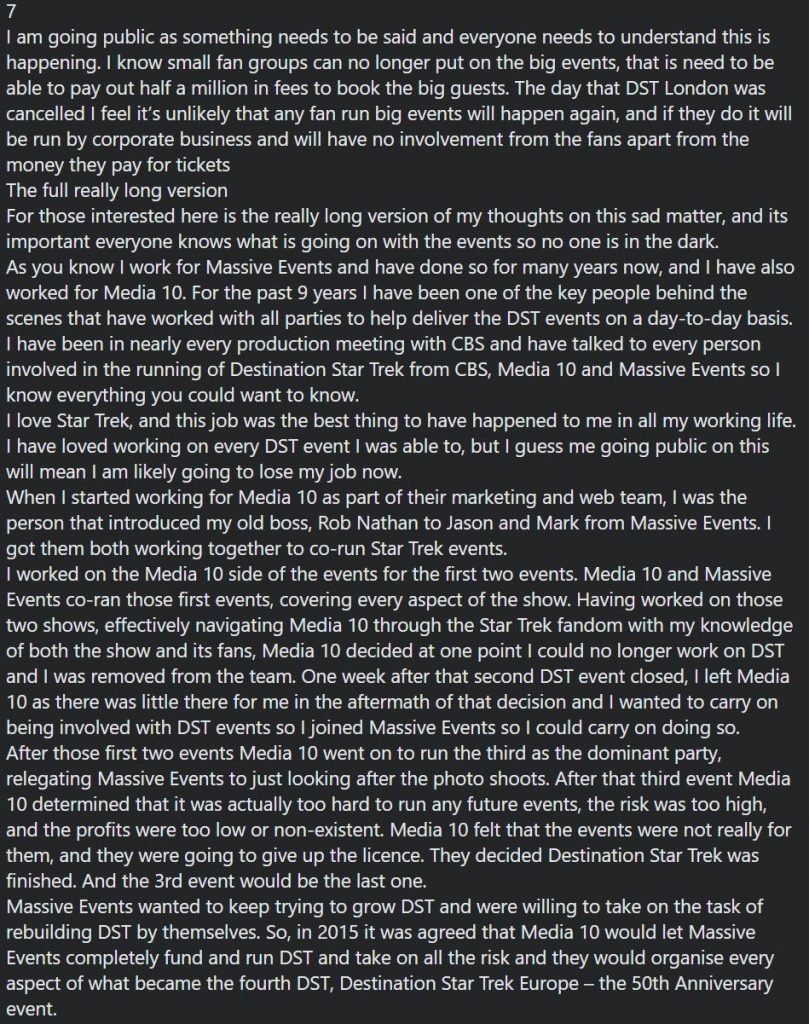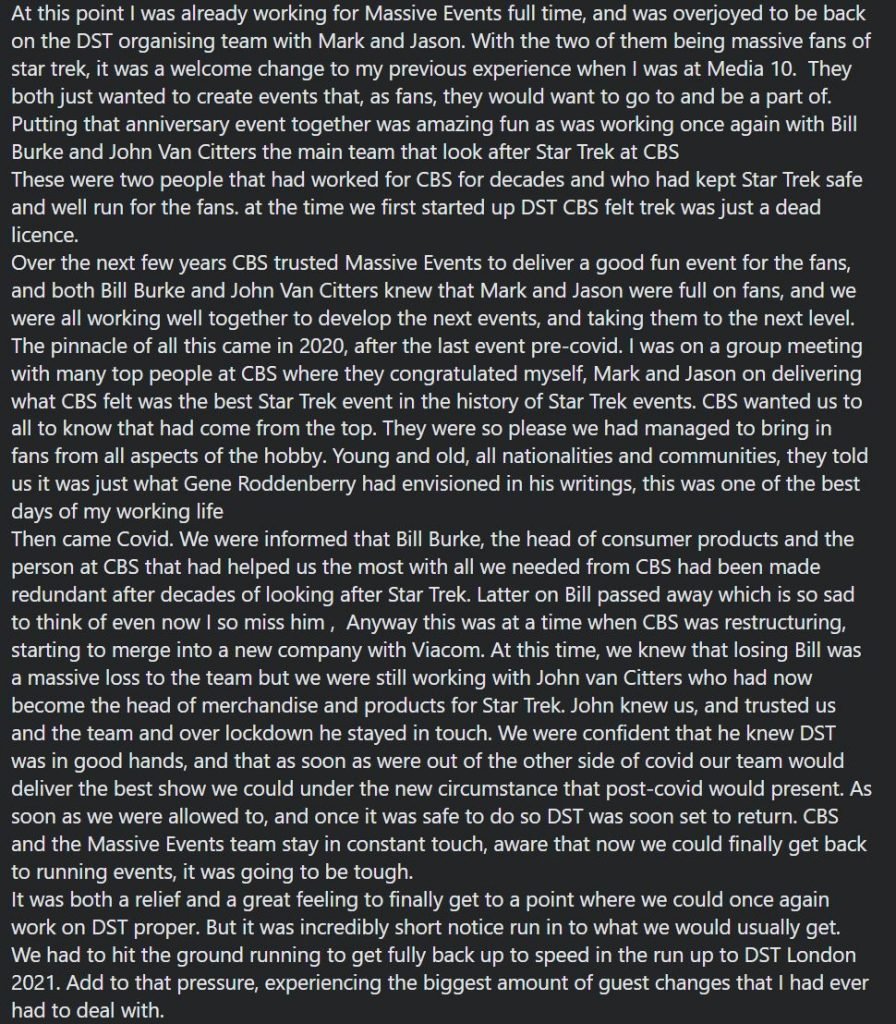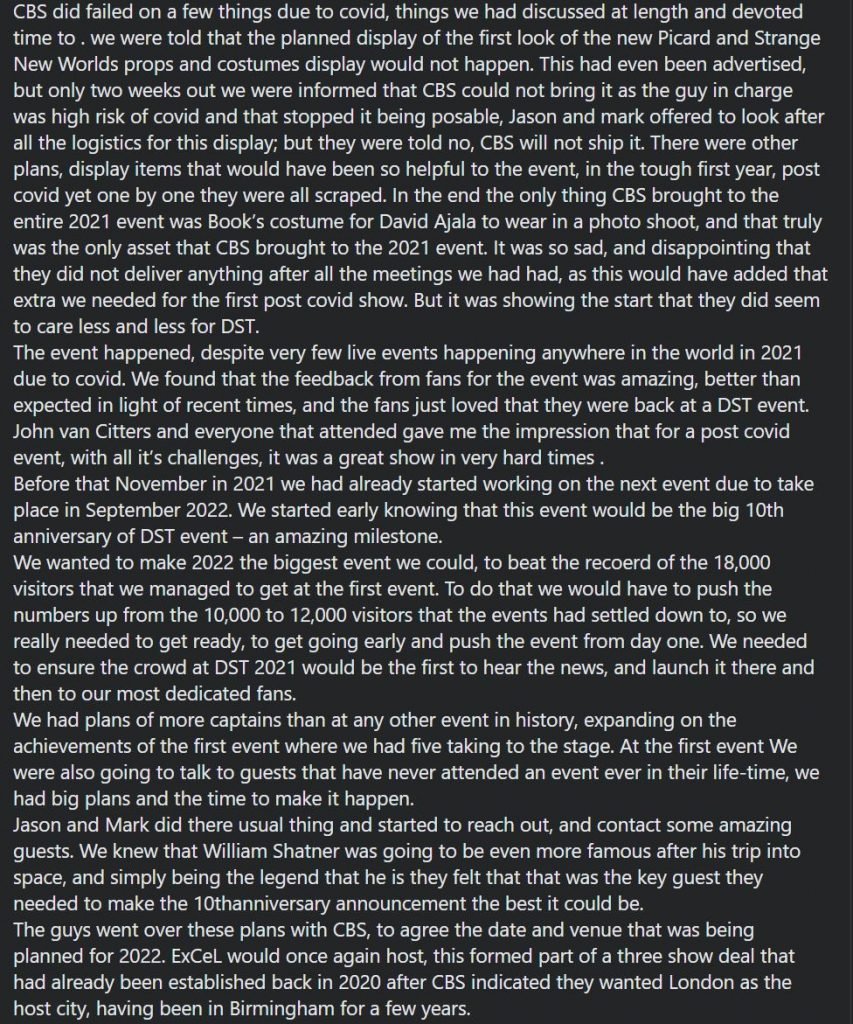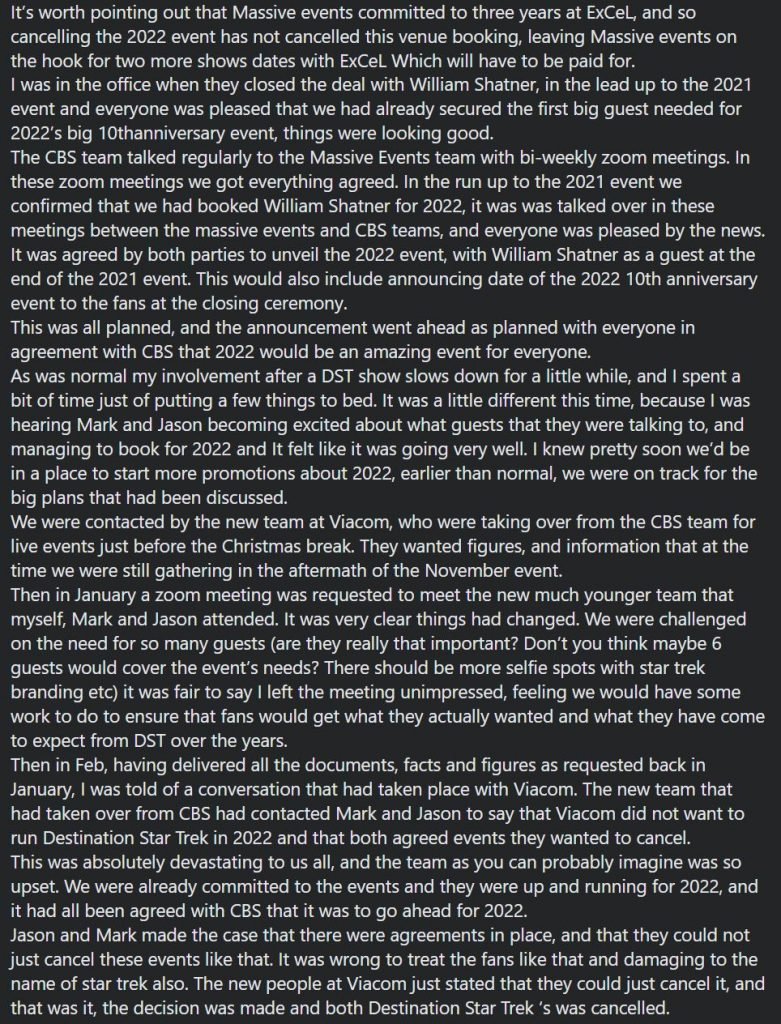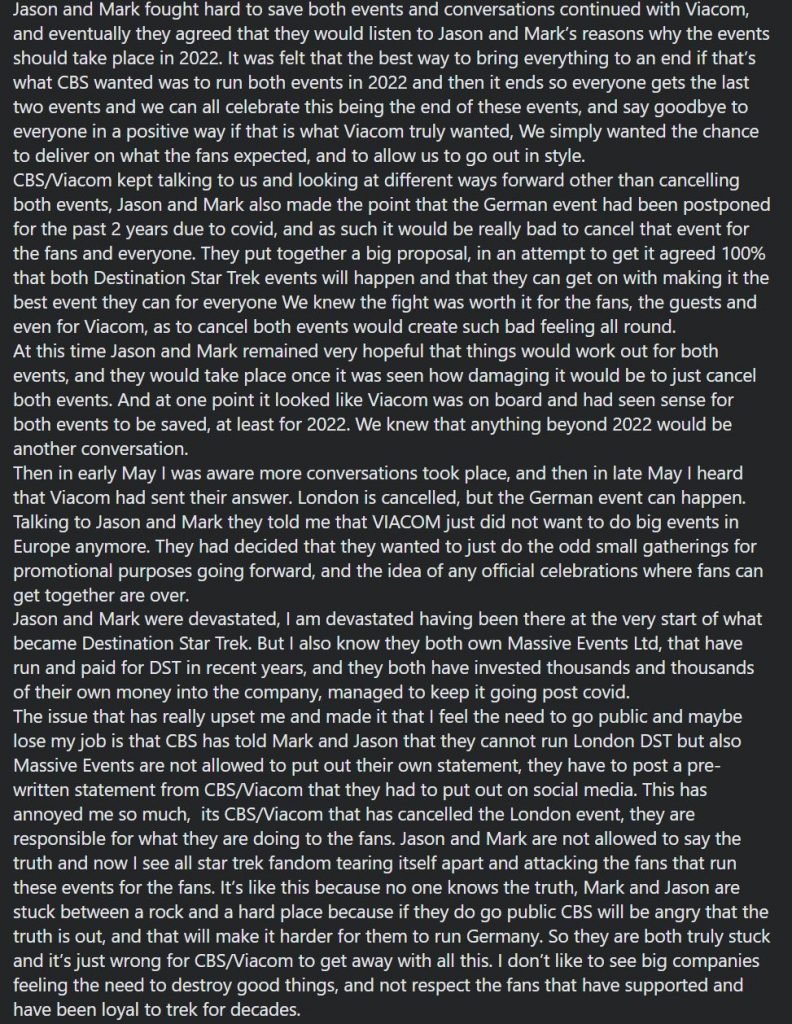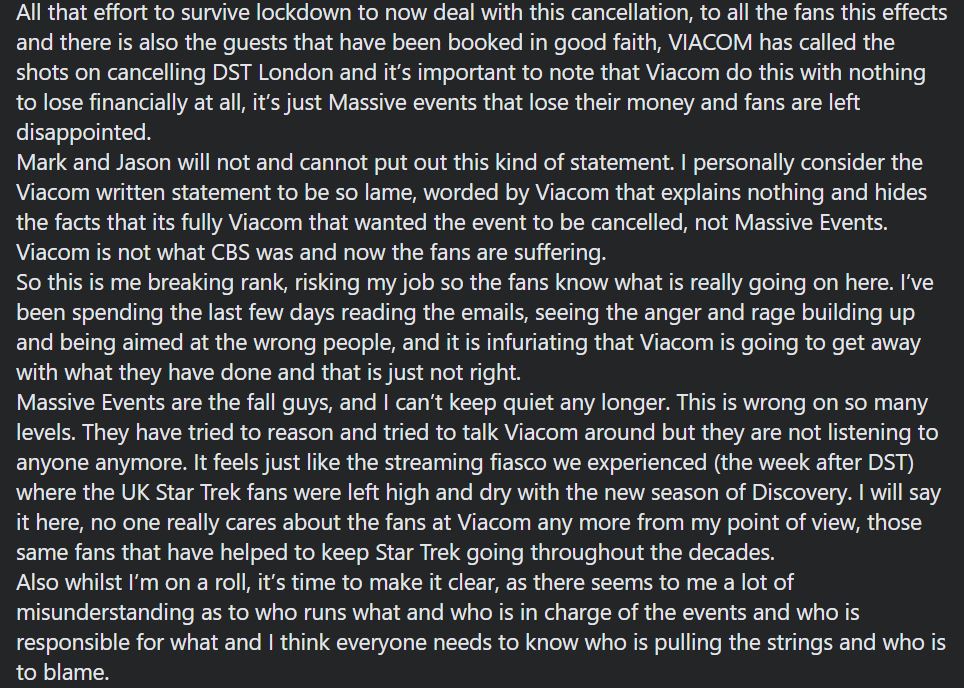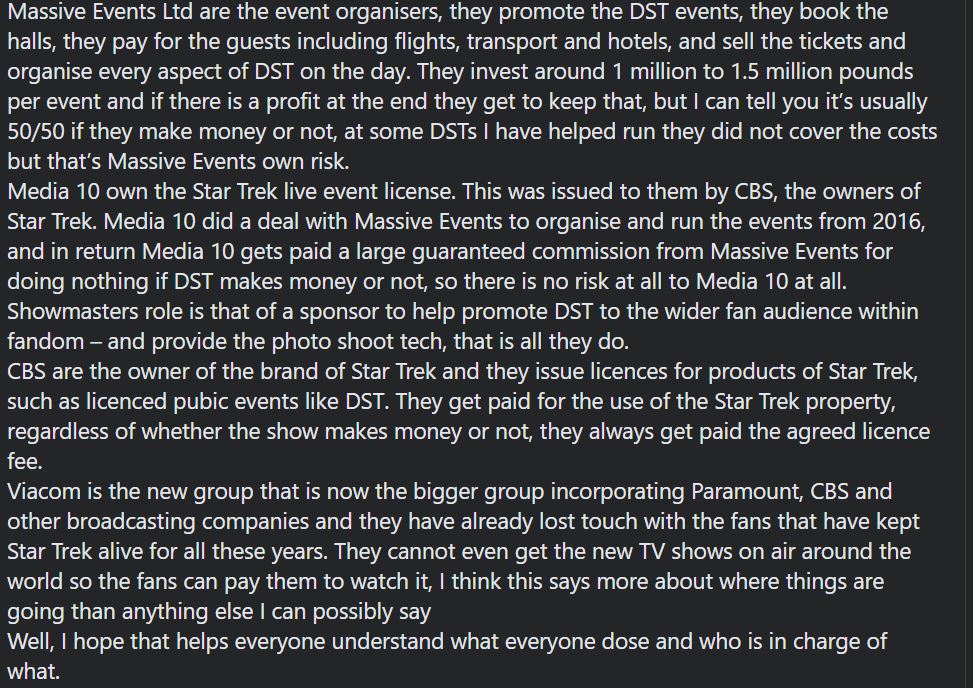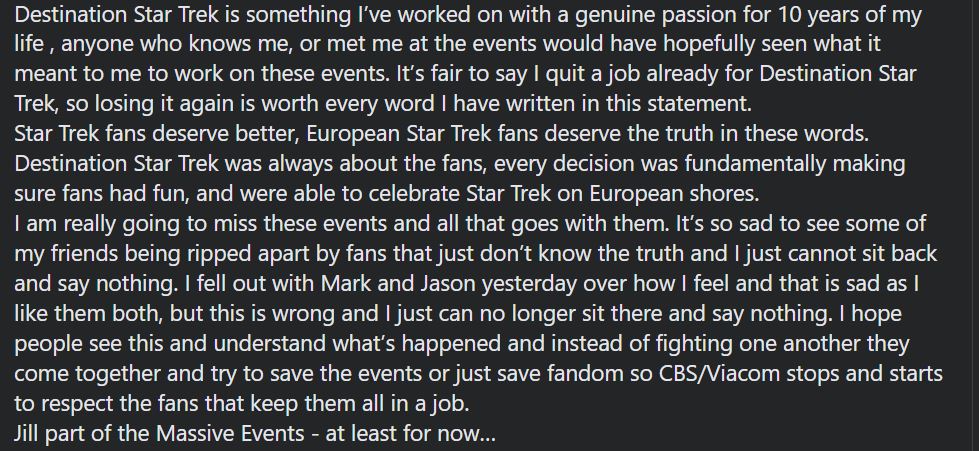 ---
More from Trek Central
? – STRANGE NEW WORLDS – Who Is Samuel Kirk?
? – REVIEW – Star Trek: Picard "Farewell" – 2×10
? – SNEAK PEEK – Star Trek: Strange New Worlds 1×05 "Spock Amok"
---
Join the Star Trek conversation via our social media platforms: