Get ready to beam down to a new adventure with Captain Christopher Pike (Anson Mount)! Honestly, can the creatives top last week's episode of Strange New Worlds? I'm not sure at this point. Either way, the upcoming episode 6 is looking fantastic. However, to show you what is coming up, we've got previews, trailers and more for Star Trek: Strange New Worlds 1×06.
"Lift Us Where Suffering Cannon Reach" is the title of Star Trek: Strange New Worlds 1×06. Additionally, the episode is written by both Robin Wasserman and Bill Wollkoff while being directed by Andi Armaganian. The synopsis of the episode reads as follows.
LIFT US WHERE SUFFERING CANNOT REACH — A threat to an idyllic planet reunites Captain Pike with the lost love of his life. To protect her and a scientific holy child from a conspiracy, Pike offers his help and is forced to face unresolved feelings of his past.

SNW 1×06 – LIFT US WHERE SUFFERING CANNOT REACH
Promotional Pictures!
Once again we've got a good look at the upcoming episode via promotional pictures. Additionally, read on further to watch trailers and teasers for the episode. Promotional materials reveal that actress Lindy Booth is this week's guest start and will be playing "Alora". Additionally, we've also got Ian Ho as "The First Servant" and Huse Madhavji as "Elder Gamal". Take a look below, you'll also spot them in the teaser trailers.
Strange New Worlds 1×06 – Teaser Trailer
Pike's getting a guest this episode it would seem! However, this guest does point out the colour of Pike's Captain's uniform, which does fluster him a bit. Thanks to both this clip and The Ready Room clip it's established the captain has a previous relationship with this person. We're also treated to a great VFX flyby of a city in the clouds. However, is this Stratos from The Original Series, or perhaps a new location?
However this episode actually unfolds, it looks to be jammed packed with Star Trek quality that we've come to expect from Strange New Worlds. Seriously, watch the trailer below and you'll see ship battles, Pike kissing someone and apparently a boy king? Additionally, did we just get some Spock sarcasm? We'll never pass up that opportunity!
Exclusive Clip – The Ready Room
This week's Ready Room teaser clips build into the teaser trailer. We're informed that Pike does indeed have a previous relationship with this character. However, to what extent we do not know, it does make the captain awkward. Additionally, this character has a habit of getting into awkward situations with shuttles it would seem.
One bit of the teaser trailers that does raise eyebrows is the mysterious child. They're seen in both the teaser and clip and appear central to the storyline. Additionally, the Ready Room clip gives us more questions. For example, when Pike asks if the man accompanying the boy is his father, he answers that he is only in a biological sense? What does this mean? Likely it will play a part in the episode coming up. Either way, watch the ready room clip for Star Trek: Strange New Worlds 1×06 below.
Conclusion
I'm personally really keen to see the Enterprise in combat once again. Seriously, every time we see the ship fire phasers or torpedos, it puts a smile on my face. However, will the upcoming episode give me this, or is that phaser shot in the trailer just a bit more of a hard warning? We'll wait and see to actually find out.
Star Trek: Strange New Worlds 1×06 "Lift Us Where Suffering Cannon Reach" airs on Thursday, May 5 via Paramount+ in the USA, Australia, Latin America, and the Nordics. Additionally on the CTV Sci-Fi Channel and Crave Streaming in Canada. Plus Voot Select in India, TVNZ in New Zealand, and Cosmote TV in Greece. Additionally, the streaming service will also land in the UK & Ireland on June 22nd, 2022.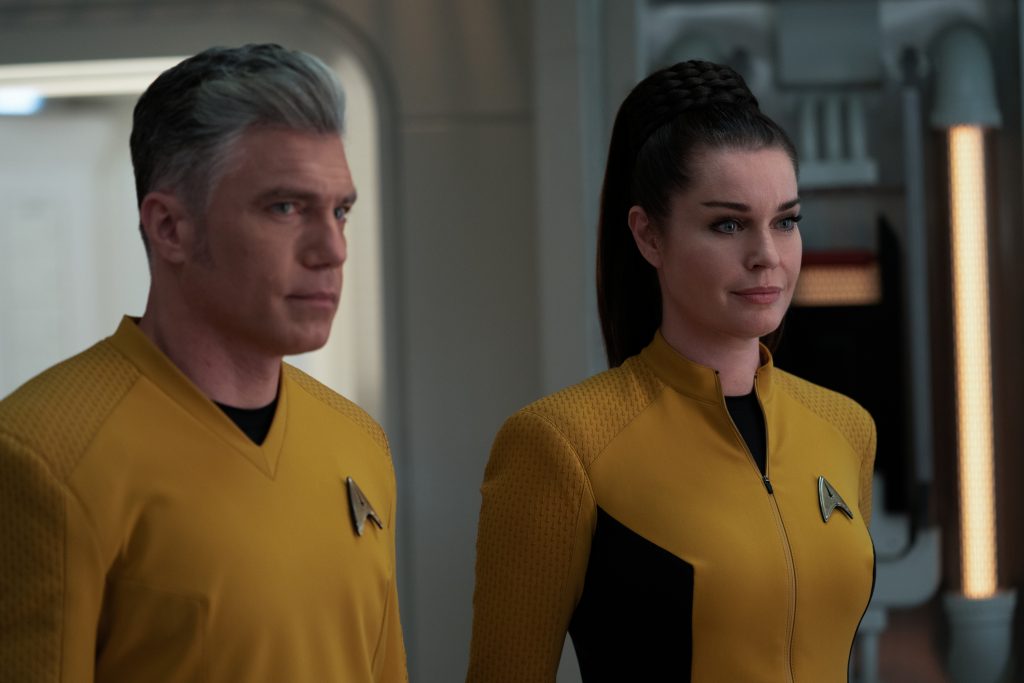 ---
More from Trek Central
? – STRANGE NEW WORLDS – Who Is Samuel Kirk?
? – REVIEW – Star Trek: Picard "Farewell" – 2×10
? – Everything We Know About Star Trek: Discovery Season 5
---
Join the Star Trek conversation via our social media platforms: