It's time for our weekly preview of Star Trek: Strange New Worlds Episode 7! What adventures are we finding Captain Christopher Pike in this week? We've got promotional pictures, teaser trailers and more juicy details for you. Additionally, it's only just over a week until Paramount+ lands in the United Kingdom & Ireland. However, other regions will still have to wait to watch Star Trek: Strange New Worlds.
Star Trek's big news this week is that Jesse James Keitel will appear in the upcoming episode of Strange New Worlds. Keitel joins the show as a guest star role as a nonbinary character. The character is called "Dr Aspen", who according to Variety, once worked as a Starfleet Counsellor. However, they've since shifted careers to work as a humanitarian aid worker. Titled "The Serene Squall", the episode is also directed by trans filmmaker Syden Freeland.
While on a dangerous humanitarian mission, the crew of the U.S.S. Enterprise stumbles into a harrowing game of leverage with the quadrant's deadliest space pirate.

Star Trek: Strange New Worlds Episode 7 Synopsis via Paramount+
Promotional Pictures
Take a dive into the promotional pictures for Star Trek: Strange New Worlds Episode 7. We've got fantastic looks at Captain Christopher Pike and the crew of the USS Enterprise, including a new look at this week's enemy.
Teaser Trailer
Honestly, this week's teaser trailer for Star Trek: Strange New Worlds Episode 7 has me hyped. We're dealing with pirates, who seemingly look like they have Tholian web technology. However, I doubt this is the case and it does just look similar. Additionally, we've got some pirate boarding action going on. It takes me back to the days of Star Trek: Enterprise and such. Now if only we had the MACOs onboard Pike's Enterprise, sadly they're not around anymore.
From what we can tell, it looks like the crew does end up separated. Pike is seen being held in a warehouse by the pirates, while Number One is in command of the Enterprise. Additionally, there is a fight scene taking place on the bridge. Likely as the pirates attempt to take command of the Enterprise. However, as Variety reported, it seems like Doctor Aspen will form a good connection with Mr Spock, as they're both seen together.
Ready Room Clip – Strange New Worlds Episode 7
The Ready Room Preview Clip throws viewers straight into this week's episode. We're seeing Doctor Aspen on the bridge and working with both Captain Pike and Mr Spock. But, are they all going to get out of this safely? Additionally, this is the point in the episode where we are introduced to the "Net", or big web. Can we also take a moment to appreciate the shots of Enterprise navigating the asteroid field?
Conclusion
The upcoming episode looks fantastic. While last week's episode 6 of Strange New Worlds may have been very dark, this episode looks to be a mix. Additionally, we're getting an introduction to a new character. Having Jesse James Keitel guest-starring in the series is fantastic. The character of Doctor Aspen continues Star Trek's recent efforts to expand LGBTQ+ representation on Star Trek. Additionally, given this is in Pride month, it makes it even better.
Star Trek: Strange New Worlds Episode 7 "The Serene Squall airs on Thursday, May 5 via Paramount+ in the USA, Australia, Latin America, and the Nordics. Additionally on the CTV Sci-Fi Channel and Crave Streaming in Canada. Plus Voot Select in India, TVNZ in New Zealand, and Cosmote TV in Greece. Additionally, the streaming service will also land in the UK & Ireland on June 22nd, 2022.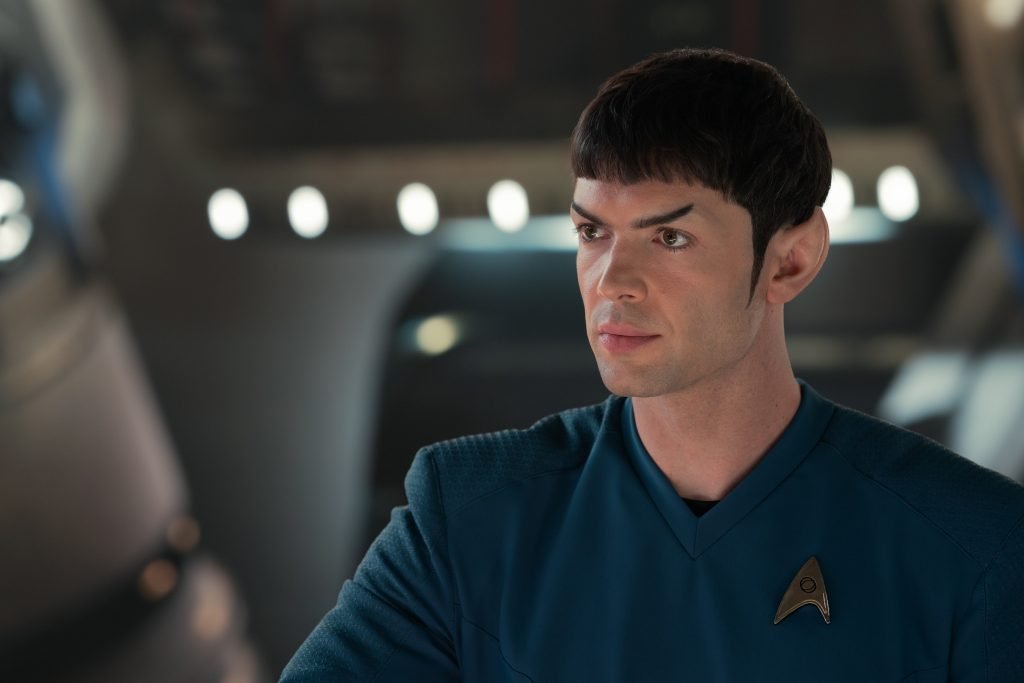 More from Trek Central
? – STRANGE NEW WORLDS – Who Is Samuel Kirk?
? – REVIEW – Star Trek: Picard "Farewell" – 2×10
? – Everything We Know About Star Trek: Discovery Season 5
---
Join the Star Trek conversation via our social media platforms: