Star Trek: Strange New Worlds is an episodic show, but it does have some continuity when it comes to its characters' arcs. Could episodes be even more connected than they first appear? Indeed they might be! And one connection, in particular, has had us dancing a merry jig towards what could be, a very special Star Trek storybook adventure.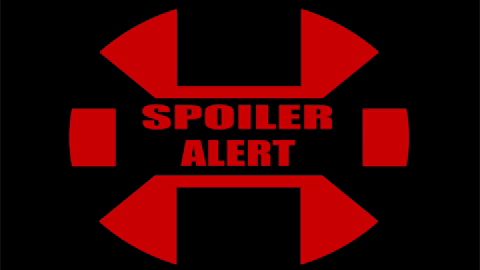 Please note this article has been updated. We now have more information on 'The Elysian Kingdom including a promo!
The latest Star Trek: Strange New Worlds trailer for episode 8 – The Elysian Kingdom, streaming from this Thu, Jun 23.
And oh boy, are we in for an epic adventure!
Since the first trailer one set of scenes, in particular, has caught our eye. Swashbuckling Ortegas? Wizard Hemmer? Queen Uhura? King M'Benga? Additionally, is Enterprise transformed into a fantastical setting? Was this a Star Trek storybook adventure?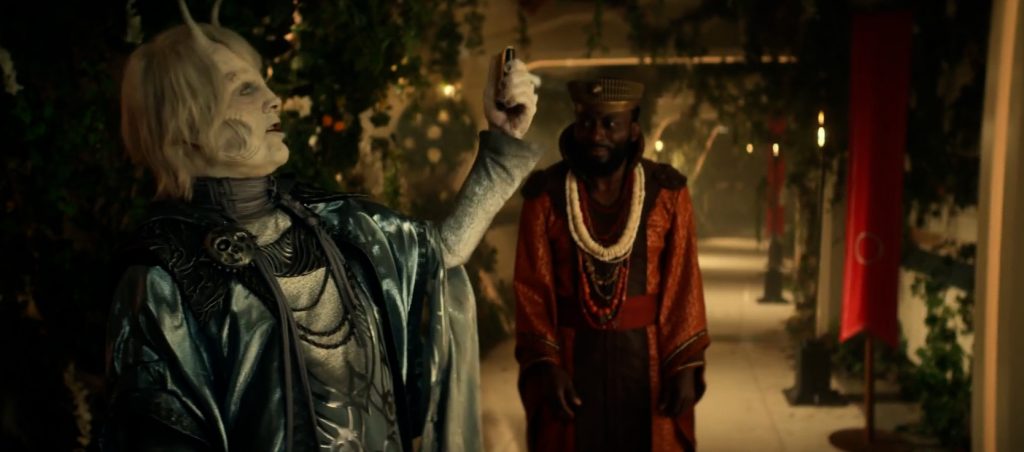 We've been calling this episode 'Medieval Fun Land' since the first full trailer (in reference to a hilarious Game of Thrones parody sketch video). Glimpses teased us with the hallmarks of one of those all-time-great episodes of Star Trek. Something a little different, and a whole lot of fun. But a more fitting title, however, might be "The Princess Bride episode".
For those unfamiliar with The Princess Bride, it is an epic fantasy adventure movie from the 1980s. It's packed with well-known faces, eminently quotable lines, and a sense of fun that made the film an instant classic. It's a story that depicts a grandfather reading a fantasy adventure novel to his sick grandson. The characters of the story are brought to life as the grandfather reads. And the action flips back and forth between the readers, and the book, immersing viewers in the world of its fairytale adventure.
Once Upon a Time
The upcoming Star Trek storybook adventure episode looks like it pays homage to the spirit of The Princess Bride. It is entitled The Elysian Kingdom and clues about its plot have been sitting right under our noses since before Strange New Worlds even premiered!
Costumes for SNW were on display at the Mission: Chicago event in early April. One of these was Christina Chong's spectacular 'Elysian Princess' dress. During the weekend, little info displays were added that identified the episode they were from. This included the episode title and Chong's costume noted it was for a 'Princess Thalia'.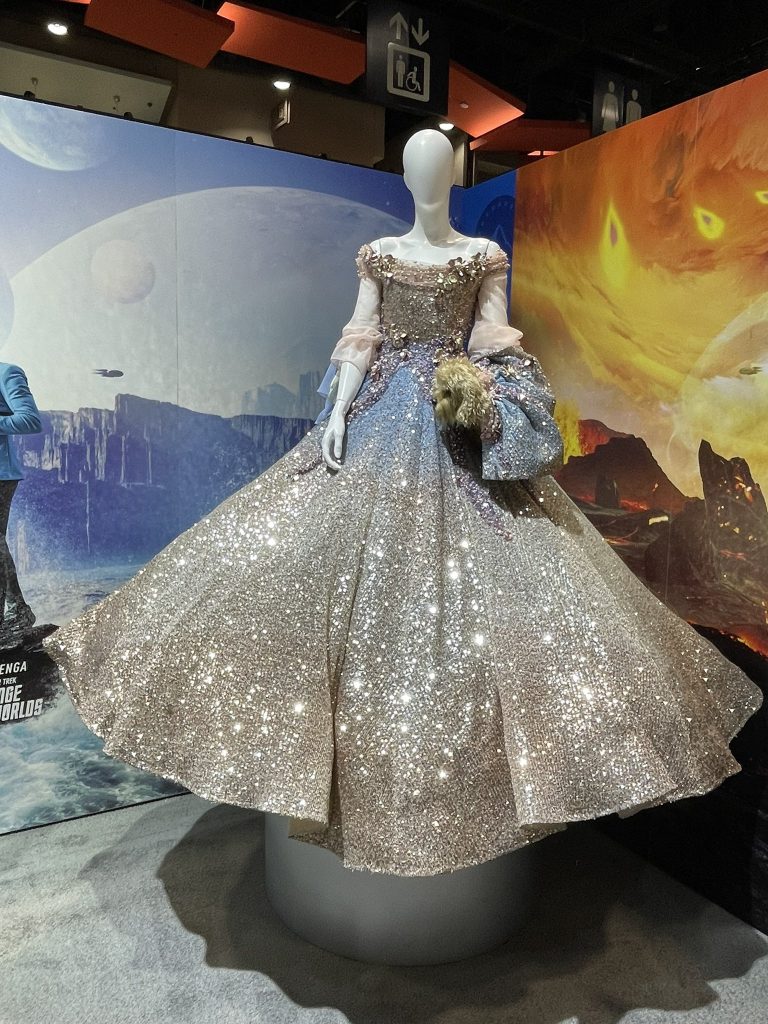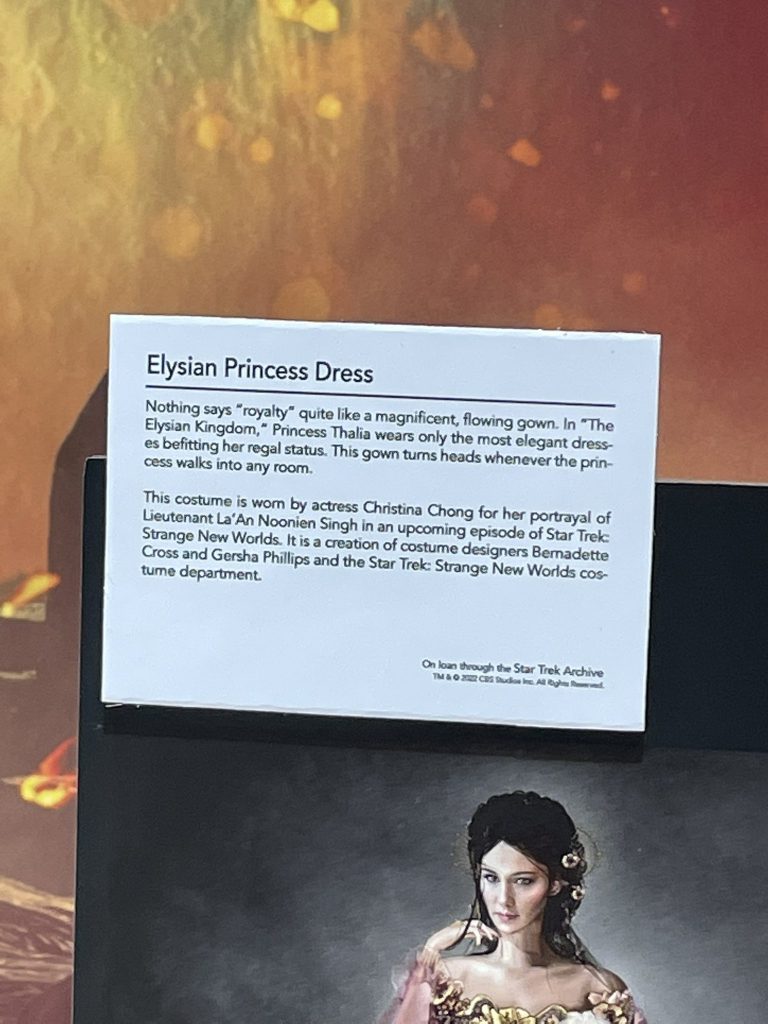 "King Ridley climbs the tower to rescue Princess Thalia from evil Queen Neve."

Rukiya to Dr. M'Benga – 'Ghosts of Illyria'
If you paid close attention to The Ghost of Illyria's ending, you might have recognized the name 'Princess Thalia'. The episode reveals Dr. M'Benga is hiding his terminally ill daughter Rukiya within the medical transporter system. While she is in the pattern buffer her disease does not progress. The doctor is desperately hoping, that somewhere out on the frontier is a cure for his daughter's disease.
Not Forgetting…
Periodically the doctor materializes Rukiya to check on her, and to spend a little time reading her favorite book. It is the tale of King Ridley & his quest for the Mercury Stone! And might also be, a Star Trek storybook adventure of its own.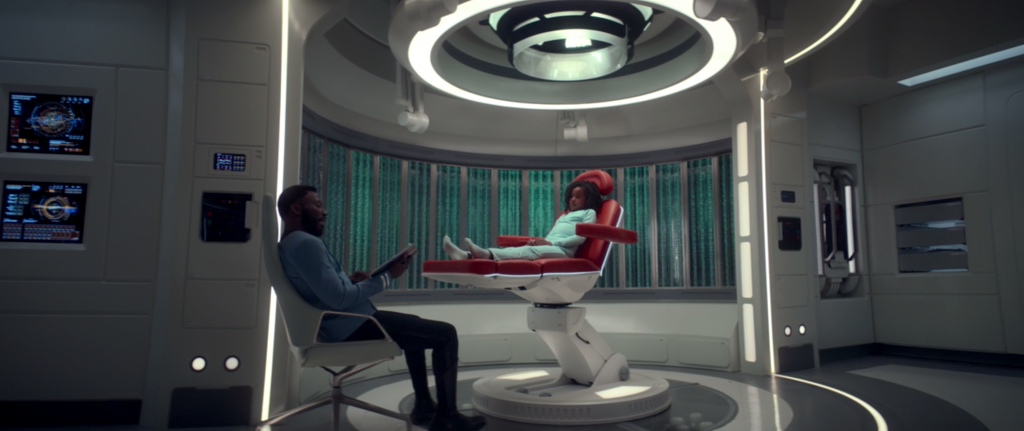 "King Ridley would seek out Mercury Stone, and win it as his own. His Victory over Queen Neve would be assured. It is said that in the right hands, the Mercury Stone has the power to cleanse the land of evil and bring prosperity to all. But if it were to fall into the wrong hands, the Mercury Stone would bring about a terrible, long-lasting dark age across the land."

M'Benga – 'Ghost of Illyria'
However, M'Benga added a little more to the tale in episode 6's 'Lift Us Where Suffering Can Not Reach'.
Fantastical alter egos?
So what triggers this crazy adventure? M'Benga notes in the promo that an 'entity' has "somehow trapped the ship and turned the crew into characters from a children's book". One glimpse at the scenes in the promo, and you'll spot the crew inhabiting their storybook alter egos. Uhura is 'Queen Neve', M'Benga 'King Ridley', plus of course, we already know La'An is Princess Thalia. But what about the rest of the cast?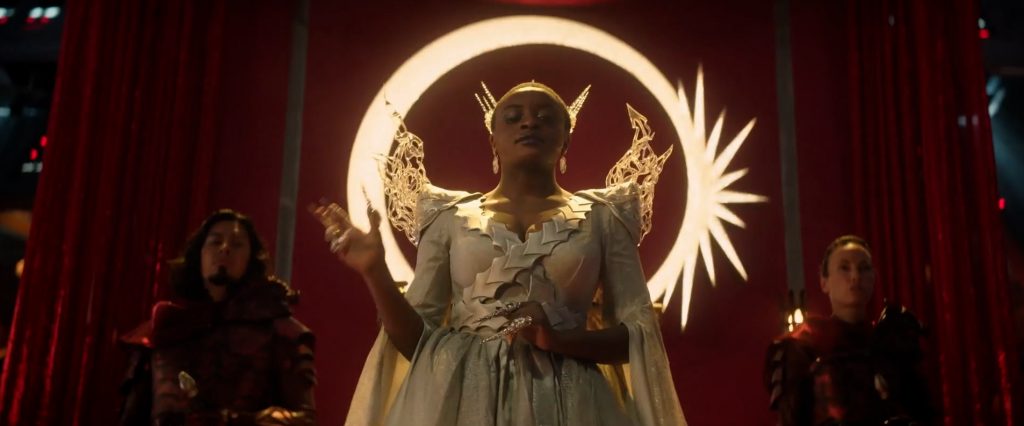 Hemmer appears to be the Wizard Pollux, declaring 'the magic of science!'. Ortegas' costume was also on display and described as an 'Elysian Knight'. She'll be swashbuckling her way through some sword-fighting action. Number One of course is the arrow-wielding, mysterious badass.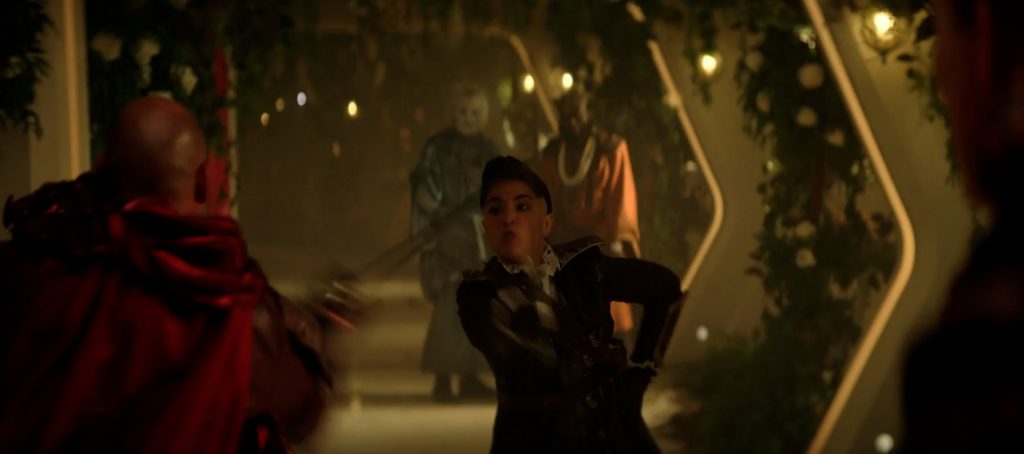 Pike takes on the role of some sort of court crony, Chapel appears to be a servant, and Spock some sort of mysterious stranger connected to Queen Neve!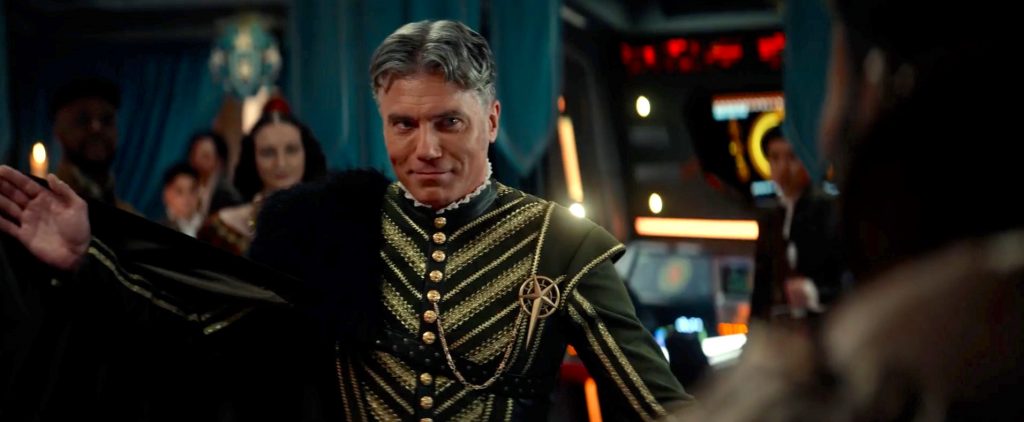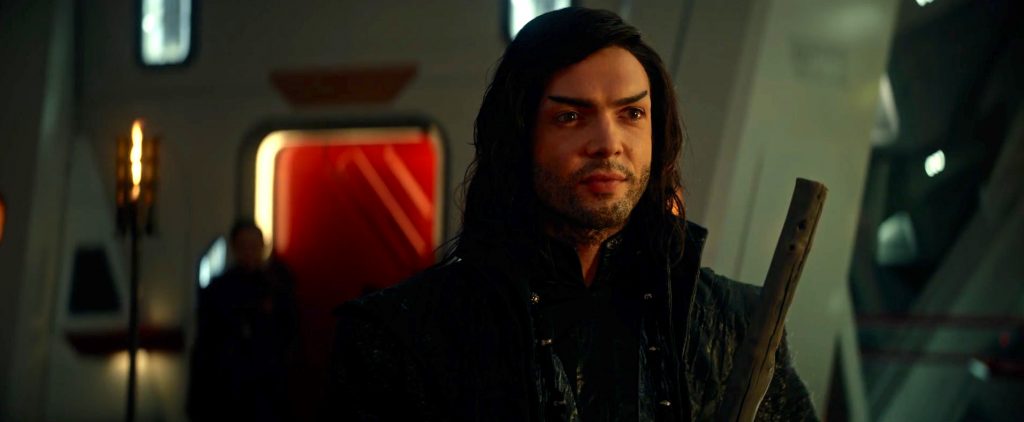 Strange New Worlds has taken delight in its episodic format, giving viewers everything from body-swapping hijinks to chilling mortality tales. And it's also given viewers some fantastic new insights into the show's character.
Hopefully, The Elysian Kingdom will delve deeper into Babs Olusanmokun's Dr. M'Benga and his daughter Rukiya. Maybe the episode will even confirm if Jabilo is his first name? Either way, we expect Strange New Worlds to deliver its own unique storytelling magic, and we can't wait to watch.
---
More from Trek Central
? – STRANGE NEW WORLDS – Who Is Samuel Kirk?
? – SNEAK PEEK – Star Trek: Strange New Worlds Episode 7!
? – Everything We Know About Star Trek: Discovery Season 5
---
Join the Star Trek conversation via our social media platforms: