I'm going to be honest, I was not expecting the upcoming episode of Star Trek: Strange New Worlds Episode 8. As you'll see in our sneak peek for the episode, featuring trailers and more, it's a weird episode. However, it fits with the episodic nature of the new series. Additionally, thanks to our galaxy-class team, it appears this story has been hinted at before in the series itself. Small world!
Titled "The Elysian Kingdom", the episode is a focus on the character of Doctor M'Benga. Portrayed by Babs Olusanmokun, we've grown to love our latest addition to the Star Trek "doctor's club". Additionally, his touching farther daughter story has caught the attention of many Trekkies.
Preview Pictures
We've been graced with new preview pictures for Star Trek: Strange New Worlds Episode 8! Take a look below and you'll be able to see.
Teaser Trailer
Immediately the teaser trailer for Star Trek: Strange New Worlds Episode 8 throws us into the action. Doctor M'benga has been summoned to the bridge of the USS Enterprise. We're aware of this thanks to the Ready Room clip which we'll discuss later on in this video. Arriving on the bridge reveals the weird and wonderful plot of this episode. Everyone is now dressed very… different to when we last left them.
You know I've got to say that Anson Mount is just brilliant. Obviously, we knew that anyway. But this week's and last week's episodes are really displaying the action potential of the captain in my mind. Sometimes I think Star Trek actors are locked to certain stereotypes. If it was not for Sir Patrick Stewart being so flexible with acting, Picard might have remained a very uptight captain that never laughed or smiled.
La'an does get a moment in this trailer. A moment I am concerned about seeing. I'm sure Christina Chong is an excellent singer, but damn, don't let this character sing. She says that if the king falls in battle, then she'll sing an EPIC song. I think M'bengaa's reaction sums up the whole experience.
Ready Room Exclusive Clip
Now the Ready Room clip for this week's episode actually sets us up with what has happened to the crew. Well, not massively, but it shows us the point at which things change for the crew of the Enterprise. It appears based on what is said, the ship is preparing to leave a system that contains a nebula. However, is the nebula the cause of this, or is the entity that is mentioned?
Upon trying to leave, the ship is rocked by some disturbance causing Ortegas to hit her head on the helm console. Captain Pike summons Doctor M'benga to the bridge for the medical emergency. M'Benga was actually in his quarters it would seem, even though it did look like he was having an issue himself.
M'benga is startled to find himself wearing the king's clothes. While Pike's character gets ready to make an introduction of sorts, a flashback reveals that the Doctor has been reading this story before. Of course, it is the book he has been reading to his daughter. Seeing the Enterprise dressed in this Elysian decor is rather weird. I think we're all on board with the doctor here when he has a WTF moment on the bridge.
Conclusion
Anyway, Star Trek: Strange New Worlds Episode 8 "The Elysian Kingdon" airs on Thursday, June 23rd via Paramount+ in the USA, Australia, Latin America, and the Nordics. Additionally on the CTV Sci-Fi Channel and Crave Streaming in Canada. Plus Voot Select in India, TVNZ in New Zealand, and Cosmote TV in Greece. Additionally, the streaming service will also land in the UK & Ireland on June 22nd, 2022.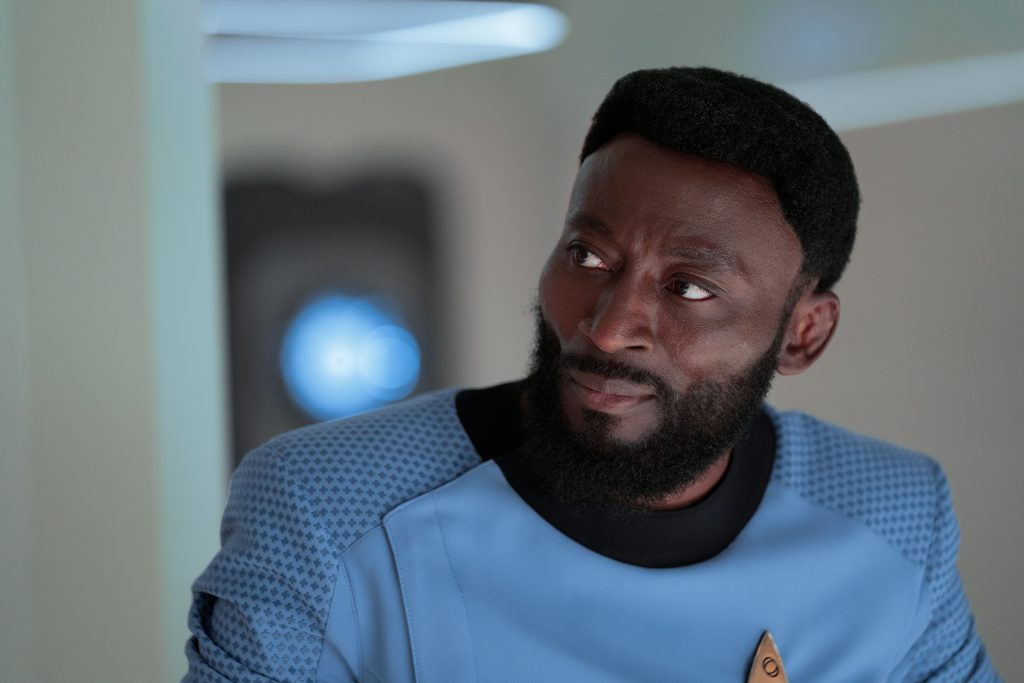 ---
More from Trek Central
? – STRANGE NEW WORLDS – Who Is Samuel Kirk?
? – REVIEW – Star Trek: Picard "Farewell" – 2×10
? – Everything We Know About Star Trek: Discovery Season 5
---
Join the Star Trek conversation via our social media platforms: