A sense of normality is returning to the world following the COVID-19 pandemic. However, for Star Trek events, that does not appear to be the case. Yet Friday the 27th brought the announcement of a surprising and disappointing cancellation. Destination Star Trek, which was due to take place in October later this year has been outright cancelled. Now, there is a new fan uproar over the cancelled Star Trek event, and organizer Showmasters Ltd., due to the lack of refunds.
Showmasters Ltd. or Massive Events Ltd. as they're also known released the statement below on Friday 27th. Just as MCM Comic Con London was taking place with over 100 thousand visitors over the weekend at the London Excel centre. However, DST Germany, the sister event, is still on course to take place. Additionally, it seems Paramount Global has had a hand in the cancellation of the event.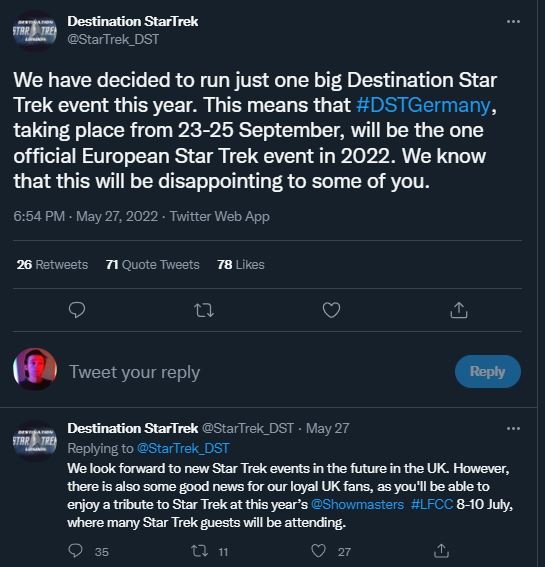 Refunds Denied!
When you pay for something and you can no longer get what you paid for, you are typically refunded, right? That sounds normal. However, Showmasters appear to have other ideas when it comes to refunds. While DST London is cancelled, the company is running another event in July this year. London Film and Comic-Con, another Showmasters event, is running July 8th-10th 2022.
Fans who brought tickets to DST London 2022 are now being offered tickets to this upcoming event. Additionally, it seems that ticket transfers are happening automatically, regardless of if fans have asked for it. But man fans want a refund, especially those with expensive ticket packages or vouchers from the previous cancellation. Not to mention those with additional expenses such as travel costs like flights and hotels.
At the time of the announcement, the cancelled Destination Star Trek event did not have information on cash refunds immediately available. However, they are now suggesting fans contact Eventbrite. This doesn't seem correct, with fans contacting Eventbrite only to be denied their refunds. See below the screenshot that one Star Trek fan received about their request for a refund.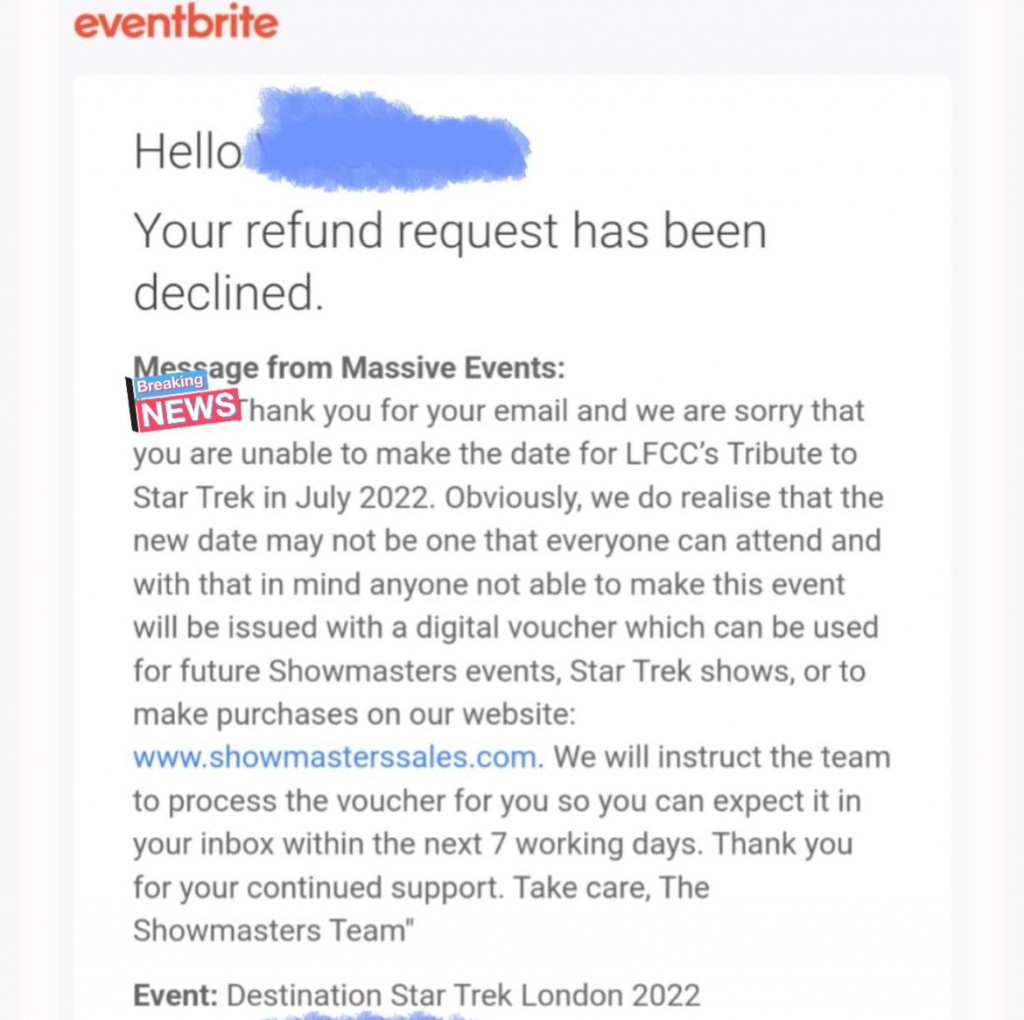 Terms and Conditions
It seems Showmasters Ltd might be unaware of their own Terms and Conditions of the ticket purchase. See the screenshot below. In the T&C's, section 7 states that "Entry tickets are non-refundable and non-transferable unless the event is cancelled in its entirety". Given DST London has now been "cancelled in its entirety", this would enact that term. Showmasters have yet to comment on this.

Fans are Ignored!
In the process of seeking a refund, one fan was disappointed to discover that Showmasters Ltd. is now no longer answering emails. As seen in the screenshot below, the frequently advertised email address is no longer being monitored. However, this same address is the main contact address on the DST Germany website. A little confusing?
Showmasters are now suggesting fans contact another email address if they have a query related to Destination Star Trek. Even though the address is on the Germany event website, it would seem they're now ignoring DST London queries via this address.

What Can Fans Do?
If you've brought tickets for Destination Star Trek, you may be finding yourself in the middle of the refund issues right now. Many fans have reported automatically receiving vouchers, despite not being asked. If you didn't request the vouchers, then you should still be able to pursue a cash refund.
There are a few ways you can try to get your money back. The United Kingdom's Citizens Advice clearly states you are entitled to a refund "if the organiser cancels, moves or reschedules the event." As noted above, Showmaster's cancellation post would count as a notification of full cancellation of that specific event.
It's important to note that this advice is for those who brought the event ticket from the event organizer (Showmasters) directly. However, if you brought through a reselling website, it makes it more difficult to get a refund. You can also seek to get your money back via your card company with a chargeback request. You will need to make a copy of Showmaster's notice of cancellation as evidence, which your bank will request when you start the process.
Consumer rights group "Which?" also provides a guide on how to seek a refund from a ticket seller. Additionally, they have touched on COVID-19 and how the pandemic has changed the event landscape for tickets and ticket refunds.
Unfortunately, both sites note that refunds for travel and hotel cancellation are much more unlikely. Some may have flexible tickets or cancellable hotel reservations. If you don't, it's worth contacting the companies, however, as due to the pandemic many hotels are now flexible.
Replacement Event Announced!
If you're looking for a replacement event for Destination Star Trek London, then you might be in luck. Well, it depends if you're still interested in attending events associated with this. However, Showmasters LTD and Massive Events LTD have announced a special Star Trek event at London Film and Comic-Con.
Announced as "Good news for Loyal UK fans", the somewhat advertised "sub-event" will feature Star Trek guests. Additionally, it seems these are the guests, or some of them would have attended the main DST event later this year. The "Tribute To Star Trek", will allow fans to experience something like DST at LFCC later this year. However, as many fans have said, this is rather short notice for hotels and travel.

Paramount Steps In
Following reports and suggestions via accounts that Paramount were the reason for the event cancellation, Trek Central reached out for comment. Thankfully, Paramount Global responded to our request and you can read the provided statement below.
Statement attributed to Paramount Consumer Products & Experiences

Given the unpredictable challenges of in-person events at this time, we wanted to focus all of our resources towards delivering one strong show for European fans as opposed to two events that are a few weeks apart. We look forward to celebrating with the fans later this year in Germany.

Paramount Global / Paramount Consumer Products & Experiences
Paramount's decision is an odd one. Of course, there are challenges to in-person events around the world still. However, Paramount just worked with ReedPop to run Star Trek: Mission Chicago. This weekend just passed, ReedPop also ran two events in the world at the same time. One in London for MCM Comic Con, which saw 60k+ people on the first day! And the Star Wars Celebration event, also announcing next year's London-based event.
As you can imagine, this has struck a chord with fans of the cancelled Star Trek event. Many are questioning if UK fans are being left behind by Paramount with yet another very disappointing decision. Especially when thinking back to 2021 when Star Trek: Discovery Season 4 was pulled from Netflix with a few days' notice.
History Repeating Itself?
Now if you've been around the Star Trek event space, you might be aware it is rarely smooth sailing. However, it also appears that the fan uproar at the cancelled Star Trek event is history repeating itself. Almost 10 years ago, the BBC Watchdog reported on Destination Star Trek London 2012.
While nothing seemed to ever come of the report, it is interesting to see it surface 10 years later. But will anything come of this year's cancelled Star Trek event? Many fans have been talking about contacting BBC Watchdog and UK Trading Standards via Facebook and Twitter comments.
Now, Showmasters are suggesting Star Trek fans should head to LFCC. However, this sister event has not always been smooth sailing either. Back in 2015, poor event planning saw overcrowding and overbooking. Review websites also show scathing comments about Showsmaster's performance in the last few years.
Previous Convention Issues
2021's Destination Star Trek event was also not without its problems. Originally advertised as a Star Trek: Voyager celebration event, it saw guests pull out last minute, leaving the lineup rather empty. Some celebrity guests voiced their criticism online of the events company, including Voyager actor Robert Beltran (Chakotay).
Two other guests were not able to make it to the event. However, Showmasters were still selling photo/autograph tickets for the stars. Leading fans to feel misled into thinking they would be at the event. This was the case for Robert Beltran, who was still being advertised, while he publically stated he could not make it to the event.
Before this, fans took to Facebook groups to demand answers from Showmasters. A passionate Star Trek fan by the name of Steve directed an open letter to the event organizers. Addressed to Jason Joiner, Director of Showmasters Ltd., the letter asked for clarification. And also highlighting the belief that some of the practices of the event were borderline unfair activity.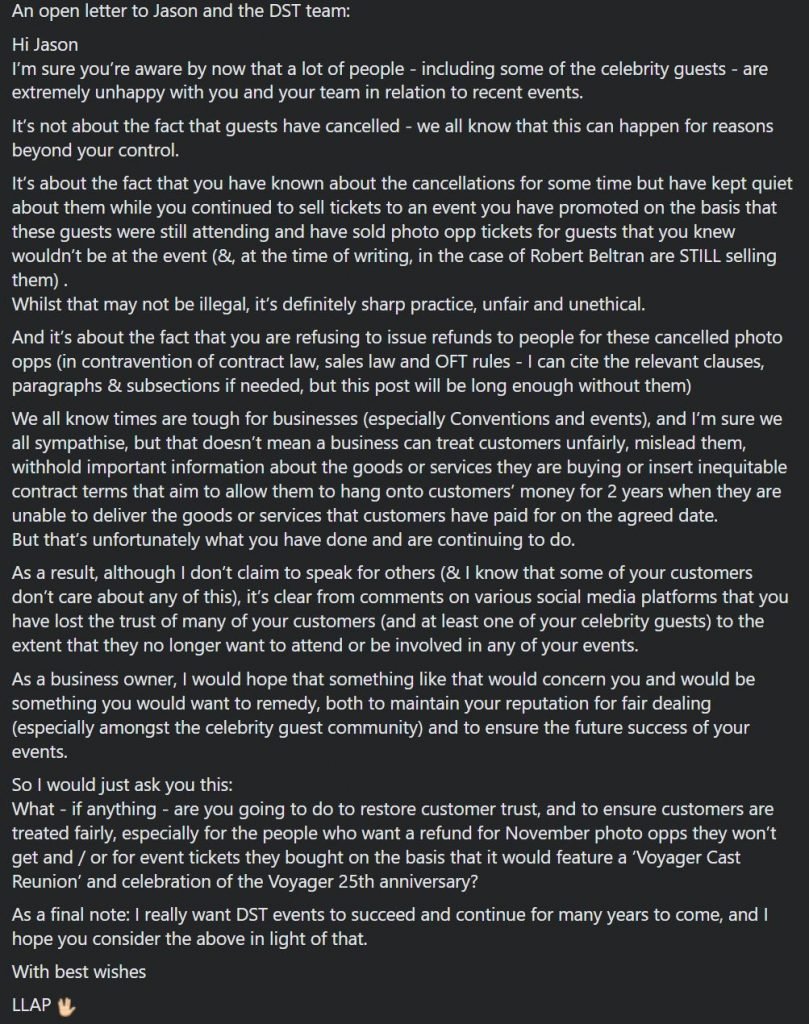 ---
More from Trek Central
? – STRANGE NEW WORLDS – Who Is Samuel Kirk?
? – REVIEW – Star Trek: Picard "Farewell" – 2×10
? – SNEAK PEEK – Star Trek: Strange New Worlds 1×05 "Spock Amok"
---
Join the Star Trek conversation via our social media platforms: