Earlier this month, Trek Central hit one of its most significant goals. Trek Central Celebrates 100k Subscribers on YouTube, which is a massive milestone in a creator's journey. Creating quality Star Trek has been a fantastic journey for the team here at Trek Central, covering weekly Star Trek: Picard reviews and breaking news stories on the ever-expanding universe. We're super excited to continue our journey serving the Trekkie community with fantastic content.
To celebrate this milestone, we had to do something special. We're giving away a handful of Star Trek items. Our BIG TREKKIE MEGA giveaway features Hero Collector Star Trek Starships which are now very rare. Learn all the details about our giveaway below in the video and this article. Watch Captain Jack's video to learn about the secret code to gain an extra entry!
UPDATE: 22/10/2022


Hi all, last night, "Gleam.IO", the secure giveaway platform we use, encountered an error in posting the Trek Central 100k Celebration Giveaway. It appears the platform created a duplicate post, identical to the one linked on this page. Some users mistakenly entered the giveaway via this post. The issue was noticed within 5 minutes, and the duplicate post giveaway was stopped within one hour of the initial post. As such, this duplicate giveaway post is invalidated, and if you entered, we kindly ask you to reenter using the Gleam.IO platform below.  Please use the correct one linked on this page and through our social media :D Please accept our apologies for the confusion. Sadly, technical issues sometimes occur. 
- Jack Trestrail
Director and Editor in Chief, Trek Central
The Giveaway & Details
That's right, we're giving away some fantastic items. One winner will get their hands on our Star Trek mega bundle, while two runners-up will get other gifts. Trek Central Celebrates 100k in style and includes the community. The giveaway is open WORLDWIDE. That's right, no geo-blocking here! Therefore, we'll ship to you if you're on planet Earth. See the full list of items below. Additionally, community member JJModelMaking has provided one of their starship models to the main prize bundle.
First Place – The Star Trek MEGA Bundle
Hero Collector Star Trek Starships USS Enterprise-D
Hero Collector Star Trek Starships USS Enterprise (Original)
Hero Collector Star Trek Starships NX-01 Enterprise
Runner Up Prizes
While we're giving away a giant Star Trek bundle, we wanted to make sure everyone has the opportunity to get something. That's why we've also included two runner-up prizes. Whoever comes second will win the following:
Hero Collector Star Trek Starships USS Enterprise-C
Hero Collector Star Trek Picard Borg Pin
Hero Collector Star Trek Janeway Borg Drone
Finally, the other runner-up will receive the following:
Hero Collector Star Trek Starships USS Enterprise-B
Trek Central – 100k Giveaway!
The USS Majestic Starship Model
Community member JJModelMaking has provided one of their Star Trek Starship models for us to giveaway. Check out their website to learn more about their model-making expertise. They've given us the USS Majestic. The USS Majestic was a Miranda class starship featured briefly in an episode of Deep Space 9. However, it was destroyed moments later!
The model itself is quite old, from the 1980s and is essentially the same as the USS Reliant, but features a custom set of decals for the name and registry numbers, added to using a set of aztec pattern decals I printed out myself. Proof that you can take an old model kit and make it look good even in the 2020s!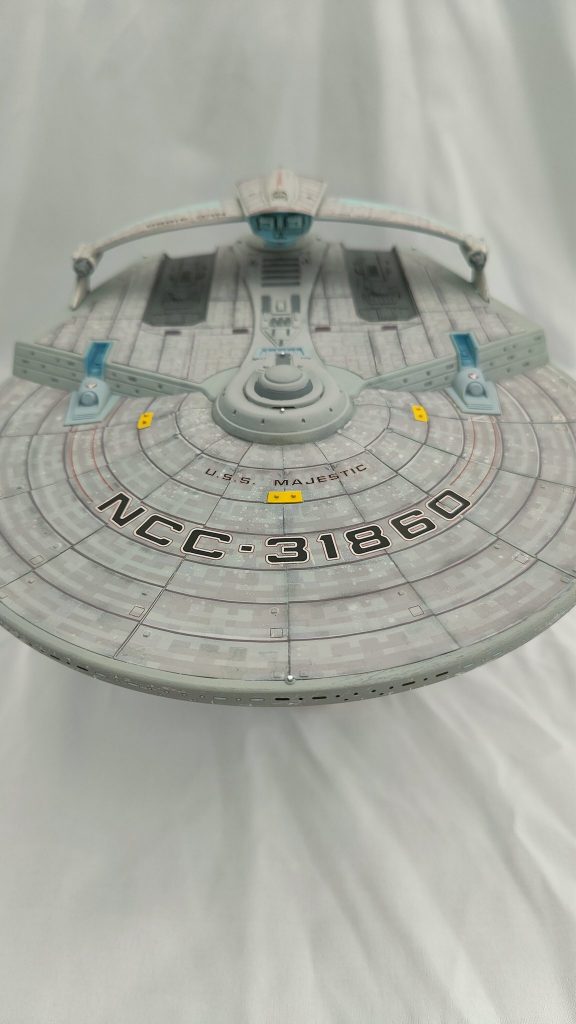 Conclusion
We hope you enjoy our Star Trek mega giveaway. The Trek Central team is excited to bring you more content into 2023. With the arrival and the third and final season of Star Trek Picard. We've also got Star Trek: Strange New Worlds Season 2. However, let's not forget the upcoming Star Trek: Mission Seattle. It's been a long road from there to here, but we're excited to keep going.
---
More from Trek Central
? – Star Trek: Lower Decks – Issue #1 Review
? – Star Trek Needs To Learn From Star Wars!
? – Star Trek Picard Season 3 Trailer Reveals A New Enterprise!
---
Join the Star Trek conversation via our social media platforms: