The highest praise I can give this comic is that it legitimately captures the tone and style of Star Trek: Lower Decks. This may be due to the already comic-like art style of lower decks, which lends itself extremely well to comic tie-ins, but; the humour, the plots and the structure of this comic do feel like a lower decks episode in comic form. Star Trek: Lower Decks: Issue #1 is a new adventure for our Ensigns!
Creatives: Ryan North, Chris Fenoglio, Johanna Nattalie, Heather Antos, Vanessa Real
Publication Date: September 2022
Stardate: 58118.4 (Second half of Star Trek: Lower Decks Season 2)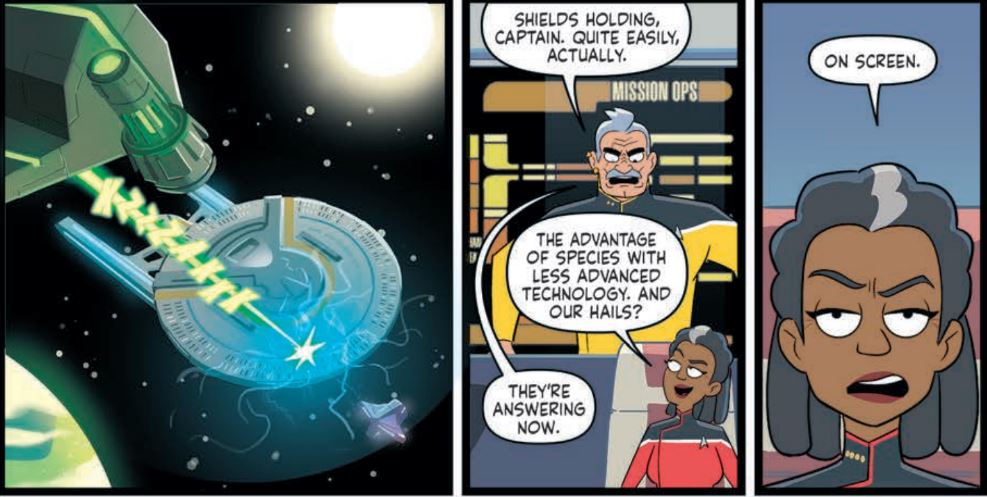 A Cold Open In A Comic?
Star Trek: Lower Decks: Issue #1 starts with a cold open before it gives us our title screen, even with the title of the episode in the Star Trek: The Next Generation font, just like lower decks and TNG. This cold open is filled with what you would expect from Lower Decks, a deep cut into Trek history!
We meet the space hippies from the Star Trek: The Original Series episode "The Way to Eden", though unfortunately, it seems to think the hippies were all Catullan. Even visually, these characters have the same appearance as those from that episode.
I can understand re-enactors idolizing these people but having a Dr Sevrin look-alike seems a little too far. However, that is my only issue with the cold open. A new alien race is attacking this ship of hippies. Finding out they are attacking these hippies because they were called "Herberts" was funny. Another strength of Issue #1 is that the characters behave as expected. Reading the dialogue of Captain Carol Freeman, I could hear the voice of Dawnn Lewis, which is a great feat from the writer.
The Actual Episode
We get a classic U.S.S. Cerritos mission of second contact with the Qvanti people. We hear mention of the first contact mission by the U.S.S. Lovelace, and this feels like a good setup for a Lower Decks-style plot.
A captain's log from Captain Freeman gives us the exposition, and then we are off to see what Star Trek: Lower Decks: Issue #1 holds. They have been given R&R while this Second Contact mission happens. In this case, it's Bradward Boimler on the Holodeck in a Dixon Hill novel.
Star Trek: Lower Decks: Issue #1 Fairy tales
A nice little touch is D'Vana Tendi giving us a little more info on Orions. Their stories always start with heists, even their fairy tales which they call fairy Heists! I now want a Lower Decks Episode going through an Orion Fairy Tale. What sort of morals do you think they pass on? I would expect them to be much like Elim Garak's thoughts on the "Boy who cried Wolf"; the story's moral is not to lie, but to never tell the same lie twice!
Not only do we see tiny holographic enterprises, but several different enterprise bridges as well! From the NX-01 U.S.S. Enterprise, our group disguises themselves as Chefs in classic holographic NX-01 style. To The Animated Series Enterprise with Arex and even the Ambassador class U.S.S. Enterprise C!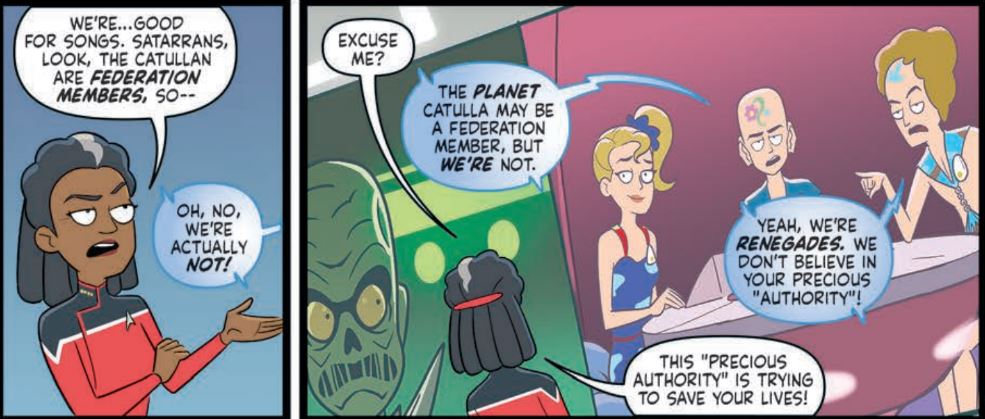 Elementary, Dear Boimler
The rest of our Lower Decker plot follows similarly to looking back at a TNG episode. In this case, the episode is "Elementary, Dear Data". An interesting addition is that we learn what happened after the creation of James Moriarty, a sentient hologram that could beat Data in a battle of intelligence and wits. All holodecks have safeguards to protect against such a creature again.
Though in testing fate, our Lower Deckers keep asking the computer to create another "Public-Domain adversary capable of defeating Data", which ends up happening due to a power surge from the second contact mission of the U.S.S. Cerritos. So the Holodeck, this time, makes a sentient Dracula hologram capable of defeating Data!
They manage to freeze the program, and it is nice that Mariner goes straight to the senior staff to inform them of this accident. According to the stardate, this issue would occur in the second half of season 2 of Lower Decks. So some development from Mariner in not dealing with these issues all by herself.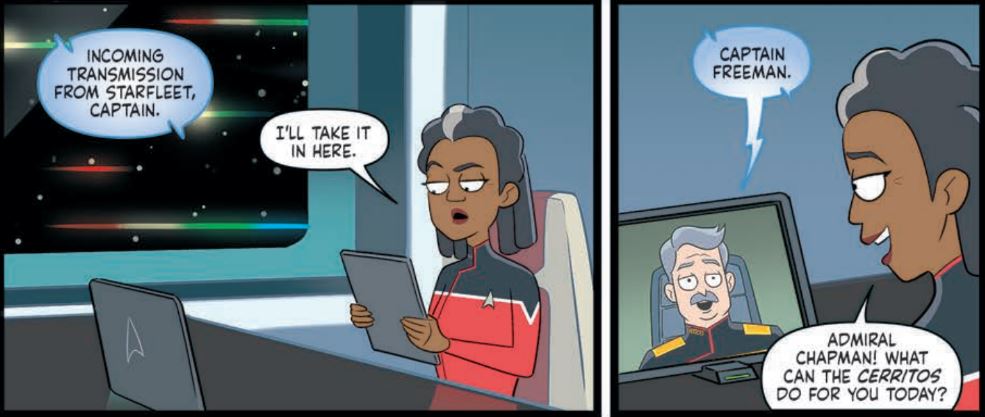 The Voyager Connection
Some interesting lore stuff from this issue ties into Star Trek: Voyager's episode of "Author, Author". The episode where the Doctor has to fight for his legal rights as a sentient hologram. Though it has been over two years since that time, the Doctor is still fighting for simulated bodily autonomy. So it is nice to know something of what The Doctor has been up to in the last few years since Voyager's return.
An interesting aspect of this comic is that most pages have comedic notes from the writer. It is like watching an episode of Lower Decks with a commentary track from Mike McMahan! Sometimes the commentary ends up being as funny as what we see on our screen.
Cliffhanger Issue
Unlike a traditional Lower Decks episode, this issue seems to be a two-part story, with the continuing story in the next issue. Not only is Dracula active when he shouldn't be, but the alien planet our senior officers go down to for the second contact seems to be the wrong planet. A massive prime directive violation! The end of the issue even gives some info of the episodes of Star Trek this comic referenced. In a Badgey-themed segment, this is neat.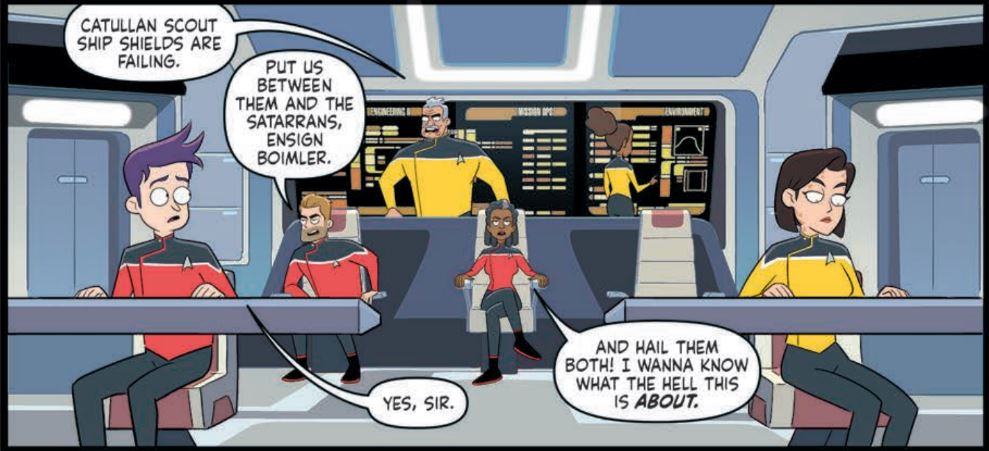 Final Thoughts
Overall, Star Trek: Lower Decks: Issue #1 massively captures the tone of Star Trek: Lower Decks with good humour, great character work and good artwork. If you are a fan of Lower Decks, this comic is a must-have and is essentially more show episodes. Just in a different form. I will say the art for this comic is mostly on point. However, some of the characters' art does look slightly off in some panels. This is not the biggest issue, but it is noticeable now and again.
Some of the panelling in this issue is good and does interesting things to enhance the story. Most notably, the double-page spread of the title screen with the Cerritos. Having Captain Freeman be split between panels, talking to the two parties was good. Another panel was Mariner summoning tiny holographic versions of all the enterprises, which now canonically make "Pew Pew" noises!
The inclusion of writer comments and highlighting which episodes were referenced makes this comic not only feel like a Lower Decks episode, but a Lower Decks episode which has the extra features your would expect on the physical release! A definite read for any Lower Decks fan!
I look forward to our Lower Deckers' and U.S.S. Cerritos' continuing comic adventures! Issue #1 of Lower Decks is available on the 14th of September 2022 from IDW Publishings website. However, it is also available from all good comic book stores. Issue #2 will be available on the 12th of October, 2022.
---
More from Trek Central
? – Major Star Trek Villains Set To Return!
? – Star Trek Needs A New Villain, And The Answer Is Right Under Its Nose!
? – Is Captain Kirk Arriving Sooner Than Expected?!
---
Join the Star Trek conversation via our social media platforms: