Some breaking Star Trek news has emerged today! It appears it might be the End Of The Line For Star Trek Starships Eaglemoss following fan speculation. Eaglemoss LTD, otherwise known as "Hero Collector" has reportedly filed a Notice of Intention to appoint an administrator today according to a business watchlist.
Eaglemoss are well known for the "Star Trek: The Official Starships" collection of models that have become a staple point of Trekkies collections in the past decade. However, in the past 24hrs, fans have noticed the website storefront had gone offline. Additionally, some had reported that phone lines to the business were down. Along with this, a customer service Facebook page had vanished offline.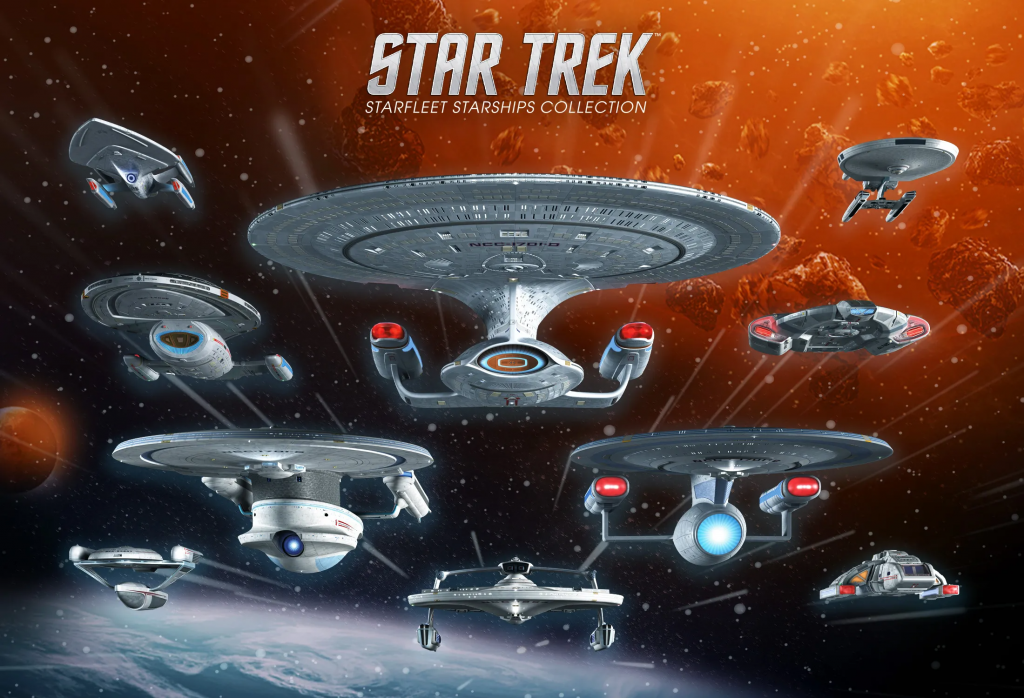 End Of The Line for Star Trek Starships!
Greg Connell of InfoLinkGazette reported that Eaglemoss LTD has filed a "Notice of Intention to appoint an administrator" as of today, July 12, 2022. For those unsure what this means, an administrator is appointed to manage a company's affairs, business, and property. Typically this is done under the Insolvency Act 2012 of United Kingdom law, where Eaglemoss LTD is based and registered.
An administrator is appointed to rescue the company as a going concern. However, they may seek to achieve a better result for the company's credits as a whole than would be likely if the company were wound up, without first being in administration. Additionally, they may be realising the company's property in order to make a distribution to one or more secured preferential credits.
Eaglemoss is one of the world's biggest names in licensed collectible, marketing and distributing more than 150 collections in more than 30 markets." Greg added: "revenue peaked at £68 million but had fallen to £31.6 million in the last filed accounts."

Greg Connell, Managing Director of InfolinkGazette
Who Are Eaglemoss?
While some might know them as Hero Collectors, Eaglemoss are well known in the Star Trek community. Additionally well known in the Doctor Who community and much other Sci-fi and pop culture fandoms. However, their Star Trek Starships collections are well known. Mainly due to the quality of the models that are produced. Each model would come with a magazine of detailed behind-the-scenes information on how it was made for the Star Trek Universe.
June 2022 saw a collaboration between Perfect World and Eaglemoss to create the "Star Trek Online Starships Collection". These ships were based on the MMO video game, Star Trek Online. Additionally, many books were published under Eaglemoss. Notable the "Star Trek: Designing Starships".
Eaglemoss/Hero Collector has held licensing agreements with major entertainment companies and brands. Such as the BBC (Doctor Who), MGM/Amazon (Stargate) and Universal Studios (Battlestar Galactica) to name a few. However, in light of the recent news, these collections and licenses are likely to not be continued unless the business is rescued.
Fan Response
It's of course safe to say that it's hugely disappointing for Eaglemoss to collapse. As some have described them as holding the torch for Star Trek's merchandising efforts in the last couple of years. Additionally, the company is well known for its contributions not just to the merchandising scene of Star Trek, but the general information scene. The books an
Many Trekkies are rightly concerned that they've paid for collections which are now not going to be complete. Additionally, Eaglemoss have debuted the "Build the Enterprise-D" subscription product. Now many fear that they will be unable to complete this due to the state of the business.
Conclusion
While yes, it does appear to be the End Of The Line For Star Trek Starships Eaglemoss. It might not be the case. Companies can enter insolvency and emerge from them in the case of being acquired by another business. While it is still early days at the time of writing, it is entirely possible for another business to acquire Eaglemoss LTD.
---
More from Trek Central
? – Major Star Trek Villains Set To Return!
? – Star Trek Needs A New Villain, And The Answer Is Right Under Its Nose!
? – Is Captain Kirk Arriving Sooner Than Expected?!
---
Join the Star Trek conversation via our social media platforms: