It's time for Star Trek At NYCC 2023! In a world where pop culture events are the pulse of the entertainment industry, ReedPop's New York Comic Con (NYCC) holds a special place. Scheduled to take place from 12th to 15th October at NYC's Javits Centre, we're excitedly anticipating Paramount's Star Trek Universe presentation.
Paramount+ has revealed an exciting schedule for the NYCC, including the Star Trek Universe Presentation. Planned for Saturday, 14 October, from 1:45 p.m. to 3:00 p.m. ET on the Empire Stage, the official description is tantalising:
"The fan-favourite STAR TREK universe returns to New York Comic Con, featuring a special advance screening of an all-new episode from the current season of the hit Paramount+ original animated comedy series STAR TREK: LOWER DECKS, plus more exciting reveals and surprises for STAR TREK fans in attendance!"
What To Expect From Star Trek At NYCC 2023
The event's details are shrouded in mystery. In July, the writers and actors' strikes impacted the Star Trek Universe panel at San Diego Comic-Con. Consequently, Paramount+ decided to debut the Strange New Worlds/Lower Decks crossover episode. With the Writers Strike now essentially concluded, we could hear some surprise reveals about future Star Trek projects. It's important to note that the Screen Actors Guild (SAG) Strike is still ongoing as of writing.
Based on the NYCC panel's date, we're speculating that they'll probably screen episode 8 of Star Trek: Lower Decks, set to stream the following Thursday. However, unlike at San Diego Comic-Con, even in the absence of celebrities, Paramount is stirring the pot with mentions of "exciting reveals and surprises."
One possibility is a new trailer for Star Trek: Discovery's fifth and final season, perhaps even revealing a specific release date other than "early 2024." Then again, without the actors to hype up the show's last outing, who knows what they will do?
Paramount+ is returning to the NYCC convention floor with an interactive booth space, Booth #1723, promising exclusive photo opportunities and more. A convention-exclusive Funk Pop for NYCC 2023 will be available. This is Geordi La Forge from Star Trek: The Next Generation. Note this is the Season One appearance of La Forge, as identified by the red uniform.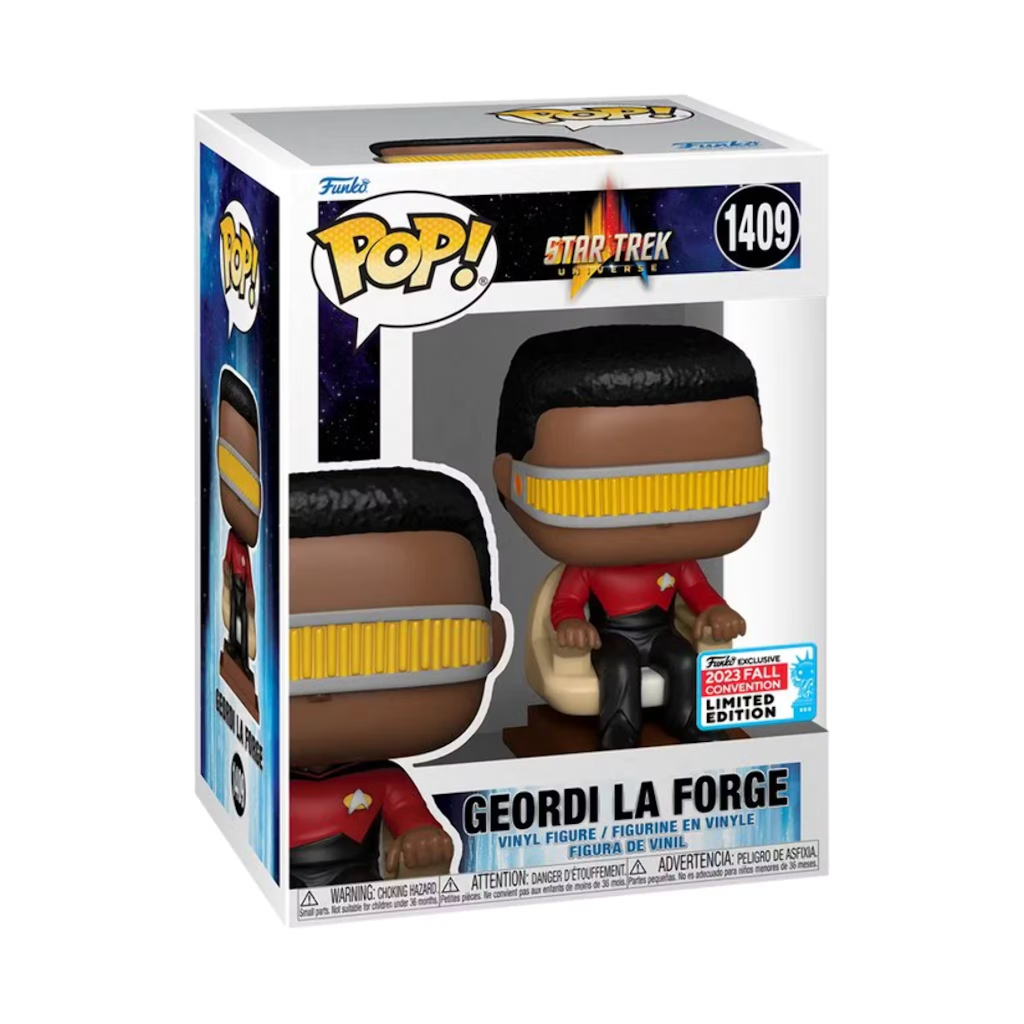 Star Trek Merchandise at NYCC 2023!
Several Star Trek brand licensees will be appearing at New York Comic Con. Therefore, you can stop by their booths to see glimpses of upcoming releases and more!
Fanhome / DeAgostini Publishing | Booth #4108
Funko's Heavy Metal Halloween Booth | Booth # 1000
Hallmark | Booth #3225
Hero Within | Booth #1364
Heroes and Villains | Booth #1335
IDW Publishing | Booth #HB905, 1A8
Insight Editions | Booth #3418
RockLove Jewelry | Booth #1243
Simon & Schuster Inc | Booth #3409
Volante Design | Booth #2878
IDW Publishing At NYCC 2023!
Our friends at IDW Publishing are again beaming down to New York Comic Con. You can find them at booth HB905 on the show floor. They'll have multiple panels, including one dedicated to Star Trek. See the details below:
Fri, Oct 13, 2023
3:00 PM – 4:00 PM ET
Room 408
The Eisner-nominated STAR TREK comics embark on a bold new mission with IDW Publishing, and there has never been a better time for new or lifelong fans to join the mission! Brand-new comics and info will be declassified as the brilliant minds behind the books unveil a spectacular selection of Star Trek stories for fans of any age to enjoy. Plus, a spooky sneak peek at HOLO-WEEN, Star Trek's month-long celebration of Halloween! Comic fans, attending this panel is highly logical.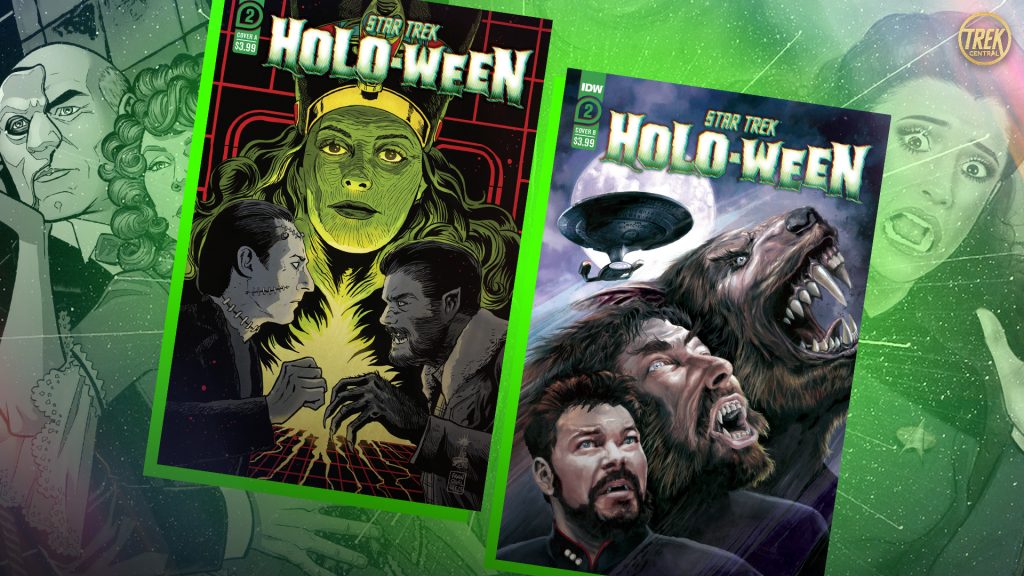 Star Trek Brand Collaborations Warp In
Paramount+ is debuting "Boldly Be with Star Trek and Kid Cudi" at NYCC 2023. This new brand collaboration officially kicks off on October 12th. This is the first day of New York Comic Con. Therefore, Trekkies can beam down to Booth #2635 to get a first look at the Fortnite gaming experience and the capsule collection. Featuring Star Trek-inspired mantras like "Live Long and Rage," the Kid Cudi x Star Trek capsule collection will include tees, crewnecks, hoodies, a custom button-up t-shirt and a colourful leather varsity jacket with robust chenille and embroidery details.
The collection will debut at New York Comic Con on October 12 with a preorder window exclusively for attendees. Followed by the global release on shop.kidcudi.com on October 16. The brand new and original Kid Cudi song inspired by Star Trek titled "Heaven's Galaxy" releases on October 12th. It was written by Cudi and produced by longtime collaborator Dot Da Genius.
All Ahead for NYCC 2023!
Whether you are beaming down for New York Comic Con or not, it's always an exciting time for Star Trek fans. Major announcements are always shared with those who can't make the trip. Don't panic if you can't make it down! Trek Central will be on hand to beam the latest news right to you via our website, YouTube channel and social media. Let's make it so!
More From Trek Central
📰 – REVIEW – Star Trek: Prodigy Season One Blu-ray
🔥 – REVIEW – Star Trek: Lower Decks 'Empathalogical Fallacies'
🔍️ – REVIEW: Strange New Worlds 'The Scorpius Run' #2
---
Join the Star Trek conversation via our social media platforms: