New York Comic Con's Star Trek Universe panel has brought some great reveals. While many are focused on Star Trek: Picard Season 3, there were big reveals from Discovery. Series stars, such as Anthony Rapp and Wilson Cruz, were joined by Sonequa Martin-Green on a video link. They're still filming season 5 right now. So, who is Star Trek: Discovery's NEW Captain?
Actor Callum Keith Rennie is set to play Starfleet Captain Rayner. He'll be featured in the upcoming Star Trek: Discovery Season 5. However, he is not the only new cast addition, as Eve Harlow and Elias Tourfexis join Captain Burnham's adventures. Fear not; Oded Fehr returns as (Dad)Admiral Charles Vance. Star Trek: Discovery Season 5 is still filming and is not expected until late 2023.
Rennie is well known for his role in Battlestar Galactica. He's a British-born Canadian actor known for his role as "Lew Ashby" on the Showtime series Californication. As noted, he's frequently cast as the bad guy in movies and series. Therefore, might that be a hint at his role in Discovery? However, as he is a Captain, might we know what starship he will command?
A New Star Trek Adventure
Star Trek: Discovery is now in its fifth year. However, the momentum of the show is still going. The upcoming season looks to take a different route from the typical story of a galaxy-ending event. Captain Burnham is on a treasure hunt. It would seem. David Cronenberg's mysterious character of Kovich has presented Burnham with the "greatest treasure in the known galaxy".
Eve Harlow plays "Moll" while Elias Toufexis plays "L'ak". Both are former couriers in the galaxy. David Ajala's "Book" is also a former courier. Additionally, Captain Burnham herself became a courier while awaiting the USS Discovery's arrival into the future. These two new characters find themselves on the other side of the law.
Star Trek: Discovery's NEW Captain appears to be a tough one. Captain Rayner is self-described as "gruff". However, it seems he is a man having a very hard time transitioning from a time of war to a time of peace. Perhaps Captain Burnham can relate to this? She did serve somewhat in the Klingon – Federation War. Well, she started it.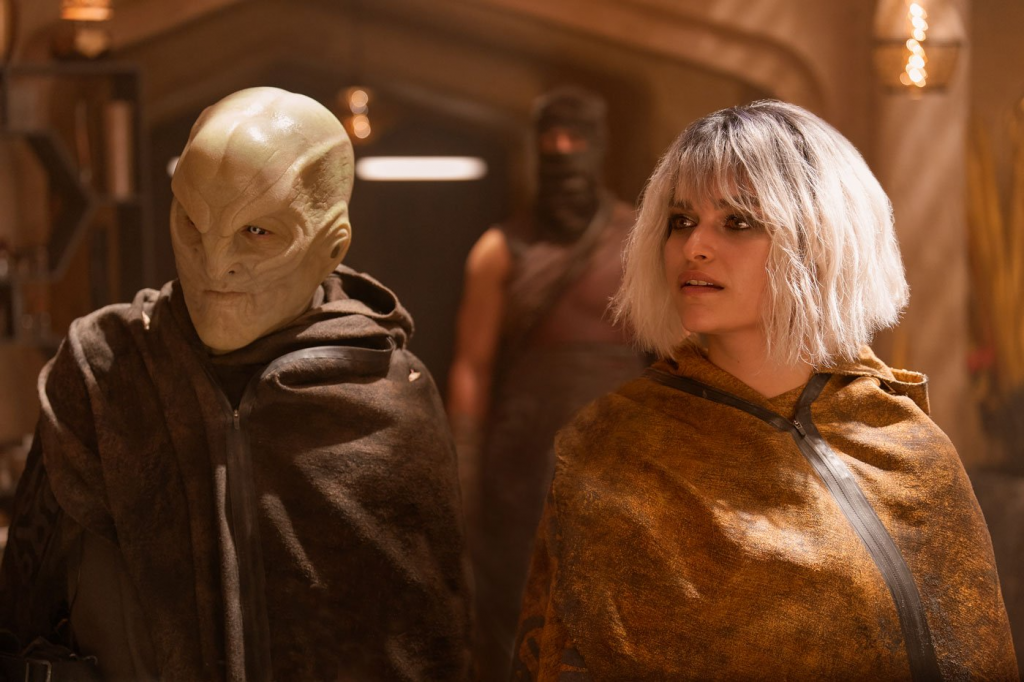 Discovery's Future Is Soon!
Star Trek: Discovery Season 5 is still in production. According to Sonqua Martin-Green, they were still filming the morning of the New York Comic Con panel. As such, fans should expect the fifth season sometime in late 2023. We'll need to wait to see more of Star Trek: Discovery's new Captain for now.
The core cast includes Martin-Green, Doug Jones (Saru), Rapp (Paul Stamets), Mary Wiseman (Sylvia Tilly), Cruz (Dr. Hugh Culber), David Ajala (Cleveland "Book" Booker) and Blu del Barrio (Adira). Additionally, they're joined by Oded Fehr as Admiral Vance and Chelah Horsdal as President Rillak.
---
More from Trek Central
? – EXCLUSIVE: Todd Stashwick Will Appear In Star Trek: Picard!
? – Star Trek NEEDS To Learn From Star Wars!
? – Star Trek: Picard Stargazer Issue #1 Review
---
Join the Star Trek conversation via our social media platforms: