With five Star Trek shows already in production, could the Star Trek Universe be about to expand again? A new interview from Alex Kurtzman with Variety certainly teases at the possibility. It also adds an interesting spin to the recent news of new movie projects.
Last week Deadline reported Paramount had added a slot to its 2023 theatrical slate for a top-secret Star Trek movie. Reports on the project were devoid of details. Even the official Star Trek site said 'we don't know anything except its release date'. Only last month Deadline broke the news that Star Trek: Discovery writer Kalinda Vazquez was working on a movie project. The news caused confusion. Were these one-in-the same? An io9 article soon cleared this up, stating from a trusted source that these were separate movie projects. If accurate, it means there are now be two movies in the pipeline.
TREK'S MOVIE & TV UNIVERSES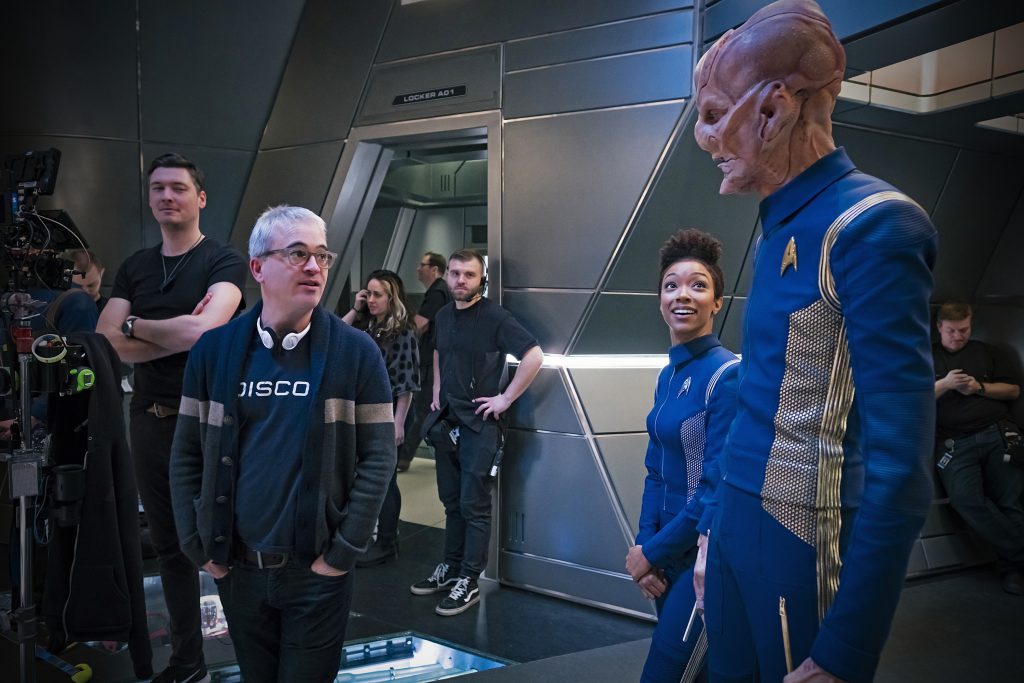 "it's impossible not to accept the reality that the line between movies and television is gone"

Alex Kurtzman speaking to Variety.
Alex Kurtzman's comments to Variety today certainly makes things interesting. Many of the streaming giants including Paramount+ have begun to revolutionise their release strategies. The changes mean some major titles are now releasing not only theatrical but direct-to-stream, often within weeks of each other.
And those lines aren't just being blurred in a practical sense.
"I think vertical alignment has made it so that it's impossible not to accept the reality that the line between movies and television is gone," says Kurtzman. "It doesn't mean that you can't have a feature that is separate from television. But if they aren't connected in some way, then you're basically running two universes parallel as opposed to interconnected, and I think that those messages could potentially cancel each other out."

Alex Kurtzman speaking to Variety.
Kurtzman has previously stated that the ambition for the franchise was to lean in the direction set by the MCU, which expanded and interconnected its storytelling across movies and tv. Production quality for premium channel shows has further blurred those lines. There is no denying that the visuals for Picard and Discovery are worthy of the big screen. Will the storytelling now expand its ambitions?
THE FUTURE OF THE FRANCHISE
It's 19 years since we last saw a theatrical outing for TV Trek. The Next Generation crew's last adventure was in Star Trek: Nemesis released in 2002. The rebooted Star Trek (2009) movie then established a new timeline within what we now call the Kelvin universe. The recent Paramount and ViacomCBS merger brought all rights for the franchise back under one roof. Trek's tv and movie universes were kept very separate, but now restrictions no longer apply.
"We make sure that showrunners are coordinating so that they're not stepping on each other's toes"

Alex Kurtzman speaking to Variety
One very interesting element of the recent season of Star Trek: Discovery gives a tantalising hint. The two Star Trek universes may be being brought together already.
David Cronenberg's mysterious character 'Kovich' introduced elements that potentially bring the kelvin timeline into the prime timeline. Crossing time and dimensions was key to explaining what was happening to the character of Philippa Georgiou; it turns out travelling across both could be deadly! The storyline conclusion helped write off the character so Michelle Yeoh could head off to her own show. Could this narrative also have been a very gentle first step toward reunification of the Trek movie and tv universes?
Kurtzman says those who oversee the various "Star Trek" properties have begun strategizing to an even greater degree within ViacomCBS in the past year, with the launch of a monthly showrunners' meeting. It allows everyone to see what parts of the "Star Trek" universe are being utilized on other shows.

From Variety
And the careful management of the Star Trek Universe isn't just on screen. We've also seen collaboration extended into the literary world as well, which while not technically canon, has enriched what we've seen on screen.
This blurring of lines also begs the question of whether we could see major convergence events, either on tv or the big screen. Animated shows aside, Picard, Discovery and the upcoming Strange New Worlds currently sit at their own points within the prime timeline. Bringing them together could be tricky, though nothing is impossible.
Also, from Trek Central:
---
Join the Star Trek conversation via our social media platforms: